Many travelers who come to Las Vegas feel like they don't have enough time to check everything that the world's capital of entertainment has to offer. Las Vegas is packed with places to visit and things to do. From countless shows to museums, world-class restaurants, and shopping, you will not have a chance to get bored in Sin City.
However, if you have limited time, you should make sure to hit all of the cool spots and most fun things to do in Las Vegas before heading out.
Best Time of a Year to Visit Las Vegas
Las Vegas sees the highest visitation from May through September. Ironically, it is also the time when Las Vegas averages some of the highest temperatures. During the day temperatures rise anywhere from 100 to 115 degrees Fahrenheit. If you are not used to the dry desert heat, you might find it difficult to be outside.
If you are looking for mild temperatures, visit Las Vegas in October through mid-November or March through April. These months see mild enough weather where you don't have to hide in air-conditioned hotels and can enjoy a walk on the Strip or even go hiking.
Late November through February typically sees the coldest weather in Las Vegas with temperatures between 50-60 degrees Fahrenheit during the day time.
How to Choose Accommodation in Las Vegas
There are thousands of hotels in Las Vegas from the most famous ones located on the strip to budget versions a distance away from it. Please see the map below to browse through available options.
While you might save on accommodations located away from the Las Vegas Strip you will most likely have to pay for a taxi or walk a lot even if you are just several blocks away. Hotels, restaurants and other spots popular with tourists are really spread out on the Las Vegas Strip, so make sure to check the location before planning your itinerary.
Remember: It will help you a lot if you can stay connected to the internet on your mobile phone at all times. You can get a prepaid USA travel SIM card in advance.
Las Vegas from McCarran International Airport
Unless you are going to drive to Las Vegas from some other destination, you will arrive in Las Vegas McCarran International Airport. The airport has two terminals: Terminal 1 and Terminal 3. Unfortunately, Las Vegas doesn't have a good public transportation system, so you will not be able to take a bus from the airport to the Las Vegas Strip.
Remember: if you're coming from abroad you will most likely need to get ESTA to enter US so plan ahead and apply for ESTA visa online before arriving at the airport.
Unless you are going to book a car rental in Las Vegas, I recommend getting Uber or Lyft to get from Las Vegas airport to the Strip. Terminal 1 and Terminal 3 both have designated ridesharing pick-up spots located at the Valet level. After you exit a terminal, you will see signs telling you where to go. An Uber or Lyft to Las Vegas Strip from McCarran International Airport costs between $15-20 depending on what hotel you are going to.
PRO TIP: While you will not be able to use public transportation to get to the airport, there are several bus routes that serve the Las Vegas Strip and surrounding areas. In addition, Las Vegas also has Monorail that runs between MGM Grand and SLS Las Vegas.
Monorail Stations are located at the following casinos: MGM Grand, Bally's/Paris Las Vegas, Flamingo/Caesars Palace, Harrah's/The LINQ, Las Vegas Convention Center, Westgate Las Vegas and the SLS Las Vegas Station.
3-Day Las Vegas Itinerary
Day 1
After You Arrive
Unless you arrived late at night and want to go to bed, I recommend to drop off your luggage at a hotel and go explore the Strip, a stretch of Las Vegas Boulevard that is peppered with world-famous casinos, restaurant and shopping.
Even if you take a quick walk, it will give you a quick idea of how spread out the Strip really is. The Southern end of the Strip starts near Mandalay Bay and ends near the SLS Las Vegas Hotel and Casino. While the entire strip is just over 4 miles, it surely feels a lot longer when you walk around. That's exactly why many travelers often decide to use Uber and Lyft to get around.
PRO TOP: All major hotels on the strip have designated pick-up spots for ride shares. Before you order a ride, make sure you know where the designated spot is at your hotel.
Big Bus Las Vegas Hop-on Hop-off Tour
Since Las Vegas so many things to do, getting on a hop-on-hop-off bus is a great option. If you are visiting Las Vegas for the first time, it's a good idea to get on a bus to save time and money and get familiar with everything. The tour offers two routes: through the Las Vegas Strip and through Downtown Las Vegas with a total of 20 stops. Throughout the tour, you will be able to get on and off as many times as you like.
Take a Picture at Welcome to the Fabulous Las Vegas Sign
If you would rather walk around the Strip, I recommend starting your tour at the southern end. A notable spot of the southern end of the Las Vegas Strip is the Welcome to the Fabulous Las Vegas sign, a world-famous fixture that has been featured in countless movies, commercials, and videos.
Originally created in 1960, the sign has become one of the symbols of Las Vegas over the years. Many tourists come to take photos in front of the sign 24/7. The chances are, even if you show up in the middle of the night, you might see other people in front of the sign.
However, if you come early, you will probably escape the crowds instead of waiting in line to take your photo next to the iconic sign as the sign is visited around the clock.
Enjoy the Bellagio Fountains
The iconic Bellagio Fountains are hard to miss. Located right in front of the Bellagio Hotel and Casino, Bellagio Fountains light up during the show every 30 minutes from 3 p.m. to 8 p.m. Monday through Friday. From 8 p.m. until midnight the show plays every 15 minutes.
On Saturdays, viewers enjoy the show every 30 minutes 12 p.m. to 8 p.m. and every 15 minutes from 8 p.m. to midnight.
On Sundays, the show starts playing at 11 a.m. and runs every half hour.
Head over for refresher to Bellagio Conservatory and Botanical Gardens
After watching the show, take a quick walk inside the Bellagio Casino. Here you will find the Bellagio Conservatory and Botanical Gardens, a colorful art installation made of millions of plants, flowers, and other elements. Every season, the Bellagio Conservatory changes its theme. It's always fun to check out a new theme at the gardens and take photos of its intricate flower and plant composition. The venue is free of charge.
Get Brunch
You don't have to look hard to find a good brunch spot in Las Vegas. Whether you are looking for a buffet style or just want to grab a traditional meal, you have tons of options. Aside from the Las Vegas Strip, you might want to check restaurants in Summerlin, Downtown Las Vegas or Henderson, because they too have a number of great restaurants for different tastes and price points.
Shop Till You Drop
In Las Vegas, you will find a number of shopping malls within the Strip and well beyond it. While shopping malls on the strip typically cater to tourists and have many luxury boutiques, some shopping malls away from the strip have lower prices and many deals such as sales and promotions.
Shopping Malls Located on the Strip
– The Fashion Show Mall is located on the northern end of the Las Vegas Strip. Here you will find more than 250 stores and various restaurants. This mall is a distance away from the southern end of the strip and is easier to access if you are staying on the northern side of the strip.
– The Forum Shops at Caesars – Here you will find a number of boutique stores in a setting that imitates the ancient Roman architecture. And when you get hungry, you will not a lack of options: The Forum Shops is home to many restaurants.
– Grand Canal Shoppes at the Venetian and Palazzo – The picturesque Grand Canal under the brightly lit painted ceiling makes for a beautiful shopping backdrop. Even if you are not looking to buy anything, walking along the cobblestone streets and watching what's going on around is really fun.
– Miracle Mile Shops – Located inside Planet Hollywood, Miracle Mile Shops has over 200 stores and restaurants right at the heart of the Las Vegas Strip. Miracle Mile Shops is also home to several entertainment venues.
Shopping Malls Off the Las Vegas Strip
– Town Square Las Vegas – This outdoor mall is located along Las Vegas Boulevard just south of the Las Vegas strip and near the freeway entrance. It is popular with tourists and locals alike. Here you will find a mix of restaurants and stores along with a movie theater.
– Las Vegas South Premium Outlet – If you are looking to score a deal, head over to Las Vegas South Premium Outlets located just across the road from Town Square Mall. Here you will find designer clothes and accessories at discounted prices. If you don't want to walk you can hop on the bus that goes between Las Vegas Boulevard and the Strip.
– Las Vegas North Premium Outlet – A popular shopping spot, Las Vegas North Premium Outlets offers deeply discounted prices on many major brands such as Ralph Lauren and Nieman Marcus. If you are trying to choose between these two outlets, North Las Vegas outlets have more stores and larger space.
To get to Las Vegas North Premium Outlets, you will have to take a rideshare or a taxi cab, as it is located a distance away from the strip. Another option is to take the bus that runs between the Strip and downtown Las Vegas that stops right in front of the entrance to the North Las Vegas Outlets.
– Galleria at Sunset – Located in a suburb of Henderson southeast of the Las Vegas Strip, Galleria at Sunset is a typical suburban shopping mall with anchor department stores, restaurants, and other shops.
– Downtown Summerlin – An outdoor mall located in the community of Summerlin west of the Las Vegas Strip, downtown Summerlin features stores and restaurants and plenty of walkable space. It's located in close proximity to Red Rock Canyon National Conservation Area, so it's good to combine these two places in one trip.
See One of Las Vegas Shows
Las Vegas is the capital of the shows. Here you will find an amazing variety of shows for any taste and price point. One of the secrets to getting a good deal on a show. As the Entertainment Capital of the World, Las Vegas has dozens of shows every day. You can easily find discounts online.
Day 2
Unplug at Red Rock Canyon
After a night out, you will need some time to relax and unwind. Red Rock Canyon National Conservation Area shortly called Red Rock by locals is a perfect place to relax and unwind especially if you are visiting Las Vegas during fall, winter or early spring.
To get to Red Rock, simply take Interstate-215 west, exit at Charleston Boulevard and make a left turn. It will bring you all the way to the entrance of Red Rock. After you enter the park, you will drive around a 12.5-mile scenic drive, a gorgeous loop road that takes you to many overlooks and trailheads.
Red Rock Canyon requires a $15 entrance fee and features trails for beginner, intermediate and advanced hikers. You can easily spend your whole day at Red Rock, however, if you are short on time, I recommend hiking at least one of the easy trails to get a good idea of the place
Check Out Hoover Dam
But if you are visiting Las Vegas during summer months, hiking in the desert might not be the best idea, especially for those travelers who are not used to the heat. If it's the case, I recommend taking a trip to Hoover Dam with a stop at Lake Mead National Recreational Area.
At Hoover Dam, you will be able to take a tour and get a glimpse into the history of this historic landmark. You can visit the dam on your own and take a walk around, or book one of the tours.
If you are looking to see more nature, I recommend stopping at Lake Mead National Recreation Area after visiting Hoover Dam. As part of the U.S. National Park Service, Lake Mead requires a paid entrance. Some of the popular activities along Lake Mead include hiking, boating, and cycling.
Stop for a Quick Lunch
Summerlin and Boulder City are the gateway communities to Red Rock Canyon National Recreation Area and Hoover Dam, respectively. After exiting Red Rock Canyon, head over to downtown Summerlin for a quick lunch. Here you will be able to find a good variety of sit-down and fast food restaurants for any taste and price point.
And if you are making your way to Boulder City from Hoover Dam, you can find some good options too.
Hop on a High Roller
By the time you get done with your outdoorsy activities, you will probably need some rest. To end your day on a good not without taking too much strain, I recommend going for a spin on the Las Vegas High Roller, the world's tallest observation wheel located near the Linq Hotel. The ride will take you approximately 30-40 minutes and will take you above the glittering Las Vegas skyline. And if you want to combine a great view with some drinks, you can have a bartender serving drinks in your cabin for an additional charge.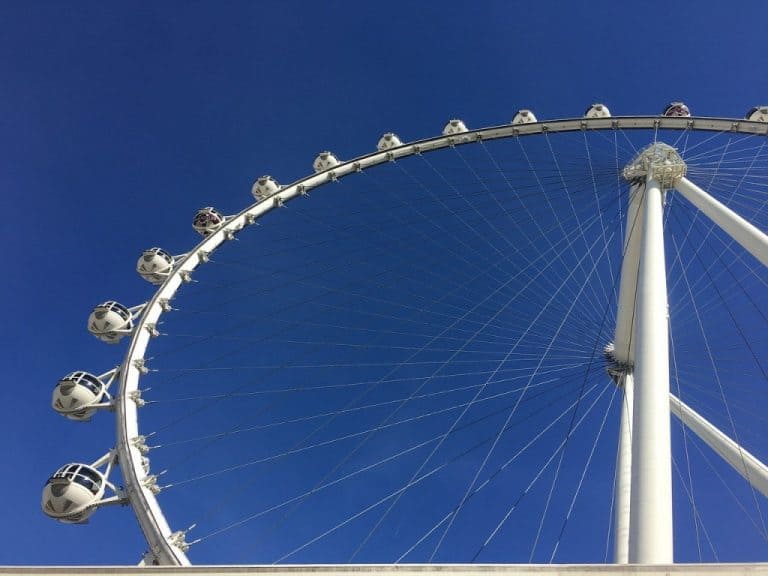 Day 3
Get Cultured
Now, let's talk about culture. Las Vegas is not just endless casinos, night clubs, and entertainment shows. While the city of Las Vegas is relatively young, it also has some history. To get a glimpse into what was going in Las Vegas in the early days, head over to the Las Vegas Cultural Corridor, home to several museums.
Neon Museum
Here you will find Neon Museum also known as the Neon Boneyard that houses a collection of vintage signs from old casinos and other establishments that used to display on Las Vegas Strip and nearby. After paying for tickets, you can explore the exhibits on your own or take a guided tour of the venue. The venue is popular for events and is sometimes closed because of the reservations, so make sure to check if it's open before making any plans.
Las Vegas Natural History Museum
Here you can also find Las Vegas Natural History Museum and the Old Las Vegas Fort Park that features a ruined adobe fort from 1855.
Mob Museum
One of the most popular museums in the area is the Mob Museum. The venue features a history of Las Vegas mobs and an organized crime in the United States.
Fremont Street
Just south of the Las Vegas Cultural Corridor is located Fremont Street, a popular location for entertainment and gaming. The most prominent feature of Fremont Street is an LED canopy, the world's largest video screen that puts on a show of images and music every 30 minutes.
In addition, Fremont Street is also home to many street performers, vendors and some of the oldest casinos and restaurants in Las Vegas. If you want to get a birds-eye-view of the area, you can go on a zip line and fly above Fremont Street Experience.
Downtown Art District
Take a quick walk east from Fremont Street and you will find many bars and restaurants. A good number of eateries is housed inside Downtown Container Park, a shopping mall that often puts on events and live music shows. It is located at the corner of Fremont Street and North 7th Street.
Attention Art Lovers
The area around Fremont Street has a number of murals that popped up after Life is Beautiful Festival was launched in downtown Las Vegas in 2013. The festival brought an array of artists that covered the city's walls in paintings, so it's definitely worth checking out if you are into street art.
And if you walk about a mile south from Fremont Street, you will find even more graffiti-sprayed walls, bars, and restaurants. Among some of the well known is Velveteen Rabbit that offers a nice selection of cocktails and Esther's Kitchen that is known for its wide food options.
Take a Helicopter Ride
There's no better way to wrap up your trip to Las Vegas than take a helicopter ride above its spectacular skyline. A number of companies offer packages for helicopter rides some of which combine a helicopter ride over the Las Vegas Strip with a visit to the nearby Valley of Fire or flyover of the Red Rock Canyon.
While some of these companies will arrange pick-ups at your hotel, others require you to get to their location on your own. Before booking your trip, I suggest doing detailed research about packages and offers as they may vary depending on a season. While summer months typically bring more tourists and see high prices, late fall and winter see lower prices.
Final Note
Las Vegas has something for everyone. Contrary to popular stereotypes, your visit to Sin City doesn't have to be all about partying and gambling. Here you can have a good time, enjoy the beautiful outdoors, visit world-class stores and learn about the history of one of the most popular destinations in the United States.