This is a guest post by Dariece of Goats On The Road, a website for Independent & Off-The-Beaten-Path travelers.
The Philippines is a stunning archipelago consisting of over 7000 islands! With so much to see and do here, it makes sense to fly between islands, rather than taking a boat everywhere. It sounds expensive but with so many discount airlines and flights in this country, you can find flights for the same price as ferries!
One of our favourite destinations in the Philippines is tiny El Nido on the island of Palawan.
Here are some of our secrets for traveling here on the cheap…while still having a fabulous time!
Sleeping:
There are loads of hotels and guesthouses in El Nido. If you stay right on the beach, rooms are not only more expensive, but they smell a bit musky and damp from the sea air.
Doesn't sound appealing?
Stay only an 8 minute walk from the beach beneath the towering limestone karsts! A beautiful double cottage at Cliffside Cottages costs $10/night.
The staff will treat you like family and you'll wake up each morning with a flask of hot water waiting for you on your porch. Perfect for making oatmeal, instant noodles, tea and coffee. Go out for the day and come back to a spotless room. Now that's my kind of place – cheap & cheerful.
Editor tip: Book in advance to save most. Get an extra 10% off with AGODAETR10 exclusive eTramping coupon code on Agoda.
Eating:
Eating in El Nido is a treat! There are so many options for the budget traveller. Whether you feel like seafood, sandwiches, pasta, noodle dishes, curry, pizza or burgers, you'll find it here.
If you're on an extra small budget, definitely go to the fresh vegetable and fruit markets and buy yourself some produce. Making a salad with a can of tuna on top, or hard-boiled eggs and having a picnic on the beach is a great idea! Mangoes are also the perfect breakfast food.
Cheap eats:
1. Squido's
Located on Calle Hamma street away from the beach, this restaurant serves up amazing seafood, local chicken adobo with rice, noodle dishes and more. A massive seafood platter, large enough for 2 people to share, costs $8.60 and a delectable chicken adobo meal with rice will set you back only $3.45.
2. Bhing's Bizz Curry House
Located on Calle Real near the church. The chicken curry here tastes like a curry you would have in India. It's delicious, costs $8.60 and will feed 2 people.
3. Midtown Bakery
This place serves fresh wheat buns, cinnamon buns, cookies, cakes, coconut buns and butter buns. The best part? They cost between $0.05 and $0.50! A very cheap snack or meal.
4. Small burger joint
on the road leading down to the beach. We don't even know the name of this place! They have 2-4-1 burgers that come with egg and cheese for $1.99. Two burgers for $1.99? Great deal if you ask me. What's an even better deal is their egg burger for $0.60.
Activities:
El Nido is jam-packed with things to do! You'll never be bored here.
For Free:
1. Lay on the gorgeous beach reading a book or throwing around a frisbee.
2. Wander around the town, check out the church and people watch.
3. Go for a hike. Follow the path along the beach, over some boulders, through the jungle, through a village and meet some interesting local people along the way.
4. Find one of the nicer hotels and go for a swim in their outdoor pool.
5. Search the jungle for some coconuts that have fallen off the tree (free), then buy a bottle of the local Tanduay Rum ($1), some orange juice ($0.30), crack into the coconuts and make some homemade coconut & rum cocktails! The perfect accompaniment to a sunset.
For A Fee:
If you're feeling more adventurous, check out these options:
1. Go Scuba-Diving!
Not exactly in the $25/day category, but still a great deal – $75 for 3 dives including equipment, a day on the boat and lunch. If you are a diver, or have a higher budget, definitely check out Sea Dogs Dive Shop.
2. Go to the nearby beautiful Los Cabanas Beach.
The cost of a tricycle ride there is $2.95.
3. Do An Island Hopping Tour.
Even though we typically prefer to travel independently, we had met up with 2 other backpackers and the 4 of us were able to go out on the water for the day with just us and a boat captain. Sailing around the coves, limestone cliffs and doing some snorkelling are a big part of coming all the way to El Nido. The cost is $17/person to see 3 islands. Snorkel gear is provided and they serve a fresh fish lunch with salads and fruit on the beach.
***In order to fit the island hopping tour into your daily budget, we suggest eating the cheap burgers and making salads a couple of days before, to save up some extra dollars! Seeing the soaring cliffs, crystal clear waters and white beaches is an experience not to be missed.
The most amazing experience you can have in El Nido…
is being dropped off at a deserted island with nothing more than a mosquito net, some basic food, snorkel gear, some rum and a lighter. We lived out our castaway fantasies on a gorgeous beach for 2 days.
We slept under our mosquito nets, shooed monkeys away from our food, snorkelled with sea snakes, puffer fish, moray eels and more. We built a fire and cooked some spaghetti and drank rum as the sun set over the ocean.
This peaceful and exciting experience only cost us $10/person for the boat to take us out there, and pick us up again the following evening. Since we didn't have a guesthouse room to pay for, two days on the island cost us $10 each, plus some cheap spaghetti and mangoes! A very affordable day in the Philippines.
In Closing:
Budget For One Day:
Room: $10
Food: $6.50
Alcohol: $1 (bottle of rum)
Total: $17.50
This is one of the most budget friendly countries in the world. The best part about the Philippines is that it's not on the typical SE Asia backpacker trail, it's somehow missed by most travelers. Which is fine by us, we don't mind having all of the islands to ourselves!
So what are you waiting for? The Philippines is easy on the wallet, the eyes and the soul. It's time to pack your bags and head out to this awe-inspiring archipelago!
For more budget tips on traveling through the Philippines, check out our tips section. For everything you need to know about traveling through this region on a budget, check out our Budget Backpacking Guide To The Philippines
Have you ever been to the Philippines? Were you able to travel for under $25/day?
About The Authors: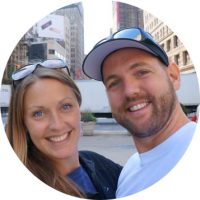 Nick & Dariece have left everything behind in search of cultural experiences, beautiful beaches and off the beaten path adventures. They call themselves Goats On The Road and their website for Independent & Budget Backpackers encourages others to pack their bags and leave the ordinary behind. Visit Goats On The Road and get excellent tips for the adventurous budget backpacker!