This is a guest post shared with us by Marek Bron. He is a fellow budget travel blogger who writes about Latin America travel (and other destinations) at his blog IndieTraveller.
Having just concluded a five month trip through Central America, I'd like to share some money-saving tips specifically for this part of the world. These can of course be used in combination with your usual cost-saving methods, which are covered in other articles on this site (such as 5 tips to travel with extremely tight budget).
The cost of travel in Central America differs quite significantly from country to country. In some parts (like Nicaragua) it's very easy to stay under $25 a day as prices are nearly as low as in South-East Asia. In other parts (like Costa Rica) you will certainly need a budget-conscious mentality if you are on a tight budget.
Here are a couple of tips for making your money go the furthest when traveling Central America.
How to Travel Central America on a budget
#1 Avoid the more expensive countries
Costa Rica
Costa Rica oddly appears in lots of lists of 'cheapest travel destinations' online, however it's significantly more expensive than other countries in the region. To holiday tourists it probably does seem cheaper, but it will certainly strike backpackers as expensive. Dorm beds start around $15 in many places and food is often costs twice as much as neighbouring Nicaragua. If you are on a budget, consider spending less time in Costa Rica (or make sure you cook your own food or bring a tent or hammock).
Belize
Belize is another expensive country. A hostel dorm bed sets you back about $15 there, with privates starting around $30-40. Most meals start at $10-15, unless you find a cheap Chinese eatery where you might still find a basic meal for $5. Caye Caulker is a popular stop on the Gringo backpacker trail, though stay there too long and your funds will dwindle quickly.
Mexico
Mexico is still quite affordable, though can get expensive if you try to cover much ground in this large country. A rule of thumb for the cost of buses is about $5-7 for every hour travelled. (Mexico is technically part of North America, but it is often included in Central American trips.)
Generally speaking, the Carribean side in Central American is more expensive than the Pacific side—most likely due the remoteness of some of the towns there.
#2 Learn some Spanish
Knowing some Spanish will pay dividends throughout your trip, as you can negotiate better deals and will be ripped off much less often. Bring some audio lessons along for your bus journeys, or stay somewhere for a week to take some Spanish classes. I wrote some tips about learning Spanish here.
#3 Use local transportation
Most Central American countries can be travelled through very cheaply by using local transportation. Shuttle services catering specifically to tourists are a little more convenient, though can cost as much as ten times more.
Collectivos
Collectivos are short-distance minivan services. You can find them at bus terminals or you can usually flag them down on the road. While not that comfortable (I recently had to hang partly out of an open sliding door), they can be incredibly cheap. Driving for one hour in one will set you back about $0.50 – $1.
Chicken Buses
Chicken buses are converted former US school buses, named so because various goods including live chickens will sometimes be transported on them. They cover somewhat longer distances. People will usually be shouting out destinations at the bus terminal, so just hop on board one that's heading the right direction. For prices, think single-digit dollars. A man usually comes to collect the money from you during the journey. Remember to keep a close eye on your bags.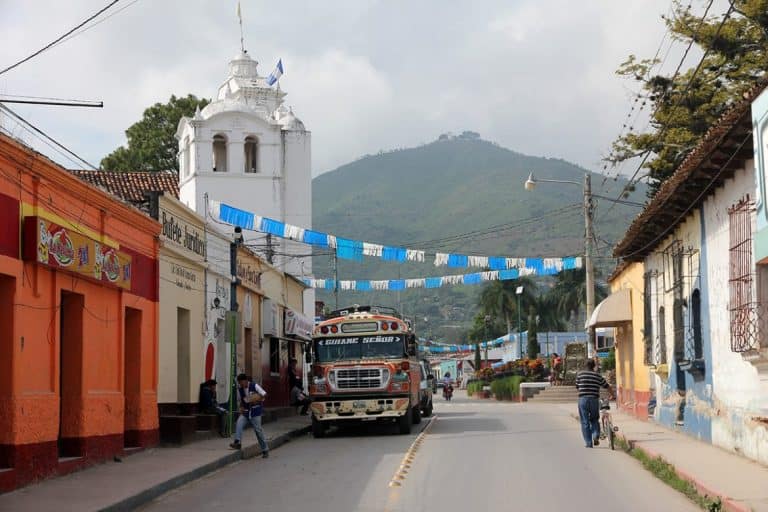 Some travelers don't use chicken buses because of reports of crime. It's true that generally it is not advised to use inner-city buses in capitals such as Guatemala City or Managua as these are much less safe. However outside the main cities and during daytime, chicken buses are typically fine (inquire locally if unsure).
#4 Avoid flying
Those accustomed to low airfares in North America, Europe or Asia thanks to low-budget carriers may be surprised by the high cost of air travel in Central (and South) America. There are few low-budget carriers here, so prices are high.
If you must fly, it's worth checking flights that go via Miami or Fort Lauderdale airport – these are two key hubs for the region, and sometimes flying via Miami is cheaper than flying directly between two Central American capitals even though the distance might be much greater.
Within Mexico there are some well established low-budget domestic carriers, so if you want to cover lots of ground there you can do it reasonably cheaply.
Crossing the Darien Gap from Panama into Colombia is relatively expensive with prices hovering around $500 USD for a single one-way ticket. Many backpackers opt to sail from Colon to Cartegena instead.
#5 Be selective with your sightseeing
The more touristy the place the more you will have to spend on sightseeing. So instead of seeing the Mayan ruins of Chichen Itza near Cancun in Mexico (typical price for a tour $60) consider going to Tikal in Guaremala ($30 for a tour). This also happens to be a larger and more interesting archaeological site.
For diving consider going to the Bay Islands in Honduras, and skip diving off the Yucatan or Caye Caulker. While the diving is very good there, your money will go much further elsewhere.
Have you ever travelled in Central America? If so, what was your favourite country?
About the author: Marek Bron has been traveling the world since 2012. He writes about Latin America travel (and other destinations) at his blog IndieTraveller. Marek is the author is Travel the World Without Worries, an in-depth book all about preparing for a big trip abroad.