As frequent travelers, we've often noticed that a good travel duffel bag needs to be not just spacious and accessible, it needs to be easy to carry and sling on. There are many out in the market but it might be more catered to a man's built or height, despite their incredible versatility and capacity. If you are a lady and in the market for a wheeled duffle that can carry your essential belongings or a sleek carry-on duffel for those quick weekend getaways, you'll find the perfect bag for ladies in this roundup. Plus, we'll tackle some of your top questions about choosing the ideal duffel for your next adventure.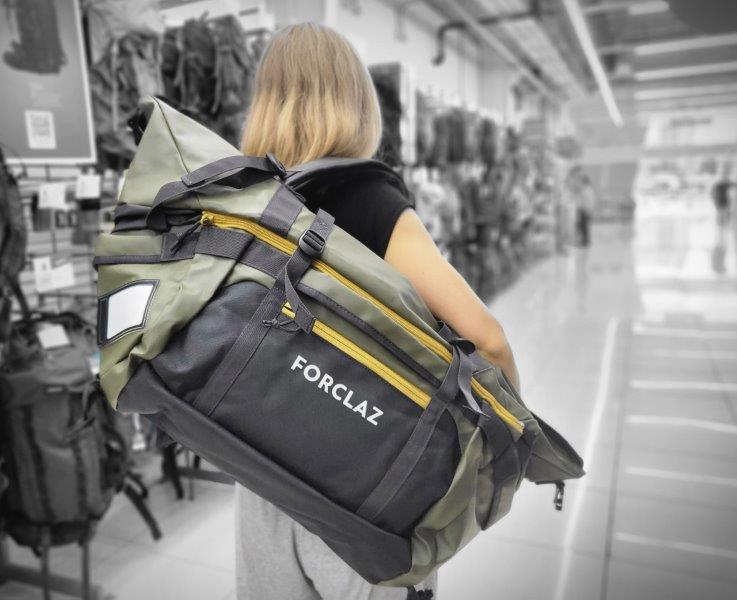 What is the Best Travel Duffel Bag for Women?
We have compiled for you the top 8 Best Travel Duffel Bag for Women in 2023. In this article we go through the products that we have used ourselves, checked what other users thought about them and we ranked them accordingly.
With years of experience with women's duffel bags for travel and having used several travel duffel bags for women you can trust our review.
Moreover, you can scroll to the end of this review to see our mini buying guide as well as the answers to some of the frequently asked questions about travel duffel bags for women.
Specs
Price: 💲💲💲 (fewer 💲 = cheaper)
Capacity: 40 liters
Size: 21.7 x 11.8 x 9.8 inches (55.1 x 30 x 24.9 cm)
Material: Canvas, cowhide leather, metal
Wheels: no
Water Resistant: yes – shoe compartment
Waterproof: no
Converts to a Backpack: no
This travel duffel bag by WOWBOX is for seasoned fliers to keep all their critical belongings within reach on the trip, like their windbreaker, medicine pouch and portable chargers. The carrier has an over-the-shoulder design for convenient carrying and it's compact enough to fit into the overhead compartment bin. Another handy feature is the shoe compartment to place worn shoes or laundry, separating it from other items in the bag, which is a highly useful feature to ladies.
Pros
Can use it as a carry-on bag,
Dedicated shoe compartment,
Enough pockets to organize stuff properly,
Well-crafted construction for years of use,
Multiple-carrying options,
Affordable price
Cons
Quality concerns with stitching but outstanding customer service
Specs
Price: 💲💲💲 (fewer 💲 = cheaper)
Capacity: 70 liters
Size: 23 x 14 x 12 inches (58.4 x 35.6 x 30.5 cm)
Material: nylon, polyvinyl chloride
Wheels: no
Water Resistant: yes
Waterproof: yes
Converts to a Backpack: no
If you are an outdoor adventure seeking lady, the Earth Pak Waterproof duffel bag has thermo welded seams to ensure your gear remains completely dry. The airtight and completely waterproof design works well as a motorcycle backpack, river rafting duffel bag, and weekend getaways bag. For the seasonal flier, it has added storage inside and out, making it worthwhile to take on your next trip. The duffel works well for any venture with the removable shoulder strap, buckle strap on all sides, with the molle system on the front and back.
Pros
Plenty of attachment points,
Loads of space with two pockets,
Watertight protection,
Loads of room in the pack,
Waterproof and airtight,
Stylish design with a locking system
Cons
The strap stitching comes undone, but the customer response is excellent
Specs
Price: 💲 (fewer 💲 = cheaper)
Size: 18 x 14 x 6 inches (45.7 x 35.6 x 15.2 cm)
Material: nylon
Wheels: no
Water Resistant: yes
Waterproof: no
Converts to a Backpack: no
The Spirit Airline collapsible travel duffel bag comes in a special design and is made from high-quality nylon material, meaning that it's sturdy and durable. It also has a small compartment on the exterior where you can place your passport/wallet/cards or any other small items for easy retrieval. It holds more than you can ever think and will suit you best if traveling on a plane with restrictions on bag sizes.
Pros
Good size for a few days' travel
Pretty pink color
Elegant design to suit both men and women
Fits a lot of stuff
Lightweight and easy to carry
Durable little bag
Cons
Not designed for shoulder carrying
No padding on short handles
Specs
Price: 💲💲💲💲 (fewer 💲 = cheaper)
Capacity: 49 liters
Size: 22 x 12 x 12 inches (55.9 x 30.5 x 30.5 cm)
Material: cotton, mesh
Wheels: no
Water Resistant: no
Waterproof: no
Converts to a Backpack: no
This lightweight travel duffel bag by Vera Bradley is great for girl adventure getaways to pack in style. The interior pockets keep your clothes, cosmetics, and flat iron sorted. Seasonal fliers will find the exterior pocket a big help to hold reading material, snacks, and boarding passes close by. The bag is machine washable making it easy to keep clean and to last a long time.
Pros
Colorful, lightweight, and packable,
Detachable shoulder strap,
Interior and exterior pockets,
Roomy to hold everything for a weekend trip,
No problems using it as a carry-on bag,
Well made
Specs
Price: 💲💲 (fewer 💲 = cheaper)
Capacity: 56 liters
Size: 24.8 x 11.8 x 12.9 inches (63 x 30 x 32.8 cm)
Material: polyester, elastane
Wheels: no
Water Resistant: yes
Waterproof: no
Converts to a Backpack: no
This Under Armour duffel works well as overnight, sports, and commuting bag, available in the small to medium size. If you're packing for a longer trip, you can find it in a larger size as well. The bag has a zipped side and inside pockets to keep items on hand and organized. The shoulder strap adjusts, and the grab handle is comfortable for carrying on any outing.
Pros
Water-resistant finish,
Large front organization pocket,
Vented pocket for laundry or shoes,
Produced by one of the best backpack brands,
Can use a padlock on the inside pockets,
Reasonable price
Cons
The shoe compartment takes up space in the main cubicle
Specs
Price: 💲 (fewer 💲 = cheaper)
Capacity: 75 liters
Size: 30.7 x 12 x 12 inches (78 x 30.5 x 30.5 cm)
Material: polyester
Wheels: no
Water Resistant: yes
Waterproof: no
Converts to a Backpack: no
The IFARADAY duffle bag offers you the flexibility to use as checked-luggage on a plane or packing camping supplies for a weekend trip. It has a two-way lockable zipper to keep your items secure with a TSA lock for frequent traveling. It has a water-resistant design for outdoor use.
Pros
Lockable with two-way zipper,
Versatile for camping, shopping, and traveling,
Water-resistant design,
Value for money,
Durable,
Keeps things dry when it rains
Specs
Price: 💲💲💲💲 (fewer 💲 = cheaper)
Capacity: 49 liters
Size: 22 x 12 x 12 inches (55.9 x 30.5 x 30.5 cm)
Material: polyester
Wheels: no
Water Resistant: no
Waterproof: no
Converts to a Backpack: no
The Vera Bradley weekend bag is safe and functional with its double strap design and top zip closure to grab and go while keeping things protected. The inside of the duffle bag has several pockets to keep your stuff like hair products, cosmetics, and other items, organized. You can use it as a carry-on bag for short trips.
Pros
Offers style and function,
Zip closure to keep items secure,
Dual straps system,
Sturdy and well-sized,
Nice storage pockets on the inside,
Fashionable design
Specs
Price: 💲💲 (fewer 💲 = cheaper)
Material: Honeycomb Ripstop fabric
Wheels: No
Water Resistant: Yes
Waterproof: Yes
Converts to a Backpack: no
The Bago Travel Duffel Bag is made from waterproof material and comes with several pockets, 2-way zippers, and robust pullers with rain flaps for easy organizing. It also has some pretty sturdy buckles and clips so you can attach it to other bags or strap it to a vehicle rack. What we love about this duffel is that you can either sling it over your shoulder with its padded strap or just grab it by its dual handles. The Bago Travel Duffel is great for things like short trips, camping adventures, hitting the gym, or even hospital visits. And once you're all set, it collapses smoothly for easy storage. As a heads up, we recommend being a bit gentle with the zipper and velcro, as some reviewers said they're not very strong.
Pros
Made of waterproof materials
Several pockets
Large internal space
Option to use handles or shoulder strap
Cons
Velcro and zippers not made of durable materials
Verdict
To summarize, we have gone through dozens of travel duffel bags for women and decided that 8 are worth your consideration. Out of these, the absolute Best Travel Duffel Bag for Women is Wowbox Duffel Bag Weekender Bag which we highly recommend as our overall best.
If money is not an issue, you can consider Duffel Bag Earth Pak Waterproof as this is our Premium Pick.
Otherwise, there's no shame in spending prudently, Spirit Airline Duffel Bag is the Budget Option.
Our other reviews you may find useful in your research:
What You Should Know Before Buying travel duffel bags for women
Mode of Carrying
Factors such as the size and weight of your duffle bag as well as how long you will need to carry it around are important considerations especially when buying an oversized duffel bag. Duffle bags usually have 2 basic modes of carrying:
Backpack straps
As the name suggests, backpack straps give you the freedom that comes with carrying your luggage on your back leaving your hands free for other tasks or to carry more bags.
Questions and Answers About travel duffel bags for women
What is a duffel bag?
It is a bag with a cylindrical shape made of different fabric types closed by a drawstring or zipper and carried over the shoulder or in your hand.
What size duffle bag can you take on a plane?
The critical thing is to check with your airline requirements before settling on one for the size and weight limitations.
Can you use a duffel bag as hand luggage?
Yes, as long as the duffle bag is within the airline's size requirements. Look for carry-on sized duffel bags for ladies on our list.
What size duffle bag can I carry on a plane?
To choose the correct size, it helps to check with the airline's size requirement to use the duffle bag as carry-on luggage. For most flights, a 35L and smaller has an ideal size to take with you on a plane.
How do you pack a duffel bag for travel?
To pack your duffle bag effectively, you can do the following:
-Place your shoes and a layer of clothes at the bottom of the bag.
-Put your electronics on top and cover with another layer of clothing.
-Place your toiletries in a zip-lock bag to prevent spillage.
-If you want to buy, souvenirs leave a place for them and pack it in with your electronics.
-Fill up the gaps with rolled-up pieces of clothing to protect your valuables.
-Place the rest of your attire on top and use the compression straps if available for a secure fit.
What are the best duffel bags for women?
The best duffel bag for women is one that can fit in all the items needed to take on a trip. Thule Chasm Sport and WOWBOX are one top picks due to their high quality and versatility of use.
What's a good size duffle bag?
An excellent sized duffle sack to use for weekend trips is a 30-50L one, while a 50-75L pack is ideal for a week to a two-week trip. So, a 60L duffel bag is the best for longer trips, ones that require a lot of gear like outdoors rock climbing, or for storage and moving houses.
Are 36-inch duffel bags good for traveling?
Duffels are an excellent alternative to suitcases when you are traveling for a short duration, such as a three day weekend. They are also perfect for camping trips where a backpack may not be sufficient to carry all your gear. On the other hand, a duffel bag may not be as secure as a suitcase if you are doing international travel because it would be relatively easy to cut the fabric open with a knife.
How big is a 60l duffel bag?
The carrier has a 60 liter capacity to hold a week of clothing. 60 liters of space is equivalent to just over 28 six packs of beer. Hope this helps you visualize the amount of space you'll have to play with in a 60L duffel bag.