eTramping in Guilin
Guilin, Guilin! Here we are! Knackered after over 13-hour bus ride, we finally got to China's most picturesque region. How does it feel to be exploring one of the world's most beautiful and famous travel destinations? Awesome, truly amazing!
About Guilin:
It's located in Guangxi Province.

Sits on the west bank of the stunning Li River.
Its name is translated as "Forest of Sweet Osmanthus".
There is a very popular Chinese saying 桂林山水甲天下 meaning "Guilin's mountain and water scenery is the best under heaven"
Our First Guilin Impressions
#1 Epic meeting with Sarah of  The further adventures of bennett
We were thrilled and excited to finally meet a fellow travel blogger – Sarah – in person. Sarah found our blog last year and made a first comment on my post regarding things I hated about China. We quickly became friends and supported our travels. We also wrote a book together about our life and teaching experiences in China which will be published very soon (we can't wait for it)!
Sarah is an extremely cheerful and adventurous person. She has been working as an English teacher in China for the past 20 months (what a milestone!) and she has been sharing her China experience on her blog. Although we come from different countries (Sarah is British), we still managed to share the same sense of humor (we were laughing all days long), had a lot of fun and explored Guilin on a budget!
We were all flexible with each other and Sarah guided us most of the time as she has arrived 2 days before we did so she knew the place pretty well. We explored Yangshuo River together, did an epic cycling in Xing Ping and we hiked the Longsheng's Rice Terraces.
We had a blast on the first night when we dressed up in Chinese traditional outfits. The uniforms costed us only RMB10 ($1.60) and we were posing in front of Cez's camera with a beautiful night view of Guilin's pagodas behind us.
#2 Capricious weather
In terms of the weather, we must admit that Guilin has disappointed us a bit. Sarah was just about to miss her flight back home due to a heavy traffic caused by the flood in the town and we had to get back to Dongguan one day earlier.
There was a heavy rain every morning with some sunshine in the middle of the day and then suddenly it went warmer and sunnier in the afternoon. The wind was blowing like crazy every night and it was pretty humid.
The worst weather was during our ride across the Yangshuo River (strong wind and heavy rain). We were all wet and cold, but still enjoyed the ride.
What we were most happy about is the fact that Guilin's weather did not ruin our stay there. Although we felt a bit annoyed with the flood on the streets and a massive traffic caused by the high level of water in the town, we tried to enjoy our trip as much as we could.
#3 Delicious Food
Guilin treated us well with some nice food and drinks. It is actually a great place to satisfy your stomach! Although we could not find any new food that we hadn't tried in China before (kind of traditional and authentic Guangxi Province food apart from horse meat we were recommended), Sarah and Cez had their best noodles ever and I tried an egg and tomato soup for the first time which rocked!
We had our breakfast at local restaurant nearby our hostel. I sticked with my favourite eggs and soy milk, Sarah went for sesame buns and Cez had a sticky rice wrapped in a leaf and a piece of You tiao.
For lunch, we stopped out one of the local food vendors to have some noodles and eggs and tomato soup.
Guilin is very famous for its thick noodles served with various spicy sauces and herbs topped with peanuts. It was Cez's and Sarah's treat of the day.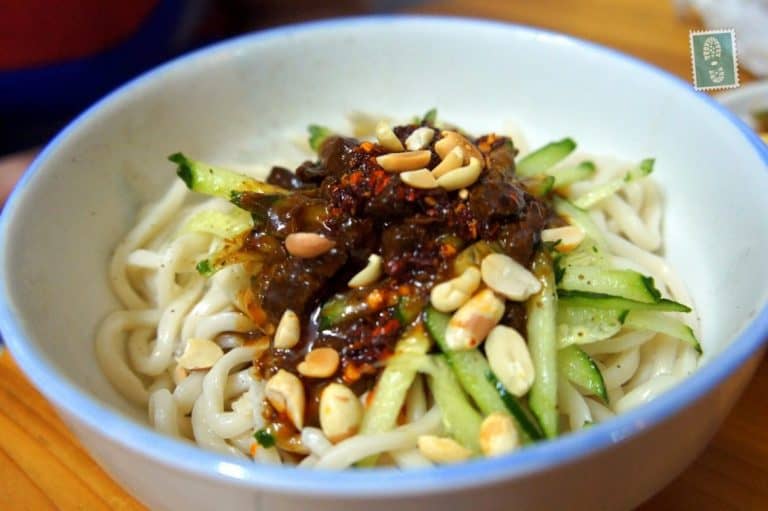 #4 "East or west, Guilin scenery is the best"
Not without a reason Guilin is perceived as one of the most beautiful places in China. Right after Beijing, it is the second most visited travel destination and we can assure you that this picturesque region will take your breath away. At some point, the Yangshuo cruise reminded us of Vietnam's Ha Long Bay and Tam Coc's experience in Ninh Binh.
To be honest, every corner you look is picture postcard perfect and it is simply impossible to take a bad photo.
#5 Friendly Locals
We didn't hang out with Chinese a lot this time. It was just 3 of us taking Guilin, but we did meet some nice and friendly people who we had short conversations with, such as young Chinese girls we met on a car when heading to Longji Terraced Fields, an awesome and honest car drivers who took us from Guilin to Longji or some random Chinese we met on a bus from Xing Ping to Guilin.

Locals in Longji were also very friendly. They kept asking if we were hungry, tried to sell us some souvenirs without being pushy and the ladies smiled a lot to us. We loved their traditional Chinese uniforms and huge wicker baskets they carried on their backs.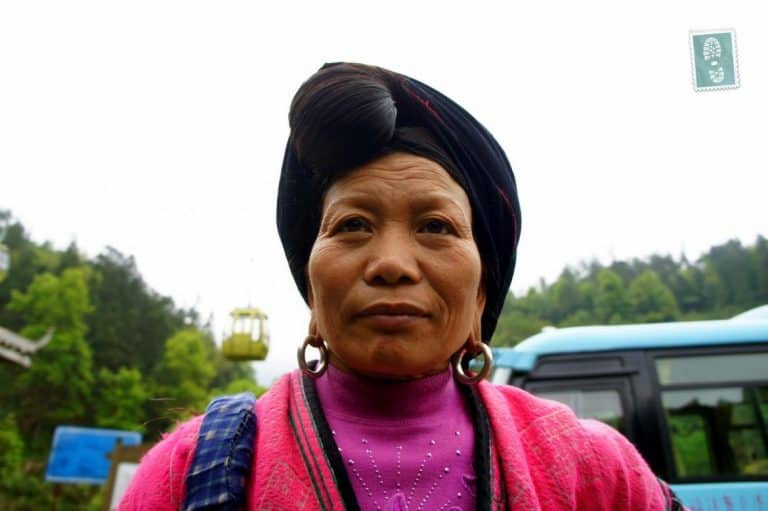 All in all, Guilin has been simply awesome so far. All we complained about is the weather, but we could simply handle it.
Guys, how did/would you like Guilin?