Ashamed as though I am to admit it, I have never skied in my life. This is really quite odd considering I hail from a country that regularly produces champion skiers, and has some top resorts to boot. Still, when it comes to learning the sport/pastime, there might be no better place than skiing in Slovakia.
This small, landlocked European country is an outdoor enthusiasts dream, with plenty of winter activities and events available for all the family throughout the year. As I'm one of the total noobs, here's a run down of some of the best ski resorts for beginners in Slovakia, and why you should make it your next winter holiday destination – with or without skis.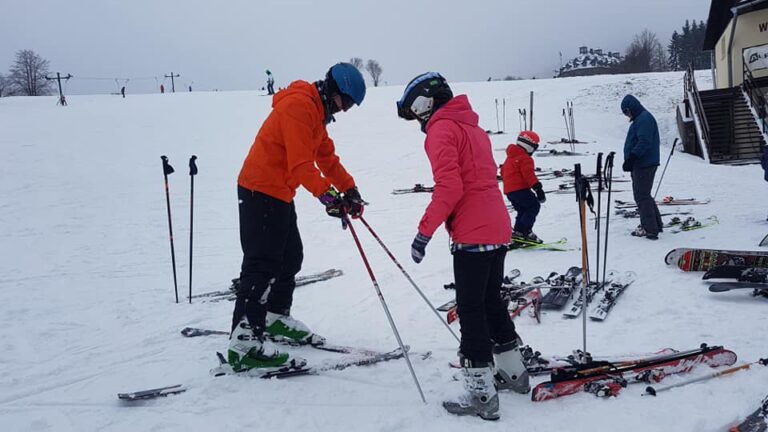 Note, though, that my winter trip to Slovakia and the first skiing experience of my life happened in 2019 – before Covid-19 pandemic. I hope that not much has changed and as soon as all the associated restrictions are lifted, all the info here will be as relevant as back then.
Skiing in Slovakia – What's the Attraction?
As an alternative skiing option to the likes of France, Austria, Italy, and Switzerland, there's a lot to love about Slovakia. For a start (and most importantly) it's a fraction of the cost of the "big four," and yet still has some outstanding, world-class facilities and winter-sport infrastructure.
You'll find all skill levels are accommodated, with challenging runs for advanced skiers alongside gentle slopes for beginners. The hospitality is exceptional, and actually getting there is straightforward with budget carriers regularly flying into Poprad and Bratislava – should you desire to experience the capital first.
While overall, Slovakia skiing can't really go toe-to-toe with Europe's leading resorts, it's still a beautiful country in its own right with plenty to see and do whether you ski or not. And the fact that it's nowhere near as crowded, is highly accessible, and offers a lot of bang for your buck means that Skiing in Slovakia is well worth considering over the Alps.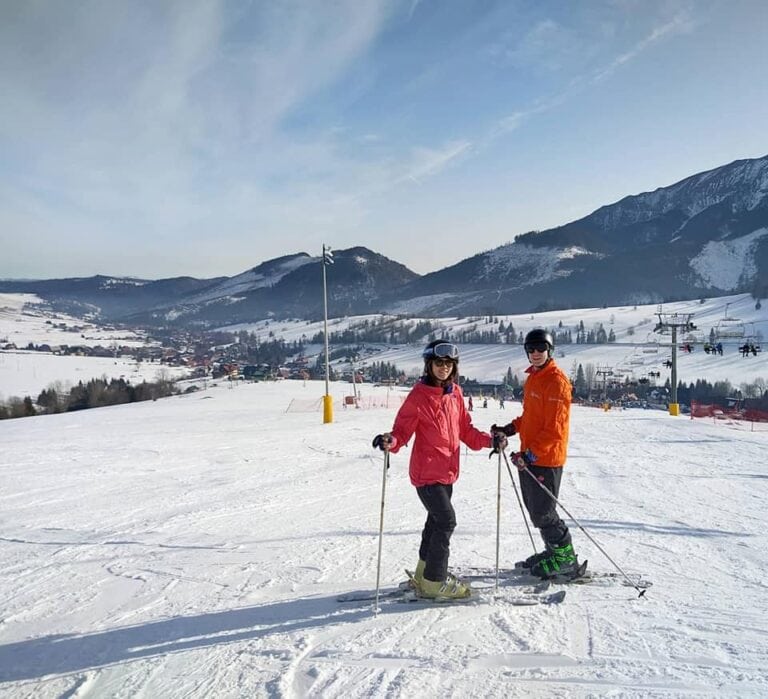 Before Setting Off
Don't forget you need to take out comprehensive medical insurance before you travel – most especially if you're partaking in winter sports activities. Even if you're a downhill skiing champ, accidents can happen and it's far better to be safe than sorry. And if you're a first-timer – it really is non-negotiable.
Tatranská Lomnica
After departing from Bratislava, Tatranská Lomnica was our first port of call, the highest of all the Slovakia ski resorts with some of the steepest and most spectacular slopes. Fear not though, beginners are well catered for here with the lower and middle sections devoted to newcomers, with 5.4 kilometers out of a possible 11.8 km earmarked as long and slow beginner courses.
Eight modern chairlifts allow swift access to all the runs, with practice lifts near the base included if you're not feeling too confident just yet. Even if you're not ready to ski, you can still enjoy the breathtaking views of the region. A ski-school is on site, and a beginner's lift ticket is available, with a one-day ski pass starting at 49 Euros for adults.
Jasná Nízke Tatry – Chopok
Situated in the Low Tatras in central Slovakia, Jasná is a year-round ski location in a stunning environment that's suitable for beginners. Here you'll find 19.2 kilometers of blue (easy) runs, with the southern side slopes of 10, 13, and 14, being particularly reasonable for anyone who has never strapped on a pair of skis before.
Getting around the ski resort is also worthy of note, with a funitel and gondola lift on hand to take nervous first timers away from the red runs of the Chopok peak – should you find yourself in that advanced region. There's a full ski school and equipment rental available, and two hours of instruction per day for four days will cost you a budget-friendly 99 Euros for this season.
Donovaly (Park Snow)
Donovaly is perhaps the best place for skiing in Slovakia if you're a beginner. This is where I learned for the first time, and a great spot to hire your gear. Most of the routes here are suitable for beginners, and even the red runs are of the gentler variety. You'll enjoy a beginner's area, an easy valley run, practice ski lifts, and wide slopes so you can feel super comfortable throughout your learning curve.
Also known as Park Snow, the Donovaly resort has the second largest children's skiing facility in Europe, is packed with activity options, and is a wonderful place to take your family. However, while there are five kilometers of beginners ski runs out of a possible 11 – the Telemix Nová Hola area is only for intermediate and advanced levels. A seven hour (one day) ski pass will cost adults 30 Euros.
Štrbské Pleso
With an altitude of 1825 meters, the village of Solisko at the Štrbské Pleso resort is the highest settlement in Slovakia. Don't let that worry you though, you'll find three kilometers of slopes suitable for beginners, with the Maxiland run at the base ideal for your first ever time on skis. It's very popular with skiers of all skill levels who come to enjoy the dramatic views in outstanding conditions over well-groomed pistes.
For those feeling a little more confident, you'll find 26.5 kilometers of cross-country trails to enjoy the thrill of nature on skis, as well as a snow park for snowboard tricksters to get their adrenaline rush. Night skiing is also available, but if you're looking for something a little different, sledding, bungee jumping, paragliding, and snow tubing is also on offer. At peak, a day ticket will cost you 31 Euros – if you're an adult.
Ski Slovakia
As an alternative to some of the more well-known European ski resorts, you should really consider skiing in Slovakia when deciding your next winter holiday destination. There's something for everyone here, but in offering an excellent infrastructure for beginners at an unbeatable price, it's a must-visit location if you're looking to learn how to slalom the slopes for the first time.
We had an absolute blast during our 7-Day Slovakia itinerary, and I especially enjoyed finally learning how to ski here. I would highly recommend a visit if you've never put on a pair of the skids in your life. And even if you don't fancy throwing yourself down a mountain, there's always the Après-Ski.
Which of the Slovakia ski resorts do you like the look of? Let us snow where you would visit and why!