Columbia Sportswear is well known for making some of the best winter jackets on the market. They have some patent-protected technologies which they incorporate to ensure that they give you the best product possible. There is a wide range of Columbia winter jackets, suitable for different weather conditions. With this article, I have made it easy for you to find the best match for you.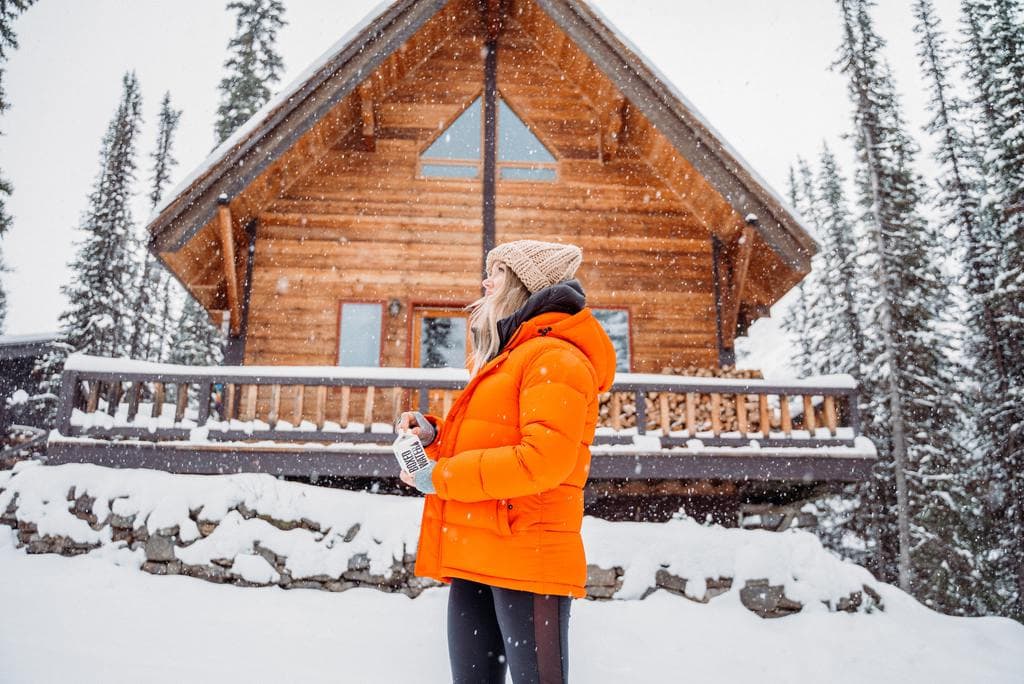 What is the Best Columbia Winter Jacket?
We have compiled for you the top 5 Best Columbia Winter Jacket in 2023. In this article we go through the products that we have used ourselves, checked what other users thought about them and we ranked them accordingly.
With years of experience with Columbia winter coat and having used several Columbia winter jackets you can trust our review.
Moreover, you can scroll to the end of this review to see our mini buying guide as well as the answers to some of the frequently asked questions about Columbia winter jackets.
Made from 100% Polyester, the Heavenly Long Hooded Jacket has features that make it a great choice for cold weather. These include the heat-reflective lining and synthetic down insulation which retain heat to keep the user warm. The hood effectively protects ears from the cold and wind. Unlike the Columbia Women's Peak to Park Insulated Jacket reviewed below, this jacket has a long length design that goes below the waistline, which is stylish and adds warmth.
While it is warm, the jacket is also breathable and waterproof. The outer pockets are zippered to ensure your stuff does not fall out and it also comes with an interior pocket. It has comfort cuffs that have thumb holes to keep your hands warm. Unlike the other jackets on this list, the zipper closure on this product is a two-way that allows flexibility. However, some users were not happy with this zipper as it gets stuck frequently. The sizes also run small, so I would suggest you order a size bigger than you would normally get.
Pros
Longer length design for a classic fit,
Plush fleece hood for protection from the wind,
Heat reflective lining for increased warmth,
Water-resistant Polyester shell,
Two-way zipper closure for increased flexibility,
Comfort cuffs with thumbholes for warmth
Cons
Zipper often gets stuck,
Sizes run small
This jacket features a 100% Polyester Storm-Lite DP II water-resistant outer shell. It features a Mirotex Lite II Taffeta lining for a soft and comfortable feel which some users found torn up after a few uses. The sizes also run big, so you may want to order a size smaller. On the upside, the Peak to Park jacket comes with synthetic down insulation and an easily removable hood to cater to different climates. However, some users found the hood to be a little oversized. The zippered side pockets keep your hands warm and store small items safely, and an interior pocket for your small valuables.
Pros
Versatile design for casual and active use,
Synthetic down insulation,
Faux-fur trimmed removable hood,
Water-resistant outer shell
Cons
Size runs big,
Poor stitching on the seams
This jacket features Columbia's proprietary Omni-Heat technology that enables it to retain body heat while allowing breathability. It also features 590 Turbodown filling that provides warmth while keeping the jacket lightweight for outdoor activities. However, some users of this product have noted that down insulation tends to shed and affects the insulation. Its zippered pockets are ideal for keeping your hands warm, while its zipper closure makes it easy to put on this jacket and increases breathability when it gets warmer. The drawcord adjustable hems and hood are an effective barrier for preventing wind and cold air from getting in. It has a versatile design that you can wear for casual occasions as well.
Pros
Omni-heat feature for increased warmth and breathability,
Lightweight for outdoor performance,
Hood for wind protection,
100% down insulation,
Drawcord-adjustable hems
I choose this product as the best premium choice on this list and here is why. Unlike all the products on this list, the Eager Air Interchange jacket features a convenient three-in-one design. This includes a waterproof outer layer with an inner fleece layer that you can wear on its own. You pretty much get two jackets for the price of one!
It is a lightweight jacket, so you will not struggle when having those outdoor runs and hikes. Like the Columbia Women's Peak to Park Insulated Jacket, it has a removable hood that provides considerable protection from the cold. The hem has a drawstring for adjusting to ensure that cold air does not come in and retains warmth. Despite all these features, some users found that this product is not warm enough for extremely cold weather.
Pros
Waterproof shell ideal for rainy weather, Features a versatile 3-in-1 design,
Lightweight and durable construction,
Removable hood for convenience,
Adjustable sleeve cuffs and hem
Cons
Not suitable for extremely cold temperatures
This product is the best budget option on this list and is also my top choice. The shell is made of 100% Nylon, while the lining is 100% Polyester, which gives it a lightweight construction. Due to the Omni-shield feature, this jacket is waterproof, breathable, stain-resistant, and quick-drying. The Watertight II raincoat comes with adjustable features such as elastic cuffs and hems which aid in the fitting. The zipper closure increases breathability while also making the jacket easy to wear and remove. However, some users found that the seams were not durable, and they ripped after a few uses. They also noted that the zipper tends to get stuck, which can be an inconvenience. In addition to breathability, this jacket is lightweight and is ideal for outdoor activities such as hiking and running on rainy days. It will take minimal space in your luggage as it fits into a hand pocket. The zippered pockets also allow the user to keep their small items safely.
Pros
Lightweight Nylon shell, Omni shield for breathability and waterproofing, Chin guard that prevents abrasion,
Adjustable features for a comfortable fit,
Ideal for excursions and sports
Cons
Low-quality stitching and zipper
Verdict
To summarize, we have gone through dozens of Columbia winter jackets and decided that 5 are worth your consideration. Out of these, the absolute Best Columbia Winter Jacket is Columbia Womens Heavenly Long Hooded Jacket which we highly recommend as our overall best.
If money is not an issue, you can consider Columbia Men's Eager Air Interchange 3-in-1 Winter Jacket as this is our Premium Pick.
Otherwise, there's no shame in spending prudently, Columbia Men's Watertight II Rain Jacket from Amazon Essentials is the Budget Option.
Our other reviews you may find useful in your research:
What You Should Know Before Buying Columbia winter jackets
Winter Jacket Material
Most Columbia winter coats outer shells are made of either Polyester or Nylon. Both materials have their pros and cons, which you may need to consider depending on how you intend to use the jacket.
Polyester is a highly breathable, lightweight, and quick-drying material that is ideal for outdoor activities. In comparison, Nylon is more durable due to its elastic nature and weather-resistant. It is also warmer because it is more insulated. However, Nylon also tends to be more expensive than polyester. Columbia Sportswear combines the materials with technologies such as Omni Heat to increase insulation and features like zipper closures and vents that increase breathability.
If you intend on using your Columbia winter jacket for outdoor excursions, I would recommend polyester as it is more breathable and lightweight.
Warmth
Columbia Sportswear produces jackets that are suitable for different climates. In an effort to make jackets for cold climates, warm fleece linings and synthetic down such as you would find on the Columbia Women's Heavenly Long Hooded Jacket are used to ensure you get the warmth you need. In comparison, the Columbia Men's Watertight II Rain Jacket features a Polyester lining which makes it lighter than the Heavenly jacket.
Ventilation and Breathability
Breathability refers to the jacket's capacity to prevent moisture from building up underneath while keeping you warm. Some jackets also have slits or vents on the back, underarms, or chest areas. These vents are convenient as they are easy to open to improve air circulation.
Layers
Columbia jackets feature different layers, which gives you variety to choose from for any occasion and climate. Single-layer jackets tend to be lighter and ideal for cool conditions as they are not very warm. They feature one material that works as both the outer shell and inner lining.
2-layer jackets feature an inner and outer fabric. The outer fabric is often weather-resistant or treated with chemicals such as DWR to make it water-resistant. The inner lining is for insulation, so they utilize warm and breathable material such as fleece or mesh. These are ideal for outdoor activities in cold weather. For 3-layer jackets, the third layer is laminated between the inner lining and outer shell. A polytetrafluoroethylene (PTFE) membrane is used to make the jackets suitable for harsh conditions of heavy rain and snow. These jackets are ideal for use as outer layers when one is layering for winter weather.
Shell
Columbia winter jackets are divided into two main categories; softshell and hardshell. Both types protect from the cold, but hard shells are more suitable for extreme weather. Softshells can be used as mid-layers while hard shells are ideal as the outer layer. Softshells are excellent for excursions like hiking as they are lightweight and breathable. You can check out my review on the best softshell jackets for women here. A hybrid shell is the third option available for consideration. These are a combination of soft and hard shells and they grant the benefits of both.
Waterproofing vs Water-resistance
The ideal jacket should provide some level of protection from the rain. Waterproof jackets protect from heavy rain which makes them ideal for camping and hiking trips where it might rain. On the other hand, water-resistant jackets will keep you dry in light rain or drizzle. Columbia Sportswear uses technologies such as the Omni-Shield to ensure that the outer layers are waterproof and breathable.
Durability
To make both your wallet and the environment happy, you should consider buying a durable jacket. Going through user reviews helps you learn of their experiences with the jacket, and it is a great way to ensure that you buy a jacket that stays in your closet for a long while.
Weight
Usually, the warmest jackets are heavier because of the down filling used to increase warmth. That does not mean that lightweight jackets are not insulated. I recommend lightweight jackets as it is easier to carry out activities without being dragged down by the weight.
Size
To fully enjoy your Columbia winter jacket, it has to be the correct size which is not too tight or too oversized. A loose size will allow enough room to layer on cold days without restricting your movements.
Features
Columbia incorporates some features which improve your experience with the product. These include;
Pockets: Some jackets come with pockets and with the Columbia brand, most of these are zippered. This feature allows you to safely store small items such as keys and your phone. They are also useful for keeping your hands warm. Drawstrings: Allow you to achieve a good fit with adjustments. They also come in handy on cold days as they can be useful in avoiding cold air penetrating the jacket while also increasing breathability. Zipper closure: This is a fairly common feature that provides warmth and comfort as one does not have to always wear the jacket by putting it over one's head. Opening the zipper will allow for increased airflow, which is good for breathability. Hood: A hood is a great feature found on some jackets. Not only is it stylish, but it also protects the ears in cold and windy temperatures. For individuals that engage in a lot of outdoor activities, I would recommend going for a hood.
Questions and Answers About Columbia winter jackets
How many Columbia winter coats should I have?
Columbia has a wide range of coats that are suitable for different purposes. It does not hurt having a few options, such as the lightweight for outdoor activities like hiking and the hard shells for extreme winter activities like snowboarding. You can also alternate between water-resistant shells for light rains and waterproof for wet days. However, some of these jackets are versatile and can be used for more than one purpose. Getting one of these versatile options will save space in your closet and coins in your wallet.
How do I wash a Columbia winter jacket?
As these jackets are made differently with different shells and linings, they also have to be washed differently. Columbia is generous enough to let you know how to wash your jacket; you simply have to follow the washing instructions on the tag of your jacket.
How do I clean and maintain my Columbia winter jacket in a good condition?
When washing your jacket, make sure that you empty the pockets to prevent it from getting stained. Plus, remember to wash with similar colors to reduce the risk of having a color stain from another garment. I would advise avoiding the use of bleach as it can ruin the quality of your jacket material.