There may be times where you need a high-quality, durable flashlight that is waterproof. This may be because you are hiking in the rain or perhaps you are walking around a stream or river at night. Whatever your reason, there are many great waterproof LED flashlights available online. If you're in need of a waterproof flashlight, take a look at our compiled list below of some of the best options we've found.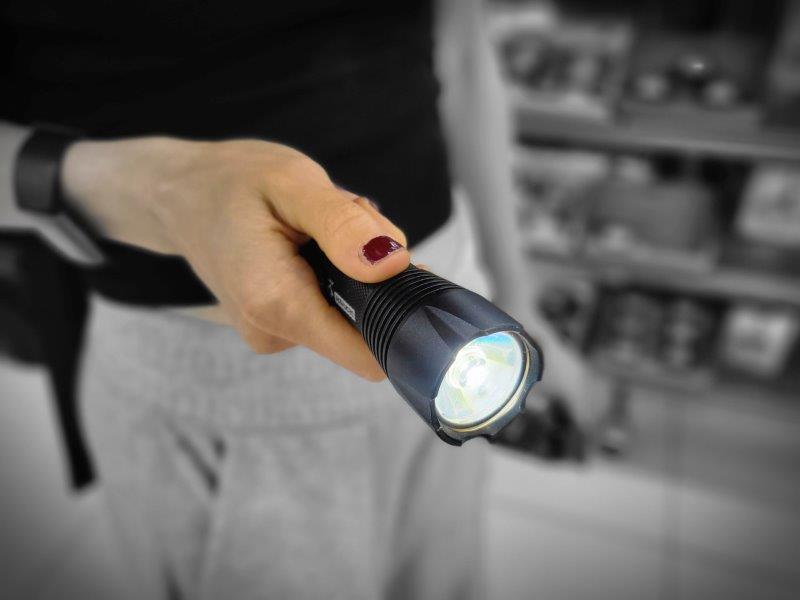 What is the Best Waterproof Led Flashlight?
We have compiled for you the top 8 Best Waterproof Led Flashlight in 2023. In this article we go through the products that we have used ourselves, checked what other users thought about them and we ranked them accordingly.
With years of experience with led flashlights that are waterproof and having used several waterproof led flashlights you can trust our review.
Moreover, you can scroll to the end of this review to see our mini buying guide as well as the answers to some of the frequently asked questions about waterproof led flashlights.
Specs
Price: 💲💲 (fewer 💲 = cheaper)
Weight: 0.01 pounds (0 kg)
Size: 2.5 x 4.8 x 8.8 inches (6.3 x 12.2 x 22.4 cm)
Batteries: 3x AA
Brightness (Lumens): 55
Type: LED
What do you expect from a flashlight other than a well-lit space? Many products seem to get lost in the myriads of add-ons. But Dorcy is an exception! It has manufactured a lightweight and compact flashlight that serves the underlying purpose.
It hosts four LEDs with a total output of 55 lumens, sufficient for routine tasks. Batteries are also included in the package. Slip them in, and you're ready to go!
The rubber construction is its main differentiator. It enables a firm grip over the cylinder along with unparalleled impact resistance. Moreover, it stays afloat if dropped in the water, thus named a floating flashlight.
Pros
Waterproof,
Carabineer clip,
Extremely affordable,
Five color schemes
Cons
Not too bright,
Battery needs replacement
Specs
Price: 💲💲💲💲 (fewer 💲 = cheaper)
Weight: 1.17 pounds (0.53 kg)
Size: 6 x 1.4 x 1.4 inches (15.3 x 3.6 x 3.6 cm)
Batteries: Rechargeable
Brightness (Lumens): 3000
Type: Dive Light
D710 is constructed solid and stout. It has put 3000 lumens as turbo along with three normal brightness levels. High mode emits a reasonably bright 1700 lumens of the beam. And it continues for 1.5hrs without degrading further.
The second feature that validates an above-average price tag is the deep-sea range. You can view reefs and rocks up to 150m underwater at night.
It has given a titanium alloy side-switch that is more accessible than a tail-mounted button. It simply revolves around three brightness levels and on/off. A half-second press undergoes into turbo mode. Press it for five seconds, and it's locked!
Pros
Titanium push-button,
Super-focused 6⁰ beam,
Real-time battery indicator,
Lockout function
Cons
Slightly expensive,
1min step-down from turbo to high
Specs
Price: 💲 (fewer 💲 = cheaper)
Weight: 0.05 pounds (0.02 kg)
Size: 5.5 x 0.9 x 0.8 inches (14.1 x 2.2 x 2.1 cm)
Batteries: 2x AAA
Brightness (Lumens): 180
Type: Penlight
Tail Diameter: 0.6
Head Diameter: 0.6
This flashlight stands among the brightest penlights available at the lowest price. It looks like an exotic ballpoint pen – a metal clip and thrust device following an LED tip with a firm barrel. S500 is made of anodized aluminum and stainless steel components. It has passed a 5-feet drop test. Meanwhile, bumps and nudges won't hurt the performance, nor will a light rain!
The maximum output is 180 lumens, adjustable to low and strobe. Many competitors have similar specs with a five-time pricier tag proudly dangling in the air. The user manual is silent about the right directions of battery terminals that you'll buy separately.
Pros
Maximum value of money,
IPX6 waterproof rating,
Aluminum plus steel,
Three modes
Cons
Minimal instructions,
Batteries are not included
Specs
Price: 💲💲💲💲 (fewer 💲 = cheaper)
Weight: 0.42 pounds (0.19 kg)
Size: 5.6 x 1.7 x 1.7 inches (14.2 x 4.3 x 4.3 cm)
Batteries: Rechargeable
Brightness (Lumens): 2000
Type: Dive Light
Finding a workable scuba diving light under 50 bucks would've been impossible if not for Genwiss. With IPX8 waterproof and a 2000-lumen bright flashlight, you're all set to make memories with wrecks and reefs.
The package also contains two o-ring spares to replenish water resistance. Recreational diving has an average underwater limit of 40m, although this flashlight operates in double that depth.
Its precipitation-hardened alloy and glass lens can take a beating.
Remember that the beam's direction and intensity are static. Also, the 18650mAh battery lasts and charges for a long time. Connect the battery with a power source, and wait for the indicator light to turn green.
Pros
100% waterproof,
Bright, white torch,
Corrosion-resistant,
Two-year warranty
Cons
Non-adjustable beam,
Long charging time
Specs
Price: 💲💲 (fewer 💲 = cheaper)
Weight: 0.4 pounds (0.18 kg)
Size: 5.9 x 4 x 1.5 inches (14.9 x 10.2 x 3.9 cm)
Batteries: 3x AAA
Brightness (Lumens): 1000
Type: LED
Tail Diameter: 1.02
Head Diameter: 1.33
It brings two flashlights for the price of one, along with their respective holsters, battery holders, and lanyards. One can't ask for anything more except batteries, of course! However, you can choose to power it using standard AAA cells or a rechargeable 18650 battery.
It's not short of trending features – three-mode brightness, strobe, SOS reflector, and zoomable function are a few to name. The aluminum crust is 5-6 inches long, depending upon the beam's selected focus.
Watch out! The torch is not 3000 lumens as advertised. It doesn't break the boundary of 1000, not even at the brightest setting though sufficient for most tasks.
Pros
Full range of lighting modes,
Focus adjustable,
Portable hand strap,
Compatible with rechargeable battery
Cons
Misleading advertisement,
Batteries are not included
Specs
Price: 💲💲💲 (fewer 💲 = cheaper)
Weight: 0.12 pounds (0.05 kg)
Size: 4.4 x 0.8 x 0.8 inches (11.2 x 2 x 2 cm)
Batteries: 1x AA
Brightness (Lumens): 600
Type: Magnetic
Sometimes, you need both hands without having to hold a wobbly torch in a drooling mouth. In such times of dexterity, you can affix magnetic flashlights to the chassis or fuse box.
The N7 has a 90-degree rotatable head for positioning of the beam's focus at any desired angle. The standard AA battery emits 200 lumens. But a 14500 rechargeable can turn it into a workhorse by maximizing the output three times over.
You can clip it to your pocket or purse for worry-free trekking, fishing, and dog walking whether it rains or snows. The tough construction is up to sustain any accidental drops.
Pros
Rotatable head,
Four mode switching,
Super strong magnet,
Waterproof and fall-proof
Cons
Batteries are not included,
Low brightness at AA battery
Specs
Price: 💲💲💲 (fewer 💲 = cheaper)
Weight: 0.13 pounds (0.06 kg)
Size: 7.7 x 4.1 x 4.1 inches (19.5 x 10.5 x 10.5 cm)
Batteries: Rechargeable
Brightness (Lumens): 6000
Type: Spotlight
The removable shoulder strap and sturdy handle are contoured to hold fast.
This lightweight flashlight has a 35-watt bulb that sweeps a 6000-lumen beam. The second mode lowers the output three times. With a whole day runtime and 800m drop-off, it can beat any rival searchlight due to its affordable price.
The long-lasting battery works as a portable power bank and gets charged with an included USB cord. It's also impervious to 1m deep water if the battery compartment is tightly closed.
The manufacturer warns of persisting soldering issues. File for a replacement. And you'll receive a brand new unit without return.
Pros
Ultra-bright and dual-mode,
9000mAh unending battery,
Free USB lights,
Quick customer service
Cons
Made of ABS plastic,
Not a floodlight
Specs
Price: 💲 (fewer 💲 = cheaper)
Weight: 0.31 pounds (0.14 kg)
Size: 6.3 x 1.9 x 1.8 inches (16.1 x 4.9 x 4.5 cm)
Batteries: 3x AAA
Brightness (Lumens): 1100
Type: Dive Light
BlueFire sells this cheap and convenient submersible flashlight for novice divers. It is extraordinarily bright and has three settings: bright, medium, and strobe.
The head is airtight, followed by three waterproof o-rings. However, it is responsible for operating the flashlight as well. Whether you want to switch it on/off or cycle through different modes, twist the head.
It's not all fun when you're underwater. Also, no locking snap indicates you've reached a mode. On top of that, rotate it far enough right, and you've dismantled the battery case. And the batteries are sold separately. If you opt for a rechargeable one, getting a charger will cost additionally.
Pros
Bright underwater torch,
Adaptable intensity,
100% waterproof,
Velcro wrist strap
Cons
Awful switching mechanism,
Package doesn't have batteries
Verdict
To summarize, we have gone through dozens of waterproof led flashlights and decided that 8 are worth your consideration. Out of these, the absolute Best Waterproof Led Flashlight is Dorcy Floating Flashlight which we highly recommend as our overall best.
If money is not an issue, you can consider ORCATORCH D710 Scuba Diving Light as this is our Premium Pick.
Otherwise, there's no shame in spending prudently, LETMY S500 Pocket Pen Light is the Budget Option.
Our other reviews you may find useful in your research:
What You Should Know Before Buying waterproof led flashlights
Water Proofing
Best waterproof flashlights usually come with an IP rating– these IP ratings highlight the level of water endurance a flashlight provides. An IPX4 rating means that the flashlight can withstand water splashes from all sides for around 5 minutes. Flashlights with an IPX6 rating can withstand high-pressure water jets from any direction. IPX8 means that the flashlight can be completely submerged in water up to a certain depth. The higher the number, the higher the water-resistance level of a flashlight. Flashlights with an IPX4 rating are decent enough for everyday use while flashlights with higher IPX ratings like IPX7 or IPX8 are used by divers. Make sure to ask about the IP rating of a waterproof flashlight before purchasing one.
Built Quality
The quality of a flashlight depends upon several factors like impact resistance, water resistance, and brightness. The impact resistance of a flashlight is measured in meters and tested by dropping the flashlight up to a certain depth. Water resistance of a flashlight is measured by IP ratings – the higher the rating, the more water-resistant the flashlight is. The brightness and the total output light of a flashlight can be measured through its candela rating and lumens. You will find all this information either written on the flashlight itself or its manual.
Run Time
The run time of a flashlight primarily depends upon its batteries. Li-Ion batteries have the highest energy capacity and they are also rechargeable. While alkaline and lithium are long-lasting disposable batteries. Other factors that affect the run time of a flashlight are its power draw i.e., its brightness setting, light output, and the number of batteries. A flashlight will last longer on a lower brightness setting than on a higher one. Flashlights with the lowest lumens will last the longest. Also, the higher the number of batteries the longer the run time of a flashlight. Choose the variables that best suit your situation.
Battery Type
The best battery type for your flashlights depends entirely upon your use. Whether you want it to be rechargeable, or disposable. Do you need to use them right away or after a while? The size and the weather in which the flashlight will be used also matters. The most common rechargeable batteries are alkaline batteries. Found in AAA, AA, C, and D types, their nominal voltage is 1.5V and they have a self-discharge rate of approx. 2-3% per year, making them an excellent and easily available choice if you want a disposable battery for an emergency flashlight that is stored most of the time. If you want better performance in rechargeable batteries, go for lithium batteries. With a nominal voltage of 3V per cell and extreme weather endurance, they are perfect if you are looking for a disposable battery with a lower discharge rate than alkaline batteries. The only con is that they are more expensive than alkaline batteries.
If you want rechargeable batteries, as they are far more cost-effective in the long run, there are two options available – Lithium Ion and NiMH batteries. NiMH can be found in standard alkaline battery sizes but Li-Ion batteries come in their own standard sizes like 18650. NiMH batteries last longer than standard alkaline batteries despite having lower (1.25V) voltage owing to their lower discharge rate.
With a nominal voltage of 3.7V per cell Li-Ion batteries beat every other battery in terms of energy density, although its prices are reflective of that. Read the instruction manual of your flashlight to pick the best battery option for yourself. Also, consider your requirements and the use of your flashlight (emergency use, everyday use, etc.).
Lumens and Light Output
Lumen is a measure of the flashlight light output – so the ideal lumen number will depend on your situation. Usually, a flashlight with 300 to 1000 lumens is considered versatile enough for everyday use and frequent nightly tasks. But the number can go up for certain tasks that require more light output.
For reading or random everyday tasks, you will find a 300 lumens flashlight to be useful enough. For camping or similar outdoor activities like nightly walks or running, a 300 to 900-lumen flashlight will work well. If you're hunter or military personnel, you may need to spot your prey or a threat from a considerable distance – for such situations, pick a flashlight with a light output of 1250-2500 lumens.
Flashlights with a higher light output than 2500 lumens are usually used in search and rescue operations as such operations require a much-focused illumination.
Questions and Answers About waterproof led flashlights
Can you use a flashlight underwater?
The short answer is no. Most standard flashlights are not designed to be waterproof. Some may survive shallow water immersion but not the harsh conditions of deep waters for prolonged periods. In any case, when you're using a flashlight underwater, you will want it to be of enough luminosity and of an appropriate type of beam for you to see at least some distance away. A normal flashlight is just not designed that way.
What kind of flashlight do Navy Seals use?
Generally, any kind of special force will prefer to use tactical flashlights due to their durability. As for the exact brand and model, it varies according to your role and the usage of the flashlight. As a general guide, most tactical forces will prefer something lightweight, has high lumens (to blind an attacker in the dark or simply to use it for searches), and is heavy-duty enough to double up as a weapon. A plus point will be a flashlight that has tri-colored (red, green, blue) lights.
Do LED Flashlights Get Hot?
Yes, LED flashlights do get hot but nothing too hot to the point where it is hard to hold onto it. As with any electronic device, prolonged usage at a high intensity will cause the inner mechanics to heat up. The amount of heat given off by an ED flashlight is directly proportionate to the amount of energy it is using to power the light. However, LED flashlights are considered 'cool' lights which means that they give off lesser heat as compared to the traditional halogen/incandescent lights.
How many lumens is a good flashlight?
This depends on what function you want the flashlight to fulfill. An EDC (everyday carry) used to illuminate the indoors and maybe even outdoor camping activity only requires 20-150 lumens. If you require a longer throw and better light, such as required in a search-and-rescue, it can go up above 1000 lumens.
Can LED flashlight bulbs be replaced?
Yes, LED flashlight bulbs can be replaced as long as you manage to find a brand/model that you can replace with the one you have. It needs to fit within the receptor and have the proper voltage capacity to work with the batteries within your flashlight.