As travellers and adventurers who use and dabble with drones for our own adventurous road trips and expeditions, we've seen firsthand the rise of drones as a popular tool among travelers and hobbyists alike. With their growing affordability and user-friendliness, many people are jumping into the world of aerial photography and videography. For small hobbyists, the provided drone transmitter usually does the trick. However, we've recently discovered the convenience of universal radio transmitters. If you're tired of juggling multiple transmitters for each drone in your collection, these are a great option. In this article, we'll share with you some of the best drone transmitters available to simplify your drone adventures.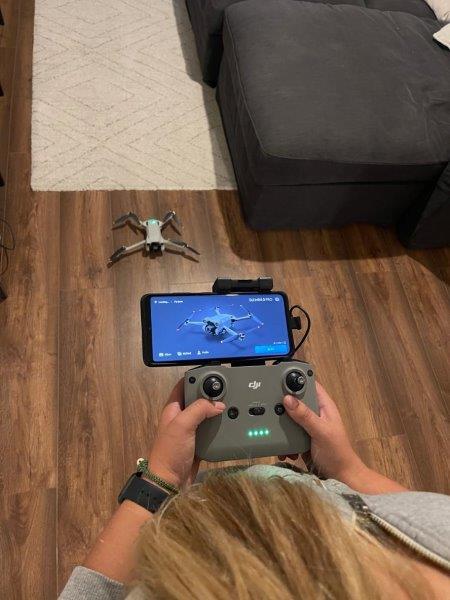 What is the Best Drone Transmitter?
We have compiled for you the top 5 Best Drone Transmitter in 2023. In this article we go through the products that we have used ourselves, checked what other users thought about them and we ranked them accordingly.
With years of experience with transmitters for drones and having used several drone transmitters you can trust our review.
Moreover, you can scroll to the end of this review to see our mini buying guide as well as the answers to some of the frequently asked questions about drone transmitters.
Specs
Price: 💲💲 (fewer 💲 = cheaper)
Weight: 1.1 pounds (0.5 kg)
Size: 0.7 x 0.7 x 0.4 inches (1.8 x 1.7 x 1 cm)
No. of Channels: 24 Channels
Model Memory: 60 Models
Protocol: ACCESS
The Taranis X9 Lite is an entry-level drone transmitter that brings a strong punch. The X9 Lite is remarkable because it blends the classic radio design of its predecessors, the X9D and QX7 transmitters, with FrSky's latest ACCESS communication protocol and the Ersky TX/ Open TX operating system. The protocol supports up to 24 full-range channels and offers lower latency and higher baud which is preferable for racing drones. It is also easier to bind to the receiver and supports wireless upgrading of the firmware. The radio transmitter offers all the features of the older models and then some at an affordable price. The X9 Lite features an ergonomic design that makes navigating the high-speed module digital interface easy. It also supports a wired training function to help new users improve their pilot skills and uses an integrated spectrum analyzer to prevent signal interference. The main downside compared to the older transmitters is that it uses replaceable Li-ion batteries in place of rechargeable batteries.
Pros
Ergonomic and compact design
Lower latency for FPV drone racing
Wired training function for beginners
ACCESS protocol allows improved latency
Cons
Uses replaceable batteries
Complex setup
Specs
Price: 💲💲💲💲 (fewer 💲 = cheaper)
Weight: 1.54 pounds (0.7 kg)
Size: 12.1 x 9.4 x 5.6 inches (30.7 x 23.9 x 14.2 cm)
No. of Channels: 6 Channels
Model Memory: 250 Models
Protocol: DSMX
The Spektrum DX6e is our premium choice for beginner drone enthusiasts. The DX6e is an upgrade of an earlier DX6i model and is a more affordable option to the DX6 model. The DX6e is an attractive radio transmitter with a sleek ergonomic design and some high-end features for pilots of all skill levels. The DX6e AirWare firmware features Airplane, Helicopter, Sailplane, and Multirotor programming modes that allow you to fly almost any aircraft. It also allows cross-platform model sharing with other Spektrum transmitters and is easier to use for beginner pilots than the Open TX firmware of the X9 Lite. However, unlike Open TX, this model is less customizable.
The DX6e radio transmitter also features a large model memory of 250 models compared to 60 models of the X9 Lite transmitter. However, the X9 Lite gives you more channels and a better radio link range than the DX6e at a lower cost. Overall, the DX6e features a better build quality and gimbal design and has a shorter learning curve.
Pros
Features 4-model programming modes
Allows cross-platform model sharing with other Spektrum transmitters
Wireless trainer link for buddy-boxing and training simulators
Excellent build quality and gimble design
Cons
Has a low number of channels for multirotor drones
No voice-enabled alerts
Specs
Price: 💲 (fewer 💲 = cheaper)
Size: 0.7 x 0.6 x 0.3 inches (1.8 x 1.6 x 0.8 cm)
No. of Channels: 8 Channels
Model Memory: 20 Models
Protocol: SBUS/IBUS
The FlySky FS-i4 transmitter is simple to use and budget-friendly. The ergonomic design of this transmitter is a favorite, as reviewers say it felt natural and comfortable in their hands.
The 2.4GHz AFHDS 2A signal operation is interference-free and reliably stable. Even though it's a 4CH operation, it has some nice features like a simple binding process and an LED indicator display. It takes four AA batteries to operate, though they're not included. Some reviewers also said the design wasn't as durable as others, but we can't complain too much for the price.
Pros
Stable performance
No complicated programming required
Straightforward design
Budget-friendly
Cons
Batteries not included
Build not as durable as others
Specs
Price: 💲 (fewer 💲 = cheaper)
Weight: 0.9 pounds (0.41 kg)
Size: 1.4 x 0.7 x 0.6 inches (3.5 x 1.8 x 1.5 cm)
No. of Channels: 6 Channels
Model Memory: 4 Models
Protocol: IBUS
The FS-i6X features ten channels and has a model memory of only 20 versions. This drone transmitter is programmable to support different aircrafts such as drones, mini quadcopters, and gliders. It is also straightforward to operate for entry-level users with a simplified user interface and controls.
The FS-i6X uses FlySky's proprietary AFHDS 2A technology (Automatic Frequency Hopping Digital System, Second Generation). This system provides each transmitter and its receiver a unique ID for protection against signal interference while also providing bidirectional communication to send and receive various data with the iBus Protocol.
The radio transmitter has a range of 3280 feet and features an omnidirectional antenna that helps maintain a reliable connection. The FS-i6X transmitter also comes with highly-sensitive and efficient components with low power consumption to give you extended battery life
Pros
Programmable for multiple aircraft
Low power consumption
Intuitive handling for beginner users
Good value for money
Cons
Limited to only ten channels
Short range
Specs
Price: 💲💲💲 (fewer 💲 = cheaper)
Weight: 1.32 pounds (0.6 kg)
Size: 0.8 x 0.7 x 0.4 inches (2 x 1.9 x 1 cm)
No. of Channels: 24 Channels
Model Memory: 60 Models
Protocol: ACCESS
The Taranis QX7 is the older sibling of the X9 Lite and is one of the most popular radio transmitters for mini quadcopters. Although the X9 Lite delivers the same range, channels, and functionality at a lower cost, the QX7 offers better build quality and has more tutorial resources for new users. New models of the QX7 features the ACCESS protocol digital interface, and it uses the highly customizable OpenTX operating system. Compared to its older sibling, the X9D, this radio transmitter is more ergonomic for thumbers with a broad face and thinner profile with rubber side grips for a comfortable hold. Like the X9 Lite, the QX7 also features haptic vibration and voice alerts and supports a spectrum analyzer function. However, unlike the Spektrum drone transmitters, The QX7 supports a wired training function that is not as versatile as the wireless option. Other features include potentiometer gimbals with easy access to the tensioning system. Although, unlike the DX6e, you would have to take off the back cover.
Pros
Uses ACCESS communication protocol
Ergonomic design and high-quality build
Easy navigation menu buttons
Includes a transmitter neck strap
Cons
Not user friendly for beginner pilots
Doesn't include batteries
Verdict
To summarize, we have gone through dozens of drone transmitters and decided that 5 are worth your consideration. Out of these, the absolute Best Drone Transmitter is FrSky Taranis X9 Lite 24CH Radio Transmitter which we highly recommend as our overall best.
If money is not an issue, you can consider Spektrum DX6E 6CH RC Radio Transmitter as this is our Premium Pick.
Otherwise, there's no shame in spending prudently, FlySky FS-i4 Radio System Transmitter is the Budget Option.
Our other reviews you may find useful in your research:
What You Should Know Before Buying drone transmitters
Overview
Drone transmitters come in two parts: the transmitter and the receiver. The transmitter is the device that features gimbals, switches, antennas, and an LCD screen. The receiver is a small plastic piece of equipment that you can plug into any aircraft model you want to fly using your transmitter. Below are some of the features you should look out for when buying your transmitter.
Number of Channels and Frequency
The number of channels will determine the number of different features that you will be able to control. For instance, a 6-channel transmitter can control the throttle, pitch, roll, and yaw of your quadcopter, while the remaining two channels can control different flight modes and the failsafe. The extras get assigned to the switches, and having more channels gives you the ability to fly more complex aircraft. A quadcopter would typically require an 8-channel drone transmitter at the least. Radio transmitters are available in different frequencies, but the most common is the 2.4GHz band. These transmitters can give you a control range of about 2600 feet in ideal conditions. However, it depends on the antennas and the sensitivity of the receiver. You can use boosters to improve the signal when other factors such as trees and building obstacles block you. However, most people will lose sight of their aircraft at about 1000 feet, and beyond that, it may be problematic to control something you can barely see.
Types of Receivers
The receiver is an electric device that receives commands from the drone transmitter via built-in antennas. It transmits them to the flight controller, which controls the actions of the drone. The radio transmitter and the receiver must be compatible for communication to work, and it often means they will both be of the same brand. However, some radio receivers do work with transmitters of a different brand, but they use the same protocol and frequency. The protocol should be compatible with the flight controller and operating system of the transmitter. Unlike the transmitter firmware, radio receivers use universal communication protocols that include PWM, which is an outdated analog signal. The PPM or CPPM protocol is an improvement of PWM and is slightly faster.
However, both analog signals have been replaced by the digital signals SBUS/ IBUS and DSM2/ DSMX. The SBUS/ IBUS protocols have lower latency which makes them popular with drone hobbyists. The DSM2 protocol frequently hops between frequencies within the 2.4GHz band to maintain a good connection. However, most radio receivers are in this frequency band, and it may cause a slow response time due to interference. The DSMX protocol is more reliable because it handles a broad frequency band to limit interference from other drones operating in the same environment.
Operating System
Radio transmitters come with operating systems, and OpenTX is the most preferred open-source system for drone hobbyists. The firmware is highly customizable, and with its companion PC software, it allows you to make channel assignments and many other configurations easily compared to other firmware. Another advantage of OpenTX is telemetry. Telemetry is the information that includes signal strength, range, and battery power that the drone relays back to the transmitter. The data is either displayed on the transmitter's LCD screen or via voice-enabled alerts.
Gimbals
Gimbals are the sticks on your transmitter that control the drone, and their quality affects how smoothly you fly the drone. There are two types of gimbals which are the Potentiometer and Hall Effect gimbals. The Potentiometer gimbals are analog, and they feature brushes at the joints, which makes them a bit rigid. Hall Effect gimbals use hall sensors with magnets for adjustments which makes them more durable and precise. Apart from type, you should look at other factors, such as how easy it is to adjust for tension and length depending on if you pinch or thumb the sticks. Another factor is the mode which determines what channel or action is assigned to either gimbal. There are four types of transmitter modes, and Mode 2 is the most popular in North America and is usually the default setting. This mode allocates the throttle and rudder actions to the left gimbal while the right has the elevator and aileron. Mode 1 is the opposite of Mode 2 and is typical in Europe and Australia.
Questions and Answers About drone transmitters
What is a drone transmitter?
A drone transmitter is an electric device that allows the drone pilot to control his drone via radio signals or channels. Drone transmitters feature left and right gimbals that direct the main movements of the aircraft. They also feature switches, antennas, an LCD screen, and the user interface or firmware. They're quite conventient as you can use one transmitter for several devices instead of using a different one for each device.
How do drone transmitters work?
The transmitter transmits the pilot's commands over a radio frequency band to a compatible receiver embedded in the drone. The receiver interprets the commands and uses a flight controller board to convert them into specific actions that the pilot intended. Both the transmitter and receiver have to be compatible for the commands to work, and most are usually of the same brand. However, you can get different brands as long as the receiver's communication protocol is compatible with the transmitter's firmware. Make sure you read the details of any drone transmitter carefully to ensure it will be compatible with your device.
How far can a 2.4GHz transmitter work?
Drone transmitters are available in different frequency bands. However, the 2.4GHz band is the most common for drone transmitters. In ideal conditions, which means you have a clear sight of your drone, a 2.4GHz transmitter can give you a control range of about 2600 feet. Even though you may have ideal conditions, other factors such as the antenna height and the receiver's sensitivity may reduce the signal quality and shorten the control range. Try using your transmitter in a safe location at low altitudes to ensure you don't lose your device out of range.
How many channels can a drone transmitter have?
Four is the least number of channels that you would need in a drone transmitter. However, we recommend getting a transmitter with at least 6-8 channels to allow you more flexibility in controlling the drone with more commands. The more channels you have, the more control you can have over your device.