Hydration bladders, sometimes called water reservoirs, are becoming increasingly popular for hikers, cyclists, and other adventure-seekers due to the convenience they offer. Although they come in different volumes, the 3-liter reservoirs are more versatile because you can fill them up fully or halfway, depending on your hydration needs. They are ideal for long excursions such as hiking and backpacking, where the fill-up points are further apart.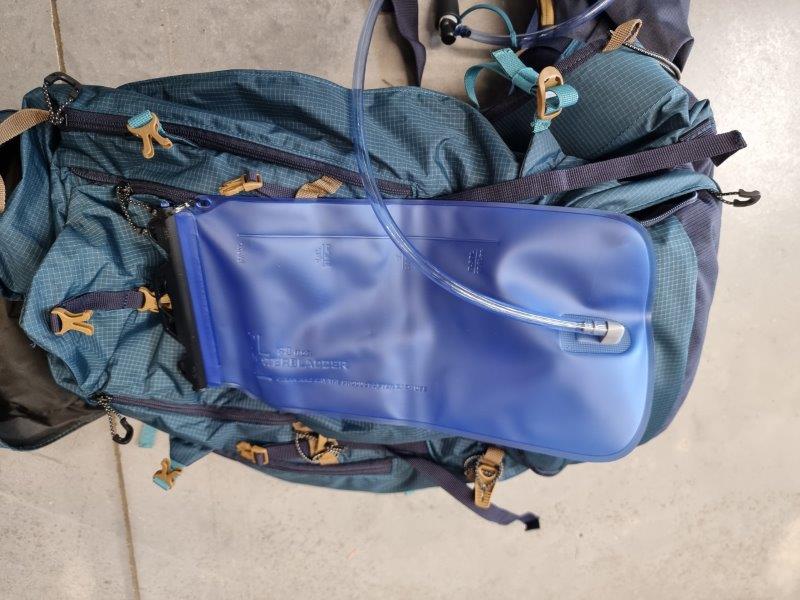 What is the Best 3L Hydration Bladder?
We have compiled for you the top 6 Best 3L Hydration Bladder in 2023. In this article we go through the products that we have used ourselves, checked what other users thought about them and we ranked them accordingly.
With years of experience with 3L hydration reservoir and having used several 3L hydration bladders you can trust our review.
Moreover, you can scroll to the end of this review to see our mini buying guide as well as the answers to some of the frequently asked questions about 3L hydration bladders.
The hydrostatic backer plate gives this bladder a low profile structure that makes it easier to pack into a hydration pack. The hydraulics reservoir is made with a robust and flexible BPA/PVC-free TPU film with welded seams to improve reliability.
The Osprey 3L Hydraulics reservoir comes with a slide-seal opening that is wide for easy cleaning, while the TPU handle and Pour Shield feature make it easy to refill this bladder using only one hand. This reservoir is also available in the 2L and 3L models with a TPU construction. Lastly, the reservoir design includes a carry handle to hold the reservoir when cleaning and filling. It also features a magnetic clip to attach the drinking hose to a sternum strap, a detachable hose, and a twist/turn bite valve.
Pros
High flow twist/ turn bite valve,
Wide top opening for easy cleaning and filling,
Detachable hose with fast water flow,
Magnetic clip secures hose to the sternum strap
Cons
Ensure a few rinses in advance to rid of plastic aftertaste
The Thule Hydration pack is a premium quality 3L pack that comes with a 1.75L water reservoir. Its design features a low center of gravity for even weight distribution and side panels to ensure maximum comfort. The hydration backpack features a lightweight and well-ventilated Nylon material construction. The main storage compartment comes with pockets to help you keep your things organized, while the side panel pockets are great for stashing quick access snacks. This pack is the best premium choice as it is a complete hydration system complete with a bag and water bladder. The Hydrapak bladder features a slide top opening for easy filling and cleaning, while its baffle split prevents sloshing and maintains a flat profile when full.
Pros
Magnetic mechanism keeps the hose secure on the strap,
Comes with a sternum strap for increased comfort,
Features a zippered pocket for essential items,
Tail light for safety when cycling at night
Cons
Comes with a 1.75L reservoir
The WACOOL 3L Hydration bladder features two opening options with a slide top opening and a screw cap. The slide top opens wide to make it easier to clean and dry the bladder, while the screw cap opening allows you to fill the pouch fully. The reservoir also features double soldering sealing and a 0.6mm thick lining that makes it rigid to withstand a pressure of up to 60kg without leaking. Made with BPA (bisphenol A) free EVA material, this bladder is lightweight and durable. Although EVA is not as flexible as TPU material, its rigidity gives the bladder a naturally flat profile. On the other hand, the reservoir comes with a pull/push valve that is typically harder to use than the alternative. However, it gives you a higher flow rate which also makes freezing the hose more unlikely.
Pros
Comes with a 4 piece cleaning kit,
Extra thick lining to tolerate pressure,
Double opening design,
Features a high flow pull/push valve
Cons
Leaky screw cap,
Inaccurate measurement marks on the bladder
The Marchway Hydration Bladder features a TPU material construction that is flexible and cold-resistant. The TPU hose is insulated with a waterproof neoprene sleeve to keep the water from heating in hot weather, although it may freeze in extremely cold temperatures. The hose is also notably long at 40 inches and fits better on hydration packs than shorter hoses. The bladder features a 2-inch screw cap opening that ensures convenient filling. However, some users may find it harder to clean the bladder compared to a slide seal opening. It also comes with a baffle to maintain its flat profile and also prevents water from sloshing around. Marchway is the best budget hydration bladder on this list and is compatible with most hydration packs. The company also offers a 90-day money-back guarantee and has excellent customer service when it comes to handling complaints.
Pros
Quick release drinking tube for easy filling,
Features a detachable fast flow switch valve,
Long insulated drinking hose,
Features a dust cap to keep the bite valve clean
Cons
Gives water a plastic taste
Like most Platypus products, the Big Zip water reservoir features a polyethylene construction that offers taste-free water for your outdoor adventure. This 3L hydration bladder comes with a secure slidelock function which offers secure closure while remaining easy to open. The zip opening is wide enough to allow you to use cleaning brushes or add ice cubes while the pinch grip makes it easy to fill the bladder using only one hand. The quick disconnect drinking tube enables easy access due to its high mount position and allows a high flow of water due its large size and fast flow valve.
Pros
Features a fast flow bite valve,
Shut-off valve to prevent leakage,
Has embedded silver-ion to prevent mold and bacteria,
Quick disconnect drinking tube,
Wide zip opening for easy cleaning
Specs
Price: 💲💲💲💲 (fewer 💲 = cheaper)
Capacity: 3 liters
Weight: 1.98 pounds (0.9 kg)
Size: 7.9 x 8.7 x 17.3 inches (20 x 22 x 44 cm)
Backpack included: Yes
Materials: 500D Double rip Cordura
Cleaning Kit: No
The CamelBak Mule Hydration Pack features a very durable 500D double-rip Cordura fabric with 8 liters of cargo space. The design is sleek and ergonomic despite having plenty of space for several personal items. It has padded and adjustable shoulder straps with side release buckles for easy removal. This pack also comes with an adjustable sternum strap. The water bladder holds 3.0 liters of water. The front of the pack has laser cut MOLLE attachments making this pack extremely versatile. This pack is covered by the CamelBak manufacturers warranty for peace of mind. The shoulder straps are a bit stiff at first and may need to be broken in.
Pros
Lightweight,
Versatile,
Durable design,
Extra space for storing personal items
Cons
Straps are stiff,
Small storage space
Verdict
To summarize, we have gone through dozens of 3L hydration bladders and decided that 6 are worth your consideration. Out of these, the absolute Best 3L Hydration Bladder is Osprey Hydraulics Reservoir which we highly recommend as our overall best.
If money is not an issue, you can consider Thule Vital Hydration Pack as this is our Premium Pick.
Otherwise, there's no shame in spending prudently, WACOOL BPA Free EVA Hydration Pack Bladder is the Budget Option.
Our other reviews you may find useful in your research:
What You Should Know Before Buying 3L hydration bladders
Overview
With the wide variety of options available, it might be hard to choose the best 3L hydration bladder for you. In this section, I will highlight the main features you should consider when making your choice.
Weight
The water bladder's construction also determines its weight and includes the material used and additional features such as carry handles. However, its capacity is not directly proportional to its weight, and it is not uncommon to find a 3L bladder that is lighter than some 2L units. The ideal weight for a 3L water bladder is around 250 grams (9Oz) when empty.
Packability
The capacity of the 3L hydration bladder is one of its key advantages. However, you may want to keep in mind that some hydration packs can only accommodate smaller reservoirs. You should check the specifications of your hiking backpack or get one that can accommodate a 3L hydration reservoir.
Additional Features
Additional features in 3L hydration bladders include:
Storage Hooks – Water bladders often come with a loop, clip, or hook to attach to the hydration pack to ensure the bladder stays in place.
Carry Handles – Hydration bladders with carrying handles are significantly easier to fill and handle in general. Quick connect valves ease the process of refilling your bladder as you don't have to detach the drinking tube entirely from your bag. Some bladders feature magnetic clips to attach the mouthpiece to the chest strap for easy access and water filters in the drinking tube.
Cleaning and Drying
While some bladders are dishwasher compatible, most need to be cleaned by hand. The fold top reservoirs can be reversed inside-out, which makes them relatively easy to clean. In comparison, other units will need a cleaning kit with brushes to reach the deepest parts. The bladder should dry completely after cleaning to prevent mold and bacteria.
Questions and Answers About 3L hydration bladders
Can you put a 3L hydration bladder in any backpack?
A 3L hydration bladder will not fit in packs with an allowance for 2L reservoirs and less. However, larger hydration packs and most hiking backpacks have the capacity for 3L water bladders.
Can you put ice in a 3L hydration bladder?
Yes. Adding ice cubes to your hydration bladder will help keep the water cold for longer. Another option is to fill it halfway with water and put it in the freezer, then fill up the rest with fresh water when you are ready to go. In this way, the ice takes longer to melt, keeping the water cold for longer and also keeps everything cool in your backpack.
How do I treat a 3L hydration bladder?
You can treat your hydration bladder using various cleaning agents such as baking soda, lemon juice. A solution of any of the above left to soak overnight will thoroughly disinfect the bladder. There are specially formulated effervescent cleaning tablets for reservoirs that you can get for cleaning your bladder outdoors. Alternatively, you can freeze your dry bladder to kill germs and prevent mold.