The collapsible duffel bag is an unsung hero in the world of travel gear and frequent travellers. As a team of seasoned travelers wo pack every item to the minimal, we've learned the art of packing light and maximizing space, especially when you're always on the move and having luggage limits at every flight. These collapsible bags are not only lightweight but also incredibly compact, allowing you to stash them away until you need the extra storage. To save you the time and effort of scouring the internet, we've put together our top list of the best collapsible travel duffel bags. We hope this list can help you find your new favorite travel bag.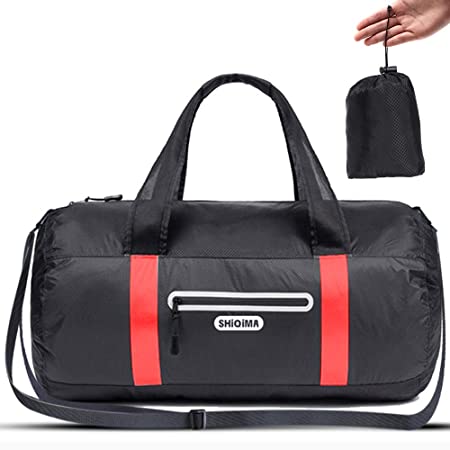 What is the Best Collapsible Duffel Bag?
We have compiled for you the top 9 Best Collapsible Duffel Bag in 2023. In this article we go through the products that we have used ourselves, checked what other users thought about them and we ranked them accordingly.
With years of experience with foldable duffel bags and having used several collapsible duffel bags you can trust our review.
Moreover, you can scroll to the end of this review to see our mini buying guide as well as the answers to some of the frequently asked questions about collapsible duffel bags.
Specs
Price: 💲💲💲 (fewer 💲 = cheaper)
Material: Honeycomb Ripstop fabric
Wheels: No
Water Resistant: Yes
Waterproof: Yes
Converts to a Backpack: no
Made from waterproof Honeycomb RipStop fabric, the Bago Travel Duffel Bag features multiple secure pockets with 2-way zippers, break-resistant pullers with rain flaps, and heavy-duty buckles and clips. We like that this bag offers flexibility and can be carried using a detachable padded shoulder strap or its two built-in handles. Plus, this duffel is versatile, catering to needs like overnight stays, camping, gym visits, and hospital stays, including maternity stays. When you're done, it folds down nicely to take up little space in storage.
Pros
Waterproof material to protect items in all weather conditions
Several compartments for clothing and accessories
Includes strong handles and optional shoulder strap
Cons
Zipper can get stuck
Velcro not very strong
Specs
Price: 💲💲💲💲 (fewer 💲 = cheaper)
Material: polyester
Wheels: no
Water Resistant: yes
Waterproof: no
Converts to a Backpack: no
The Jetstream Duffel bag is a great giant duffle bag and features a generous main compartment with two end pockets for accessories and small equipment. The two-way zippers provide easy access to the bag's contents and allow frequent usage without snapping off. The exterior 600D thick polyester fabric features durability and water-resistant properties. It is also available in attractive and solid colors, which allows you to customize the bags with your sports team logo on the side pockets for any event!
This duffel bag also features heavy-duty straps with double stitching on the seams that make it excellent for multipurpose use. The only downsides are that it uses plastic zippers, which aren't as durable as metal ones would be, and it doesn't have bottom support. Still, it's a great value for the price.
Pros
High-quality, durable straps and seams
Incredibly spacious
Budget-friendly
Customizable
Cons
Plastic zippers
No bottom support
Specs
Price: 💲 (fewer 💲 = cheaper)
Material: nylon
Wheels: no
Water Resistant: yes
Waterproof: no
Converts to a Backpack: no
The Spirit Airline foldable travel duffel bag has a unique design that fits seamlessly on top of your luggage. Made from top-grade durable nylon, this bag promises longevity and resilience. It also has an exterior pocket that's perfect for keeping essentials like passports, wallets, or cards within arm's reach. Because of its spaciousness, it's an ideal travel bag for airplane trips, especially when you're faced with bag size limitations. However, it only has two short handles and doesn't fit comfortably on your shoulder, so get ready to hook it onto your luggage.
Pros
Attractive color and design
Spacious size fits many belongings
Comfortable and lightweight
Made of durable materials
Affordable
Cons
Short handles without cushion
No shoulder strap
Specs
Price: 💲 (fewer 💲 = cheaper)
Capacity: 60 liters
Size: 22 x 14 x 12 inches (55.9 x 35.6 x 30.5 cm)
Material: oxford fabric
Wheels: no
Water Resistant: yes
Waterproof: yes
Converts to a Backpack: no
The REDCAMP Duffle bag is a cheap bag with a water repellent design made for outdoor use. The carrier has straps to carry in hand or over the shoulder. You get three outside pockets with one zippered pouch on the inside to keep things organized. Included is a suitcase sleeve to carry the bag on top of a rolling suitcase.
Pros
Water-resistant,
Convenient zippers to open/close the bag,
Hidden interior pocket,
Great to use as a protective cover for your backpack,
Lots of packing space,
Extra bag for traveling
Cons
Not an all-day heavy-duty bag
Specs
Price: 💲💲💲💲 (fewer 💲 = cheaper)
Capacity: 60 liters
Size: 25 x 23 x 7 inches (63.5 x 58.4 x 17.8 cm)
Material: nylon
Wheels: no
Water Resistant: yes
Waterproof: no
Converts to a Backpack: no
Packing this Thule duffel bag is comfortable with the wide mouth opening to keep your equipment organized. You get a dual-access storage pocket through the main compartment or exterior and have an ID card slot to simplify identification. For separating your shoes from your clothes, it has a gusseted side pocket. There are multiple shoulder strap attachments for carrying.
Pros
Internal compression straps,
See-through mesh pocket on the inside for small items,
Dual-access pocket to retrieve items from the inside/outside,
Very thick and well made,
Innovative design,
Large packing space
Cons
The shoulder strap is uncomfortable to use
Specs
Price: 💲💲 (fewer 💲 = cheaper)
Capacity: 120 liters
Size: 36 x 18 x 12 inches (91.4 x 45.7 x 30.5 cm)
Material: nylon
Wheels: no
Water Resistant: yes
Waterproof: no
Converts to a Backpack: no
The WANDF is the best 36-inch duffel bag for international travel on my list. The 120L capacity provides enough packing space for transporting gear and as a back-up bag for your suitcase. It has a front zippered pocket for smaller items and a water-resistant shoe and laundry compartment with easy side access. The WANDF comes with a removable shoulder strap and features two handle straps and a suitcase strap that give you versatile carry options. Like the Jetstream bag above, this duffel bag is durable and also available in attractive colors that would make it an excellent travel companion.
Pros
Works well for transporting camping equipment,
Folds up small for easy storage,
High quality and durable exterior fabric, Provides versatile carry option
Specs
Price: 💲 (fewer 💲 = cheaper)
Capacity: 196 liters
Size: 47 x 17 x 15 inches (119.4 x 43.2 x 38.1 cm)
Material: 600 dinier fabric
Wheels: no
Water Resistant: yes
Waterproof: no
Converts to a Backpack: no
The COOLBEBE Sports Duffle is a huge foldable duffel bag for travel that fits all beddings, pillows, and other things,you might need if you're moving house or going for a camping trip. Should it start raining, you won't have to worry about your clothes getting wet as it's made of water-resistant 600 denier fabric. A padded shoulder strap improves comfort, while its sturdy polyester body makes it ideal for long-term use.
Pros
Premium heavy-duty SBS zippers for secure closure,
Extra-large pockets for plenty organization,
Highly versatile and with strong construction,
Durable, lightweight bag,
2 carrying options,
Can fit all your athletic gear
Cons
No compartments thus messy when looking for items
Specs
Price: 💲💲 (fewer 💲 = cheaper)
Capacity: 22.6 liters
Size: 32.5 x 17 x 11.5 inches (82.5 x 43.2 x 29.2 cm)
Material: nylon
Wheels: no
Water Resistant: no
Waterproof: no
Converts to a Backpack: no
Made of 100% nylon, this foldable duffel bag by AmazonBasics weighs only about a pound but offers exceptional strength. Its zippered exterior small pocket gives you quick access to smaller items like keys, while its interior is roomy enough to transport large loads. It offers the capacity of a trunk with no wasted opportunities like those with round corners. Honestly, you would probably fear over packing rather than your stuff not fitting in it with this bag.
Pros
Sleek solid colors that give a stylish appearance,
Padded grab handle for comfort,
Quality stitching,
Long hand-carry straps,
Detachable shoulder strap,
Dimensions that are within check-in norms
Cons
Lacks holes in zippers for TSA approved locks
Specs
Price: 💲💲💲 (fewer 💲 = cheaper)
Capacity: 133 liters
Weight: 3 pounds (1.36 kg)
Size: 32 x 29 x 18 inches (81.3 x 73.7 x 45.7 cm)
Material: canvas
Wheels: no
Water Resistant: no
Waterproof: no
Converts to a Backpack: no
This large travel duffel bag by Bear & Bark works well for campers and commuters. The tote has a military-grade canvas design made to carry athletics to hunting gear. For stopping over between flights, it has reinforced handles with a shoulder strap for ease of carrying, and you can lock the zippers for security. It also has enough packing space to fill up with a tent, sleeping bag, and pillows made for the outdoor adventurer.
Pros
Key-locking zipper to secure belongings,
Made with a durable canvas structure,
Web carrying handles with detachable shoulder strap,
Functional bag with durable design,
Value for money spent,
HUGE bag to fit a lot of things
Cons
The plastic buckles need replacing with metal ones
Verdict
To summarize, we have gone through dozens of collapsible duffel bags and decided that 9 are worth your consideration. Out of these, the absolute Best Collapsible Duffel Bag is Bago Travel Duffel Bag which we highly recommend as our overall best.
If money is not an issue, you can consider Jetstream Duffle Bag as this is our Premium Pick.
Otherwise, there's no shame in spending prudently, Spirit Airline Foldable Duffle Bag is the Budget Option.
Our other reviews you may find useful in your research:
What You Should Know Before Buying collapsible duffel bags
Overview
Navigating the wide array of duffel bags on the market can feel like an adventure in itself. That's why we're here to guide you through the variety of options. Below, we'll tell you about the various factors you should consider to land the perfect duffel bag for your unique needs.
Mode of Carrying
Factors such as the size and weight of your duffle bag as well as how long you will need to carry it around are important considerations especially when buying an oversized duffel bag. Duffle bags usually have 2 basic modes of carrying: Shoulder Straps – Many large duffle bags come with a removable shoulder strap to allow you to carry the bag in a crossbody style. If you intend to carry heavy loads, look out for padded straps for maximum comfort.
Handles – Most duffle bags come with carry handles to allow you to carry your bag briefcase style or grab handles that make it easy to load your bag into luggage compartments. Carry handles that attach in the center to form one sturdy handle are more comfortable to carry.
Other modes of carrying used on some models include:
Backpack straps – As the name suggests, backpack straps give you the freedom that comes with carrying your luggage on your back leaving your hands free for other tasks or to carry more bags. Rolling duffle bags – Rolling duffle bags come with wheels which makes them easy to lug around the airport especially if you're carrying heavy equipment.
Questions and Answers About collapsible duffel bags
What's a good size duffle bag?
There's no right or lousy size duffel bag. It all depends on how you intend to use it and the amount of stuff you intend to take along with you. For instance, a medium-sized duffel bag might be the best size if traveling for a 2 weeks trip but won't suit you if you intend to use it for your camping gear.
What to look for in a duffel bag?
To get the best bag for your traveling needs, you need to consider the following.
Purpose
How do you intend to use the collapsible duffel bag? Is it for carrying your hunting gear or as your main carry-on luggage? A duffel bag that suits you if traveling for a vacation may not work for you if going on a camping trip. While a feature such as waterproofing may be important for the latter, it isn't necessary for the former.
Size
Before investing in a foldable duffel bag, check the dimensions first to get an idea on how big or small it is. You don't want to end up with one that can barely hold your stuff or one that's too big to use as a carry-on.
Materials and durability
Most of the bags I've featured in the list are made from nylon. Why? It is lightweight, durable and easy to maintain. A duffel bag's material determines how long it'll last and unless you're after 'a use and throw away' collapsible bag, you need to choose wisely.
If possible, go after bags made from high ripstop nylon or denier polyester. Ensure that it has sturdy straps and zippers as well as reinforced stitching. You don't want to suffer the embarrassment of your bag's seams ripping open in the airport, right?
How long does it take to fold a duffel bag?
Folding a duffel bag should take the shortest time possible, typically just a few seconds, especially if there're instructions on how to go about it. Most duffel bags fold into their own inner pockets.
How small can a duffel bag be when folded?
Well,pretty small, to the size of a book-sized pouch.
Can a duffel bag count as a carry-on?
Yes. If the duffel bag is within the airline's requirements (size) for carry-on luggage, you can use it to carry your personal items.