Snake boots are essential for hunters trekking through dangerous paths that snakes love to live in. Snake boots protect your feet and legs from sudden snake bites you may encounter in the woods. They are also well-insulated and will keep your feet warm in the cold. We took a look at the best snake hunting boots available on the market and have listed them below.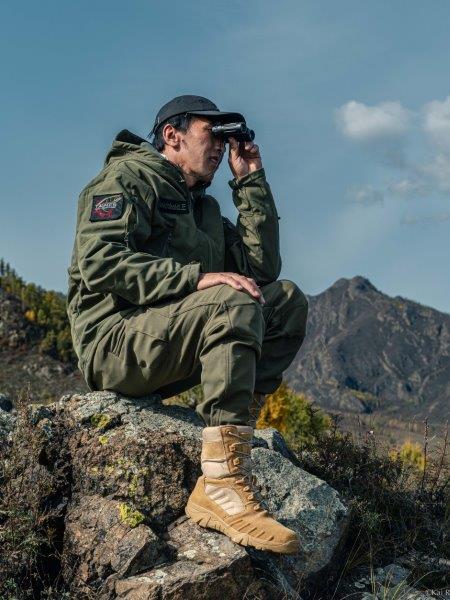 What are the Best Snake Boots For Hunting?
We have compiled for you the top 7 Best Snake Boots For Hunting in 2023. In this article we go through the products that we have used ourselves, checked what other users thought about them and we ranked them accordingly.
With years of experience with boots for hunting around snakes and having used several snake boots for hunting you can trust our review.
Moreover, you can scroll to the end of this review to see our mini buying guide as well as the answers to some of the frequently asked questions about snake boots for hunting.
Specs
Price: 💲💲 (fewer 💲 = cheaper)
Weight: 5 pounds (2.27 kg)
Support Height: 16 in
Waterproof: Yes
Material: Full grain leather, nylon, polyurethane, rubber
Insulation: No
Snake Protection: Yes
The Rocky Waterproof and Snakeproof Hunting Boot boasts a 16 inch shaft made of very durable snakeproof material. They have full grain leather accents with a sturdy nylon material that comes in an attractive Mossy Oak pattern. The material is reinforced with waterproofing qualities to keep your feet dry. They lace up for an adjustable fit. The BioMech rubber outsole offers good traction control for walking through various terrains with no slips and falls. Available in women's sizes, but these do tend to run narrow and do not offer wide widths. Also, you may find the need to invest in more durable shoelaces.
Pros
Available in women's sizes,
Waterproof material keeps feet dry,
Comfortable for hours of wear,
Durable and snakeproof material
Cons
Shoelaces are not very durable,
Sizing runs a bit narrow
Specs
Price: 💲💲💲💲 (fewer 💲 = cheaper)
Weight: 2.5 pounds (1.13 kg)
Waterproof: Yes
Material: Rubber with Polyurethane footbed
Insulation: No
Snake Protection: Yes
Thorogood Men's Snake Boots are constructed with slip-resistant rubber outsole that provides good traction in wet and slippery conditions. Designed for protection against snake bites, the boots come with Snakegard Extreme protection. The footbed is made using dual density polyurethane footbed that provides for a comfortable use. For added durability, the boots boast 3M Scotchgard protection. For ease of use, these boots come with a zipper to easily wear and take off. However, the zipper quality is not very good and it tends to break off easily. Added to this, the low quality waterproofing does not last long.
Pros
Snakeguard Extreme provides protection against deadly snake bites,
Dual density PU footbed provides for added comfort,
Slip resistant rubber outsole provides ample traction, 3M Scotchgard Protection adds to the durability of these boots,
Zipper adds to the ease of use.
Cons
Low quality zipper breaks off easily,
Waterproofing does not last long.
Specs
Price: 💲 (fewer 💲 = cheaper)
Weight: 5.62 pounds (2.55 kg)
Waterproof: Yes
Material: Rubber Neoprene
Insulation: Yes
Snake Protection: No
TIDEWE Rubber Neoprene Boots boast a waterproof and insulated design for rugged outdoor use. The boots come with CR-Flex Foam construction that keeps the feet dry and warm. Heat-resistant insulation material traps body heat to maintain a comfortable temperature in cold weather. The use of 15-way stretch nylon makes for comfortable use with reduced pain and fatigue. The use of lightweight materials makes these boots suitable for rough terrains and longer journeys. However, the design of these boots may be a bit tight for some people, causing the hassle of finding the right size. Moreover, the tread may not last long with rough use.
Pros
CR-Flex Foam makes these boots waterproof and warm,
Heat-resistant insulation retains maximum body heat for use in low temperatures,
15-way stretch nylon provides for comfortable use and reduced fatigue,
Suitable for longer journeys with lightweight materials
Cons
The tread wears off quickly,
The design is tight, giving rise to sizing problems
Specs
Price: 💲💲💲 (fewer 💲 = cheaper)
Weight: 2.4 pounds (1.09 kg)
Support Height: 16 inches
Waterproof: Yes
Material: Denier CORDURA, EVA, rubber
Insulation: No
Snake Protection: Yes
The Rocky Men's Lynk Hunting Boot has a 15-inch shaft from the arch with a durable snakebite proof material. They are lightweight at barely over 2 pounds. The lace up design allows for an adjustable fit. There is an inner zipper to assist in getting your foot in the boot. The top and heel are reinforced for added protection. The footbed is made of a Terra Suspension material that provides ample comfort while walking throughout various terrains. These boots run true to size which makes ordering easy. However, the waterproof liner tends to get caught on the zipper easily. Also, the heavy duty material can be hard on the ankles before they get broken in.
Pros
Lightweight material provides comfort,
There is 16 inches of snakeproof material,
They are waterproof to keep feet dry,
They have a lace up design for an adjustable fit
Cons
Zipper gets stuck on liner easily,
Stiff material can be hard on ankles
Specs
Price: 💲 (fewer 💲 = cheaper)
Weight: 4.28 pounds (1.94 kg)
Waterproof: Yes
Material: Polyurethane with Neoprene Insulation
Insulation: Yes
TIDEWE Waterproof Hunting Boot for Women are made using highly durable polyurethane material. The boots are tough and suitable for rugged outdoor use. These come with self-cleaning outsole wraps that make them ideal for snow and muddy conditions. The upper mesh is made using breathable materials so the boots can be used in dry and warmer weather as well. 6mm neoprene insulation provides optimum waterproofing.
The TIDEWE Waterproof Hunting Boots for Women do have some design defects. The boots are tight around the calf area that make them uncomfortable to wear. Moreover, substandard manufacturing practices mean that the shoes do not last long.
Pros
Self cleaning outsole wraps ideal for use in mud and snow,
Highly durable polyurethane material provides optimum performance in rough conditions,
Better air circulation and temperature regulation with breathable mesh,
6mm Neoprene insulation make these boots tough and waterproof.
Cons
Boots do not last long due to substandard manufacturing,
The design is a little tight around the calf causing discomfort.
Specs
Price: 💲💲💲💲 (fewer 💲 = cheaper)
Weight: 2.71 pounds (1.23 kg)
Support Height: 1.0 inches
Waterproof: Yes
Material: Rubber
Insulation: No
Snake Protection: Yes
LaCrosse Men's 4xAlpha Snake Boot offers protection and premium quality. The 16″ snake guard protects against snake bites and debris, while multilayer rubber on the toe, shin, and heel provide additional protection.
This layering also improves the durability of the boot. The mix of rubber and neoprene makes the boot robust and waterproof but lowers its breathability.
These hand-made boots can keep you warm in lower temperatures without constricting your feet. It is also flexible with good traction on all kinds of terrain.
The outsole is shock absorbent; you can cover long distances on rough terrain in maximum comfort.
Overall, this hunting boot values protection and comfort.
Pros
Snake proof boot,
Additional protection on toe, heel, and shin,
High-quality rubber build,
The rugged outsole provides good traction
Cons
They are hard to take off,
Low ventilation
Specs
Price: 💲💲 (fewer 💲 = cheaper)
Weight: 4 pounds (1.81 kg)
Support Height: 16 in
Waterproof: Yes
Material: EVA, rubber
Insulation: No
Snake Protection: Yes
The Rocky Men's 16 Inch Snake Boot has a 16-inch shaft of durable material that keeps your feet and legs protected from snake bites. There is a zipper on the side to help with getting the boot on and off. The material is also waterproof to protect your feet from getting wet when walking outdoors. They come with a mossy oak pattern to help blend in outdoors. Be sure to follow the size chart and order a size up if needed as they can run small. The snug fit of these boots provides a decent level of support. If you are walking outdoors in an area where snake bites would be a concern, these boots would likely be a good choice.
Pros
Waterproof material keeps your feet dry,
Sturdy and well made snakebite proof material,
Inside zipper allows for easy on and off,
Easy to clean
Cons
These run small,
The zipper tends to get stuck
Verdict
To summarize, we have gone through dozens of snake boots for hunting and decided that 7 are worth your consideration. Out of these, the absolute Best Snake Boots For Hunting is Rocky Waterproof Snakeproof Hunting Boot which we highly recommend as our overall best.
If money is not an issue, you can consider Thorogood Men's Snake Boot 17 Inches as this is our Premium Pick.
Otherwise, there's no shame in spending prudently, TIDEWE Rubber Neoprene Boots for Men and Women is the Budget Option.
Our other reviews you may find useful in your research:
What You Should Know Before Buying snake boots for hunting
Boot material
The type of materials used in crafting your boots determines their comfort and durability. You will find all kinds of boots made from different materials like neoprene, rubber, and leather. Each serves their own purpose, and the right material depends on what use you have for them, all year round.
If you plan on buying hunting boots, you can either opt for field boots or rubber boots. Both have their merits depending on the situation and the terrain and climate you are walking in. If you're looking for breathable boots, field boots (leather boots) are the way to go. But if waterproofing is what you want, get rubber boots.
Protection from snake bites
There might be a risk of getting bitten by snakes during outdoor nature activities. This risk increases if the area you are in is notorious for them, for example tropical rainforests or certain deserts. In this case, it is best to protect your feet with boots that can prevent snake bites. These boots are few and far between and made from materials not commonly used for boots. You can buy thick leather boots or those made from kevlar, synthetic fabrics, and denim. Some manufacturers also use a mix of rubber, neoprene, leather, and polyurethane to make the boot bite-proof.
In addition to wearing protective boots, wear long pants and avoid walking through tall grass.
Boot weight
You might be surprised to find how the weight of boots can affect your walking experience. Boots can weigh from 1.75 pounds to 3 pounds. Some boots are as heavy as 6 pounds! Both lightweight and heavyweight boots have their benefits. Most people decide the weight of their boots based on their intended use. Heavy boots are necessary for a steady foothold and better support for people who hunt and hike. Heavier boots are also more insulated, shock-absorbing, and protective. Conversely, lightweight shoes are a good option if you plan on covering long distances at a faster pace.
Comfort
Comfortable boots can save your feet from a world of pain. When buying boots, comfort should be the first box you check. Always buy a size that fits your feet. Don't make the mistake of buying a smaller or larger size. Also, make sure that the size will remain comfortable even after wearing thick winter socks. Additionally, check the flexibility of the insoles and toebox. Bend the show outwards to inspect flexibility. The shoe should bend just slightly if it has good support. Try on the pair of shoes you like and walk around the store. Stand on the tip of your toes and check if there is enough space for your toes to expand. They shouldn't touch the tip of the shoe. In the same position, check if the heel is digging into your feet.
Questions and Answers About snake boots for hunting
Can snakes bite through Muck boots?
The answer isn't a simple yes or no. Muck boots are made from rubber, and usually, rubber shoes are not snake-proof. But, some muck boots made from a blend of materials might be enough to stop a snake bite from reaching your feet. Check if the manufacturer of the muck boots guarantees that a snake bite won't penetrate. However, if you know you will be hunting in areas with a risk from venomous snakes, try kevlar boots instead of muck boots.
Do snake proof boots really work?
When walking through snake-infested areas, your feet will need protection. Snake-proof boots are your best bet. The materials used to make these boots don't allow the fangs to penetrate and get to your skin. These boots also have a hard inner lining which makes your chances of getting bitten slimmer. Buying ones with a good height maximizes your safety. Kevlar boots are an option worth exploring as this material is tough enough to cause injury to the biting snakes, all while protecting your feet.
How long should hunting boots last?
High-quality hunting boots, albeit expensive, can last a lifetime. Even if the hunting boots aren't exactly top tier, a good pair can last a decade. In the end, it depends on the quality, maintenance, and frequency of usage. However, proper care and storage is required to keep the hunting boots in good condition. You might have to replace the sole from time to time.
How heavy should hunting boots be?
Weight depends on the season in which you will be hunting. If you're going to be hunting in the summer or walking a lot, then two to eight hundred grams will work and anything heavier will be a drag. But in the winter, you will need insulation on your hunting boots to keep warm. In this case, get tough and heavy duty boots that weigh at least a thousand grams. However, do not get too heavy a pair if it will tire you out too easily while walking due to the immense weight.