Elk hunters need the best boots to take them through rough, rocky terrain to the best elk spots. High-quality hunting boots not only protect hunters from sharp objects on the ground, but they also keep their feet warm and dry in undesirable weather. Below we've compiled some of the best boots for elk hunting available to hunters online.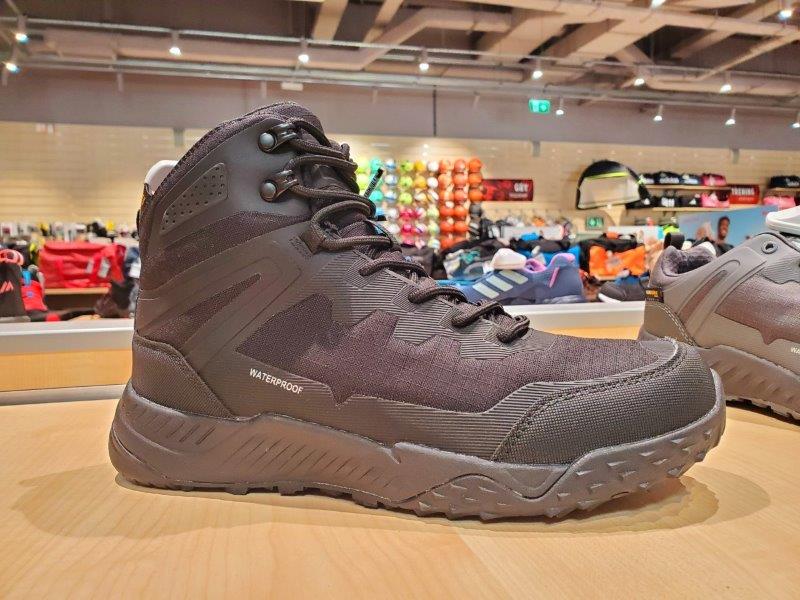 What are the Best Elk Hunting Boots?
We have compiled for you the top 6 Best Elk Hunting Boots in 2023. In this article we go through the products that we have used ourselves, checked what other users thought about them and we ranked them accordingly.
With years of experience with Boots for Elk Hunting and having used several Elk Hunting Boots you can trust our review.
Moreover, you can scroll to the end of this review to see our mini buying guide as well as the answers to some of the frequently asked questions about Elk Hunting Boots.
Specs
Price: 💲💲💲 (fewer 💲 = cheaper)
Weight: 2.13 pounds (0.97 kg)
Support Height: 12 in
Waterproof: Yes
Material: Leather, nylon, cork EVA
Insulation: Yes
The Irish Setter Men's Elk Tracker Hunting Boot features a 12-inch shaft with 600-gram 3M insulation and waterproof fabric lining. They are made with a premium work grade leather exterior that provides quick comfort for miles of trekking through various terrains. The boots have an odor controlled interior and are available in extended sizes. They have a removable cork EVA footbed and a lace up design for an adjustable fit. The soles are made to hold traction on any terrain. They have a good amount of ankle support however as you break them in, they can stretch out some. Additionally, if you have high arches, these boots may not be the best choice as they offer little arch support.
Pros
Keeps feet warm in cold climates,
Waterproof material prevents moisture from getting in,
Comfortable to walk in various terrains,
Available in wide variety of sizes
Cons
Tends to stretch out up to a half size once broken in,
No arch support
Specs
Price: 💲💲💲💲 (fewer 💲 = cheaper)
Weight: 2 pounds (0.91 kg)
Waterproof: Yes
Material: Leather, Nylon with Thinsulate insulation
Insulation: Yes
Snake Protection: No
Kenetrek Mountain Extreme 400 Insulated Hiking Boots are designed for rugged terrains and rough weather conditions. The boots come with an abrasion-resistant sole guard made using reinforced rubber. For added durability, these boots have a double and triple stitched leather upper that protects against scratches. The waterproof membrane helps keep your feet dry while traveling in wet atmosphere. For chilly weather performance, 400g Thinsulate insulation keeps your journey comfortable by maintaining a warm temperature inside the boots. All these features come with a 7mm nylon midsole that provides added stability so the user can be confident traveling in treacherous terrains. However, the boots may not be the best choice available for some people. The hard inserts may result in pa and fatigue.
Pros
Double and triple stitching with leather upper for added durability,
7mm nylon midsole provides good stability,
Waterproof membrane provides protection in wet atmosphere,
400g Thinsulate insulation keeps feet warm,
Abrasion resistant sole guard made from reinforced rubber
Cons
Hard inserts make for an uncomfortable wearing experience,
Waterproofing may not last very long
Specs
Price: 💲 (fewer 💲 = cheaper)
Waterproof: Yes
Material: Ethylene Vinyl Acetate (sole)
Insulation: 400 gram Thinsulate
Snake Protection: No
If you prefer agility during your hunts, the R RUNFUN Lightweight boot might be to your liking. The boots are highly comfortable right out of the box; you won't need to break them in.
The waterproof feature holds true, but only up until the lining; if water rises beyond that, you will have soggy feet.
The 400gram Thinsulate insulation will keep your feet warm in 30-40F. Along with protection from the cold, this hunting boot also offers protection from falls. The boot's construction is good for the price, but it would be best to use it for milder terrains as the stitching might not hold on rough terrains.
This boot might be good for early-season hunting.
Pros
Breathable materials for comfort,
Anti-slip outsole for protection,
Durable construction for bushy terrain,
It comes with a long-term warranty
Cons
Weak in-soles,
Stitches might not hold on rougher terrain
Specs
Price: 💲💲💲 (fewer 💲 = cheaper)
Weight: 6.1 pounds (2.77 kg)
Waterproof: Yes
Material: Nylon, Leather
Insulation: 1000 gram Thinsulate
Snake Protection: No
Rocky Men's Sport Utility Pro Hunting Boot offers comfort and support for your hunting and hiking adventures. This boot promises longevity as it uses high-quality materials in construction.
The shoes might be uncomfortable at first, but after breaking them in, they will fit perfectly. Waterproof and insulated, this boot keeps you dry and warm without compromising breathability due to the presence of inner mesh lining. If you plan to hunt in extremely cold weather conditions, these might be the shoes for you.
The cushioned insole only adds to the comfort, while the rugged outsole provides good support, grip, and traction, stabilizing your footing.
Pros
Good traction and stable footing,
1000G insulation for cold weather conditions,
Quality full-grain leather and nylon used in construction,
The boot fits to your foot size
Cons
Boots might be heavy for some,
Laces wear out quickly
Specs
Price: 💲💲 (fewer 💲 = cheaper)
Weight: 2.2 pounds (1 kg)
Support Height: 8.5 inches
Waterproof: Yes
Material: Leather, nylon, and rubber
Insulation: 1200 gram Thinsulate
Snake Protection: No
The Huntrite Men's Insulated Waterproof hunting boot is an expensive shoe that packs a punch. Constructed with a mix of full-grain leather and quality nylon, it will survive wear and tear. The waterproof lining ensures dry feet regardless of how wet it becomes.
The slip and oil-resistant rubber outsole provide good traction, but the inner sole might need replacing.
Comfort is well-established with this boot with a moisture-wicking mesh inner lining keeping your feet sweat-free. Additionally, with a padded tongue and collar, breaking these boots in won't take much time.
This Huntrite Men's hunting boot might be a good choice for those who prefer treestand hunting.
Pros
The insulation is highly effective in keeping your feet warm,
A padded color makes these boots comfortable for hunting,
Well constructed with double stitching where needed,
The outer sole facilitates rugged tread
Cons
Boots are on the heavier side,
Laces wear out fast
Specs
Price: 💲 (fewer 💲 = cheaper)
Weight: 0.47 pounds (0.21 kg)
Waterproof: Yes
Material: TPU & Rubber with fabric upper material
Insulation: Yes
XPETI Men's Thermator Mid-Rise Waterproof Insulated Outdoor Boots come with rubber sole that provides optimum traction for rugged outdoor use. The boots have a mesh lining made from waterproof membrane that helps keep the feet dry in muddy and wet conditions. The boots are very easy to fit thanks to a lace-up closure. All this comes with a cushioned footbed that makes these boots very comfortable for regular use. Although the boots are designed for rugged use, the boots are not very durable because of which they do not last long with rough use. They are also designed to be narrow that may cause discomfort with regular use.
Pros
Waterproof membrane for upper mesh and mesh lining keeps feet dry,
Rubber sole with multi-directinal lugs provides good traction,
Lace-up closure makes these boots easy to fit,
Cushioned footbed makes these boots comfortable.
Cons
Narrow design and inconsistent sizing makes them difficult to fit,
Not very durable for long term use.
Verdict
To summarize, we have gone through dozens of Elk Hunting Boots and decided that 6 are worth your consideration. Out of these, the absolute Best Elk Hunting Boots is Irish Setter Men's Big Game Hunting Boot which we highly recommend as our overall best.
If money is not an issue, you can consider Kenetrek Mountain Extreme 400 Insulated Hiking Boot as this is our Premium Pick.
Otherwise, there's no shame in spending prudently, R RUNFUN Men's camo Waterproof Lightweight Hunting Boots is the Budget Option.
Our other reviews you may find useful in your research:
What You Should Know Before Buying Elk Hunting Boots
Flexibility
When buying boots, keep your purpose and shoe preferences in mind – including whether you are more comfortable in stiff or flexible boots.
If you plan to go hiking, on-trail, a lighter, more flexible boot might appeal to you. Whereas a hunter, who is often off-trail, might prefer a heavier and stiffer boot. It all depends on the weather, terrain, and activity.
But, the best option would be to go with a boot with medium flexibility. One that isn't too bendy or too stiff. These will give you almost the same support and solid footing as rigid boots; while still making it easy to move on a steep area.
Support
If you don't want your joints and ligaments to suffer, buying boots with good ankle support is fundamental. Boots that offer good support are those that fit snugly around your ankle without digging into your skin. Additionally, the level of support your feet need also depends on the activity you want to perform. If you plan on buying work boots, look for something lightweight. But, if you plan to go hiking or hunting, heavy boots will provide your feet support and comfort on the rough terrain. Although, we don't recommend wearing heavy boots daily as doing so will stretch your ligaments.
Waterproofing
Waterproof boots are a must-have for rainy conditions or hunting in wet areas. Waterproof boots will keep your feet dry even when fully submerged. Luckily, most boots come with a water-repellent coating. If you don't have waterproof boots or if the coating has worn off, you can waterproof them yourself. You can waterproof your new boots with a silicone spray and your old boots by applying a wax sealant. Buy a spray that is appropriate for the material of your boots. Make sure to thoroughly clean and dampen your boots before treatment.
Boot size
Finding the right size is essential when shopping for footwear. If you buy a size too small or too large, you will be too uncomfortable to enjoy your new boots. When buying shoes, pay special attention to the toe region. There should be some space left between your longest finger and the tip of the shoe. Some people recommend that this gap should be as broad as your thumb. If you are buying knee-high boots, go half a size up as it will be easier to slip your feet into the boot. Some people have one foot larger than the other. In this case, buy the size that fits the larger feet. If ever you find yourself between sizes, always buy half a size larger shoes but never a smaller size. With a larger size, you can always fit insoles. But a smaller size will be too tight for you to be comfortable.
Questions and Answers About Elk Hunting Boots
Should hunting boots be tight or loose?
Hunting boots should neither be tight nor loose – they should fit comfortably. If you plan to wear thick, insulating socks, keep that in mind when fitting on your hunting boots. Your boots should mold with your ankle and instep. Your toes should also have wiggle space. Make sure the boots are not restricted your blood flow. If you can't find the right size for your feet, then go half a size up and opt for insoles.
Can I wear hunting boots in the snow?
Not all hunting boots are durable in the snow or even in the rain. For hunting in the snow, you will need boots with some key features. The first one being, they need to be completely waterproof. The last thing you want is snow seeping into your shoes and giving you frostbite. A snowboot with a gaiter will add to the waterproof feature by keeping snow and water out. Also, if it is snowing, the terrain is going to be slippery. So, look for hunting boots with good traction and support.
What boots do elk guides wear?
Elk hunting is an exciting adventure for hunters and requires the proper footwear. Most elk guides will advise you against rubber boots and recommend ones made from leather instead. Secondly, for hunting during the winter season, you should get insulated boots and uninsulated one's if hunting in the summer. Elk guides recommend boots with a good height as these provide good ankle support and are warmer. Lastly, get a size that fits snugly – but also gives your feet room to breathe.
How do you keep hunting boots waterproof?
Waterproof boots are an excellent choice when you are hunting in wet areas. However, you must look after your boots to maintain this feature. Over time, dirt and grit will cause the boots to lose their waterproof layer.
To avoid this, clean your shoes as soon as possible. If you notice water leaking through the seams, clean them as soon as possible and apply wax.
Before applying wax, heat your shoes using a hairdryer, making sure to keep it at a distance of at least 6 inches. Sparingly evenly layer the wax, and let it dry for an hour. Then, buff off the boots using a clean cloth.