Nobody likes wet feet! If you've ever been hunting without proper footwear, you know how uncomfortable and frustrating cold, wet feet are during the trip. That's why waterproof hunting boots are a must for serious hunters. Waterproof hunting boots will keep your feet dry in all terrain and weather no matter where you're headed. Take a look at the best waterproof boots for hunting we've found available online.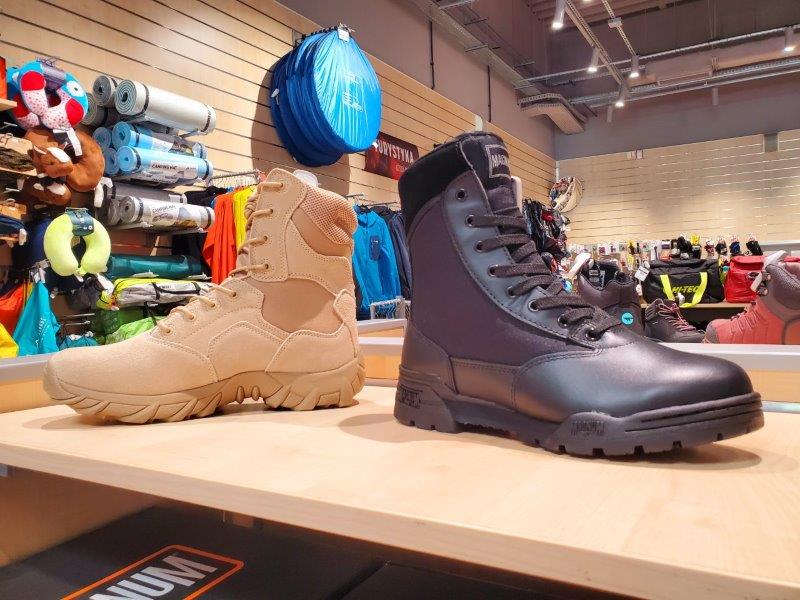 What are the Best Waterproof Hunting Boots?
We have compiled for you the top 7 Best Waterproof Hunting Boots in 2023. In this article we go through the products that we have used ourselves, checked what other users thought about them and we ranked them accordingly.
With years of experience with waterproof boots for hunting and having used several waterproof hunting boots you can trust our review.
Moreover, you can scroll to the end of this review to see our mini buying guide as well as the answers to some of the frequently asked questions about waterproof hunting boots.
Specs
Price: 💲💲 (fewer 💲 = cheaper)
Weight: 4.25 pounds (1.93 kg)
Waterproof: Yes
Material: Rubber with Neoprene Insulation
Insulation: Yes
HUNTSHIELD Men's Neoprene Muck Boot are a nicely designed offering with camouflage pattern that blends into the surroundings easily. The boots can cope with cold weather thanks to neoprene insulation that retains body heat. The elastic cuff makes for a hassle free day to day use, providing a secure seal and added protection. The boots come with a polyurethane insole and EVA midsole offering ample shock absorption and stability. However, the shoes have some sizing issues making it a hassle to find the right fit. There is also room for improvement in manufacturing to make them more durable and long-lasting.
Pros
Camouflage pattern blends into the surroundings,
Elastic cuff for a secure seal and added protection,
Neoprene insulation provides excellent heat retention,
PU comfort insole & EVA midsole provide extra stability & shock absorption,
Added comfort and warmth with scent free fleece lining.
Cons
Smaller than normal sizing make it difficult to fit,
Poor manufacturing means that the boots do not last long.
Specs
Price: 💲💲💲💲 (fewer 💲 = cheaper)
Waterproof: Yes
Material: Neoprene, Rubber
Insulation: Foam, Fleece, and 8mm Neoprene
Snake Protection: No
With an 8mm neoprene build and a 2mm foam lining under the footbed, the Muck Arctic Pro Snow Boot is designed to keep you fully warm. Apart from keeping the cold out, it keeps the heat in, ensuring you stay warm.
Despite the layering, the boot is flexible and adjusts its shape according to your feet to prevent blistering. The tough Spandura protects the boot against wear and tear, but the camouflage print quickly fades. Apart from that, the boot is highly durable. The Bob-Tracker outsole adds to the boot's durability and provides a good grip on most terrain.
In our opinion, this lightweight boot can satisfy most hunters.
Pros
Well insulated against low temperatures,
Cushioned sole for comfort,
Provides good traction,
Reinforced in the instep, heel, and Achilles area for support
Cons
Camouflage print wears off,
Not comfortable for wide feet
Specs
Price: 💲 (fewer 💲 = cheaper)
Weight: 5.45 pounds (2.47 kg)
Support Height: 15 in
Waterproof: Yes
Material: Neoprene, rubber, ethylene, vinyl acetate
Insulation: Yes
The TIDEWE Neoprene Outdoor Boots for Men offer 100% waterproof protection with a 15-inch rubber shaft that also offers warmth in the cold. They have a contoured EVA sole that provides maximum comfort with ample arch support. The sole is also rubber and is designed to ensure traction on all terrains, even in water and snow. They have a loop in the back to help get them on, and a kick plate on the back of the heel to help remove them. While the reinforced rubber material is extremely durable it does lack in support. Also, be sure to follow the size chart as these tend to run big.
Pros
Durable rubber material,
100% waterproof,
Comfortable for all day wear,
Keeps feet warm in the cold
Cons
Runs large,
Lacking in support
Specs
Price: 💲💲💲 (fewer 💲 = cheaper)
Weight: 4.5 pounds (2.04 kg)
Waterproof: Yes
Material: Leather with Polyurethane footbed
Insulation: No
Irish Setter Men's Wingshooter Waterproof 9″ Upland Boots are a versatile offering suited for a variety of conditions. The boots come with a stylish design and smooth leather finish making them good for day-to-day wearing as well as for occasional adventures into the wild. The high-quality laces provide for a good fit so you can be confident using them for longer journeys.
However, the material used for Irish Setter Wingshooter Waterproof boots is not breathable making them uncomfortable for use in dry and warm weathers. Moreover, poor quality craftsmanship means that the wear and tear starts off quickly with these boots.
Pros
Stylish design makes these boots suitable for various settings,
Removable polyurethane bed,
Smooth leather finish,
High quality long-lasting laces.
Cons
Quality control issues mean the boots may not last long, The material is not breathable making them unsuitable for summer/hot weather.
Specs
Price: 💲💲 (fewer 💲 = cheaper)
Weight: 4 pounds (1.81 kg)
Support Height: 16 in
Waterproof: Yes
Material: EVA, rubber
Insulation: No
Snake Protection: Yes
The Rocky Men's 16 Inch Snake Boot has a 16-inch shaft of durable material that keeps your feet and legs protected from snake bites. There is a zipper on the side to help with getting the boot on and off. The material is also waterproof to protect your feet from getting wet when walking outdoors. They come with a mossy oak pattern to help blend in outdoors. Be sure to follow the size chart and order a size up if needed as they can run small. The snug fit of these boots provides a decent level of support. If you are walking outdoors in an area where snake bites would be a concern, these boots would likely be a good choice.
Pros
Waterproof material keeps your feet dry,
Sturdy and well made snakebite proof material,
Inside zipper allows for easy on and off,
Easy to clean
Cons
These run small,
The zipper tends to get stuck
Specs
Price: 💲 (fewer 💲 = cheaper)
Weight: 2.2 pounds (1 kg)
Support Height: 8.5 inches
Waterproof: Yes
Material: Leather, nylon, and rubber
Insulation: 1200 gram Thinsulate
Snake Protection: No
The Huntrite Men's Insulated Waterproof hunting boot is an expensive shoe that packs a punch. Constructed with a mix of full-grain leather and quality nylon, it will survive wear and tear. The waterproof lining ensures dry feet regardless of how wet it becomes.
The slip and oil-resistant rubber outsole provide good traction, but the inner sole might need replacing.
Comfort is well-established with this boot with a moisture-wicking mesh inner lining keeping your feet sweat-free. Additionally, with a padded tongue and collar, breaking these boots in won't take much time.
This Huntrite Men's hunting boot might be a good choice for those who prefer treestand hunting.
Pros
The insulation is highly effective in keeping your feet warm,
A padded color makes these boots comfortable for hunting,
Well constructed with double stitching where needed,
The outer sole facilitates rugged tread
Cons
Boots are on the heavier side,
Laces wear out fast
Specs
Price: 💲💲💲💲 (fewer 💲 = cheaper)
Weight: 2.5 pounds (1.13 kg)
Waterproof: Yes
Material: Rubber with Polyurethane footbed
Insulation: No
Snake Protection: Yes
Thorogood Men's Snake Boots are constructed with slip-resistant rubber outsole that provides good traction in wet and slippery conditions. Designed for protection against snake bites, the boots come with Snakegard Extreme protection. The footbed is made using dual density polyurethane footbed that provides for a comfortable use. For added durability, the boots boast 3M Scotchgard protection. For ease of use, these boots come with a zipper to easily wear and take off. However, the zipper quality is not very good and it tends to break off easily. Added to this, the low quality waterproofing does not last long.
Pros
Snakeguard Extreme provides protection against deadly snake bites,
Dual density PU footbed provides for added comfort,
Slip resistant rubber outsole provides ample traction, 3M Scotchgard Protection adds to the durability of these boots,
Zipper adds to the ease of use.
Cons
Low quality zipper breaks off easily,
Waterproofing does not last long.
Verdict
To summarize, we have gone through dozens of waterproof hunting boots and decided that 7 are worth your consideration. Out of these, the absolute Best Waterproof Hunting Boots is HUNTSHIELD Men's Neoprene Muck Boot which we highly recommend as our overall best.
If money is not an issue, you can consider Muck Boot Men's Arctic Pro Snow Boot as this is our Premium Pick.
Otherwise, there's no shame in spending prudently, TIDEWE Unique Design Neoprene Outdoor Boots for Men is the Budget Option.
Our other reviews you may find useful in your research:
What You Should Know Before Buying waterproof hunting boots
Waterproofing
Waterproof boots are a must-have for rainy conditions or hunting in wet areas. Waterproof boots will keep your feet dry even when fully submerged. Luckily, most boots come with a water-repellent coating. If you don't have waterproof boots or if the coating has worn off, you can waterproof them yourself. You can waterproof your new boots with a silicone spray and your old boots by applying a wax sealant. Buy a spray that is appropriate for the material of your boots. Make sure to thoroughly clean and dampen your boots before treatment.
Insulation
Insulation is what keeps your feet warm. While there are many insulating materials in the market, the most common are shearling and thinsulate. If you are going to be walking through snow, then insulated boots containing these materials are the way to go. You can find out if a boot will keep you warm in the cold by looking at the grams of insulation. The thicker the insulation on the boot, the higher the gram value. You can find insulation ranging from 200 to 2000 grams based on your seasonal needs. Boots with 200 grams of insulation are best suited for the mild cold, whereas 2000 grams is for extremely cold weather conditions. Keep in mind the more insulated the boot is, the heavier it will be and the more difficult it will be for you to walk.
Boot material
The type of materials used in crafting your boots determines their comfort and durability. You will find all kinds of boots made from different materials like neoprene, rubber, and leather. Each serves their own purpose, and the right material depends on what use you have for them, all year round.
If you plan on buying hunting boots, you can either opt for field boots or rubber boots. Both have their merits depending on the situation and the terrain and climate you are walking in. If you're looking for breathable boots, field boots (leather boots) are the way to go. But if waterproofing is what you want, get rubber boots.
Boot price range
You can find boots at just about any price range. The cost comes down to the material, build, and purpose of the boot. You can probably find a pair of boots that suit your needs for less than 100 dollars. But, they won't last long and be as comfortable either. Boots in the 100-200 dollar range will be more durable and comfortable. The better the boot material and manufacturing, the higher the price.
Additionally, the more features the boot has, the more it will cost. Features like waterproofness, breathablity and level of padding can all affect the pricing.
The best thing you can do is outline the kind of boot you want and for what purpose, then set a budget and search your preference within your defined range.
Questions and Answers About waterproof hunting boots
Can I wear hunting boots in the snow?
Not all hunting boots are durable in the snow or even in the rain. For hunting in the snow, you will need boots with some key features. The first one being, they need to be completely waterproof. The last thing you want is snow seeping into your shoes and giving you frostbite. A snowboot with a gaiter will add to the waterproof feature by keeping snow and water out. Also, if it is snowing, the terrain is going to be slippery. So, look for hunting boots with good traction and support.
How long should hunting boots last?
High-quality hunting boots, albeit expensive, can last a lifetime. Even if the hunting boots aren't exactly top tier, a good pair can last a decade. In the end, it depends on the quality, maintenance, and frequency of usage. However, proper care and storage is required to keep the hunting boots in good condition. You might have to replace the sole from time to time.
How heavy should hunting boots be?
Weight depends on the season in which you will be hunting. If you're going to be hunting in the summer or walking a lot, then two to eight hundred grams will work and anything heavier will be a drag. But in the winter, you will need insulation on your hunting boots to keep warm. In this case, get tough and heavy duty boots that weigh at least a thousand grams. However, do not get too heavy a pair if it will tire you out too easily while walking due to the immense weight.
How do you keep hunting boots waterproof?
Waterproof boots are an excellent choice when you are hunting in wet areas. However, you must look after your boots to maintain this feature. Over time, dirt and grit will cause the boots to lose their waterproof layer.
To avoid this, clean your shoes as soon as possible. If you notice water leaking through the seams, clean them as soon as possible and apply wax.
Before applying wax, heat your shoes using a hairdryer, making sure to keep it at a distance of at least 6 inches. Sparingly evenly layer the wax, and let it dry for an hour. Then, buff off the boots using a clean cloth.