Having to stop on your hunting trek to frequently re-tie your boots can be frustrating and time-consuming. To prevent this issue, some hunters prefer slip on hunting boots to quickly dress and undress before and after a hunt. The lack of laces also makes these boots easier to clean than traditional hunting boots. We took a look into the best quality slip on hunting boots available online – take a look and see which pair is best for you.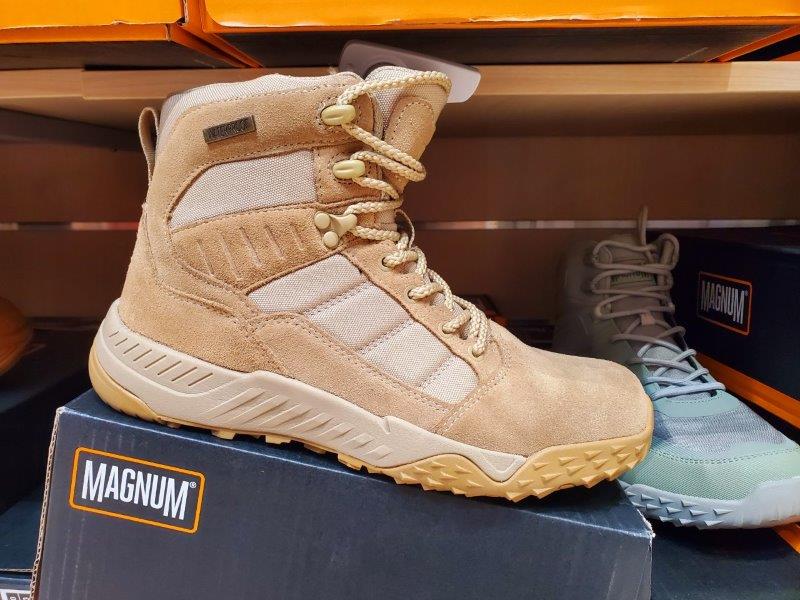 What are the Best Slip On Hunting Boots?
We have compiled for you the top 8 Best Slip On Hunting Boots in 2023. In this article we go through the products that we have used ourselves, checked what other users thought about them and we ranked them accordingly.
With years of experience with hunting boots that slip on and having used several slip on hunting boots you can trust our review.
Moreover, you can scroll to the end of this review to see our mini buying guide as well as the answers to some of the frequently asked questions about slip on hunting boots.
Specs
Price: 💲💲💲 (fewer 💲 = cheaper)
Waterproof: Yes
Material: Rubber, Neoprene, Ethylene Vinyl Acetate
Insulation: Yes
Snake Protection: No
The TIDEWE waterproof rubber boots come with 6mm Neoprene insulation. These not only keep your feet warm but also keep the water out. The air mesh layer does its best to remove sweat and moisture from your feet.
The boot itself is comfortable for long and rough hunting sessions and highly durable. While the sole is a bit heavy, you won't have trouble keeping up with your hunting dogs. The boot includes back tabs to assist you in taking off the shoe. Additionally, the calf of the boot is wide enough to fit the average person, and you can tighten it using an adjuster.
Overall, the boot performs its functions well.
Pros
Breathable air mesh lining for humid weather,
Rubber and neoprene combination for toughness,
Toe and heel protection included,
Easy to put on and take off
Cons
Trap some moisture,
Sole is heavy
Specs
Price: 💲💲💲💲 (fewer 💲 = cheaper)
Weight: 2.71 pounds (1.23 kg)
Support Height: 1.0 inches
Waterproof: Yes
Material: Rubber
Insulation: No
Snake Protection: Yes
LaCrosse Men's 4xAlpha Snake Boot offers protection and premium quality. The 16″ snake guard protects against snake bites and debris, while multilayer rubber on the toe, shin, and heel provide additional protection.
This layering also improves the durability of the boot. The mix of rubber and neoprene makes the boot robust and waterproof but lowers its breathability.
These hand-made boots can keep you warm in lower temperatures without constricting your feet. It is also flexible with good traction on all kinds of terrain.
The outsole is shock absorbent; you can cover long distances on rough terrain in maximum comfort.
Overall, this hunting boot values protection and comfort.
Pros
Snake proof boot,
Additional protection on toe, heel, and shin,
High-quality rubber build,
The rugged outsole provides good traction
Cons
They are hard to take off,
Low ventilation
Specs
Price: 💲 (fewer 💲 = cheaper)
Weight: 4.67 pounds (2.12 kg)
Support Height: 15 in
Waterproof: Yes
Material: Neoprene, rubber
Insulation: No
The TIDEWE Rubber Boots for Women Multi-Season feature a 100% waterproof exterior. They have a 15-inch shaft with a neoprene material for the upper portion and a rubber lower section for maximum protection against moist conditions. There is a steel shank between the layers of the sole to provide extra support and protection. The insole is made of a breathable mesh that helps to keep your feet cool and provide comfort when walking. The green color comes with a camouflage pattern and the pink trim option comes in all black. While they offer a great deal of comfort, the calves fit a bit tight for some. The steel shaft also causes these boots to feel quite heavy.
Pros
100% waterproof,
Available in pink and green,
Breathable and comfortable mesh insole,
High traction rubber insoles
Cons
Tight on the calves,
Heavy
Specs
Price: 💲💲💲 (fewer 💲 = cheaper)
Weight: 4.25 pounds (1.93 kg)
Waterproof: Yes
Material: Rubber with Neoprene Insulation
Insulation: Yes
HUNTSHIELD Men's Neoprene Muck Boot are a nicely designed offering with camouflage pattern that blends into the surroundings easily. The boots can cope with cold weather thanks to neoprene insulation that retains body heat. The elastic cuff makes for a hassle free day to day use, providing a secure seal and added protection. The boots come with a polyurethane insole and EVA midsole offering ample shock absorption and stability. However, the shoes have some sizing issues making it a hassle to find the right fit. There is also room for improvement in manufacturing to make them more durable and long-lasting.
Pros
Camouflage pattern blends into the surroundings,
Elastic cuff for a secure seal and added protection,
Neoprene insulation provides excellent heat retention,
PU comfort insole & EVA midsole provide extra stability & shock absorption,
Added comfort and warmth with scent free fleece lining.
Cons
Smaller than normal sizing make it difficult to fit,
Poor manufacturing means that the boots do not last long.
Specs
Price: 💲💲 (fewer 💲 = cheaper)
Weight: 5.34 pounds (2.42 kg)
Waterproof: Yes
Material: Rubber Neoprene
Insulation: Yes
The TIDEWE Insulated Hunting Boot for Men are a lightweight offering made using completely waterproof materials. The shoes come with heat resistant insulation that traps the body's heat and retains it for comfortable use. The boots are designed for a variety of outdoor environments with their anti-slip tread pattern and 4-way stretch nylon material. Toe and Nail guards provide added protection against rocks and debris. The boots weigh in at 2.42kg a pair, making them ideal for rugged outdoor applications and for longer journeys. However, the material used for these shoes is a little bit too flexible to provide good support for the ankle which may result in pain and fatigue.
Pros
Completely waterproof,
Heat resistant insulation to keep the body warm outdoors,
Lightweight CR flex-foam and 4-way stretch nylon material provide for comfortable use,
Anti-slip tread pattern provides reliable traction in slippery conditions.
Cons
Inconsistent shoe sizes make it difficult to fit,
Material is a little too flexible to provide ample ankle support.
Specs
Price: 💲💲💲💲 (fewer 💲 = cheaper)
Weight: 2.9 pounds (1.32 kg)
Waterproof: Yes
Material: Textile with rubber vamp and Polyurethane footbed
Insulation: Yes
Rocky Men's Blizzard Stalker Pro Mobu boots are designed for avid hunters. The boots come with padded collar that make them comfortable to fit. They are good for cold and warm atmospheres alike, thanks to thinsulate insulation that retains maximum body heat while allowing air to pass through. The boots come with an abrasion resistant waterproof upper that makes them durable and long-lasting. For added performance, the boots have a TPU heal stabilizer that helps keep the feet in place. However, these hunting boots may not be the most comfortable option as the insole is thin and does not provide much cushioning.
Pros
Padded collar allows for a comfortable fit,
Abrasion resistant waterproof upper, thinsulate insulation means that the boots are warm but breathable, TPU heal stabilizer helps keep the feet in place.
Cons
Thin insole does not provide much cushioning,
Tongue is narrow at the top letting snow and mud get in.
Specs
Price: 💲💲 (fewer 💲 = cheaper)
Weight: 5.45 pounds (2.47 kg)
Support Height: 15 in
Waterproof: Yes
Material: Neoprene, rubber, ethylene, vinyl acetate
Insulation: Yes
The TIDEWE Neoprene Outdoor Boots for Men offer 100% waterproof protection with a 15-inch rubber shaft that also offers warmth in the cold. They have a contoured EVA sole that provides maximum comfort with ample arch support. The sole is also rubber and is designed to ensure traction on all terrains, even in water and snow. They have a loop in the back to help get them on, and a kick plate on the back of the heel to help remove them. While the reinforced rubber material is extremely durable it does lack in support. Also, be sure to follow the size chart as these tend to run big.
Pros
Durable rubber material,
100% waterproof,
Comfortable for all day wear,
Keeps feet warm in the cold
Cons
Runs large,
Lacking in support
Specs
Price: 💲 (fewer 💲 = cheaper)
Waterproof: Yes
Material: Rubber
Insulation: 2,400 gram Thinsulate
Snake Protection: No
If you are not afraid of hunting in the biting cold, the Guide Gear Men's ankle-fit boots might be for you. These boots come with Thinsulate insulation of 2400G, warm enough for freezing temperatures. With these shoes, you won't have cold feet while sitting in a stand.
The shoes provide added comfort thanks to the cushioned sole, which is also environmentally friendly. Additionally, the boots also provide decent ankle support.
The boot's construction is thick and strong enough to bear wear and tear. The camouflage lining of the boot seems a bit poor, but the overall production is durable. Overall, it is warm, strong, and comfortable for winter hunts.
Pros
Calf expands to fit your size,
Insulated for extremely cold weather,
Shin guard protects from obstacles,
Scent-free for camouflage hunting
Cons
Not insulated from the heel and up,
The camo layer might peel off
Verdict
To summarize, we have gone through dozens of slip on hunting boots and decided that 8 are worth your consideration. Out of these, the absolute Best Slip On Hunting Boots is TIDEWE Waterproof Rubber Boots with 6mm Neoprene which we highly recommend as our overall best.
If money is not an issue, you can consider LaCrosse Men's 4xAlpha 16 Inches Snake Boot as this is our Premium Pick.
Otherwise, there's no shame in spending prudently, TIDEWE Rubber Boots for Women Multi-Season is the Budget Option.
Our other reviews you may find useful in your research:
What You Should Know Before Buying slip on hunting boots
Ease to take the boots on and off
Wearing boots is all well and good until you have to have a tug of war to free your feet. Putting on or taking off your boot should be easy and convenient for your activities. When buying boots, make sure they fit both your feet perfectly.
Additionally, if you plan to keep your boots on for several hours, get lace-up boots. You can put the boot on and lace it as tightly as you want and when it's time to take them off, all you have to do is undo the laces.
But if you are going to be putting on or taking off your boots frequently within the same day, slip ons will work well. These are also much more breathable but will require insoles after some time.
Comfort
Comfortable boots can save your feet from a world of pain. When buying boots, comfort should be the first box you check. Always buy a size that fits your feet. Don't make the mistake of buying a smaller or larger size. Also, make sure that the size will remain comfortable even after wearing thick winter socks. Additionally, check the flexibility of the insoles and toebox. Bend the show outwards to inspect flexibility. The shoe should bend just slightly if it has good support. Try on the pair of shoes you like and walk around the store. Stand on the tip of your toes and check if there is enough space for your toes to expand. They shouldn't touch the tip of the shoe. In the same position, check if the heel is digging into your feet.
Boot material
The type of materials used in crafting your boots determines their comfort and durability. You will find all kinds of boots made from different materials like neoprene, rubber, and leather. Each serves their own purpose, and the right material depends on what use you have for them, all year round.
If you plan on buying hunting boots, you can either opt for field boots or rubber boots. Both have their merits depending on the situation and the terrain and climate you are walking in. If you're looking for breathable boots, field boots (leather boots) are the way to go. But if waterproofing is what you want, get rubber boots.
Neoprene
Neoprene is a synthetic rubber commonly found in the linings of wet suits. You will also find many boots made from neoprene. The material is like that of rubber boots, but better. Neoprene is more durable than rubber and will keep your feet warm in the harshest winter. This material is efficient in performing its function of keeping the cold and water out and warmth in. Not only that, but it also makes for comfortable boots for long days of walking and hiking. The outsole on these boots is usually slip-resistant – ideal for snowy and icy conditions.
Waterproofing
Waterproof boots are a must-have for rainy conditions or hunting in wet areas. Waterproof boots will keep your feet dry even when fully submerged. Luckily, most boots come with a water-repellent coating. If you don't have waterproof boots or if the coating has worn off, you can waterproof them yourself. You can waterproof your new boots with a silicone spray and your old boots by applying a wax sealant. Buy a spray that is appropriate for the material of your boots. Make sure to thoroughly clean and dampen your boots before treatment.
Questions and Answers About slip on hunting boots
How can I make my rubber boots more comfortable?
Rubber boots are a popular and feasible choice but they can be uncomfortable at first. Here are a few tricks you can use to make your rubber boots more comfortable. First, if the boots are too tight, you can use a hair dryer to loosen the rubber material a little. Set the heat to high and keep the hair dryer at least 6 inches away from the boots. Keep heating until you feel them loosen up as needed. The second thing you can do is get a cushioned insole if the boot doesn't already have one. Lastly, dry your feet properly before wearing the boots, as wet feet in rubber boots can lead to blistering.
How warm is 5mm neoprene boots?
Boots made of neoprene, a synthetic rubber, keep your feet dry and warm. You will find neoprene boots come in various thicknesses, mostly 3mm, 5mm, and 7mm. The thicker the boot, the warmer your feet will be. How warm you want your feet to be is a matter of preference- but 5mm is suitable for a temperature range of 43-53 F. However, if you plan to explore outdoors in colder weather conditions than this range, consider wearing 7mm thick neoprene boots.
How long should hunting boots last?
High-quality hunting boots, albeit expensive, can last a lifetime. Even if the hunting boots aren't exactly top tier, a good pair can last a decade. In the end, it depends on the quality, maintenance, and frequency of usage. However, proper care and storage is required to keep the hunting boots in good condition. You might have to replace the sole from time to time.
How heavy should hunting boots be?
Weight depends on the season in which you will be hunting. If you're going to be hunting in the summer or walking a lot, then two to eight hundred grams will work and anything heavier will be a drag. But in the winter, you will need insulation on your hunting boots to keep warm. In this case, get tough and heavy duty boots that weigh at least a thousand grams. However, do not get too heavy a pair if it will tire you out too easily while walking due to the immense weight.
Do rubber boots shrink?
Some people might find that their rubber boots have shrunk. It is not common for rubber boots to shrink – but they can. Repeated use and wear and tear of the rubber boots can damage the material causing it to become hard or stiff. This hardening can cause the boot to shrink a little. However, you can always apply mild heat to loosen the boots as the elasticity remains intact to some extent.