Wakeboarding is a great way to get outdoors and stay active. It's also a lot of fun, but that wasn't all. Before starting your first water sessions, you should also know things like proper gear, hand signals, basic techniques, and, most notably, safety measures and precautions.
Wakeboarding is a fascinating sport with many different benefits, aspects and components to it. This sport provides great thrills and seemingly will let your adventurous soul ignite as it requires great physical effort, strength, and time. This sport has attracted a growing group of enthusiasts that want to get more out of their experience but are intimidated by the sheer amount of information available.
The good thing is that it's easy to learn when you have the right spirit and drive; you can ace learning the basics in a short span of time. Wakeboarding is a great way to spend your time and get an adrenaline rush. It's also great to enjoy the outdoors and meet new people. If you are new to wakeboarding, then there are a lot of things that you need to know before you start riding.
This article will help map out what you need to know with beginner-friendly steps and a concise yet complete step-by-step guide to help you with your wakeboarding journey. To cut through the chase, let us take you through some essential directions on how to start wakeboarding.
Cop the Right Wakeboarding Gear
Before you get into the water, make sure that you have your gear ready. You should have your board and other accessories like wakeboard, towrope, and boots that you would need for the day. Before heading out, you should check your board for any damage or defects and ensure it is in working condition. It would be up to you if you opted to rent or buy brand-new gear.
Whatever works for you, then you are good to go. Just ensure that you wear the proper clothing that suits the weather conditions. And you should also make sure you secure your things on your backpacks, waterproof duffel bags or any of your prefer luggage for you to have a smooth wakeboarding experience. Wear shorts or pants with waterproof material if it rains heavily at night or during the early morning hours when it cools down at high temperatures.
For Safety, Use a Spotter
Remember the mantra, safety first above all. A designated spotter should communicate with you, along with the boat operator. This is to send a signal if there's a boat approaching or if there's an object is moving in the water. This person will ensure that you are moving on the right track without the possibility of risking your safety.
Choose Your Best Foot
This is when you decide what foot you should put forward. Your foot will be set up as your balance all throughout your session. If you can't make up your mind, stand with your feet together and fall forward. Your dominant foot is the one that comes out first to save you.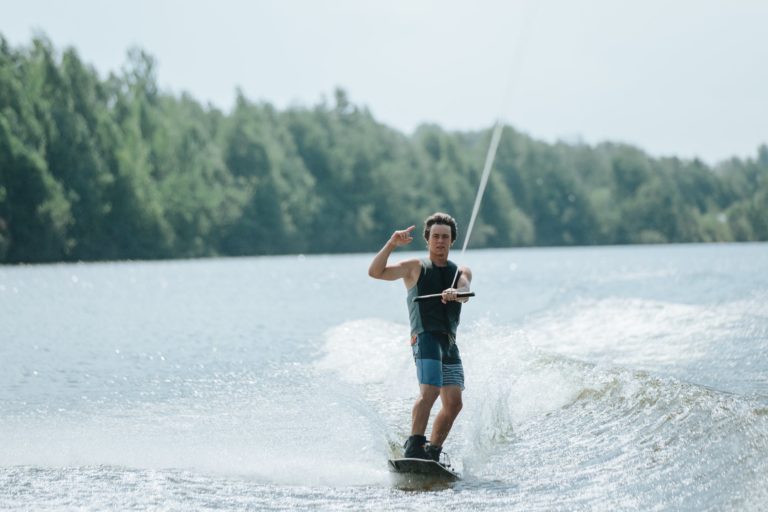 Take note that wakeboarders who stand with their left foot in front and their right foot in the back are referred to as regular footers. Whereas, it is common for riders to adopt this foot position.
Conversely, if you are supposed to stand with your right foot in front and your left foot in the back, your stance is referred to as goofy. This type of wakeboarding stance is less common than a regular one.
Pick a Shorter Rope
It is ideal for beginners to use a shorter rope measuring around 30 and 50 feet is recommended for amateurs. This is more comfortable since it is near the boat and have more tension, which is just enough to learn basic movements and new wakeboarding techniques.
Begin by Resisting the Rope
When ready to begin, grab the rope handle with both hands and raise it. Hold it firmly in a seated position and steadily relax by wrapping it outside your knees. Do not rush so as not to lose your balance. Keep calm and wait for the ideal moment to stand up.
Put the Handle of the Towrope Around Your Hip
As a beginner, you may have difficulty maintaining the handle on your hip. However, it would help if you held a firm grip on it to sustain your position and balance towards the direction of the boat. Turn your head on where your leading shoulder and leading legs were bent. Remember to keep it cool and avoid distractions that may cause your head to move in different directions.
Remember, those unnecessary head movements may lead to losing balance and eventually knock you down in the water.
Communicate through Appropriate Hand Signals
If you accidentally dip into the water, remember to send an appropriate hand signal to the spotter. Before the start of the wakeboarding session, the person in charge will let you know the essential hand signals you should know.
This could help them know that you are in a good state after the incident. Also, you can use these cues when you want to start again and want to make the boat slower or faster. With this, you can communicate with them without using verbal cues.
Make Sure that You Are in Good Physical Condition
Suppose you want to utilize the great experience and fun time in wakeboarding; in that case, you should be in good physical condition before starting. This is because you will be subjected to perform jumps and tricks while on the water which needs extra energy and stamina. So before trying to do wakeboarding, a good way for beginners to improve their strength and flexibility is by participating in exercises that require them to use their legs, such as squats and lunges.
So, if you've thought about taking a stab at wakeboarding but are holding back because you're still not sure what to expect hence still in the phase of second-guessing, we reckon that you should bear the challenge. See if they work when you're next planning a weekend or holiday with friends or family—and if they do, get out there and bring your newfound confidence to the water wherever it might take you.
Wakeboarding isn't just for everyone, not until you try it with yourself. Also, it will give you the freedom to move in the water, being able to do turns, jumps, and spins on the board. It helps build strength as well as balance, just like with other sports. Always remember to stay safe and competent when trying this activity. Just like other sports, it will provide you with many fun memories and delightful nostalgia once you try it.
Safety and Injury Prevention
Many safety precautions must be taken to ensure your safety during the activity. Aside from having fun, you should keep in mind to stay safe from injuries and unfavourable risks to enjoy your experience to the fullest.
One of the significant steps to prevent wakeboarding injuries is to do warm-up prior to wakeboarding and, avoid surfing if the weather is unstable. Before heading to the water, it is suggested to do some pre-wakeboarding stretches to prepare the muscles for heavy movements. These are important so make sure to do these before doing the activity.
The strength and conditioning warm-up exercises are reliable since these exercises can address dynamic balance, posture enhancement, and stability across the entirety of the wakeboarding activity Thereby reducing the likelihood of injury and the load placed on the muscles. The first one is the warm-up for the chest and shoulders wherein both hands are extended doing small for a few round-ups then increasing the size of the circle slowly. This warmup will help break a little sweat and promote good blood circulation as well as improve joint motion in the upper body.
Next are the pull-ups. To do this, raise and lower your arms while maintaining tension on the same muscle. There is no movement of the arms in either of these actions. Make sure to keep your arms straight while your body rises. When riding a wakeboard, pull-ups will help you keep your body in control and manage rope pressure. Last but not least, you can prevent injury by using resistant bands for various warm-up exercises such as seated rows and banded squats.
These exercises help strengthen the glutes, which absorb impact better and pave the way for a smooth landing while also reducing the risk of injury.
On a side note, it is important to take into account the weather conditions before beginning a wakeboarding session. This is because the weather conditions have a direct correlation with the water conditions, which are one of the potential risk factors in the promotion of injuries.
Wakeboarding can take place in all kinds of weather, including thunderstorms, lightning storms, and even hurricanes, any of which can increase the risk of getting injured. When getting started, your best bet is to look up a weather forecast to get a sense of what kind of conditions might be ahead.
Based on that information, you can then make an informed decision about whether or not to continue riding. These simple but significant precautions will empower you to start and end your session safely.
Let's Get Your First Wakeboarding Experience Started!
The above steps can help anyone get started with wakeboarding. As you spend more time wakeboarding, you will learn how to tackle advanced tricks with ease and experience in your wakeboarding journey. This guide is a good starting point to get you started in your water sports adventure. So, think twice and get your feet on the board!