Traveling, working and living like a local in China can be certainly an unforgettable experience for everyone. You can not only save up to $18,000 a year for your future travels, but also be a part of different culture, customs, language and cuisine.
In today's post I would like to share 5 things you will love China for.
#1 Local hospitality
Chinese are amazingly hospitable and you feel like you are always warmly welcomed to their country. Locals will invite you for a lunch and dinner, will give up their seats on the train and make you feel like home.
#2 Breath-taking scenery
In China you can find anything you want from lakes, rivers, hills, mountains to waterfalls and deserts. Do you want to see ancient China? Go to Xi'an or Beijing. Wanna do decent shopping and drink glamorous cocktails? Head to Shanghai! Only sky is the limit.
#3 Affordable living and traveling
Food, transport fees, house rental and medical care are super cheap in comparison to Europe. You can live here cheaply dining out and going out and still enjoy everyday life with no renunciations. Moreover, working here can make you save some extra money.
#4 Amazing festivals
Chinese festivals are amazing, like the Mid-Autumn Festival with its mooncakes. Locals dress up, cook nice food and give you lots of present. The whole country looks amazing. There are numerous red lanterns hanging on the trees, houses and buildings all over China. Ach, it's so beautiful!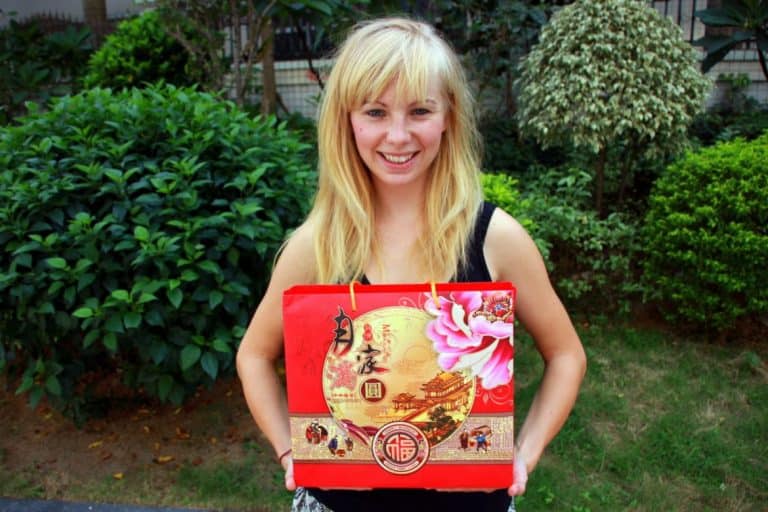 #5 Food paradise
Although I've been living over 2 years in China, I still get surprised by a great variety of Chinese local dishes and snacks on the cheap – fried bees, cooked sugarcane with pieces of corn, Beijing duck, sea plants and so on. I can't imagine my breakfast without steamed dumplings called baozi! I also love tropical fruits here.
Would you fall in love with China?