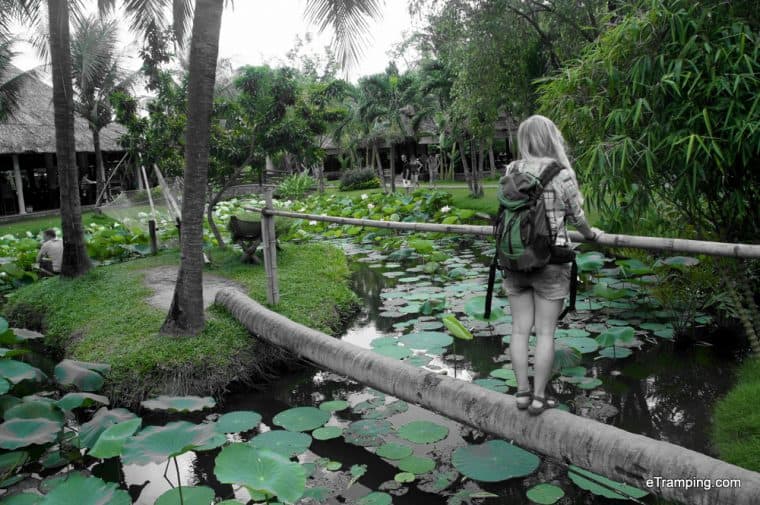 Those who know me they know how much I hate planned and group tours organised by local travel agencies. When I hear these two magic words "tour" and "agency" my blood pressure is getting higher and I am about to scream bbbbbbbbbbrrrrrrrr!AAAAaaa!! Nooooooooooo!!! It is because I have had such a bad experience in the past and traveling independently is so addictive. Once you get off the path and depend on yourself you can't stand someone by your side telling you what you have to do, what you can do or can't and what time exactly you can do it or you can't do it.
But…
Sometimes there is no other options when you have no time or energy, so you have to depend on the local travel agencies. In my case it rarely happens but it does (especially when locals make everything so difficult for independent travelers to get somewhere like, in this case, Mekong Delta). First day we arrived in Saigon (Ho Chi Minh city) we tried to figure out how to cheaply get to Mekong Delta on our own. As it turns out, it is very difficult, almost impossible as locals quote much higher prices for boat rental than it is worth. So… that meant we had to go to travel agency and book a Mekong Delta tour. Good news! The trip turned out to be awesome!!! There was a great bunch with us and excellent travel guide! It was an amazing experience and we had such a great time!!!
Cez was even happier than me :-).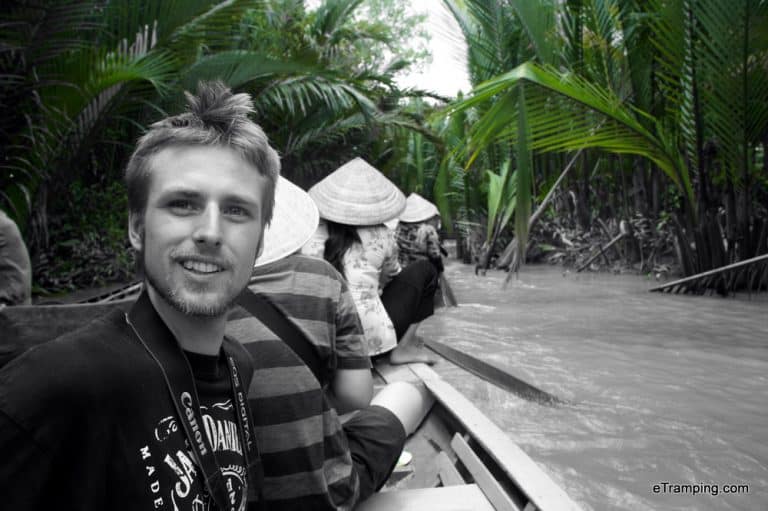 The travel agency we booked the tour with is called Lac Hong Tours and here is their website where you can get more info http://lachongtours.com/english/ . They offered us the cheapest deal for $8 a person a day, we got some free bottled water and English speaking guide. Moreover, the staff were extremely friendly to us and there was no problem with leaving our bikes inside the agency. All members of the staff speak fluent English and you could feel like they really want to look after you, not only take your money and send you off. So if you are in Saigon looking for a good and caring agency when booking your either 1,2 or 3-day tour to Mekong Delta I strongly recommend them.
My Mekong Delta Experience
Undoubtedly, this was the best tour ever in Vietnam for me. This day everything seemed to me so perfect. It was a super super day! So relaxing but also active.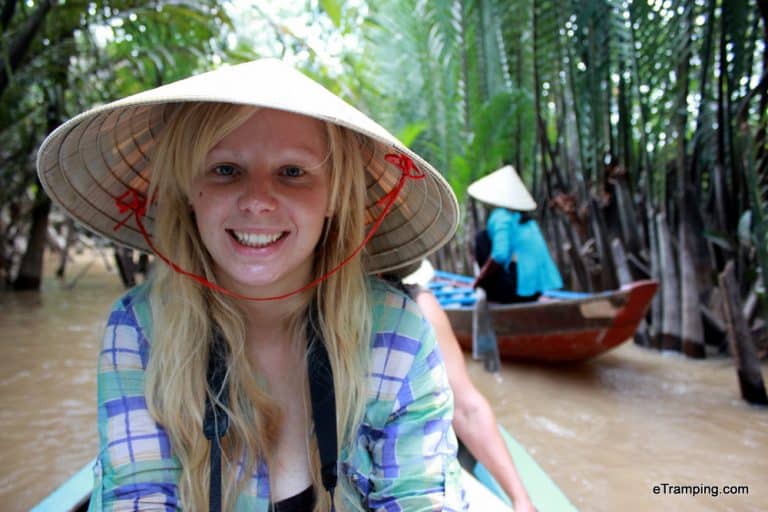 Let me start from the very beginning…
Our hotel in Saigon was 5 km away from the city centre. Let's call it the "city centre" but what I mean is the place where all foreigners stick together. There is an area in Saigon full of shops, restaurants, hotels and guesthouses. Everything at your fingertips. For us living there was too expensive and too crowdy so we found a nice place a little bit outside this area- nice, cheap and peaceful.
We woke up early in the morning, at 5ish. Gooood morning Saigon!
We cycled 5 km to get to the travel agency from where we were picked up by a travel guide and bus driver. It took 2 hours to get to My Tho city from where we took the boat to Upper Branch of Mekong River called Tien River. During this 2 hour ride we stopped once for 15 minutes to get some drinks and look around.
Actually, this place was awesome full of water plants and wooden bridges. I didn't feel like drinking or eating so I went for a quick walk around this little jungle to see this…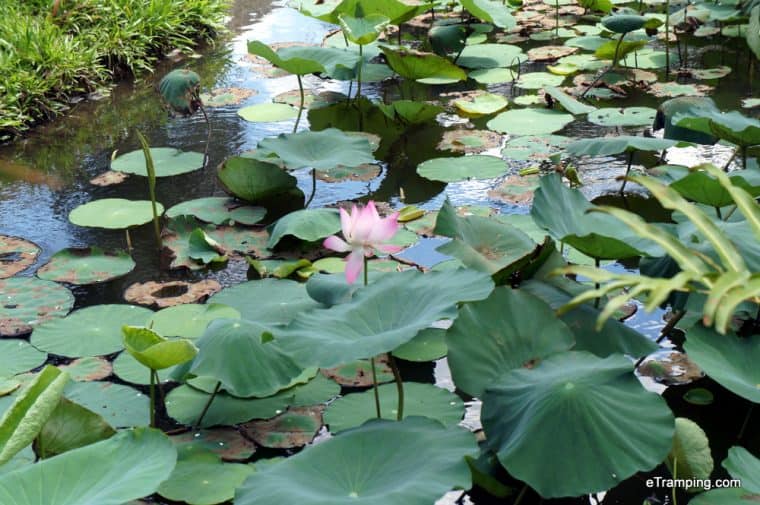 Nice, huh?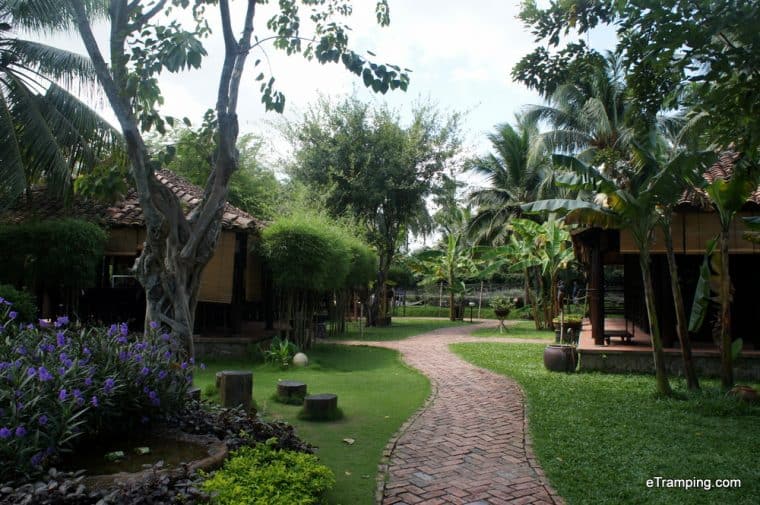 For me it was like being in a paradise and being surrounded by the beauty of Vietnamese nature.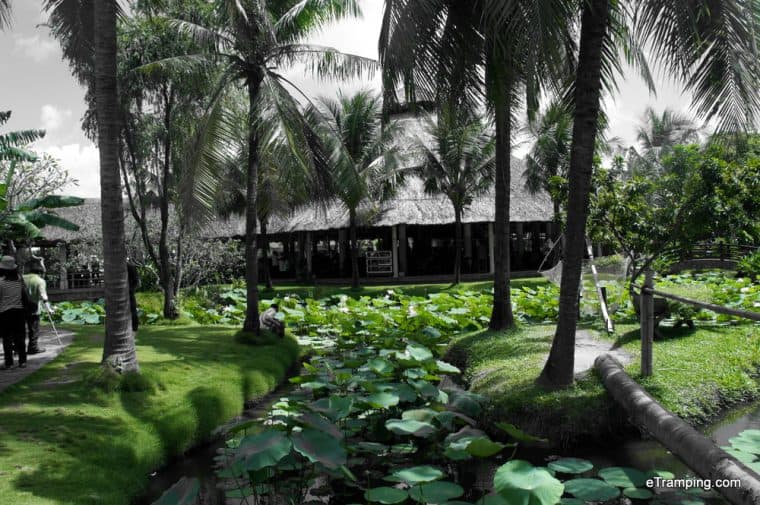 And the palm trees!
Next, we arrived at the My Tho pier. The travel guide, his name is Tony, explained the whole plan of the tour- our main directions, stops and activities we were supposed to take part in such as cycling, boat ride and so on.
Tony was such a cool guy- so funny! He was so into this tour explaining everything properly, telling us various stories (all day long) in which he was referring a lot to Vietnamese history and culture. This guy was so knowledgeable for his young age!! And… everyone was listening to him, honestly!
After a brief introduction we were all ready to get in our boat. Yeah, this was our boat, awesome, wasn't it?
And that's the girl who helped the crew clean the boat and get it ready for the ride.
Ok, let's gooooooo!
Welcome on board Agness!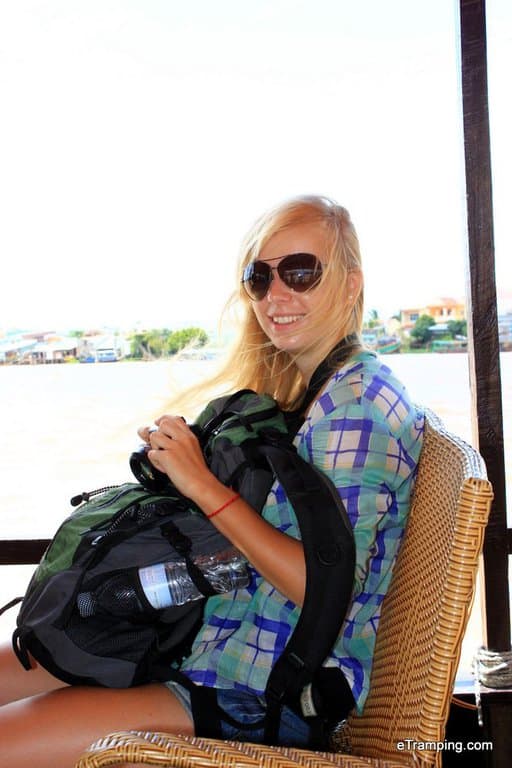 Wind!!!!!!!!!!!!! Whooooo Hoooo!
The view from the boat was magnificent. There were some other boats around and locals fishing.
I just couldn't take my eyes off it!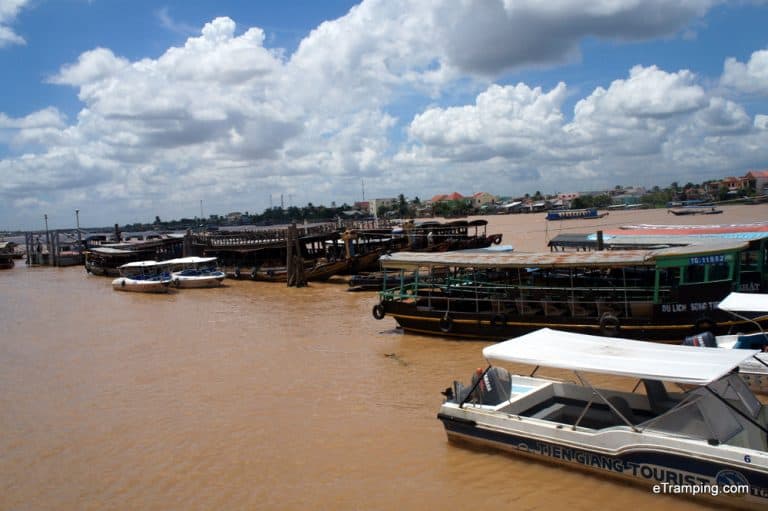 Look at the sky, magnificent!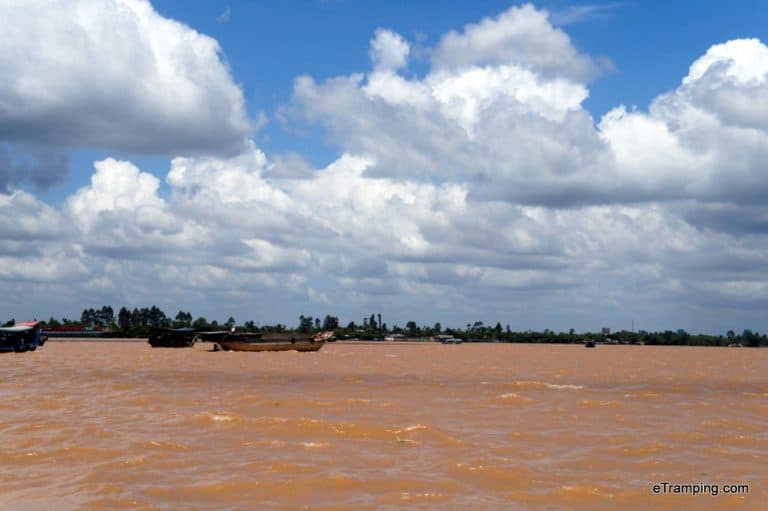 Water houses, very similar to these I have seen in Ha Long Bay.
Nearly there…
That's me and Cez enjoying the ride :)
Destination 1- Bee farm on Thoi Son Island
There was a bee farm on the first island we sailed to. We went through the small market where locals were selling some clothes, fruits and some souvenirs. These are some of them: sunglasses, key chains, bookmarks.
I even found my favourite Vietnamese hats!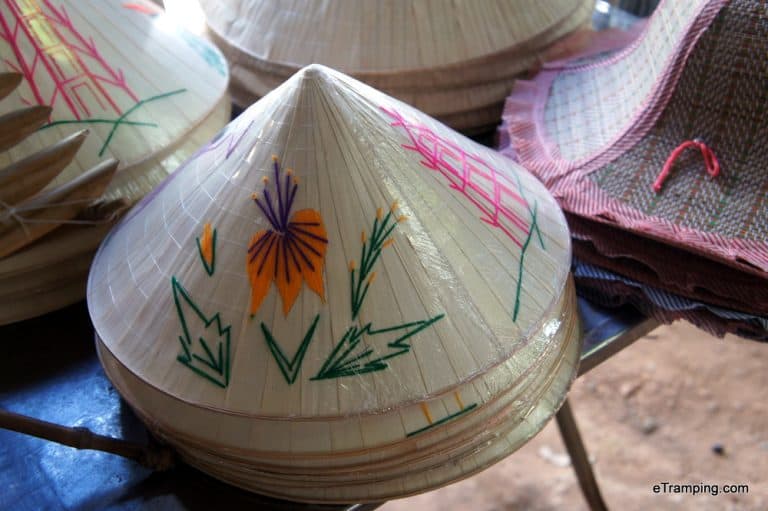 After a quick shopping we had tried some natural honey produced by bees on the island.
Here there are- the BEES!
Let's have a closer look at them.
The tables with goodies were waiting for us.
We firstly tried some honey tea, very delicious.
There were some grains (not sure of what) put on the bottom of the glass which made the tea taste ever fresher and sweeter.
We also tried some dried fruits such as mangoes and bananas and some other fresh raw fruits such as dragon fruits and jack fruits.
We left all plates empty, it was such a good treat! :)
There was also a snake wine tasting after these snacks. What did it taste like? Hmm… the snake and scorpion wines tasted like a….. VODKA, a straight shot of vodka, something like Chinese spirit called Baijiu.
The bottle looked awesome though. You can see properly the whole snake and scorpion being coiled and locked up inside of the bottle.
While we were having our snack break, the locals were singing some songs and playing guitar to make our stay even nicer.
The lady had such a wonderful voice!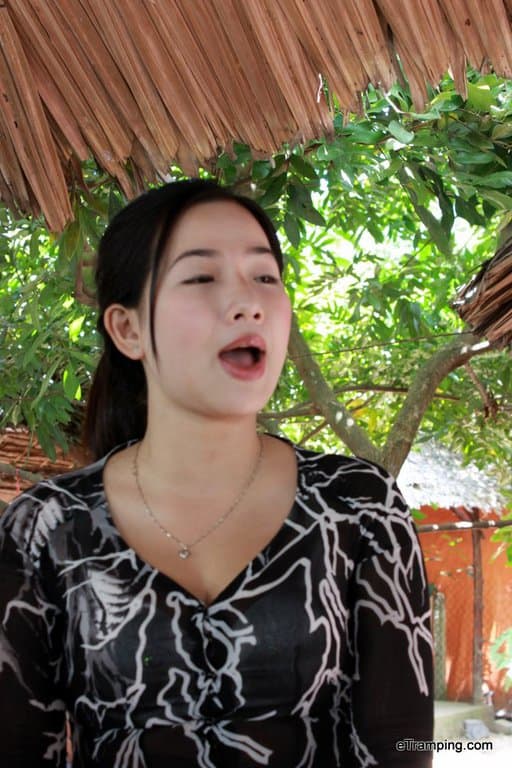 After that, we were ready to face our fears!! Python fear! We all queued to enjoy a 5 minute face-to-face "meeting" with a real python. Some guys didn't have a try as they were too scared, but not me and Cez!
I had a go first.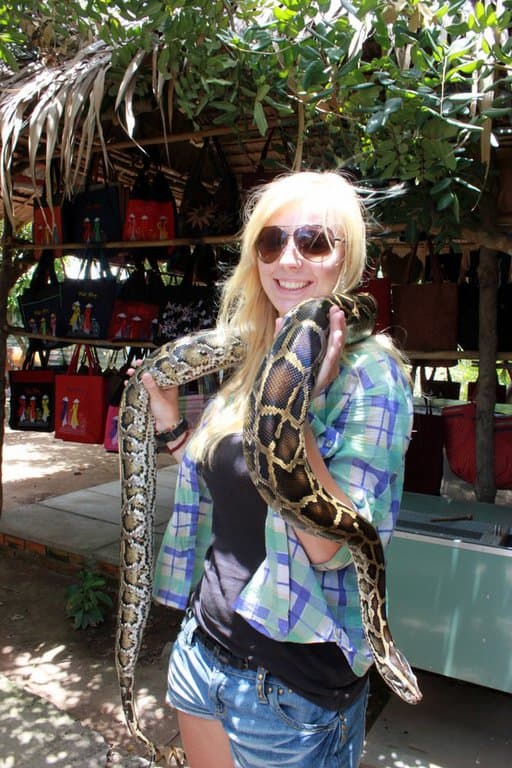 This python was very heavy. I barely managed to hold it.
And then Cez. He even tried to kiss it! :-/
But unfortunately… the snake didn't turn out to be a good kisser or it didn't like Cez :-).
We were then off to visit the next island. Stay tuned for more- next blog entry coming soon! :)