After our epic, nearly impossible, Tibet tour we received few e-mails with some questions regarding transportation, money, weather, customs and travel permit in Lhasa. We gathered all questions, including twitter ones, and answered 15 most frequently asked. Here you can read the responses. If you have any more, don't be shy and contact us!
Q1: Is independent travel possible in Tibet?
A1: Unfortunately, nowadays, independent travel in Tibet is prohibited. In order to get there, all foreign travelers need to book a travel tour with travel agency (5 travelers of the same nationality)
The agency provides the full assistance with applying for travel permit, organize a tourist guide for you, accommodation and helps you with buying flight or train tickets accordingly to your preferences. Your travel agent is fully responsible for your stay in Tibet. We can recommend our agency called Tibet Enjoyable Travel Service located in Lhasa and excellent travel agent called Emma (here is her e-mail: [email protected]).
Q2: What documents are needed when applying for Tibet travel permit and how can we apply for it?
A2: We needed to provide three documents to our agency. The first one was our Chinese visa (my Z and Cez's F visa). The second one was the work certificate proving we are both legal teachers. The third one was our valid passports. After gathering all these documents our agency applied, on behalf of us, for the Alien's Travel Permit issued by Tibet Tourism Bureau. The agency found another 3 Poles traveling at the same time so we got the permit at last minute.
Q3: How to get to Tibet?
A3: You can either fly (the cost of one way ticket from any Chinese airport to Lhasa costs between RMB900 to RMB1.600 depending on the season, 2hours) or take a train as we did (Chongqing-Lhasa, 46 hours, nearly RMB800 for one way hard sleeper ticket). Which one is better? Depends on your budget and preferences. The flights were super expensive at the beginning of June + we wanted to enjoy the magnificent scenery of Tibet from the train. Was worth it!
Q4: What is the cost of Tibet tour?
A4: The price varies from RMB6.000 a week up to RMB10.000 per week (not including the flight/train tickets) depending on what you want to do there and what standard of travel you prefer. The total money we spent was RMB1.500 RMB a day per person including train tickets, food we bought for train, entry fees and tips for the driver and travel guide.
Q5: What should we keep on our mind when dealing with Tibetans?
A5: Tibetans are extremely religious so you should respect their privacy when they pray (back off, don't stay too close, be quiet, ask for photo permission, etc.). You should also show your respect and thankfulness when you receive any gifts from them. They don't eat fish, dog, donkey and horse meat due to religion belief so don't insult them eating these food in front of them. Moreover, when you visit temples you should follow prayers, wait in the queue, walk around them clockwise, don't push people or overtake. Always follow the rules when going to monasteries and taking pictures inside temples is strictly forbidden.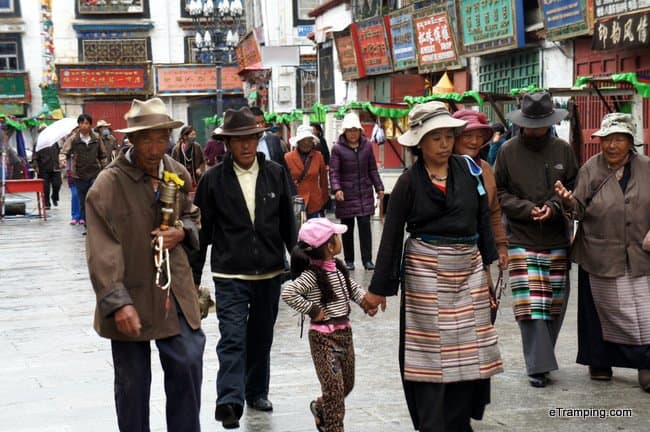 Q6: What should I pack when going to Tibet?
A6: Take a cap or an umbrella to protect yourself from sun radiation, comfortable shoes, bandages, some medicines (pain killers), a backpack and lots of positive energy! If you forget anything, you can get it there in a local shop or in a hotel.
Q7: What do I need to pack when trekking in Tibet?
A7: We haven't been trekking in Lhasa, just stayed in the city center visiting temples and monasteries. However, I guess you should pack a pocket knife, first aid kit, compass, duct tape, boots, waterproof coat, cooking pots, utensils, toilet paper, drinking cups, nylon cord, lighter, sunglasses, umbrella and sun cream.
Q8: Can I take photos everywhere?
A8: No. We couldn't take photos of locals without their permission, Chinese police officers and taking pictures inside all temples and monasteries was forbidden.
Q9: What is the currency of Tibet? Are there any cashpoints (ATM)?
A9: Just like in China it's Yuan. There are many cashpoints and banks (Bank of China and ICBC) including in hotels.
Q10: What is the weather like?
A10: It was raining in the morning, then got really hot after 11 am. Nights were very humid.
Q11: Where can we eat? What's the food like?
A11: Street food is not available everywhere. You can get some snacks (Tibetan delicacies) but not a proper meal. There are few restaurant, very cheap and nice, where you can dine out. The prices are the same or cheaper than in Beijing or Shanghai. If you don't like Tibetan food (little spicy, based on yak meat and dairy products) you can easily get Indian or western style food.
Q12: Is Tibet a safe place? Can I walk down the streets at night safely?
A12: Tibetans believe in karma and doing good during their lifetime to live happily. Therefore, Lhasa is a very safe place to travel. We haven't been ripped off or robbed and have not heard of it from others. You can't walk down the street after 9 pm (all foreigner can't leave their hotel rooms after 9pm) so staying in a hotel is safe:).
Q13: Can Tibetans speak English? Can I speak Chinese to them?
A13: Surprisingly, most of Tibetan people can speak very good English, unlike Chinese people. We had no problems with communicating with locals around. Due to political situation, we didn't want to speak Chinese at all. I used a few Chinese words sometimes when talking to Chinese locals. We learnt a few Tibetan sentences which helped us a lot and Tibetans always smiled when they heard us talk Tibetan.
Q14: How about the transport in Tibet?
A14: We mostly walked but also been transported by a car when visiting remote Lhasa areas. The cost of using car was included in our tour price.
Q15: Should I take any medicines with me?
A15: We took our very basic first aid kit containing bandages, salves, medicines for diarrhea, pain killers and some remedies for flue but we didn't need them at all.
A16: Is wi-fi available?
A15: Yes, wi-fi is available in each hotel in Lhasa. We surfed the Internet in our room using our laptop but there was also an internet located downstairs for free.