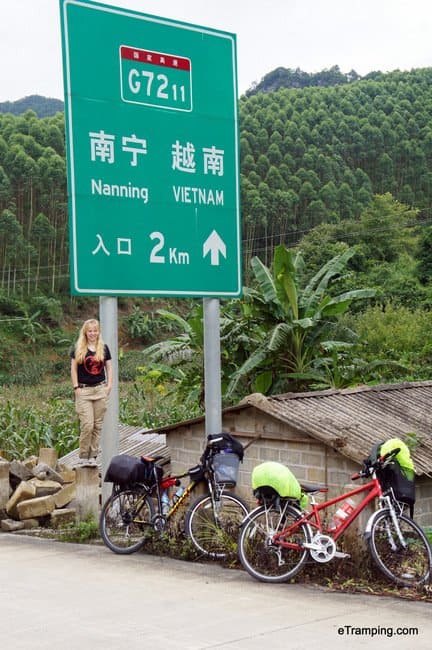 Here I am! Finally at China/ Vietnam border, absolutely knackered but overwhelmed at the same time. Here my cycling adventure through Vietnam starts. Me, Cez and our two bikes (bought in China) against Vietnam- the land of rice, coffee, lotus and aodai.
The idea and the concept of cycling
Cez was the one who came up with this great idea and I was the one who said "Why not! Let's do it!" The main idea of this adventure is to fully enjoy Vietnam without any rush, to interact with locals by living with them from time to time, to travel off the path sometimes, to admire the scenery not from the train or a bus anymore but a little bit closer, to travel on a cheap and this is a good way to do so. We were talking about this idea for not too long time, then took it very seriously, then we travelled to Chongqing to purchase the bikes and left China for Hong Kong first in order to get Vietnamese visas and sort our vaccinations out.
Equipment
We bought two bikes, kind of mountain bikes, with a basket in front and the boot at the back to carry our backpacks (one big one at the back and the small one in the front per person). Note: it is much better to leave the front basket empty and put all the weight at the back of the bicycles as it is much more convenient and easier to ride. You can get a good bike in China for about RMB2.5000 with one year guarantee.
We packed two crash helmets (the size is very important it must perfectly fit you, otherwise it is not going to be comfortable at all + will not protect you properly), two ropes ended with a hook to tag the backpacks to the boots, bottle handle, 2 torches, bicycle pump and that was it as far as I remember. We packed very light not to carry too much stuff so we could enjoy riding!
Cycling in Hong Kong
We didn't do much cycling in Hong Kong as the traffic was heavy and the roads were narrow. Besides, we used the subway or the ferry instead to easily and quickly get from one point to another (Vietnamese Embassy- Public hospital- Macau). Cycling here was not our plan, we went there just to get the vaccinations and pick up Vietnamese visas. We left the bikes on the balcony in our friends' flat and started riding on the last day of our stay in HK to move from Kowloon to the railway station.
Bikes vs. traveling
We could take the bikes with us when traveling by train in China without any problems. All we had to do was to remove the front wheel and carry them from the ticket office through the platform from where out train depart. The same in Hong Kong but here people were nicer and more friendly. In China people were giving us dirty looks when seeing us with two bikes. The problem started when we wanted to get from Hong Kong to Nanning (China) by coach. We were told that taking bikes with us is prohibited as they are too heavy and too big (of course Chinese took much bigger and much heavier stuff with them but never mind). Therefore, we were forced to get back to China (Shenzhen) by subway, then stay overnight in one of hotels in order to take the direct sleeping bus to Nanning (this time we could take our bikes with us- the same company but different rules, weird!).
Crossing China/ Vietnam border
As I mentioned before we took the subway from Hong Kong to Shenzhen, then from Shenzhen we took direct bus to Nanning (RMB350 per person, 12 hours). When we arrived in Nanning at 6 am, we had to wait till 7.30 to get a local bus to Ping Xian (RMB75, 2 hours). We started cycling from Ping Xian bus station to get to Dong Dang (Vietnam)/ Ping Xian (China) border (about 20 km). After crossing the border we carried on riding bikes for about 2 hours to find a hostel/ hotel where we could get some rest, surf the Internet and go to sleep. Surprisingly all hotels costed the Earth, people were so mean and almost oll locals tried to rip us off. Cez was telling me that people from the North are like this and once we get farther away from China we will meet some friendly and nice people.
Dong Dang- first impression
It is a very picturesque place full of flowers, rivers, lakes and green plants. The scenery was very beautiful but very similar to China.
We could not find a nice (aka cheap) place to stay overnight. Locals were quoting prices 10 times higher than we expected. It was craziness! If we found something cheap there was no internet connection. We also found the food there very expensive and people didn't want to bargain at all. They said the price (silly price), then we said "No way! It's too expensive" and they, instead of putting the price down, they said "So go!" or showed us the way out.  It was getting late so we went to one hotel, pretty cheap but there was no internet.
The staff were very friendly. They put the price down, kept smiling and we had a short conversation despite we didn't speak Vietnamese and they spoke limited English.
Some locals were friendly though. I've noticed that they like to pose for photos.
Girls were so impressed with Cez's appearance. They really liked his hair and face and the fact he is so tall (he is not but for Vietnamese standards he is).
Lack of the internet in hotel room made us go out. We found a nice coffee shop with Wi-fi and a beautiful view where we could do some work and catch up online with our friends. Here I had my first Vietnamese cocktail (yogurt and milk shake with some ice, so sweet!).
This evening I tried some local food which, in my opinion, did not differ from Chinese. We ordered some grilled sweetcorn, buns and fried beef.
My favourite Vietnamese food, so far, is sausage noodle soup with some herbs. It was my breakfast next morning and since that moment I'm in love with it!
Fruit and vegetable markets are very overcrowded in Vietnam. Everyone rides motorbikes and it made Dong Dang chock-a-block. The fruits are very fresh and juicy. I love the small bananas, creamy, taste like kiwi fruits, very nice. In Vietnam you can't buy one or two bananas, they sell the whole bunch of them at once.
Fruit market in Dong Dang.
Cycling in Vietnam is also a great opportunity for us to get to know local people. After one day spent in Dong Dang we had to carry on cycling to get to Hanoi, the capital city of Vietnam (160 km away). The weather on this day was very weird: hot all day long with heavy rain every 30 minutes. Believe me or not, but the rain was very heavy. We had to look for a shelter every few minutes of riding. Sometimes we had to hide in the nearest place possible- locals houses. People were extremely hospitable. They treated us with some food and drinks, had a chat with us and so on like this man in the photo below- he let us stay in his house till the rain stops.
Locals often treat us with Vietnamese tea (very bitter taste) and some peanuts (very wet).
Hiding from the rain somewhere in the forest under the roof.
Some Vietnamese ladies going to do some field work.
We were passing by some high mountains, beautiful villages and extraordinary scenery.
We were invited by some locals to their house to get some rest. This Vietnamese family was running a small internet cafe where we could get some free internet and have some fun with these incredibly hospitable people.
This is my Vietnamese sister named Ha Duong.
That is my favourite part of cycling- CHILLING OUT in the hammock! There is nothing better than having some rest in the sun after a long ride.
On our second day of cycling one Chinese guy named Duke joined us. He was also heading to Hanoi by bike and we spotted him on the highway. As it turned out, he came from Hainan province in China and was planning to go to Thailand through Vietnam. We had a dinner together and then after 6 hours, we splitted out as he went to sleep at the petrol station and we went to a hostel in Long Son.
That's Duke and me having a dinner.
I am trying to be very careful not to get malaria. I mostly sleep under mosquito- curtain and put some mosquito repellent every morning and every evening. In Hong Kong, I didn't get any vaccinations. The doctor said there are no compulsory vaccinations for South-East Asia but if I wanted to do some just in case I had to book an appointment and wait for more than 3 weeks. Prevention is very crucial for me in this case so I try my best to protect myself.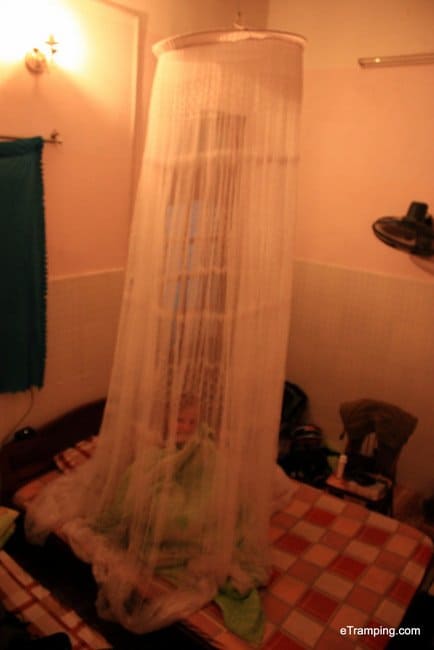 So far, the whole cycling adventure has been awesome. I'm happy and travel fulfilled. The further I go, the more I discover. The more I discover, the more I learn. The more I learn, the wiser about world I am…