The breathtakingly beautiful ruins of Machu Picchu stand on a mountainside and slope downwards toward the valleys below. At an incredible height of over 2,400 meters above sea level, this fantastic site is a UNESCO World Heritage Site and also Wonder of the World, both of which are very deserved titles. Exploring this "Lost City" of the Incas is once in a lifetime experience that you will remember forever.
So how can you turn your trip to Machu Picchu into an unforgettable and very affordable adventure? Scroll down for all the information you need to experience this beautiful historic site.
Why Go to Machu Picchu
Machu Picchu was built during the brilliant height of the Inca Empire, around the year 1450. This fantastic construction was built on the ridge and down the side of a mountain, and truly is an amazing feat. However, a mere 100 years later this enchanting city was completely abandoned, most likely due to the arrival of the Spanish conquistadors. Interestingly enough, the Spanish never found Machu Picchu, and its current fame was actually due to a historian named Hiram Bingham who gave new light to this iconic construction in the early 1900's. The mysterious air that thus pervades the site may stem from its being hidden in the mountains for centuries.
Planning a trip to Peru in the near future? Take a survey on Traveling in Peru to get the best deal based on your wishes and budget! Also, check out our 10-day Peru itinerary!
This incredibly preserved piece of history is something that cannot be missed, and is the ultimate bucket list experience for many travelers. Along with the wonderful feeling of exploring the deep forest and finding these ancient ruins as if discovering them for the first time, you will also be able to enjoy incredible vistas of the mountains and valleys as you travel there. Your first sighting of Machu Picchu itself will be an unforgettable moment to treasure.
How to Get to Machu Picchu
How you arrive at the beautiful site of Machu Picchu is entirely depend on you and your circumstances. However, something very important to remember is that Machu Picchu stands at an altitude of 8,000 feet (2,400 meters) about sea level, so you will need to take the time to adjust to the altitude. We recommend staying in the nearby town of Aguas Calientes (at a lower altitude of 6,700 feet, or about 2,000 meters) while your body acclimates itself to the high altitude. Staying in Cusco for a few days is also an option, although make sure to pace yourself because the altitude in Cusco is even higher than Machu Picchu, standing tall at 11,000 feet (3,300 meters).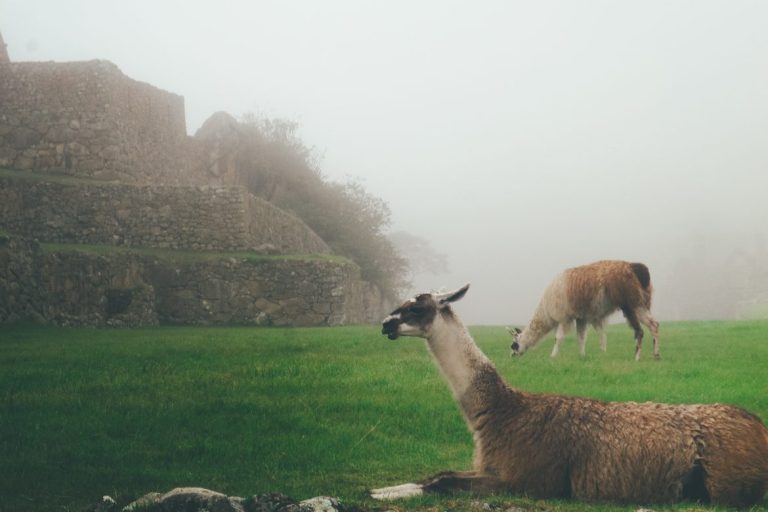 If you're coming from Cusco, you can take a train from the Cusco Train Station (actually in Poroy, a cheap taxi ride away), or from the town of Ollantaytambo (a shared minivan will bring you there for about 10 soles). Both stations are about an hour from the centre of Cusco. The train ride is actually an experience in and of itself, as you will be witness to some incredible sights of towering mountains and sheer valleys during your 3 ½ hour ride. If you ride with Peru Rail, the price will be about $130 USD, depending on what class you prefer. Make sure to book the tickets in advance, as they sell out quickly.
Once you arrive in Aguas Calientes, you can buy bus tickets to the Machu Picchu entrance, which will cost 52 soles ($19 USD) for a roundtrip ticket. Alternatively, you can hike up to Machu Picchu from Aguas Calientes, which will take about 1.5 hours.
Of course, there are many different hiking tours and trails that also give you access to Machu Picchu while making the journey there an adventure in and of itself! Traveling along the Inca Trail, you will see locals going about their daily lives and feel as if you've gone back in time.
How Much Is Machu Picchu?
Aside from the costs of travel mentioned above, the entrance ticket to Machu Picchu is 128 soles, or about $37 USD. You can purchase your ticket online or in Aguas Calientes.
There are two extra features that are really worth visiting as well, the Huayna Picchu peak, and the Machu Picchu peak. Each costs 48 soles ($15 USD) per person, and is well worth it.
Machu Picchu Highlights
Viewing this incredible feat of Inca construction is an experience that you will not forget. It is a wonderful thing to be in the presence of something that is so powerful and beautiful, and yet a mysterious air still clings to it. Maybe it's the misty mountain air, the lack of oxygen, or the many myths and legends that surround this place, but in any case you will feel like a true adventurer forging your way to new and exciting places.
Huayna Picchu and Machu Picchu peak, as mentioned above, offer stunning views of Machu Picchu from above. Both of these peaks are physically challenging (especially at such an altitude) but don't let that scare you. The view from the top is absolutely worth it. Another place to see the view for free is from the Sun Gate, which will take about two hours of hiking along a trail that is not so challenging. Of course, one of the best ways to truly enjoy Machu Picchu is by exploring it with a guide. This way, you can learn the true history and details of this marvellous site.
Once you're prepared for the trip, you will have non-stop adventures in Peru! Enjoy the breathtaking experience of Machu Picchu and take a step into the mysterious history of the Incas.