You can now download this article as an app and get an offline map so you can go and see these places yourself.
"What brings you here?" – asked a fellow traveller when meeting us on top of one of Burmese temples.
"Adventure!" – I replied and asked back: "How about you?"
"Poverty … and unique temples." – She said while smiling.
With a limited time spent in Myanmar, we decided to narrow down the number of places to explore here. We were recommended to start from Bagan, a city that was the capital of the first Burmese empire. Located in the dry central plains of the country, Bagan is well known for having over 2,000 stunning and unique pagodas and temples, most of which were built by the ancient kings and leaders of Burma. Being so curious about Bagan's ancient history and architecture, we took a 8-hour bus from Yangon to Bagan. As it turned out, it was a great choice. This typical old Burmese city took our breath away and made us stay there most of the time we had for Myanmar.
Why visit Bagan? We have a long list of reasons why you should add this city to your travel bucket list when visiting Myanmar:
"One of the finest sights in the world"
This is how Bagan was described by Marco Polo. Despite plenty of wars and natural disasters, Bagan's temples and pagodas still remain unforgettable, stunning and unique.

The world's greatest archaeological sites
This ancient city is home to a markable architecture that you will be amazed by, more and more each day. When visiting Bagan you will be taken back to the era of Kublai Khan between 1057 and 1287, when most temples and pagodas were created. By entering this city you can embark on a spiritual and historical journey from one temple to another as all the buildings are beautifully and uniquely designed.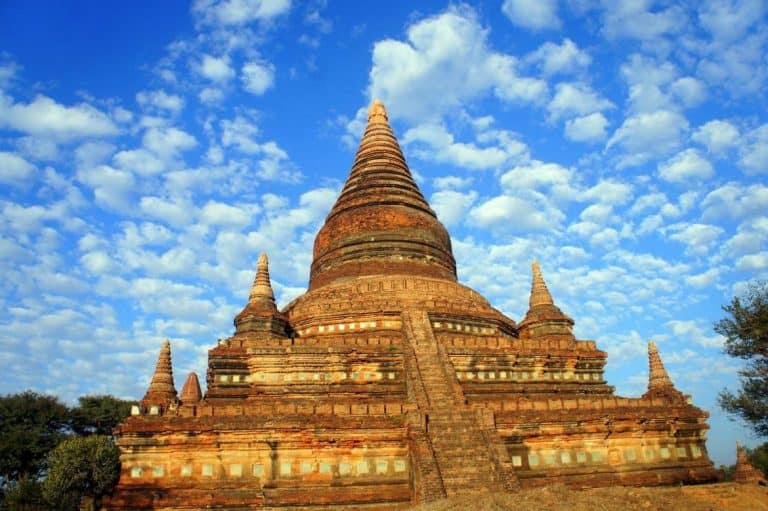 Hot air balloon flight
When in Bagan, you will have an opportunity to experience air balloon flight. There is no better way to see those towering monuments, ancient architecture and ruins than from inside a hot air balloon. In this way you can see the monuments from a different perspective while taking amazing pictures.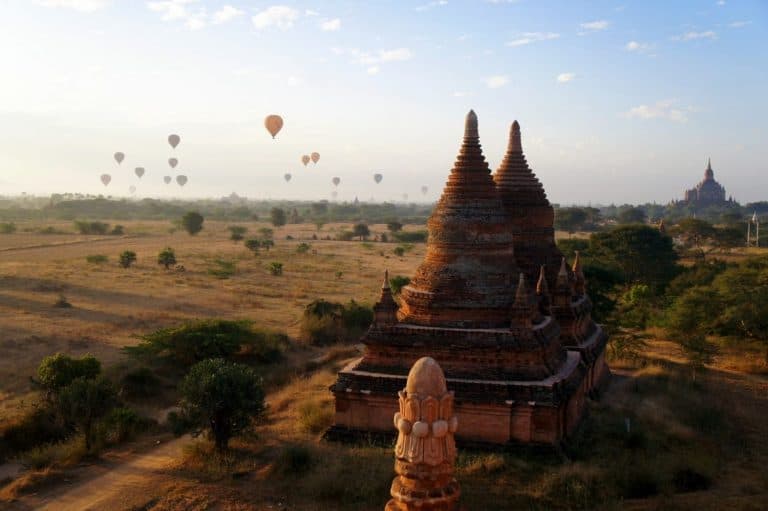 Unfortunately we missed this chance. Spending unexpectedly over $640 per ride (two people) in one day was a bit too much for us. Nevertheless, that is something everyone can do in Bagan, given their budget allows them to.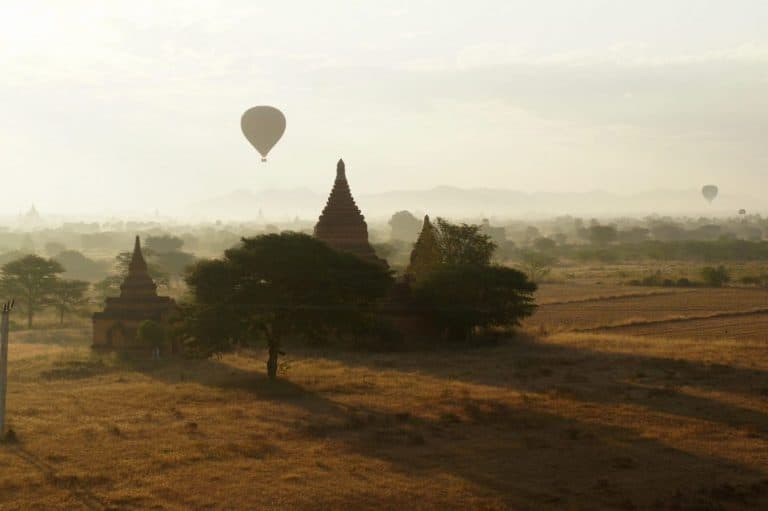 More information on hot air balloon rides:
The best time to do that is just before sunrise, and that's when most companies depart anyway.
The flight starts at 7 am and it is about 45 minutes to an hour long.
It costs between

$320 – $380

per person, but booking in advance or bargaining hard may get the price down to as low as

$290

.
If you don't arrive on time you will lose your money (booking it online may be a bit risky. We've heard a story of a group of people stuck on a boat from Mendeley to Bagan for 39 hours instead of 10 hours. This made them late to attend the flight on their pre-booked day. They were refused a refund and lost money).
There are plenty of agencies around the city where you can purchase air balloon tickets. You may try to bargain, but locals are not willing to lower down the price. Most of the prices are fixed.
Plenty of activities to do
Whether you are staying one day or one month in Bagan, I guarantee you will never get bored in the city. Temple and pagoda hopping are indeed major activities in Bagan, but not the only things that draw visitors there. Bagan can be explored in more ways than one, and it simply is not enough to visit the sacred temples to fully appreciate what the city has to offer. You can rent an e-bike (7 000 Kyats for a full day) or a regular bike (1 500 Kyats for a full day) and cycle around the city or perhaps go hiking, play golf or take local cooking classes. If not, why not speak to locals or indulge yourself in a local cuisine that differs a lot from what we usually experience back home.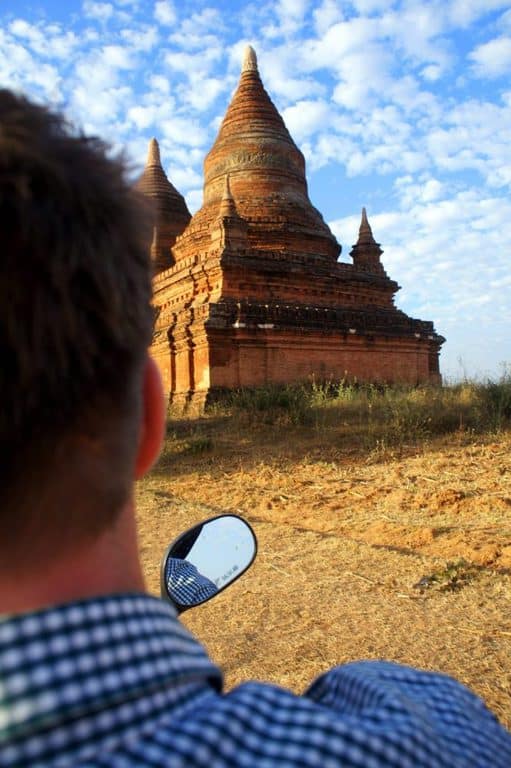 More information on e-bikes:
Traveling around the city on electric bikes is quite easy as there is not a lot of traffic on the roads.
You can rent one e-bike from any local store (Bagan quickly becomes very tourist-friendly).
Make sure you pay no more than

7 000 Kyats

for a full day. More than

9 000 Kyats

is a rip off.
Full battery lasts for a day (7 hours of constant riding) but you may want to carry a charger to charge it when stopping for food.
E-bikes are extremely small. The max speed is usually 30 km/h (our shown us up to 60 kph, but in truth they were going a maximum of 20 kph).
Ask for helmet as it is not always given with your e-bike.
it is freezing cold between 5 am and 9 am so put some warmer clothes on when driving (at least in January).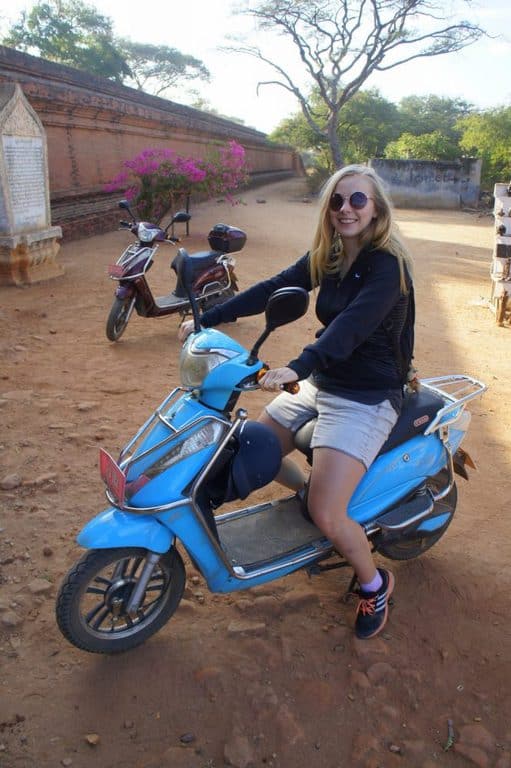 Biking was actually one of our favourite activities in Bagan. It combined adventure and culture in one activity. We had a lot of fun exploring the villages and learning more about the locals. We had a chance to explore the back roads between empty fields, the scenic countryside and of course the ancient temples.
Perfect weather all year long
Unlike other cities in the lower parts of Myanmar, Bagan does not experience a rainy season. Thus is the perfect climate of Bagan that enables its visitors to discover and explore the ancient city with ease all year round.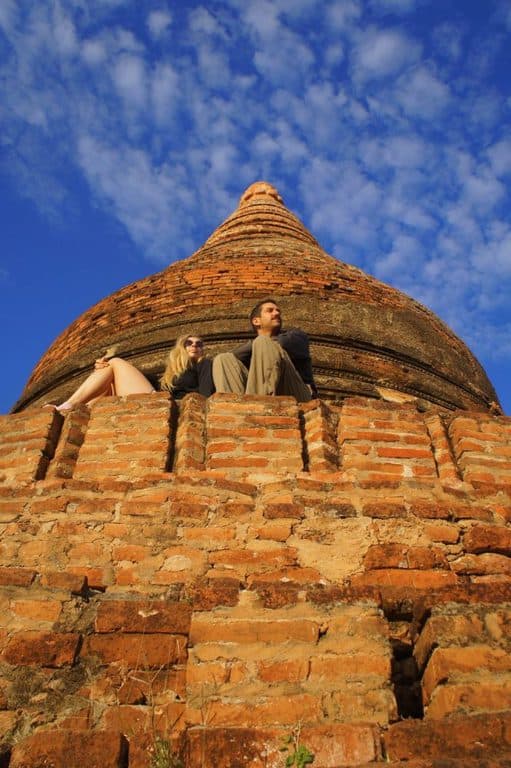 Local cuisine
The food of Myanmar is a combination of Chinese and Indian cuisine. If you like one of these, you will love dining out in Bagan. The whole city is filled with local restaurants and food stands where you can order any kind of spicy or mild meat, fried vegetables, fried egg rice, warm soups or grilled seafood.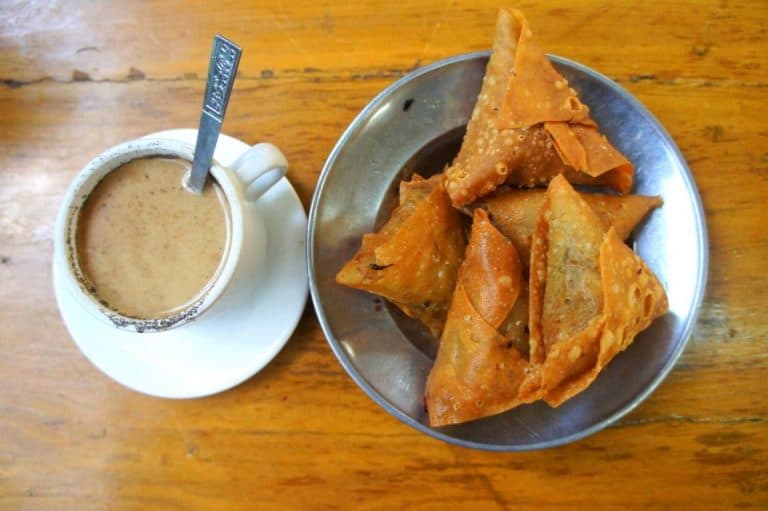 Every restaurant serves deep fried samosas filled with onions and garlic, accompanied with a cup of sweet milky coffee for a breakfast. If not, you will be given Chinese you tiao to taste. These are deep fried bread sticks, mostly consumed in China early in the morning. Lunches are usually fried noodles or rice served with chopped onions, carrots and green peas. If you wish you can add some spicy meat or seafood slices. As for the dinner, you can expect grilled veggies, BBQ chicken or pork or any kind of soup that will warm you up as it gets cold after 7 pm in the city (at least it did when we were there towards the end of January).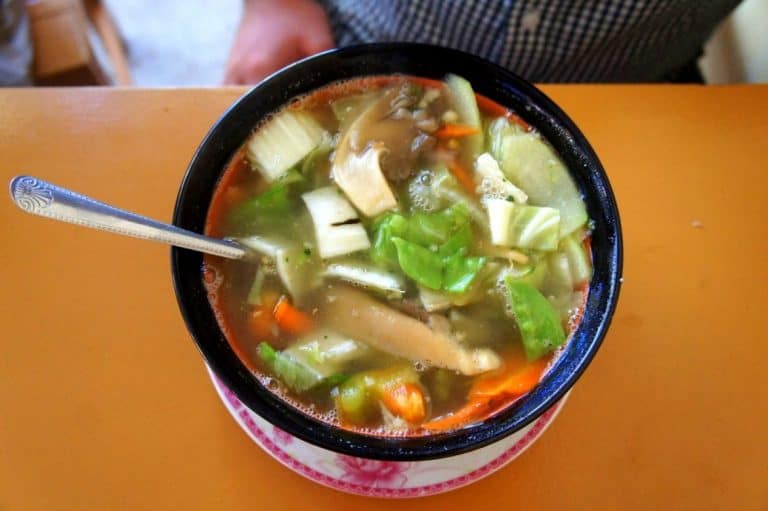 What we liked the most in Bagan in terms of food were roasted peanuts and sunflower seeds served as a starter in almost every dining place. Moreover, we enjoyed steamed duck served with mushrooms, local toasts with jam, cashew pancakes with local honey, and sweet milky coffee. All of these may not sound healthy at all, but trying them is definitely a must when dining out in Bagan.
Example of food prices:
Steamed duck –

5 000 Kyats
Scrambled eggs –

1 000 Kyats
Pork/chicken served with rice and any kind of veggie –

3 000 Kyats
Water –

300 Kyats

small bottle,

500 Kyats

large bottle
Affordable living and travels
The good news for every budget traveler visiting Bagan is that this city is very affordable. If you are traveling on a tight budget of, for example, $25 a day as we do, Bagan will be your favourite place. Private rooms are available for approximately 20 000 Kyats (2 people can share), temple hopping is free of charge and the food is less than 10 000 Kyats per day, including drinks and snacks during the day.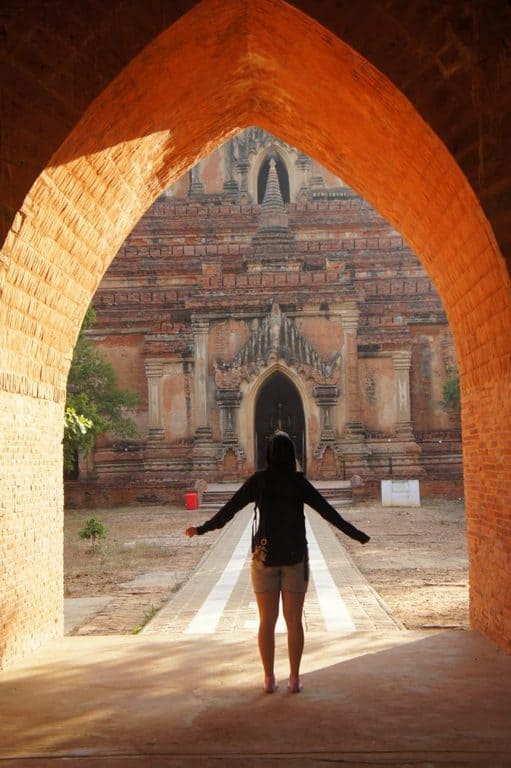 Humble locals
For us, traveling is not only about where you go and what you see, but also who you meet on the road and how you get treated by locals. In Bagan we met amazing people who always helped us find the right way or share some tips on best sightseeing spots. Despite the fact that we got scammed once (more about it soon), the locals treated us nicely and politely without trying to rip us off at every corner. Burmese people are poor, but extremely humble and kind-hearted.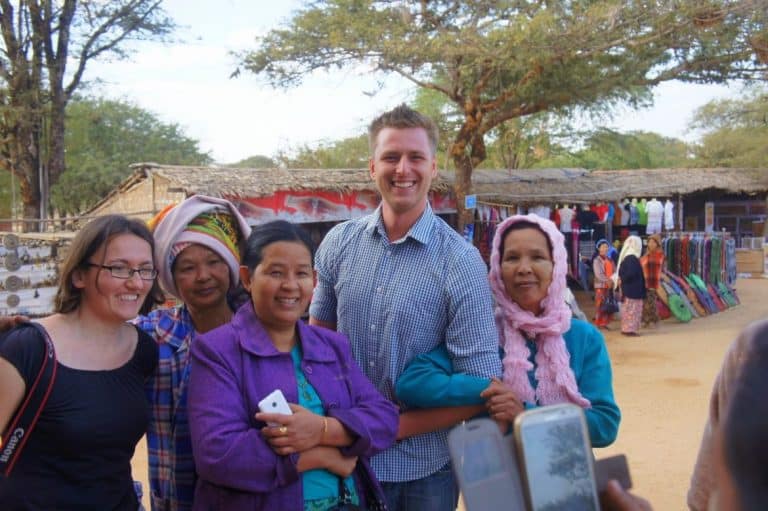 I miss Bagan more and more with each letter I type on my laptop flying to Kathmandu, Nepal. I miss sitting on the back of Cez's e-bike going from one pagoda to another. I miss climbing high pagodas to see the sunrise and sunset. I miss Steven (a guy who we explored Bagan with) and our jokes. I miss binging on roasted peanuts when sipping on a black coffee. I miss chatting with little boys in the street.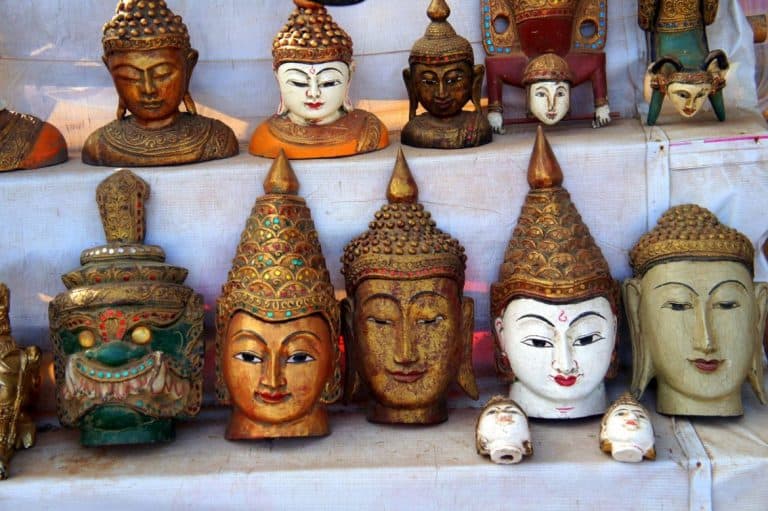 Have you ever visited Bagan? If so, what do you miss the most?