"Getting Back to Work Feels Great"- I thought to myself after my first English class in Siem Reap Language School
Missing teaching
It has been, more or less, 3 months since I had my last teaching session in China. After being off work during this summer vacation, only traveling and exploring the South-East Asian countries, I started to miss teaching a lot. Once we got to Siem Reap and found a house,I was ready to look for a teaching job in a primary school. I updated my CV and cycled around the city dropping my resumes in random schools, in my free time. After a few days, I got a job :-).
These are my little students I teach. Always happy and smiley.
Teaching schedule
I am working in Florida International School from Monday to Friday having two classes per day. These are the best working hours for me as they fit my schedule perfectly. I get up at 6am to get ready for my class and I'm back home at 10.30 am, having all day to work on web design. My schedule is always the same- I start my morning class at 8.00 till 9.00, then have a 10-minute break to have another class at 9.10-10.10. The morning classes wake me up and I don't need a coffee any more! :). The only one thing killing me is the length of the classes- 60 minutes instead of the usual 45 minutes, but I am getting used to it (I mean my throat is).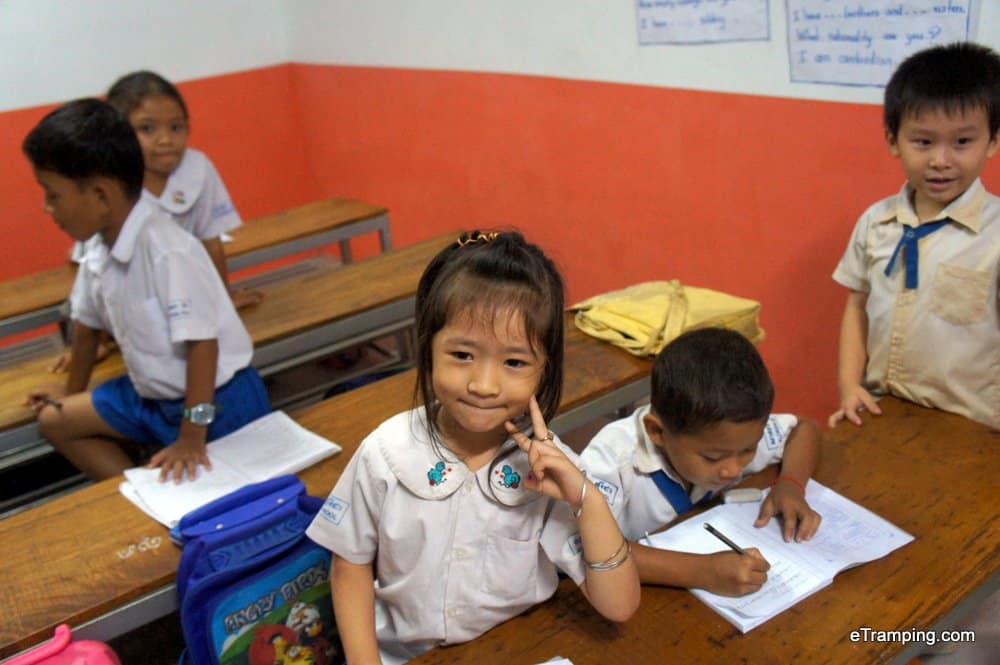 Students
I teach two groups of students, all at basic level. Both groups are lovely and willing to work with me, so that's the most important thing. Both groups are also happy, positive and so adorable. Kids are active and their English is super good. They can speak English pretty fluently, talking to me all the time. They are not shy and keep laughing. Students are 7-10 years old but some of them look older.
Teaching sessions
I have noticed that teachers in Siem Reap focus more, unlike n China, on listening than speaking. Students must, above all, listen to the teacher talk and they repeat after him/ her. It is something new and great as in China I was told "Kids must speak. They must open their mouth. Make them speak. Do what you can to develop their oral language" and so on. Here, it's different.
I was advised to talk to my students a lot, drilling in pronunciation in the meantime. It looks like it really works. Look at my students- they are a lot like native speakers! :)
I start my class with singing some songs to warm my students up. We usually sing two songs clapping our hands, jumping and stamping our feet. Then it's time to revise what we did on the previous class, we learn new vocabulary afterwards, drill in pronunciation, play games and describe pictures a lot.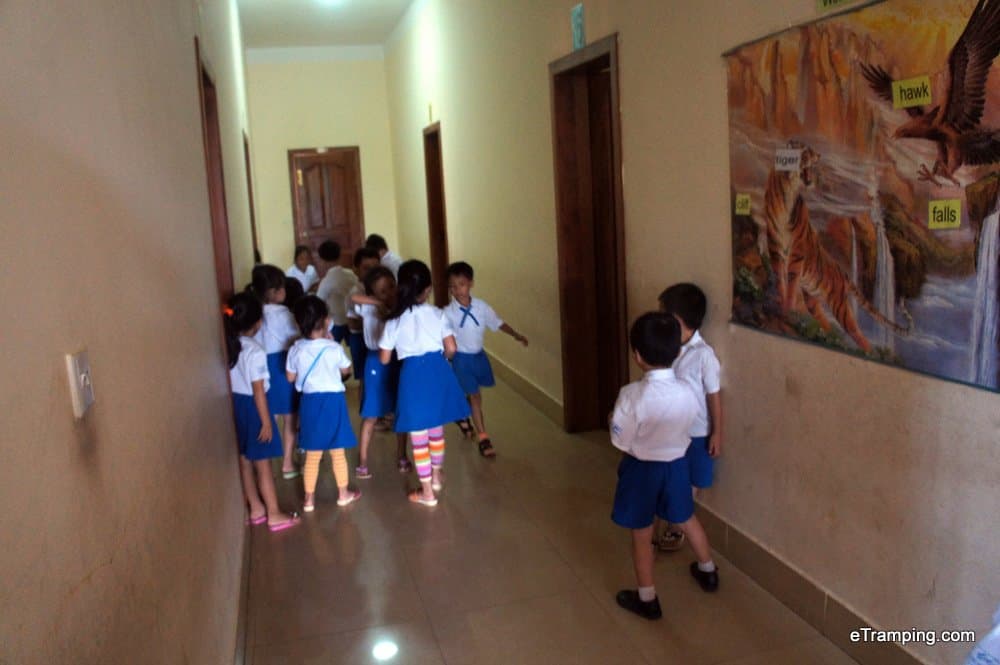 Students never seem to get bored and the teachers are pleased with my teaching methods. I get a feedback after my class so I know what I need to change, improve or eliminate from my plan. I find the feedback very helpful and motivating.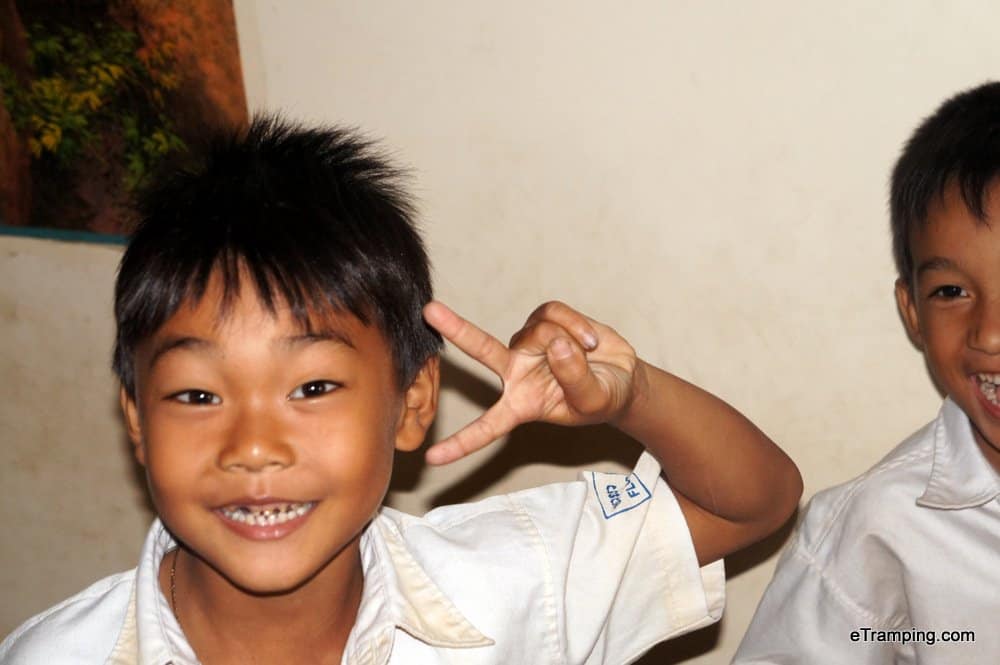 I don't print flashcards anymore due to the limited school budget. I have never been told to stop doing it or reduce printing but I can see that none of the teachers do it, so there must be a reason for it. I draw everything on the blackboard instead or ask students to bring some photos of clothes (if we do clothing lesson).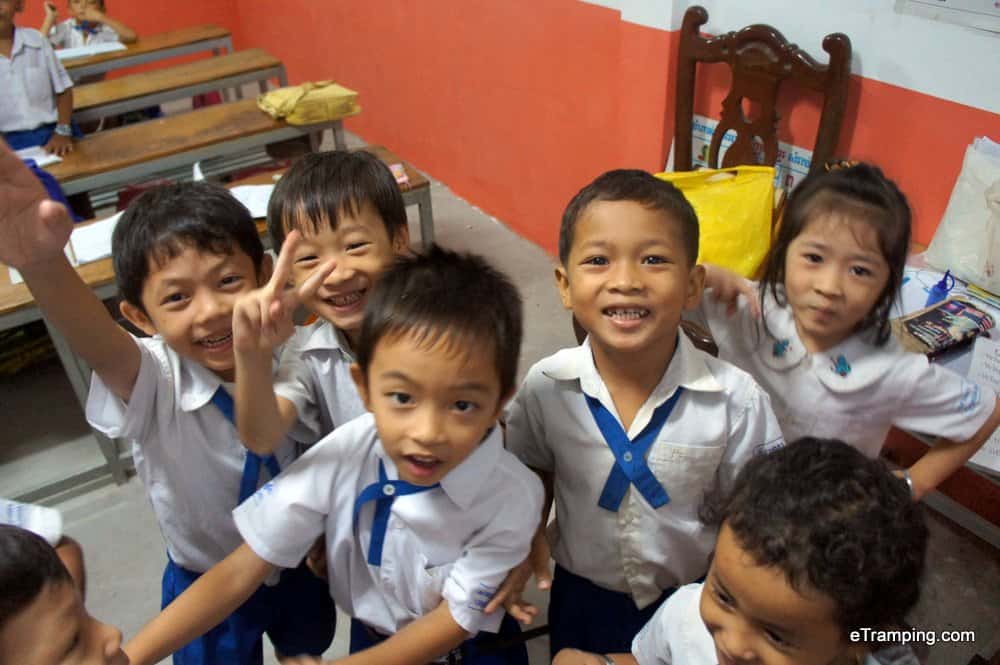 Teaching equipment
As long as I have my students in the classroom, a piece of chalk and a small blackboard I'm fine. This is more than enough to start the class. Before having my first class in Siem Reap, I was imagining myself being in a tiny wooden room with no chalk, no blackboard and my students sitting in a group. Surprisingly, it didn't happen. My school is lovely. There are 3 floors, many colorful classrooms, nice chairs and desk for the teacher. There is also either a fan or air conditioning in every classroom.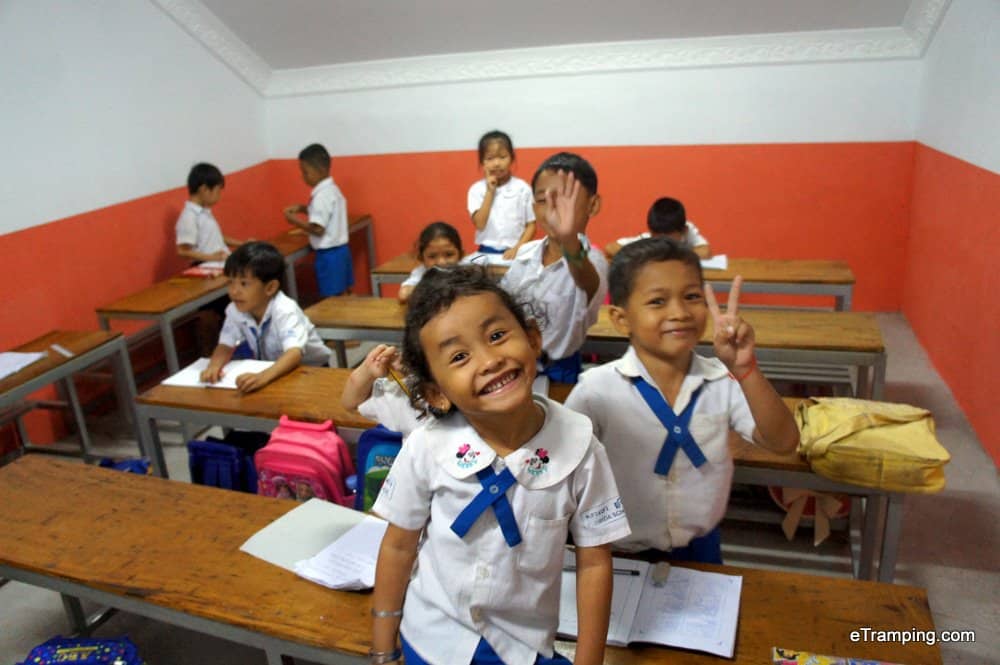 I can't really complain. I have more than enough to teach these kids some good English. There is a CD recorder and a small library in the school with plenty of read and picture books in case I need additional sources to get some ideas for my classes.
Staff
So far, I have met only the headteacher, the secretary and my two co-workers. The headteacher is a very friendly and nice man. It looks like he looks after foreign teachers a lot and there is a genuine atmosphere in the school. The teachers look very hard but they never stop smiling, which is nice. I hope to get to know more staff members later.
China vs. Cambodia
In Cambodia teaching English is much more effective. Most of students can speak English at the age of 6-8, which in China is almost impossible or very rare. Kids in Cambodia, unlike in China, are not afraid of speaking. They are not only unafraid of oral English, but also so willing to speak and happy to have a conversation with me. In China, I had to buy a bag of sweets for my students to convince them to speak. Chinese kids are way too shy.
In my class in Siem Reap there are only 15-23 students. In comparison to 70-90 students in China, it is much better for my throat and the effectiveness of teaching. I don't use a speaker anymore, don't need to shout like crazy and it is super easy to manage the discipline.
There is always one teacher in the classroom with me in case the students don't understand something or behave inappropriately. I don't need it, but I feel more relaxed and chilled out when someone is around.
Nevertheless, nothing is going to beat China when it comes to the pay. I got paid 5 times more per class in China than in Siem Reap. The Cambodian salaries are very low for everyone no matter if you are Cambodian or European. Foreigners still get paid more than locals but it is still not enough to live here. For me, doing teaching in Siem Reap is more like having fun, getting more experience and developing myself further than earning any money. I would probably spend more on tuk tuk than earn in the school if I didn't have a bike.
In China, the school and the government cares a lot about the teacher. You get your working visa, accommodation and food for free. In Cambodia nobody seems to care about it.
I have just started my teaching experience in Cambodia and I hope there is still a lot for me to learn about the education system, my co-workers, students and the school. So far, I am doing what I like to do and have a lot of fun :-).