Düsseldorf is a lovely German town, the capital of North Rhine-Westphalia, and today we're sharing with you this budget travel guide to Düsseldorf to make your stay easy, fun and cheap.
It's mostly famous for its German beer, shopping street called Königsallee and the Museum Kunst Palast with Europe's best art collections.
Düsseldorf is a great addition to your Germany travel itinerary.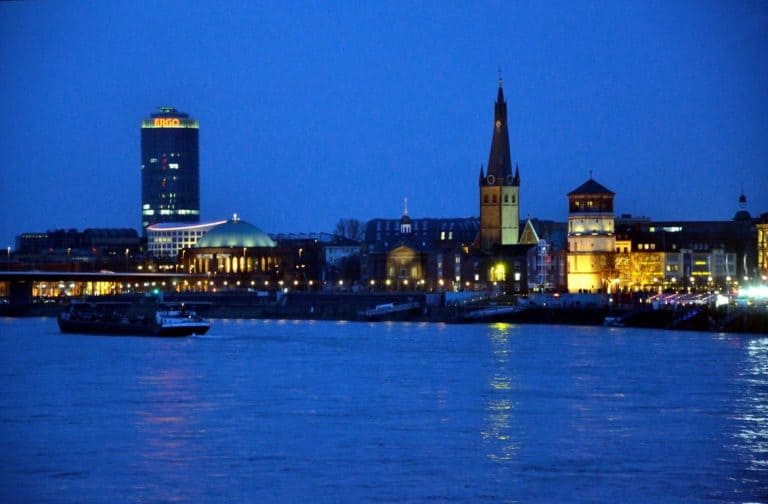 Backpack For a Trip to Düsseldorf
You're going to be in the middle of Europe where almost everything's paved, so it's best when walking around with a backpack on your shoulder is an option rather than a must. Consider bringing along a wheeled travel backpack.
Getting In
Düsseldorf by Plane
If you decide to fly to Düsseldorf, you can pick up one of 3 airports:
#1 Düsseldorf International Airport (DUS)
One of the largest airports in Germany, located around 15 km away from the main railway station from where you can easily catch a train (S7, S11) to the main railway station (price: €2,50).
#2 Köln Bonn Airport (CGN)
Which is located around 60 min drive away from Düsseldorf city centre.
# Airport Weeze (NRN)
Located around 80 km from Düsseldorf main railway station and it costs approximately €14 to get to the city center by bus.
Düsseldorf by Train
The main railway station in Düsseldorf is called Düsseldorf Hauptbahnhof and it offers various types of trains – from Regionalexpress, through Regionalbahn to S-Bahn. Before deciding to travel by one of these, remember that your ticket has to be validated before departure (the fine is around €40). There's an orange machine before you go up the stairs to the platform, where you have to stamp your ticket. You can order your tickets online too.
Düsseldorf by Car
Düsseldorf is connected to the following highways: A3, A44, A46, A52, A57, A59.
Getting Around Düsseldorf
When is Düsseldorf, you can easily explore the city on foot, but buses, trams and subway is also available. My favourite one was S-Bahn which costs only €1,50 per short single ride (valid for 30 min, about 4 stops). You can also purchase a normal A-ticket which costs €2.50 (valid for 90 min) or a day ticket (valid until 2am of the following day) for €5.90.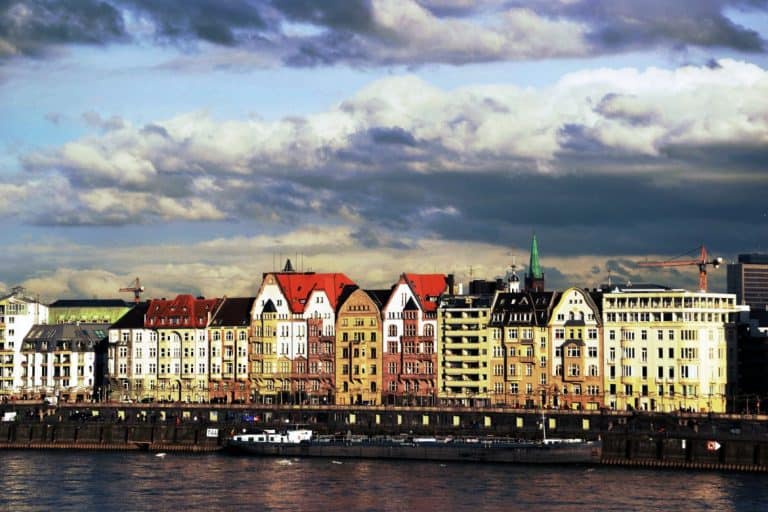 Accommodation in Düsseldorf
If not couchsurfing (which is free of charge), I would recommend staying either in Backpackers-Düsseldorf or A&O Düsseldorf Hauptbahnhof hostel. Alternatively, you can check out different accommodation options such as VRBO and Booking using this map below.
For 6 bed dorm – mixed (shared bathroom) with buffet breakfast included in Backpackers-Dusseldorf you can pay around $18 if you book it in advance, whereas A&O Düsseldorf Hauptbahnhof offers a great location and 6 bed dorm – mixed with private bathroom for around $19-$20 a night.
Where to eat in Düsseldorf
#1 Woyton coffee shop.
Woyton serves the best hot chocolate and brownies in the city, it's a very affordable place extremely friendly to bloggers as you can use the free Wi-Fi and stay there as long as you want to. It is open from 8 am till 8 pm.
Location: Mittelstraße 11, 40213 Düsseldorf. Contact them at +49 211 86298599 or visit their website: woyton.de.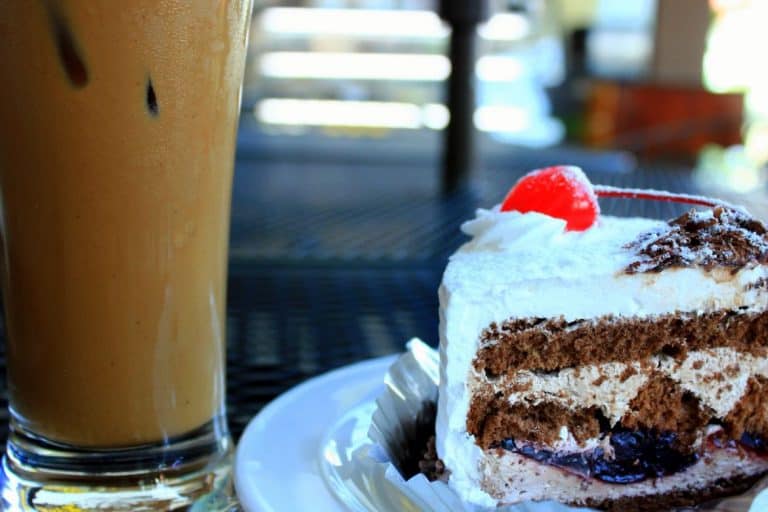 #2 Caffe im NRW Forum.
Before popping into the museum, you can check out the very stylish Caffe im NRW Forum where the coffee is great and affordable (€2.50) and there are a lot of hipsters who surf the free Internet.
Location: Ehrenhof 2, 40479 Düsseldorf, phone: +49 211 8926699.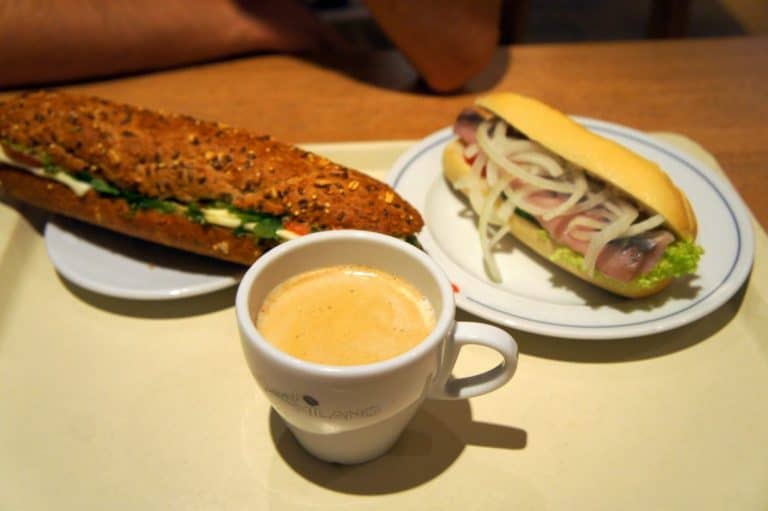 #3 Lunch at the Farmers Market.
For your lunch or snacks you can go to the excellent Farmers Market in the Old Town. You can try out some Reibekuchen – delicious Germany potatoes served with some apple cause or a typical kebab for less than €3.
What to do on the cheap
Let's see what you can do in Düsseldorf throughout your day with a very tight budget:
#1 Walk around the Old Town.
The Old Town is a historic section is filled with restaurants and taverns located throughout a series of pedestrian alleyways. You can stroll down the streets, take some photos or rent a bike and cycle around.
When you feel tired, sit down on the bench and admire the beautiful historical buildings and tenement houses and when you feel hungry, grab a local kebab or some ice-cream!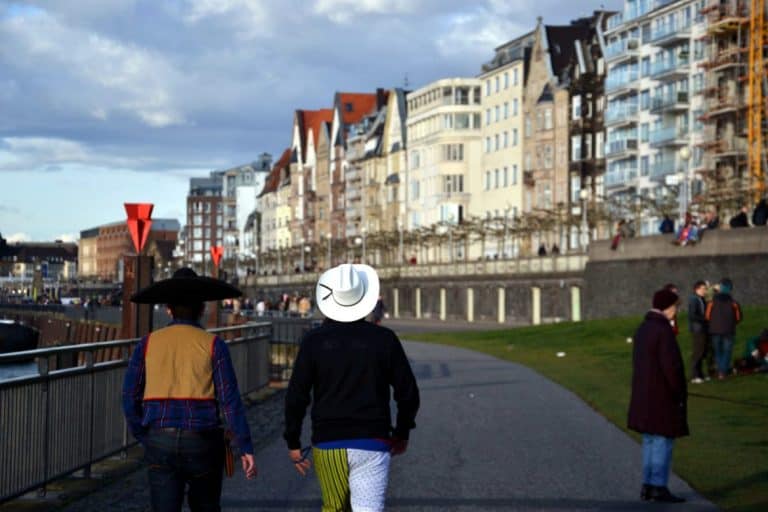 Altstadt (Old Town) is the fun hub of Düsseldorf. I was here on a Sunday during a big soccer game. People were walking the streets in cafes and bars watching the game in their team colors. It had a fun festive party feel all through the streets.
Altstadt is where you will find a lot of the good German restaurants and places to grab a beer. You can walk along the Rhine, take a short Rhine cruise or just wander and people watch.
Sadly much of Düsseldorf was bombed badly in World War II, but this area has been rebuilt with some German style. This is the area you will want to visit on your Düsseldorf trip, it has a lot to offer in the entertainment arena and a great place to see modern and old Düsseldorf come together.
#2 Visit Rhine Tower (Rheinturm).
The view at a height of some 170 meters over the city of Dusseldorf and surroundings is quite impressive. Also the tower seen from the ground is very nice. It costs around €10 to get to the top, sit down and have a good look.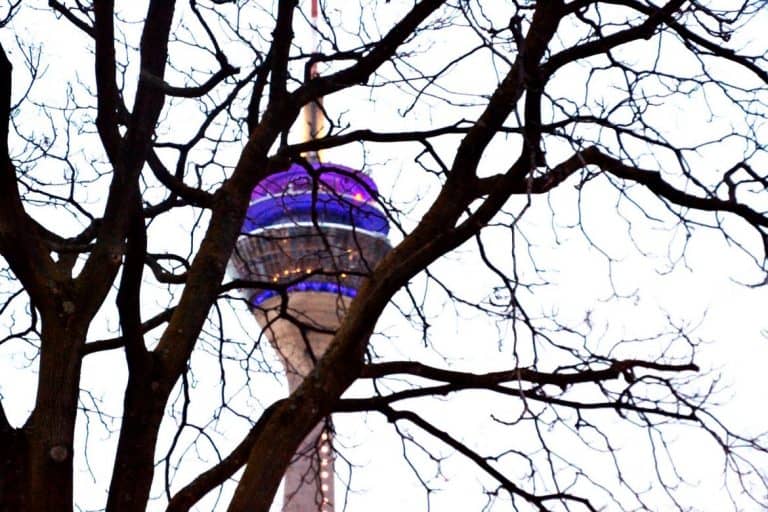 #3 Relax at Nordpark.
Nordpark is a nice park especially in the Spring when the Cherry Blossom and Magnolia tress are in bloom. There is a nice cafe and restaurant as well as children playgrounds.
The Aquazoo is also located in the park. It's a nice place to take a walk at anytime. Lots of gardens, water fountains and ducks. The park's big and calm. Worth a visit.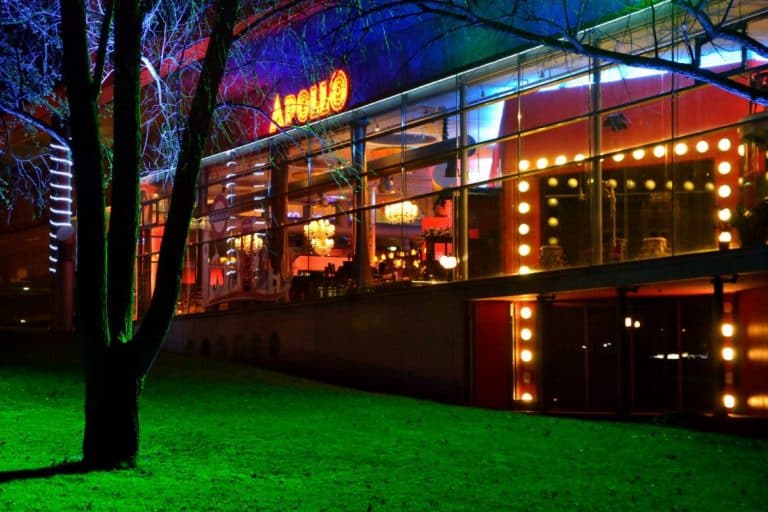 #4 Walk across Rheinufer.
It's a very nice place just to stroll around or for jogging and inline skating in the less busy times. It's also a very good place to meet up with friends for dinner or for a date.
There are restaurants, bars and also ice cream shops, though not always very cheap. The great staircase is also a nice place to sit down in order to enjoy the charming scenery especially during sunset.
#5 Head to Burgplatz.
This is near the Burgplatz where you will also find many of the other top attractions, along with shopping, food, and drink. Stop by Reilly's Pub for a Guinness Pint or the Schweine Janes for a pork sandwich while you are there in the area.
#6 Explore Neanderthal Museum.
Awesome museum, a must see for adults and children. Beautiful display and explanation of human and world evolution. Beautiful, peaceful site, full of trees, rivers and valleys simply worth visiting.
#7 See the ruins of Kaiserpfalz Kaiserswerth.
Nice castle ruins with signs that do a great job explaining the historic significance of the castle.
You can access it via the U79 tram. Get off at Klementzplatz and head across the street and towards the river. Plenty of places to eat near the tram stop and along the road down to the river.
#8 Spend an afternoon at Loebbecke-Museum und Aquazoo.
It's a very interesting place for kids and adults as well. The plenty of different animals and fish all around.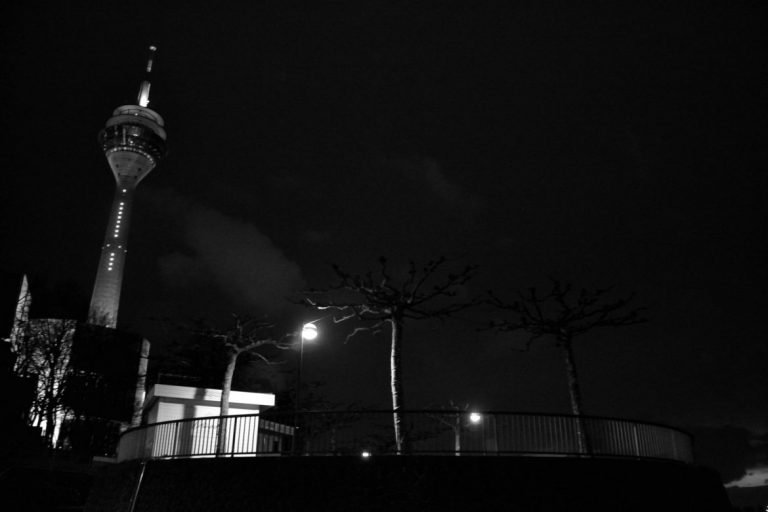 #9 Visit Düsseldorf Film Museum.
As movie lovers we could not skip this one. The museum is located in a relatively small building on 4 different floors. It tries to show a lot of things, maybe a bit too much: not only the (pre)history of movie making with antique panoptica/camera obscura stuff, but also artifacts from modern movies and information on modern special effects and a 'gallery of honour' for some of the greatest directors from the history of cinema. The entrance is only €5.
#10 See Johanneskirchea.
If you are looking for a place to pray, St John's Church would be a perfect choice. It is the largest Protestant church in Düsseldorf, located at the Martin-Luther-Platz.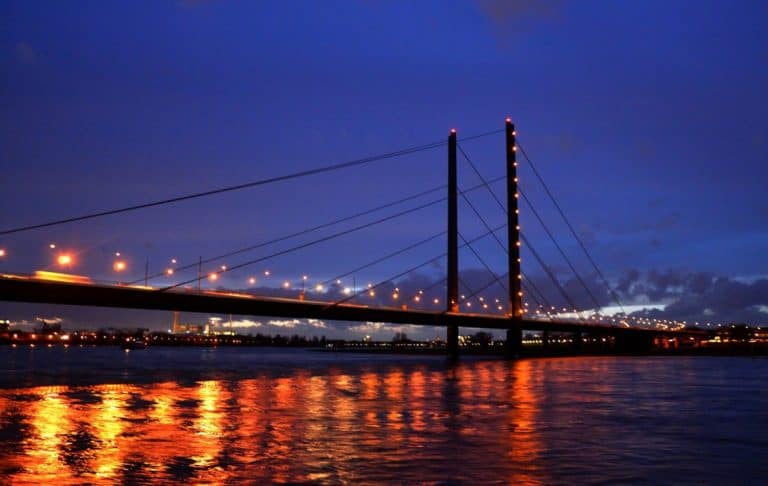 Have you been to Düsseldorf already? If so, how affordable was it for you?