I recently had another birthday (I know, they seem to happen every year). This time though, I wanted to do something unique. I wanted to try traveling and exploring in a way I hadn't done before. That meant that a lot of research needed to be done; same-old, same-old just wasn't going to cut it this time.
Enter quad biking. Not just normal quad biking, no. Thanks to Adrenaline Hunter crew, we managed to find a unique, inexpensive, and awesome thing to do to celebrate: quad biking in Malta, exploring the luxurious island of Gozo right around the Christmas holidays. This was going to be awesome… and it (spoiler alert) was.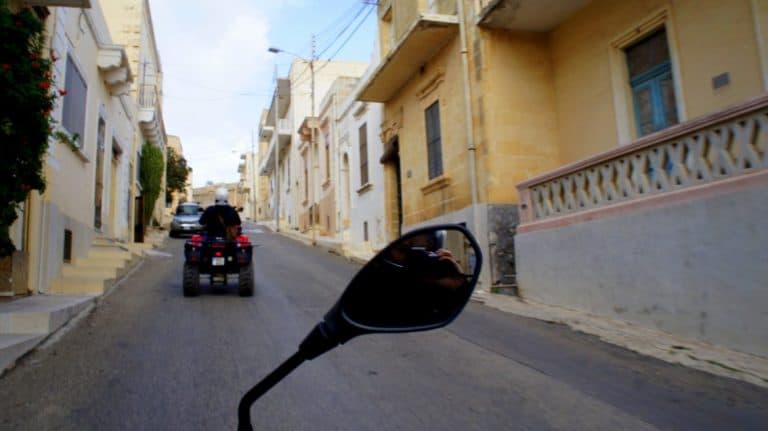 Here's what the experience was like and our guide to what it has to offer. Next time you're thinking about heading to the Mediterranean but want to try something which doesn't just involve beach lounging, keep quad biking in mind.
Where Is Gozo Island?
Gozo Island is located in Malta in the Mediterranean Sea. It is the second largest island in the Malta archipelago after the island of Malta itself. With a population of just over 37,000, the island has long been the home of myths and legends dating as far back as the Odyssey.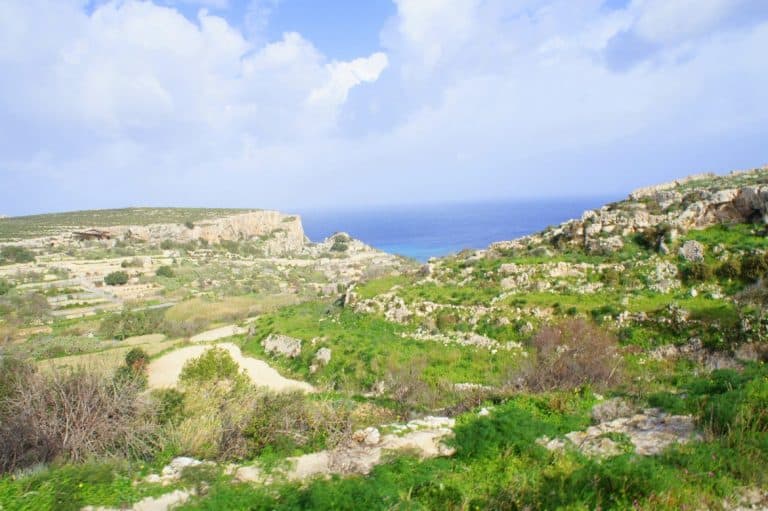 Due to the relatively small population, Gozo is a largely rural, and home to some of Malta's most incredible natural landscapes. Besides areas of incredible natural beauty, Gozo Island is also somewhat of a retreat for those interested in water sports, including surfing, snorkeling, and more. We decided to flip that on its head and try out what Gozo island had to offer on land with the quad biking experience.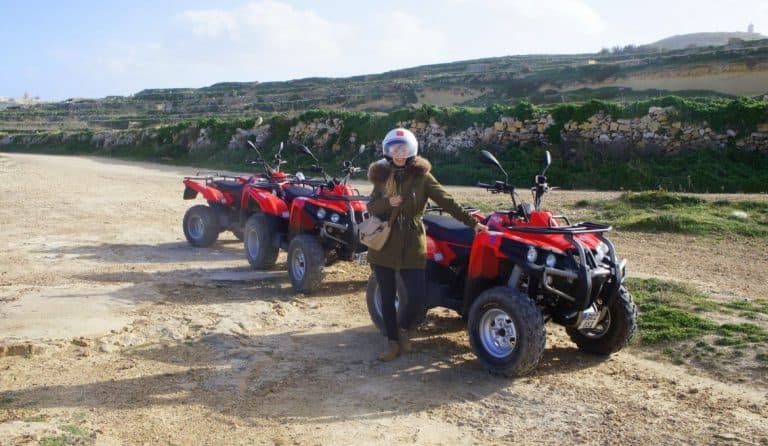 My Experience
We didn't stay on the island the night before, so had to wake up pretty early at 8:30 am to be ferried there.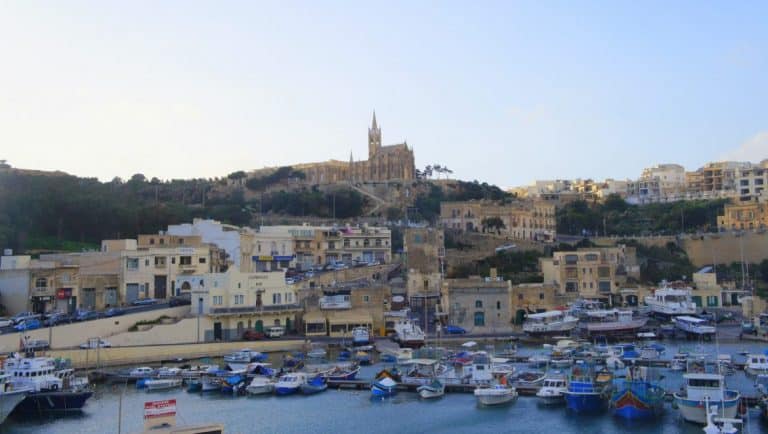 It was a 25 – 30-minute ferry ride and well worth it. Already, before I had even seen the quad bikes, I was exploring a new place in a vehicle I wouldn't normally explore in. The sights over the water were pretty incredible that early in the morning – despite us not being quite awake yet. You can see some of the beaches of Gozo island coming in.
Once we arrived at the island, we were pretty much immediately greeted by our quad bike expert. He was friendly and calm, making us immediately feel relaxed about the situation and ready to start quad biking! Besides us, there was a couple from Canada who were also going to be joining the tour – so not a big group. This almost definitely made things a lot easier.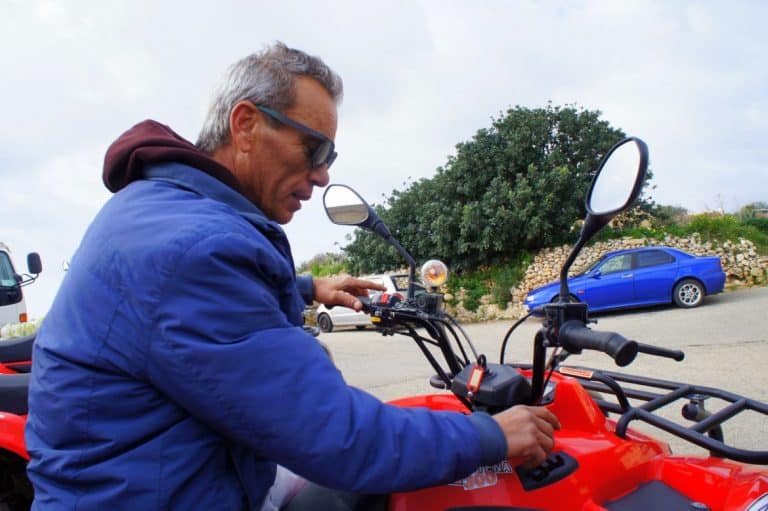 We spent a lot of the tour driving through the streets of the island. I was on the back of the quad bike because I still haven't got a driving license yet! My friend Rafał was driving.
There's something to be said for exploration on the back of a quad bike. The air jetting through your hair, the fresh breeze of the sea as you approach the beaches, the pretty much full, uninterrupted 360 views. It might have been cold out on the day we went, but everyone enjoyed themselves. This is the perfect way of exploring a new place if you love to drive.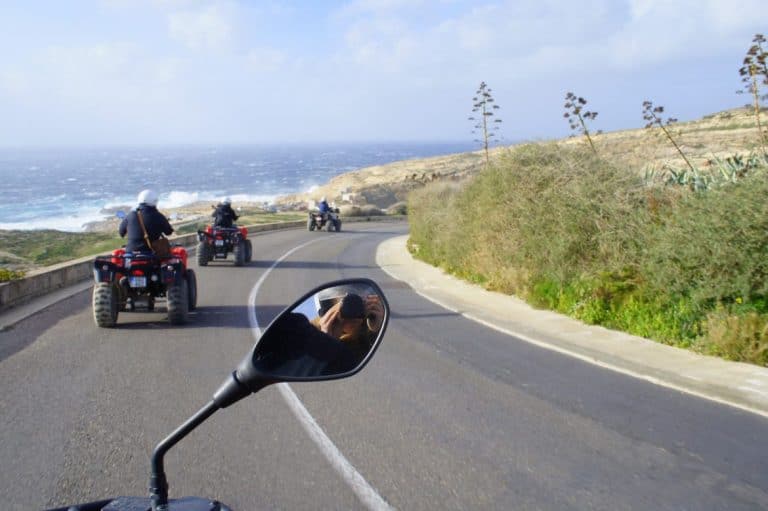 Places to See on Gozo Island
Whilst taking the quadbikes around the island, we were taken to a lot of different places of interest. This wasn't just an average quad biking activity experience in an enclosed space. This was quad biking for a purpose; the purpose of exploration.
The Azure Window
What is the Azure Window, you might be saying… That place looks familiar… That's probably because it's one of the Malta filming locations for Game of Thrones! Known as the Azure Window due to a unique rock formation which was here and looked like a 'window', the filming location was a popular attraction for fans of the hit TV Series. It was, after all, the location of Daenerys and Khal Drogo's wedding.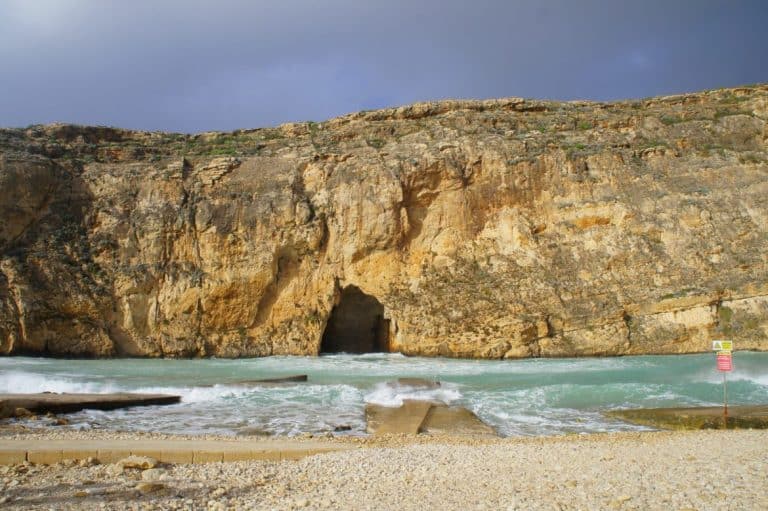 Unfortunately, 2017 wasn't kind to the Azure window and after having stood for thousands of years, coastal erosion finally had the last laugh when it collapsed into the sea. So, for those looking to catch a glimpse of the Azure Window itself, you're unfortunately too late. The beach, however, and the surrounding scenery is still beautiful and worth visiting in its own right. Plus, doing so on a quad bike is just too cool!
Ramla l-Hamra
Another of Gozo's incredible beaches, Ramla l-Hamra is very possibly the best beach on the island. It is the largest and least spoilt by human interaction, making it a heavenly getaway for beach lovers. It's also great for going for a dip, with the sea shallow and lukewarm in this area pretty much year-round.
The site itself also happens to be a historic one, with ancient Roman ruins hidden underneath its sands and the legacy of the Knights of St. John. This legacy comes in the form of a series of defensive fortifications, including a submerged wall and hidden Vendome battery from 1715. You'll also find a statue in the middle of beach dedicated to Our Lady of Hope.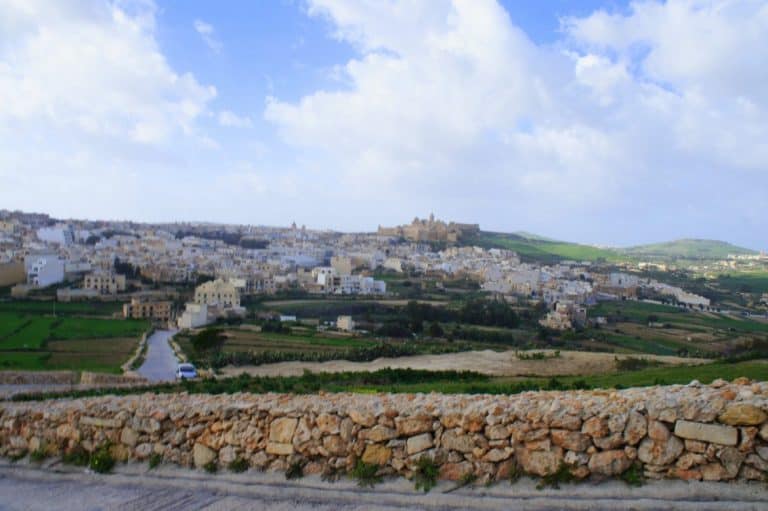 Xatt l-Ahmar Bay
Yellow sand fading into clear, blue water. This is what the Xatt l-Ahmar Bay is. As a secluded and rocky beach, it gets its name (which translates to the Red Bay) from the red terraced fields you can see when approaching the bay. There are some incredibly beautiful spots for swimming here and it's known as a premium snorkeling spot too. You can even go adventure diving through the Malta-Gozo Ferryboat called Xlendi.
Don't Forget…
Make sure to bring some warm clothes with you Quad Biking, just in case it get's a bit chilly. Gozo is an island, so there's more than a small chance that you'll be getting some sea breezes coming in. Don't worry about snacks or food, the group stops at around 12 for lunch at a local restaurant. There was a huge selection here, so even the pickiest of eaters don't have too much to be worried about. I had 3 plates of salad and some grilled vegetables. Delicious!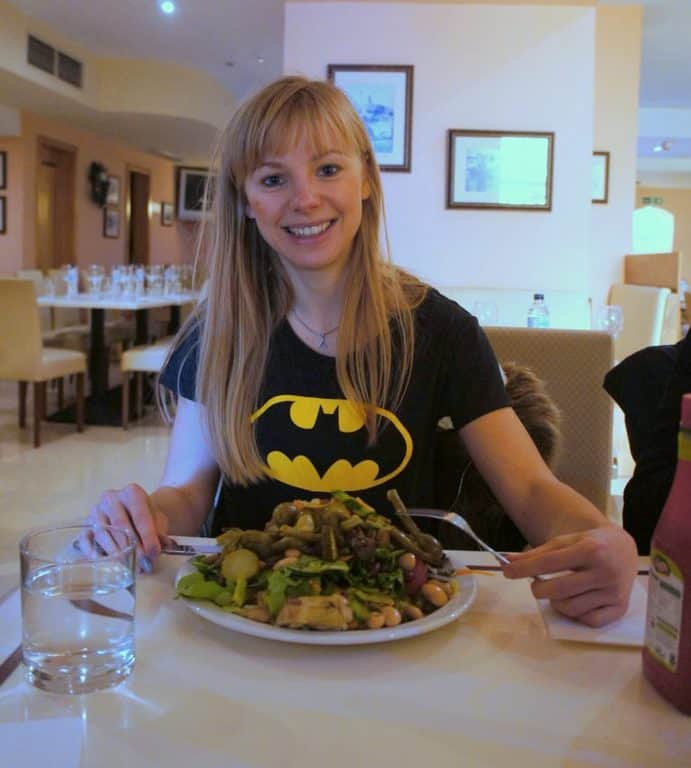 Where Would You Want to Go Quad Biking?