This article is part of our North Korea section: series of articles exploring everything you need to know about visiting DPRK. Head to our main North Korea (DPRK) page for more information.
Now that we've gone over the basics of travel to North Korea from how to get there, what to pack, why one should go, it's time to deal with an important and practical aspect of going to North Korea—the cost.
The first thing to note about North Korea tours is that for a country of its level of economic development, traveling in North Korea is expensive. This is due to several factors. Firstly, tourists are required to travel as guests of one of North Korea's state-owned travel companies. You are required to have two guides and a driver, stay in designated hotels, eat in designated restaurants and visit designated sights. This list of hotels, restaurants, and attractions is however reasonably large and ever-expanding.
But they not only generally consist of the nicer and thus more expensive range of options, but the local Korean travel companies also set their prices quite high. Secondly, the flight market is small, and with only Air Koryo and Air China running flights between China and Pyongyang, rates for tickets are on the high side. Thirdly, and controversially, some of the Western North Korea tour operators, who organize their tours through their Korean partners, charge up to 30-40% more than their competitors for the exact same itinerary simply because they are able to.
But there are several ways to keep down the price. Firstly, you can take the train, which is considerably cheaper than flying in. Unfortunately, this option is not available to the US and Japanese citizens, who are forced to take the flight in. But for everyone else, the train offers not only a good price but also a fascinating experience allowing tourists to see much of the North Korean countryside.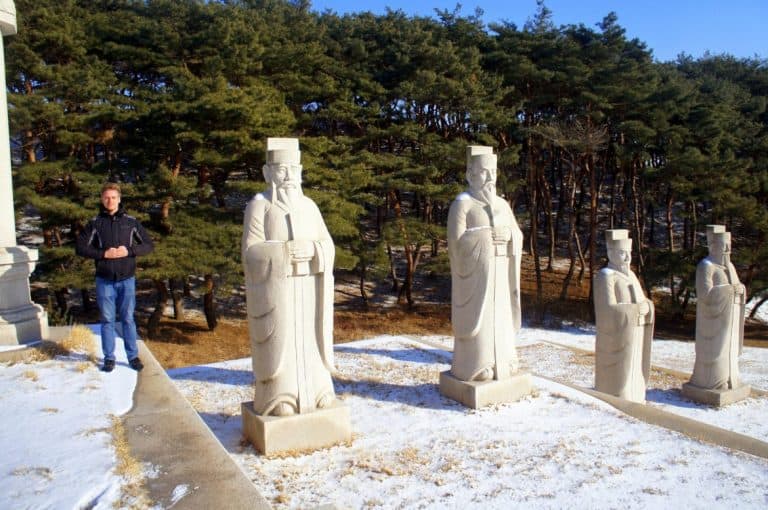 Secondly, you can stay in cheaper hotels. This can save you approximately 10-20 euros per night. The most economical hotels in Pyongyang, for example, are the Chongnyon Hotel and Changgwangsan Hotels. They're at about a 3-star level and perfectly fine for the traveler that isn't too fussy.
Thirdly, you can go for a shorter tour. The shortest tours generally run for two or three nights, although overnight trips and even day trips are technically possible.
Lastly, you can choose a tour operator that doesn't rip its customers off. As stated above, some of the well-established North Korea operators charge 30-40% more for the exact same itinerary simply because they are in a position to do so. Tourists should be aware that if you go with one of these tour operators you will have exactly the same experience, the only difference you'll be left with a much bigger hole in your wallet. Most of these tour operators—regardless of whether they overcharge or don't– work with the same Korean partners at the end of the day, so you get the same guides and the same treatment from the local side. Furthermore, all foreign tour operators in North Korea are on a level playing field in regards to what they can do. There is no "exclusivity" in relation to itineraries, and customers should be wary of companies that do make such claims.
Thus a 3-night trip going in by train from Dandong and staying in budget hotels, for example, can be as low as 400 euros. Meanwhile, a 5 night trip by train from Dandong in budget hotels can go as low as 1139 euros. 5 nights or 7 nights is a good length of time to really get a feel for the country without breaking the budget, and being able to leave as you start to get internet and freedom of movement withdrawal!
It would also be helpful to note that as a tour group size gets larger, the price goes down. This is due to the pricing system created by the Koreans. Thus if you are organizing a private tour, you'll want to get more people if you want a cheaper price. Open group tours generally offer the cheapest prices, especially if you are traveling alone or in a small group, since it generally allows for more people to travel together thus bringing down the overall cost.
And if money is completely no barrier, you can even stay in deluxe accommodation with deluxe meals and transport. You may even choose this option for a small private tour. North Korea does have some quite nice hotel accommodation both in and outside Pyongyang. Pyongyang offers the Koryo and Potonggang Hotels, which would be equivalent to around 4 or 5 stars. You can go even higher by staying at some of the exclusive guesthouses in the capital such as the Moranbong Guesthouse or Kobangsan Guesthouse. Outside of Pyongyang, there's the Masikryong Hotel, part of a ski resort near Wonsan, and the Majon Hotel in between Wonsan and Hamhung, located on a pristine beach.
So there we have it. All one needs to know about pricing for tours to North Korea. We personally recommend Tongil Tours, who we traveled with. The not only offer good prices but also send in their own Western guides who speak Korean and know the local culture really well.