Spending one full day in any city in the world is barely enough time to see and enjoy it properly, and this is especially true when you have just 24 hours in New York. However, sometimes needs must, and you might have a short layover before your next destination, a wait for a connecting onward journey, or it's simply all the time you can manage. Worry not – we've got you covered.
It's one of the world's finest and most famous cities, a sprawling metropolis with so much to see and do it would take a lifetime and you might barely scratch the surface. But with our NYC itinerary, we'll give you a headstart at the very least. Buckle up people, you're in for a wild ride.
24 Hours in New York – Luggage Storage
First thing's first though, you're certainly not going to want to be hauling around all your belongings, so you need a secure place to leave them to maximize an efficient time in the Big Apple. There are several places and even apps where you can get that sorted.
Once you've sorted out a trusted store to look after your business backpack, there's nothing to tie you down as you take in the sights.
Accommodation in New York
You can find a place to stay in New York using the map below. The search bar will bring you to a desired location in the city and the icon on the bottom right will help you find the best areas filled with nightlife, transit lines and some good restaurants.
1 Day New York Itinerary
Central Park
In a bustling city this big, loud and proud, even die-hard urbanites need some escapism. And that comes in the form of arguably the most famous cosmopolitan green space on the planet – Central Park. It's an 843-acre oasis in the heart of New York City, and somewhere that you could quite easily spend your entire NYC itinerary if you wanted to.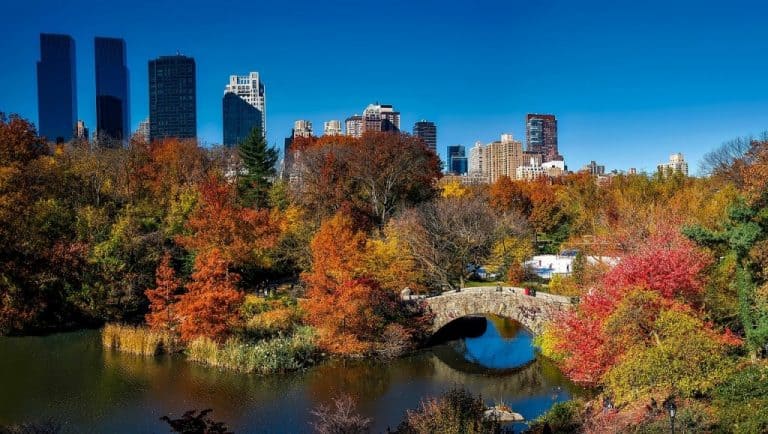 Start your day off in with an early morning stroll through the lungs of New York – but there's plenty of other activities to do besides walking. Boating in the summer months and ice skating in winter as examples. Don't miss the moving John Lennon tribute at Strawberry Fields if there's only one thing you see here.
The Empire State Building
You'll find many of the world's most iconic buildings in New York and it would take you a fair bit of time to get around them all. From the Rockefeller Center to the Flatiron, the Chrysler Building to Grand Central, you could do an NYC itinerary on stunning structures alone. Or, watch a Spiderman movie and save yourself time and effort.
You can take in all this wonderful architecture from the street level – and you'll certainly feel like you're in a film when you do – but you've simply not been to the Big Apple if you don't ascend the Empire State Building. 103 floors of iconic art-deco beauty, no 24 hours in New York is complete without it. Take in the high-end shopping on 5th Avenue as you make your way here.
The High Line
One of New Yorks newest attractions – and rapidly becoming one of its most popular – is this 1.23 mile long elevated walkway which has been turned into a linear park on a disused section of the New York Central Railroad. You'll find it runs down the west side of Manhatten and is a wonderful way to escape the traffic below.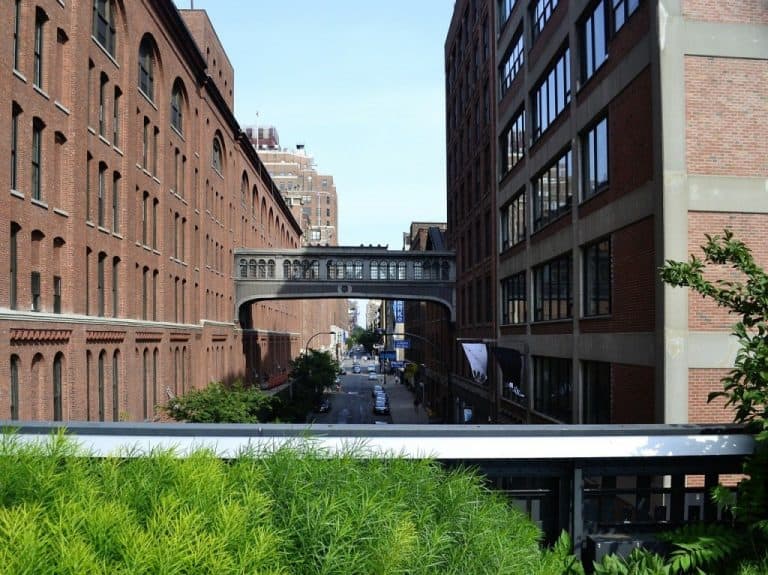 This urban park was begun as late as 2006 and has become so successful that several other US cities have copycatted the idea and reclaimed abandoned space for public enjoyment. It sure beats dodging crazy cabbies and best of all – it's totally free!
Lunch in Greenwich Village
Traveling the route of the High Line from the north will bring you nicely down into Greenwich Village, a thriving, colorful district with some of the best bars, restaurants, and cafes in the city. It's also one of the most desirable places to live in New York and has undergone extensive gentrification over the years.
It's hip, it's cool, it's funky, trendy and everything in between. Renowned as an artists neighborhood, it was the epicenter of edgy American bohemia. Today, you'll find a cracking cup of coffee at every turn and plenty of foodie options right about the time your tum starts to rumble. If you're back in the evening, you'll discover some excellent jazz joints, too.
9/11 Memorial and Museum
Whistle down a famous yellow cab or hop on the equally famous metro and head to Ground Zero, the former location of the World Trade Center. Yes, it's going to be a hard thing to visit and yes you might need a stiff drink afterward – but it is an important location to pay your respects and a sobering reminder that we shouldn't take anything for granted.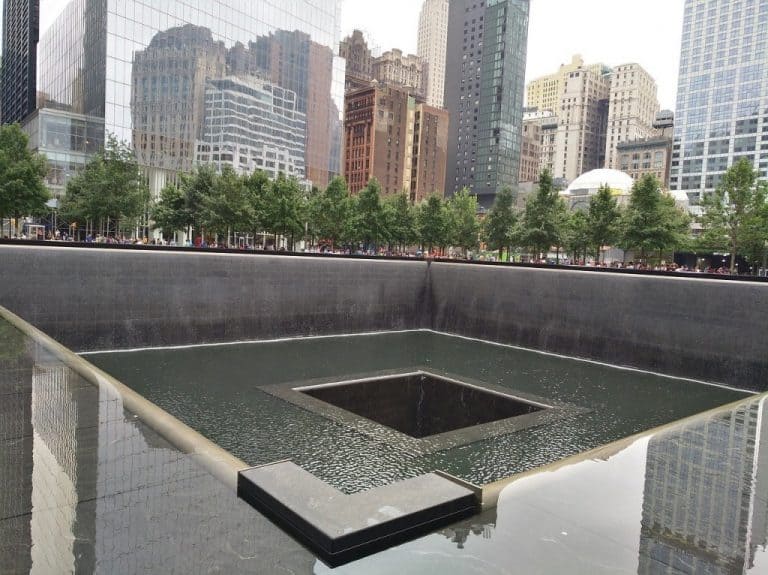 The two largest man-made waterfalls in the US now stand in the space once occupied by the Twin Towers, a serene, poignant and fitting tribute to the thousands that never came home that day. The museum is a beautiful modern building with some fascinating exhibits, and while you're in the area check out the One World Trade Center complex during your NYC itinerary.
Liberty Island
Timing a visit to New Yorks most recognizable landmark (and one of the most recognizable landmarks in the world) for when the sun is going down can be a little tricky – but it's oh so worth it. Seeing the iconic Statue of Liberty up close at dusk is a must-not-miss experience during any 24 hours in New York City.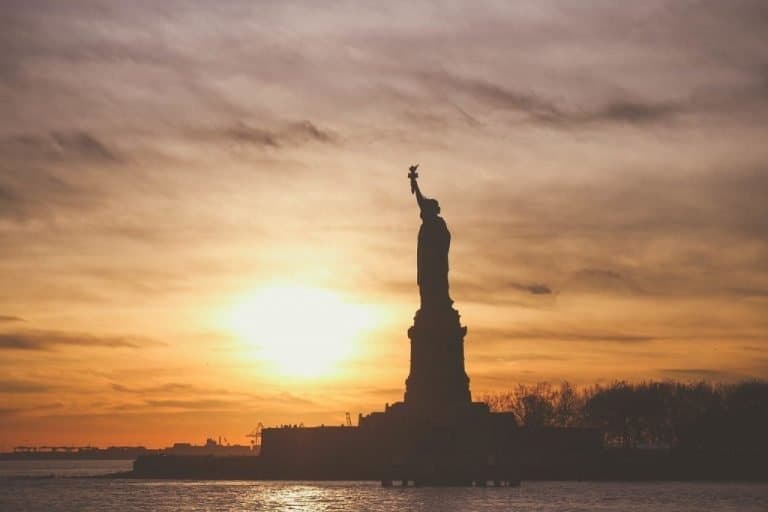 A gift from the French back in 1886, it is one of the USA's most endearing and powerful symbols of freedom. Guided tours are available (and recommended) but you need to book in advance if you want to get into the crown for some incredible views over the bay. Take the ferry from Battery Park Terminal at sunset for the best experience.
The Brooklyn Bridge
Completed in 1883, the world's first steel suspension bridge is still standing strong today, yet another iconic structure in this great city. It's visible from your Liberty Island ferry (and from several other locations) but the best way to enjoy it is by foot – taking a stroll over to the Brooklyn side and there to dine in any number of excellent local eateries.
But if the romance of the walk back across this inspiring architectural marvel doesn't grab you – then you must be dead inside. A stunning view of Manhatten awaits, millions of lights twinkling, as you wander the wooden boarded pedestrian walkway back into downtown. It's a vista that you won't forget in a hurry and another essential part of your NYC itinerary.
Times Square
Remember this is the city that never sleeps, and when darkness falls New York really comes to life. Perhaps the best place you can experience this in the whole metropolis is among the dazzling lights and dizzying showbiz spectacle that is Times Square – probably the most famous plaza in the world.
Busy at any time of day, it's especially teeming with people at night, a living, breathing fiesta of colors, sights, smells and sounds. You won't know where to look such is the hypnotic effect of the place. Before you fall down, take a breather on the bleachers and try to take it all in. It is one of the craziest sights you'll ever see. Now, imagine being there on New Year's Eve?!
Broadway
Start spreading the news…if there's a good chance you won't fall asleep in your seat, you really should try and catch a Broadway show to finish your whirlwind tour. All the classics are here, The Phantom of the Opera, The Lion King, Wicked, Cats…you name it. Or, alternatively, take in something new, low-key or underground. Maybe you'll find a hidden gem?
Although you should really try to purchase tickets well in advance for the more popular productions, certainly for the lesser-known shows and performances you should be able to snatch something last minute. Don't be discouraged – you're sure to find a ticket if you shop around and there are bargain seats to be had. Keep your eye out for touts though and don't get scammed!
Poconos
If you are planning to explore other places near New York, the Pocono Mountains is a promising destination. It is just 1 hr 30 minutes away. Poconos is all about outdoor adventures and recreational activities. The drive to Poconos is short yet scenic and you get to explore nature in all its glory. There are many things to do in Lake Harmony and other National Parks with an inventory of exciting activities.
24 Hours in NYC – A Summary
When you're on your connecting flight or whatever onward journey your taking next, that will be the moment to catch your breath. 24 hours in New York City will really take it out of you, but if that's all the time you've got, then that's the only way to do it. Either that or you'll have to make a special trip and stay much longer.
Just remember to pick up your luggage when the day is done!
What would you have done differently with 24 hours in New York? Let us know!