Once a poster child for intrepid travel in Southeast Asia, today's Nong Khiaw might not be the little known, off-the-grid paradise of decades past.
Yet, Nong Khiaw remains a supremely stunning and rewarding destination for travelers looking for a healthy balance of rustic solitude and basic amenities, served with a generous dose of adventure.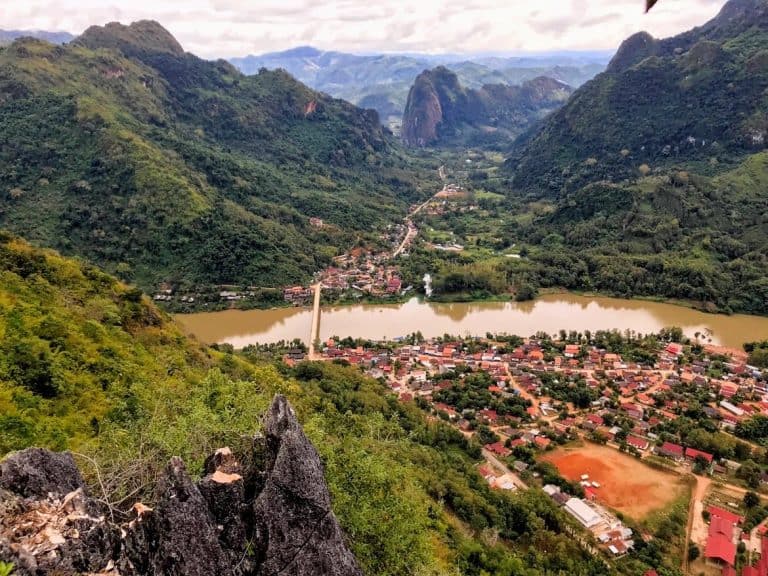 Nong Khiaw might just be the best of Laos rolled into one destination, offering dramatic karst formations, friendly residents, and a laid back vibe — all without sacrificing creature comforts like excellent restaurants, comfortable guesthouses, and modern infrastructure.
Do you like to hike and scale dramatic ridges and have the trail (and panoramic view) [mostly] to yourself?
Do you like riverboat adventures to less trodden villages?
How about whiling away an afternoon in a hammock or ending the day with a delicious steak and a riverfront view for less than the cost of a Starbucks foofy drink in Bangkok?
Intrigued? Read on for ideas of what to do in Nong Khiaw during a 3-day itinerary.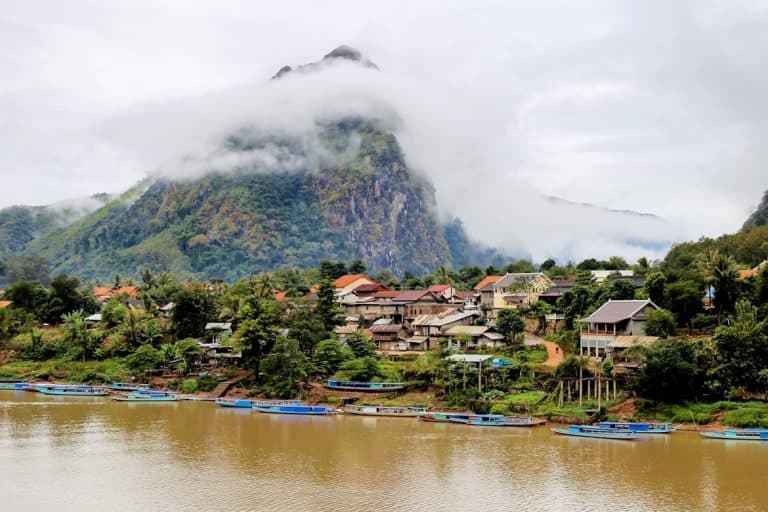 Why Visit Nong Khiaw?
Most travelers visit Nong Khiaw to take in (and interact) with the natural surroundings, which by all accounts are stunning. If you like outdoor activities, Nong Khiaw is an excellent jumping-off point for hiking, trekking, climbing, zip-lining, caving, and much more.
Nong Khiaw's location is also a major factor in visiting. Once you're here, it may seem like a world apart, but in fact, is a straightforward 3-4 hour journey by local bus or minivan from Laos' top tourist destination, Luang Prabang. A 4-hour journey by public transport may seem long to some, but consider this — it is this factor alone that currently keeps the tourist crowds from spilling out of Luang Prabang, at least for now. Worry not, though, there are other local bus connections possible.
Finally, Nong Khiaw is an excellent antidote for temple burnout, tourist-trail fatigue, and same-same-but-different travel destinations. If you're looking to get away from Southeast Asia's most visited destinations and add a bit more authenticity to your travels, Nong Khiaw delivers, which is exactly why we added Nong Khiaw to our own itinerary on our last trip to Luang Prabang.
A 3-day itinerary for Nong Khiaw may very well prove too short a time to devote to this amazing place, but it's a pretty good starting point for most travelers.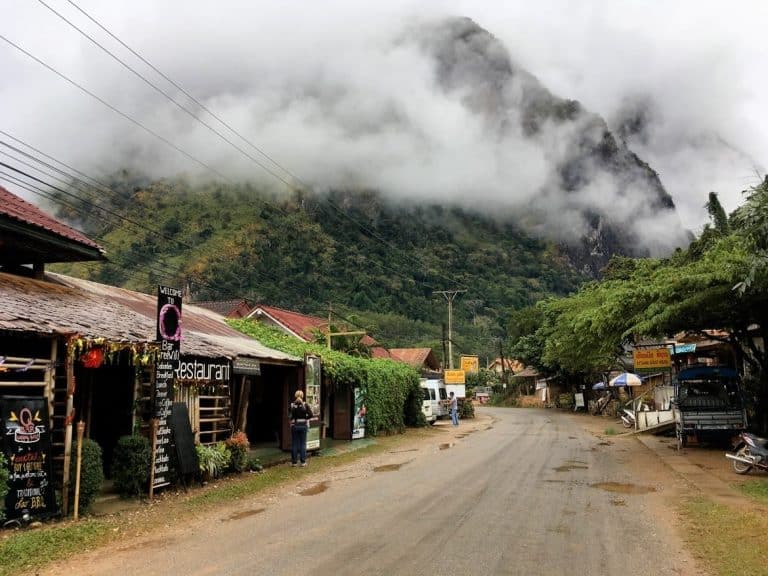 Who Might Want to Skip Nong Khiaw?
Some like to call Nong Khiaw the "New Vang Vieng" on account of its dramatic karst landscape and opportunities for outdoor adventures. But let's get one thing clear — you don't visit Nong Khiaw for the nightlife, and you certainly don't come here to party with a hundred of your closest new Gap Year friends.
You also shouldn't visit Nong Khiaw expecting an "undiscovered" paradise. If you've been wandering the planet barefoot for a decade and are adamant about being the only Westerner within an hour's journey, you'll probably want to skip Nong Khiaw and head to Phongsali or Houaphanh.
If you demand five-star luxury, a swimming pool, and Michelin-rated restaurants, you most certainly will want to skip Nong Khiaw, but that's pretty self-evident.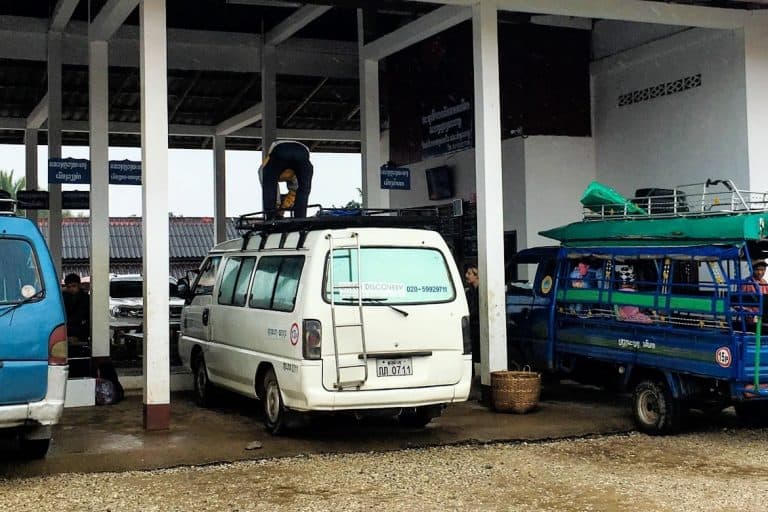 How to Get to Nong Khiaw?
Nong Khiaw is located 140km northeast of the increasingly popular UNESCO World Heritage town of Luang Prabang in Northern Laos. That puts Nong Khiaw a mere 500 km from Chiang Mai and 400 km from Hanoi — as the crow flies.
The terrain in Northern Laos is rugged and the road infrastructure is poor (but improving), which can translate into long days (and nights) making the journey by public transport from the region's closest major cities.
Fortunately, Luang Prabang and its international airport (LPQ) are not far. As an added bonus, buses and minibuses for Nong Khiaw arrive and depart from the Northern Bus Station conveniently located just north of the runway at LPQ. Being based out of Vientiane, I was able to board a flight in the Laos capital at around 8am and be laying in my hammock sipping sundowners on the Nam Ou river by 4pm.
While there are plenty of options for getting to Luang Prabang, road transport is currently the only option for getting between Luang Prabang and Nong Khiaw.
Up until a few years ago, you could also make the trip by boat. However, the construction of dams along the Ou River put an end to ferry traffic between the two towns.
By Bus
Generally speaking, taking the bus in Laos is going to be a safer and more reliable public option. The road between Luang Prabang and Nong Khiaw is well maintained, mostly sealed, and not too bad regarding curves (certainly nothing compared to the road between Luang Prabang and Vang Vieng). If you're sensitive to winding roads, opt for the bus over the minibus.
Buses generally depart from Luang Prabang transit center at 09:00, 11:00, and 14:00. The journey typically takes 3-4 hours and costs 40,000 LAK. We've heard some accounts of a "tourist class" bus for 50,000 LAK departing at 09:00, but this did not appear to be an option when we last did the trip in the height of tourist season.
Along those same lines, it's best to keep in mind that in Laos, all of this information is subject to change without notice, particularly during local and national holidays.
By Minibus & Songtaew
Some consider minibuses to be a more comfortable option when compared to full-size buses. With the exception of private hires, I can't personally say I've been on a minibus journey in Laos that exceeded the comforts of taking a big bus.
Minibus schedules (if you can call them that) tend to be far less reliable than that of their big bus brethren, often leaving when full (which can take some time…or no time at all).
I suggest going in with the mindset that minibuses leave about every two hours from 09:00 to late afternoon and strongly caution against pinning your hopes on one leaving at any specific time. In that sense, the big advantage of taking a minibus is there may likely be one leaving sooner than a big bus if you happen to arrive at the station between bus departures.
Minibuses take 3-5 hours, depending on factors such as weather, how fast the driver feels like driving, and whether you leave Luang Prabang full or empty. If you leave empty, expect to go cruising for passengers around the outskirts of town and stopping numerous times along the way to pick up and drop off passengers who are only going a short distance.
Occasionally, you may see a songtaew getting ready to depart Luang Prabang for Nong Khiaw, though songtaews are generally used for shorter routes. If you aren't familiar with Laos-style songtaews, they resemble a larger four-wheel version of a tuk-tuk on a delivery truck chassis. Often loaded with monks and colorfully painted (with a blue or silver base), they are hard to miss.
If you are feeling particularly adventurous, a 3-5 hour journey on a songtaew will be memorable, to say the least. Just keep in mind that the ride can get rough, wet, crowded, and hot!
By Private Vehicle
Taking a private shuttle is a good option for those wanting door-to-door service or traveling during off-schedule times. Tickets can be purchased at any reputable travel agency in Luang Prabang city center as well as online.
For those traveling with families or groups, a good option may be to hire a driver and vehicle through your guesthouse in Luang Prabang. Keep in mind that this option will likely be far more expensive than taking the bus or minibus, even after dividing the cost among several passengers, and you may also be expected to cover food and lodging for your driver for the duration of your time in Nong Khiaw.
You can rent a car in Vientiane or Luang Prabang, but doing so can be very expensive and driving on your own in Laos, particularly in the rugged north, can be challenging for visitors.
Finally, as with anywhere else in Laos, the journey can also be done by motorbike or bicycle, both of which can be rented in Luang Prabang at a daily rate. Keep in mind that the route is rugged with a few passes to cover, and riding should be avoided during the rainy season.
Getting from Nong Khiaw Bus Station to Your Destination
Once you arrive in Nong Khiaw, you may need to transfer to a songtaew for a short distance depending on where you are staying.
If you are arriving by minibus, the Minibus Station is located a half kilometer west of the town center and 1-1.5 km from guesthouses in the backpacker enclave of Ban Sophoun across the bridge. Songtaews are usually waiting at the Minibus Station to ferry passengers to where they need to go for a small fee.
If you are traveling by big bus, the bus may stop at the Minibus Station or in the center of town (or both).
3 Day Itinerary for Nong Khiaw
You don't visit Nong Khiaw for a packed itinerary of seeing temples and visiting museums. A visit to Nong Khiaw is all about relaxing, exploring, and taking things down a notch in a beautiful setting. If this sounds like what you're looking for, read on!
Working from the same mindset, this is my recommended 3-day itinerary for visiting Nong Khiaw.
Also keep in mind that this itinerary covers three full days in Nong Khiaw, assuming you will have tacked on a travel day to/from Luang Prabang on each side of this itinerary, for a grand total of four nights in Nong Khiaw. We departed Luang Prabang around noon on a Wednesday and returned to Luang Prabang at 10am on Sunday and felt that that was a good amount of time for a casual visit to Nong Khiaw.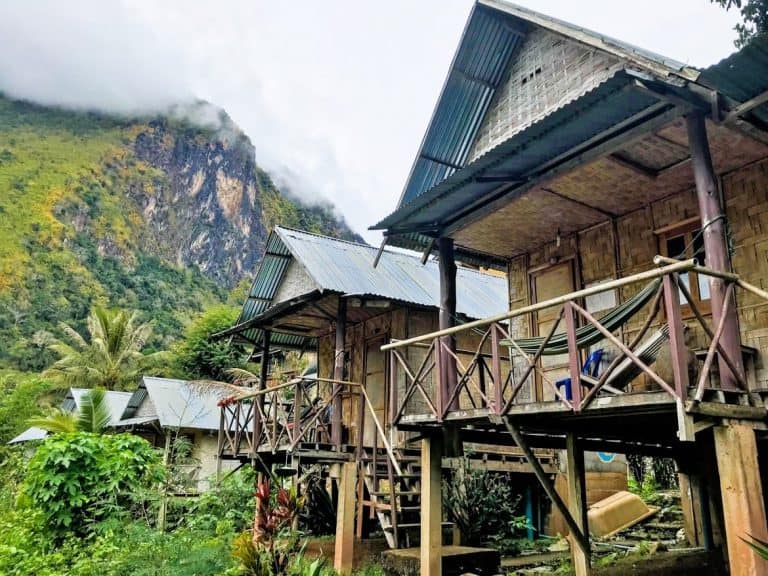 Day 1 in Nong Khiaw
Breakfast at Delilah's Place
Wake up slowly in your comfortable, yet rustic bungalow to the sound of birds singing and fishermen puttering by in small wooden riverboats. Enjoy a hot shower and a leisurely morning walk over the old Chinese bridge connecting Ban Sophoun (where the majority of backpacker accommodation is) with the center of the village.
Head to Delilah's Place, find yourself the perfect seat (there's everything from comfy cushions indoors to cafe tables with a roadside view) and order a hearty breakfast from their sizable menu of Western comfort fare and Pan-Asian favorites.
Delilah's is a great place to meet other travelers, get the latest information on trail conditions, or just chill for a few hours with a strong cup of coffee before setting off to explore.
Visit Tiger Trail
While you're at Delilah's, check out nearby Tiger Trail Travel (there's also an office in Ban Sophoun on the south side of the river). If you've got a bit of extra time and money, Tiger Trail offers tours and packages ranging from half-day to 10-day tours and treks in and around the Nong Khiaw area.
For those who wish to explore Nong Khiaw independently and on foot like we did, read on.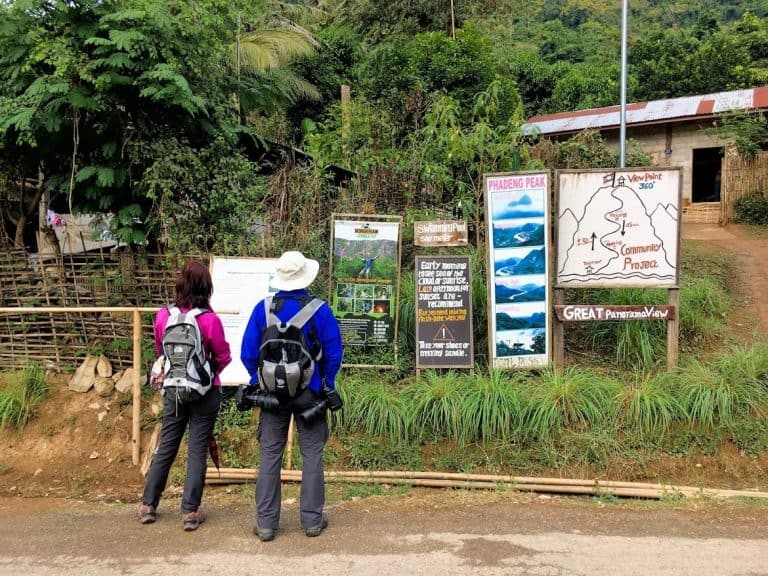 Hike to an Incredible View
Nong Khiaw now has a few excellent viewpoint hikes to choose from that leave right from town and offer stunning views of Nong Khiaw, dramatic karst peaks, and the lush surrounding valleys.
Be forewarned, these viewpoint hikes aren't a lazy stroll up to a touristy temple, but rather steep and strenuous ascents. Expect to use your hands and knees for portions, and exercise extreme caution if it's rained in the past week. With that said, the trails are generally well-maintained and experience low to moderate foot traffic most of the year.
The trailhead for hiking to Pha Daeng Peak (also known as Nong Khiaw Viewpoint #1) is accessed on the east side of the main highway (Route 1C) in Ban Sophoun (south bank of the Ou River in the backpackers' enclave).
The newer Nang None Viewpoint (Nong Khiaw Viewpoint #2 & Sleeping Woman Viewpoint) can be accessed either from the trailhead just behind town on the north side of the main highway (Route 1C) between Hive Bar and Delilah's, or 1 km west of the Minibus Station along Route 1C.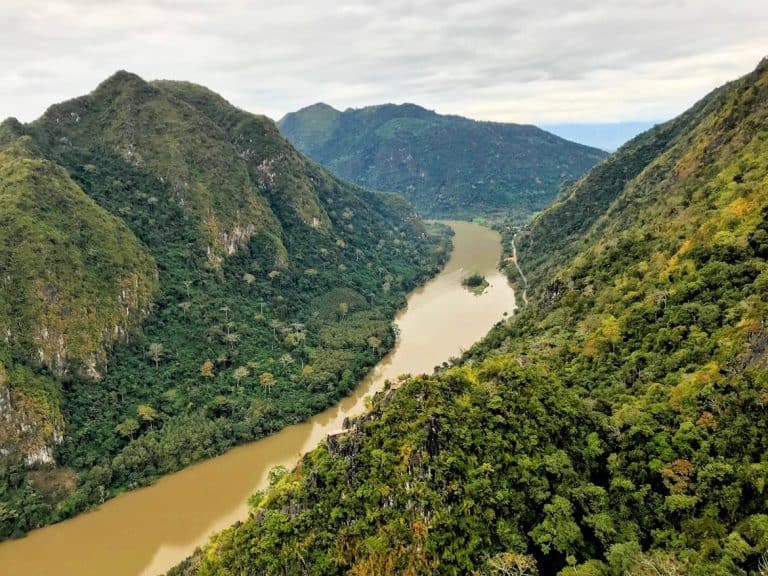 Expect each of these hikes to take a few hours (roundtrip). The best time to hike is early in the morning to avoid the heat and other hikers, or just before sunset. If you do hike before sunset, remember to bring a headlamp! Due to the jagged topography of the area, Nong Khiaw gets very dark, very fast.
Coco Home or Khao Pia for Lunch
After a challenging and rewarding viewpoint hike, head back into town to refuel at any number of excellent eateries. Noodle shops can be found just about anywhere on both sides of the river around lunchtime. If you're hankering for some khao pia (think Lao pho), there's no better (and fresher) time than lunchtime.
If you're in the mood for Western and Pan-Asian fare after your big hike, check out Coco Home Bar & Restaurant for hearty, no MSG offerings and incredible desserts!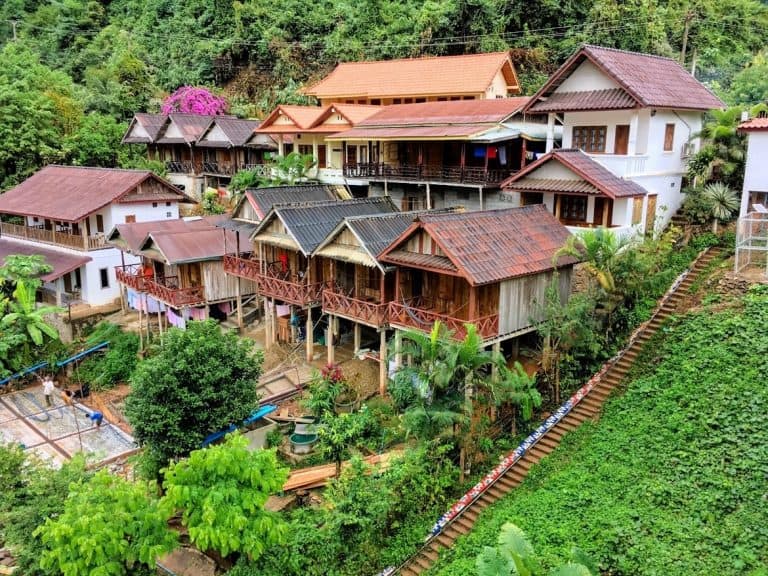 Town Loop Walk, Hammock, Lao Sauna
After a morning of climbing up a mountain, you may well be ready to relax. You're in luck! As there may be no better place in Laos to get your chill on.
If temperatures are on the cooler side (as Nong Khiaw is known for), take this opportunity to walk around the town center, poke into local shops, and explore the waterfront.
If you feel like you've done enough hiking for one day, relax on a hammock at your guesthouse (there are many guesthouses with river-facing bungalows and hammocks on the Ban Sophoun side of the river), chill on a cushion at any number of bars and eateries in Ban Sophoun (or Delilah's in town), or get steamed up at a Lao Sauna (there's a good one on the west side of the main road in Ban Sophoun).
Sundowners & Dinner
Just before sunset, head down to Duangdee Restaurant for a BeerLao or shot of LaoLao on the Ou River. Duangdee is a floating barge restaurant on the south bank of the river accessed from the road to Nong Khiaw Riverside Lodge.
In addition to drinks, Duangdee also has local food offerings. But if you're only in Nong Khiaw for a short visit, I recommend checking out Noymany (just off the road in Ban Sophoun, across from Chennai Indian).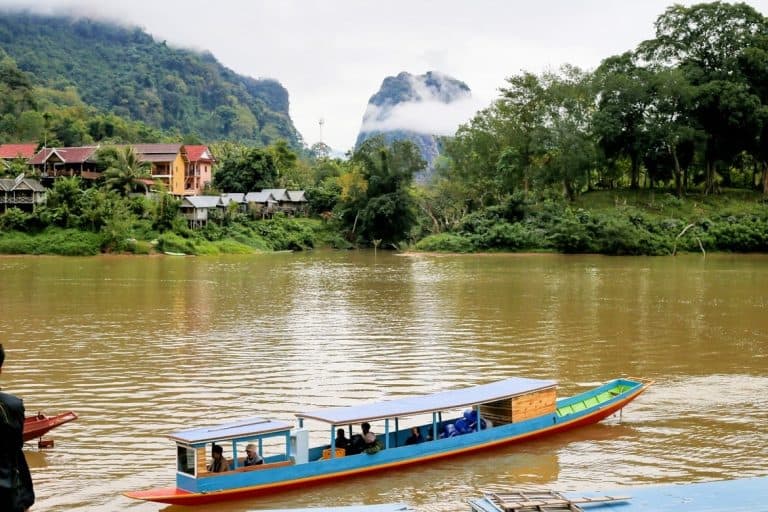 Day 2 in Nong Khiaw
Day Trip to Muang Ngoi (by boat)
On your second full day in Nong Khiaw, I highly recommend doing a day trip to Muang Ngoi by boat. Grab a quick breakfast and a view at Ban Lao Sunset Guesthouse (accessed on the side road near Q Bar) and head to the Boat Office in the town center.
Prior to the damming of the Ou River, taking a boat from Luang Prabang to Muang Ngoi via Nong Khiaw was a favorite journey for backpackers and local holidaymakers. Those days may be gone, but the river remains navigable between Nong Khiaw and Muang Ngoi — and the journey is a stunner!
And just to clear up some confusion, what visitors refer to as Muang Ngoi (or Muang Ngoy) is technically called Muang Ngoi Neua (as Nong Khiaw is often referred to as Muang Ngoi by locals). If there's any confusion with the tour office or boat driver, we're talking here about a day trip to Muang Ngoi Neua, but that should be evident given that you're starting your journey in the other Muang Ngoi. With that said, we're going to refer to the village as Muang Ngoi here for consistency's sake.
Why is Muang Ngoi worth a visit? For a lot of the same reasons you might want to visit Nong Khiaw, but with a memorable boat ride in the mix. It's a small, picturesque village with good services for travelers and some nice hikes to caves and viewpoints.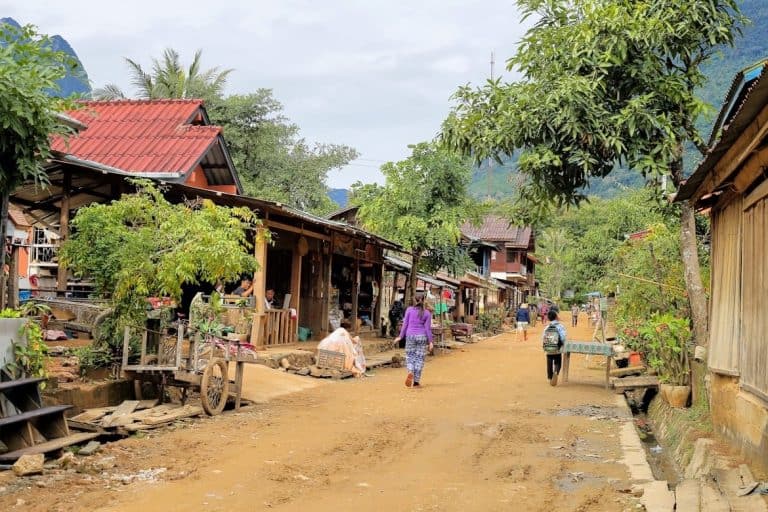 Boat schedules between Nong Khiaw and Muang Ngoi are constantly in flux, so you'll want to enquire at the Boat Office the town center for the current schedule.
Alternatively, if you are traveling with a small group or don't mind spending a little more money, you can always hire a private local boat to do the journey. In addition to being able to depart when you want to, a major benefit of a private hire is being able to make a couple of stops along the way.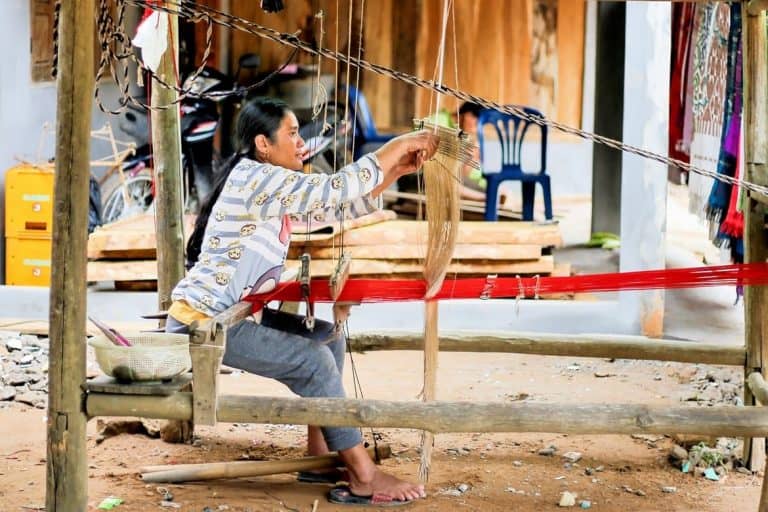 In addition to an extended stop in Muang Ngoi, you can also ask to stop at the ethnic minority weaving village of Sop Cham (farther up the river), and the village of Sop Keng (located between Nong Khiaw and Muang Ngoi) for a scenic rural hike to a waterfall.
For more details on doing the boat trip up the Nam Ou, you can check out my trip report on visiting Muang Ngoi Neua.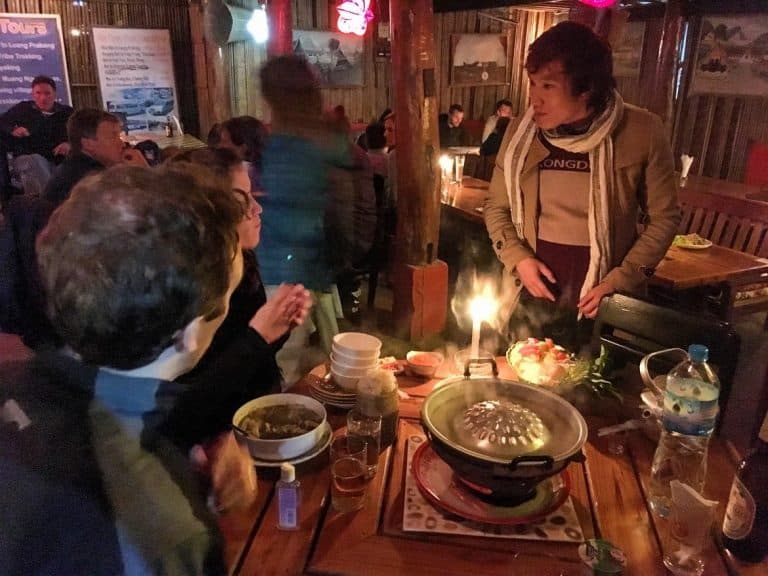 Happy Hour & Dinner at Q Bar
After a long and memorable day on the river, relax with a happy hour drink and tasty dinner at Q Bar in Ban Sophoun. In addition to their mouthwatering menu, Q Bar also offers Lao BBQ (also called sin daat or Lao suki) on certain nights of the week.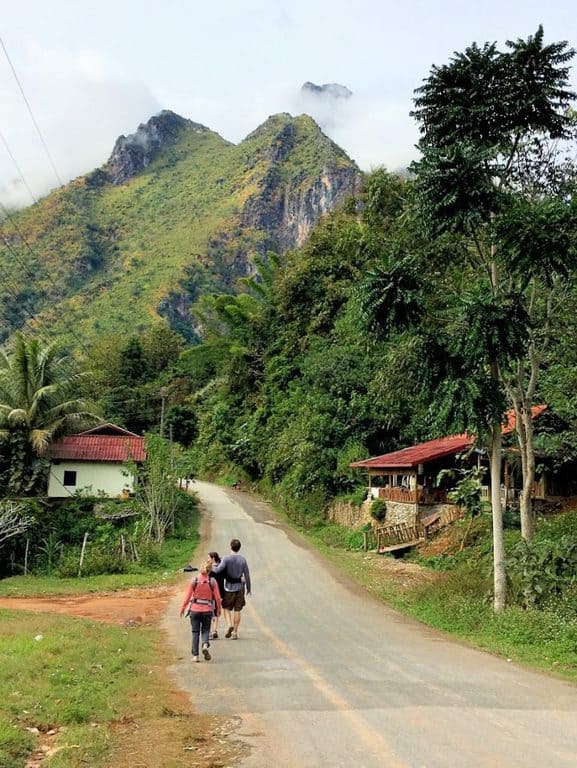 Day 3 in Nong Khiaw
If you've made it this far without falling off a cliff, a boat, or a hammock, it's time to celebrate! And what better way in Nong Khiaw than exploring a cave and sipping a cold beverage?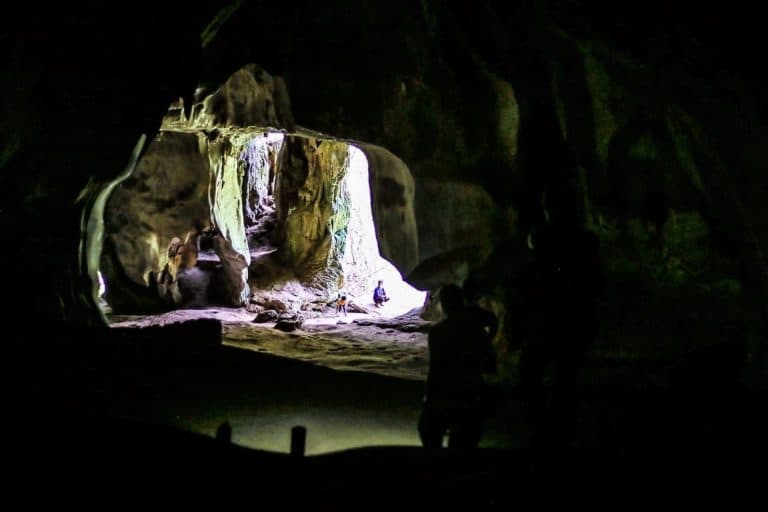 Pha Thak Cave & Restaurant
From Ban Sophoun, follow the main highway (Route 1C) south out of town for 2 km until you arrive at Tham Pha Thak (Pha Thak Cave) complex on the right (also spelled Pha Toke). It's an easy and scenic "hike" along a lazy stretch of tarmac where you're bound to encounter more livestock in the road than vehicles.
Cross a makeshift bamboo bridge to a stilted restaurant where you may or may not need to pay a small entry fee for the cave (and may or may not be accompanied by a couple of local kids acting as your tour guides). Continue along the path from the restaurant towards the sheer limestone wall where steep concrete stairs await for accessing the mouth of the Tham Pha Thak.
While Tham Pha Thak won't win any awards for best cave in Laos, it's still worth a visit — for its natural beauty and for its history, as this is where the Pathet Lao forces set up their provincial headquarters during the Secret War.
Before you head back to town, be sure to stop by the restaurant for a cold beverage or even lunch. Chat up your hosts (we found that some of the younger ones were eager to speak English) and learn more about the cave and the surrounding area.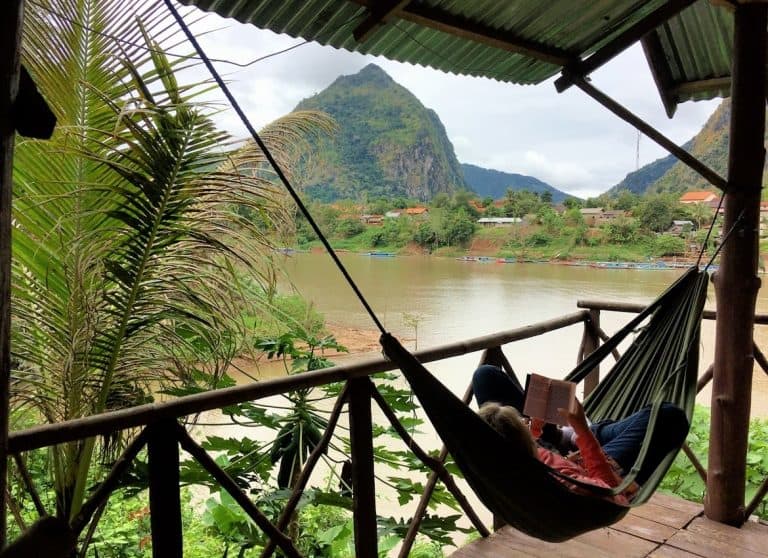 Free Afternoon
Take the opportunity on your final afternoon in Nong Khiaw to soak up the scenery from your hammock, relax at a bar, or hike up to the other viewpoint in town (sensing a theme yet?).
Due to Nong Khiaw's higher elevation and cool[er] climate, afternoons often remain quite comfortable. But even if it feels cool, don't forget about hydration! The humidity can still be brutal.
If you're not yet tired of caves, you could visit Tham Pha Kuang located just off the main highway about 1.5 km west of the Minibus Station. Additionally, you could also peek into some of the local temples and have a chat with the monks — many are eager to practice their English skills with foreigners. And finally, you could ask at your guesthouse about the possibility of fishing or swimming in the river, both of which are dependent on the season.
Dinner at Nong Kiau Riverside Resort Restaurant
On your last evening in town, treat yourself to a riverside meal at Nong Kiau Riverside Resort Restaurant located just east of the bridge on the southern/ Ban Sophoun side. For those on tighter traveler budgets, consider grabbing a happy hour drink here for sunset, then a local bite to eat back in town.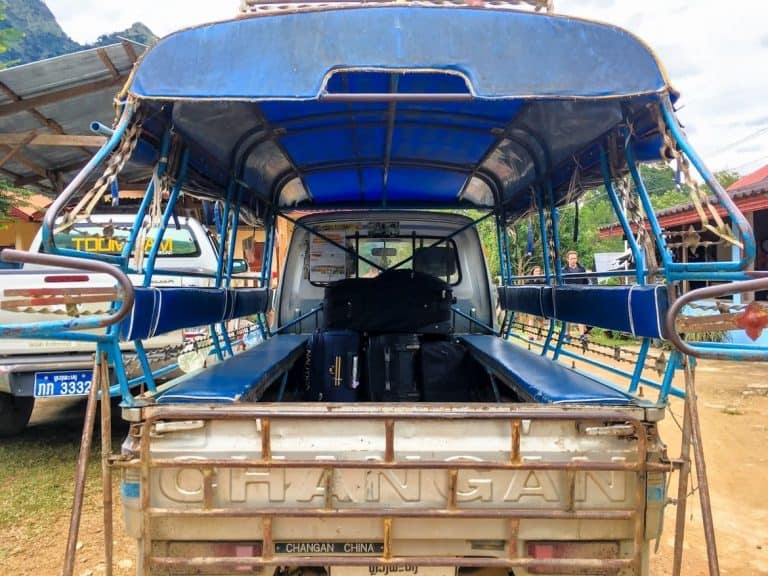 Back to Luang Prabang
You'll find that three days in Nong Khiaw flies by, and before you know it, it's time to head-on. For the lucky ones with time on their side, that might mean upriver to Muang Ngoi Neua for an extended stay in an idyllic little tourist village, then onward to Phongsali. For the rest of us, it's back to Luang Prabang, which by most accounts is certainly not a bad place to retreat to.
If you're keen on taking a big bus back to Luang Prabang. Ask for the current return schedule either at your guesthouse or when you get off of the bus when you arrive. You'll also want to confirm the location as arrival and departure places are frequently different.
If you're traveling by minibus, head to the Minibus Station on the western edge of town and buy a ticket for the next departure. Depending on the day of the week and the time of year, there should be a few departures per day. To be on the safe side, you can visit the station the evening before to confirm the time or show up around 9am the morning of. Minibuses most frequently depart between 9-10am and 11am-12pm, and the trip takes 3-4 hours.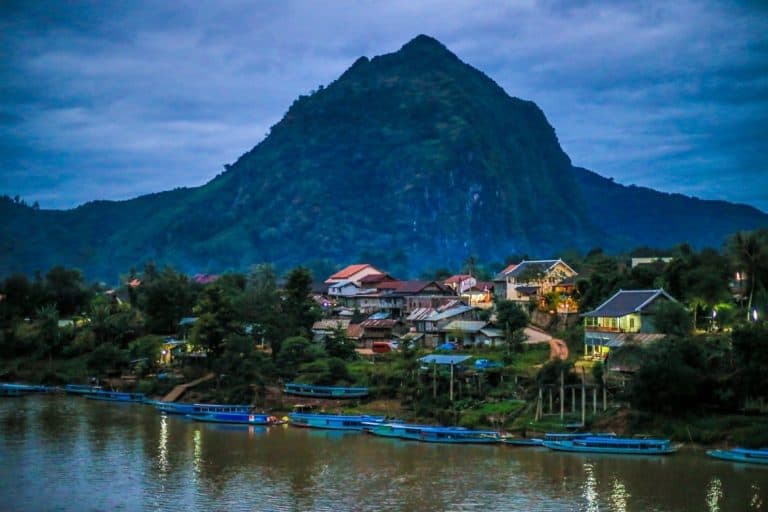 Tips for Visiting Nong Khiaw
Accommodation
Nong Khiaw has a few accommodation options waiting for you. You can find your affordable and comfy place to stay using the map below. The search bar will bring you to any location you want to, and you can use the filters to view different experiences in the area such as nightlife and restaurants.
Money
When we visited, there was at least one reliable ATM (BCEL) next to the bridge in Ban Sophoun. BCEL is the biggest bank in Laos and accepts most major international cards. Unless you pay for your lodging online, expect to pay for everything in Nong Khiaw in cash (LAK). Restaurants and guesthouses may also accept USD in a pinch, but don't count on it.
Clothing
Prepare for rain, even in the "dry season." If you plan on hiking, it helps immensely to have sturdy footwear with good traction. I strongly caution against hiking to either viewpoint in flip-flops (it constantly amazes me how many travelers I see doing this in Laos, and how surprised they seem when they inevitably bloody up their feet or lose one (or both) of their sandals over a cliff or in the muck).
Cultural Considerations
Along the lines of clothing, make sure you cover up around town. This is a conservative culture where modesty of dress is expected, particularly when visiting temples (vats). Also, keep in mind that average Laotians are generally reserved and passive in their dealings with foreigners. Many travelers misconstrue this for unfriendliness. A smile, a few Lao phrases, and a respectful nop go a long way in breaking the ice.
When to Visit Nong Khiaw
November through February is often considered the best time to visit Laos in general, as these are the coolest, driest months of the year. That means little to no rain in Central Laos, but the chance of rain in Luang Prabang province (where Nong Khiaw is located) is high year-round. While Nong Khiaw doesn't see anywhere near the number of visitors that places such as Luang Prabang or Vang Vieng see, traveler numbers do seem to peak in December and January. Expect discounts on lodging (and torrential rain!!!) in July and August.
Pin It For Later