You can now download this article as an app and get an offline map so you can go and see these places yourself.
Singapore vs. Money
Before heading to Singapore, I came across the Economist Intelligence Unit's 2014 Worldwide Cost of Living survey saying that the island city of Singapore had been named the world's most expensive city to live in.
I was almost sure that Tokyo was a leader in these statistics, but surprisingly Singapore took it over. Although Singapore is the most expensive place in the world to buy clothes, relies heavily on imported goods and has an increasingly strong currency, we did not find it that expensive.
In fact, we think it's much cheaper than Hong Kong especially when it comes to food and attractions.
As you probably guessed, we managed to stay in Singapore for a day without overspending.
1 Singapore Dollar (SGD) = $0.78
YES! That means we have spent less than $25 each when in Singapore, actually it was much less than we expected to spend. Here is the breakdown of our costs of one day spent in Singapore:
Accommodation expenses: 0 SGD ($0)
Luckily for us, we managed to explore Singapore without booking anything. We did not do couchsurfing either.
How did we do it then?
We simply didn't sleep much. Not much means having a few short 30 minute naps and off we go explore what Singapore has to offer!
We arrived at Singapore airport after midnight and we headed straight to one of the Hawker Centers. The food stands are not open until 6 am, but we could find a table with chairs where we could sit down and rest a bit. Indian restaurants around were serving food 24/7 so we felt safe to stay there for some time and get our energy back. It was kinda exhausting, but going to a hostel for 4-5 hours would not change anything, but we preferred saving money than wasting our time looking for a budget accommodation.
We stopped by at laundry shop to have some sleep as well. It was clean, quiet and safe there with no other people around. In this way, we spent $0 on accommodation. Personally, I would not recommend it to anyone as you might be way too knackered to enjoy your sightseeing. Singapore was hot and not having a shower after a long flight is not a nice feeling.
Food expenses: 15 SGD ($12) a person
As many travel bloggers recommended, we dined out at one of 5 biggest Hawker Centers in the city to delight our taste buds with Singapore's signature dishes without spending much money. Our favourite place was Maxwell Hawker Centre located at the edge of Chinatown (1 Kadayanallur St Singapore 069184, open time: Daily 8am – 10pm).
The food budget for the two of us was 30 SGDg, which is around $24. We ordered a lot of different dishes and tried some of each sharing the cost. In this way we were able to taste various Singaporean local dishes on the cheap.
There are more than 100 different dishes served here, so get yourself ready for trying some fish soup (3 SGD), Thai pancakes (2 SGD), sweet conginee (2 SGD) or famous Indian roti prata (4 SGD). The quality is also unbeatable!
In our next posts we will focus more on the food and their prices, but below we can see what we ate at Hawker Center.
Transport: SGD 8 ($6)
We spent SGD 4 to get from the airport to city center and back (SGD 2 each way) and another 4 SGD to have a bus ride around the city as we were too tired to walk all day long.
[box type="info" size="large" style="rounded" border="full"]Bus number 36 goes from Changi Airport to various places. These are air-conditioned. This bus does not have much room for luggage, and locals will be getting on and off as it is a normal passenger bus, not a dedicated Airport Transfer. This link shows Bus Route #36 from and back to the Airport. One way ticket costs SGD 2. Avoid taxis as the minimum charge will be SGD 20.
Sightseeing: SGD 0 ($0)
Believe me or not, but you can explore Singapore in 48 hours without missing anything important. Most of local temples such as Buddha Tooth Relic Temple and Museum in Chinatown were free of charge. One of the main attractions in Singapore on the cheap was to go down to the Marina to shoot some shots of this magnificent city lit up at night and reflected across the water. The cityscape of Singapore is beautiful at night and you can chill out by the water's edge with the jazz band playing in the background, the humid air keeping you warm and take some time out to appreciate it's skyline.
We also visited East Coast Seafood Centre which is a super family friendly row of restaurants where you can experience authentic local cuisine. We went to local markets, went to Marina Bay area and visited museum of Art and History.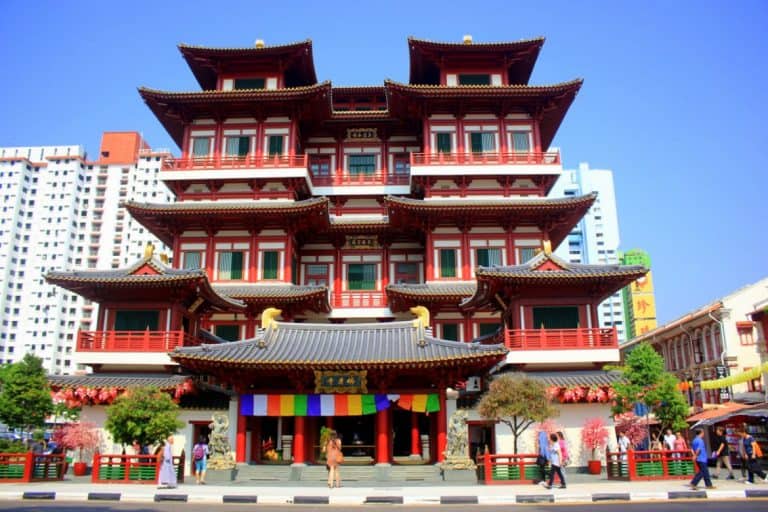 Summary
We are proud to announce that we managed to spend a day in Singapore for only $18! We could spend much more, but not less. The city has much more to offer, but we mostly focused on exploring local food and city center. As you can see, Singapore might be also a budget friendly city with plenty of different activities to do on the cheap. You just need to plan things ahead and be well-organised. Without a doubt, you will not be bored here and you will love every second of the hectic day!
 Do/did you find Singapore cheap or expensive?