Experience The Real Holland, But Smaller
If you are in Holland and you think of spending a nice day outdoor with a family, kids or friends, Madurodam would be a great idea! Located in the Scheveningen district of the Hague, it is one of the most visited tourist attractions in the country. It is also a perfect place for those who have not managed to see much in Holland (apart from Amsterdam) and they are interested in Dutch architecture, history and landmarks.
The whole country in one place – how innovative!
About Madurodam
Madurodam is a very unique open-air theme park, a mini-city on a 1;25 scale. Here, you will be able to experience the authentic and rich history of the country through amazing scale models – from Dutch bridges, windmills, major landmarks and canals from all around the Netherlands.
The best time to visit Madurodam is definitely summer (remember it's an open-air place) so you can enjoy the sun while doing your walk through the Land of Tulips and Windmills. I was lucky that day as it was warm and nice outside and it rained a lot the following day, so my advice is to check the weather forecast before you plan to go there.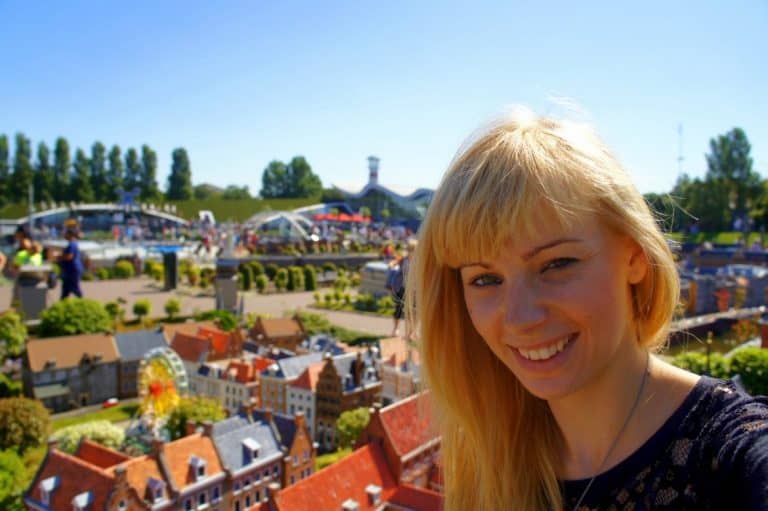 The whole walk though the theme park took me 3 hours, but you can do it either longer or shorter depending on what you want to do and see. I watched every single video related to the history and culture of Holland and often stopped to take some photos.
You can get a free map of Madurodam at the entrance so you can plan your walk carefully.
Madurodam was created 61 years ago (first opened in 1952) and since that day more than 10 millions of people have visited it.
Parents with kids can have a lot of fun there. They can load and unload ships in the Port of Rotterdam or operate a scale model of the Oosterscheldekering storm surge barrier.
Madurodam is also a very educational place as you can experience the stories behind many buildings in the Netherlands. There are plenty of interactive screens on which (after swapping the card you are given at the front door) you can watch short movies explaining some stories about other highlights of Dutch history and culture.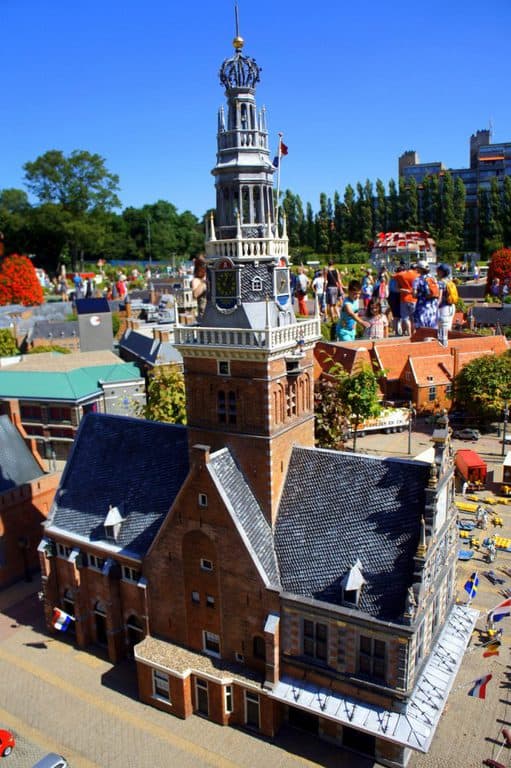 Madurodam is divided into three theme areas:
WaterRijk (water as friend and foe)
StedenRijk (old town centre)
VindingRijk (The Netherlands as a source of inspiration for the world)
In my opinion, the globe-shaped Wereldkijker was the most interesting area. I could see what the Dutch have accomplished in the world and experienced what makes a small country so big.
There is also a huge playground where kids can have fun and mini park where you can have a snack or a picnic if you bring your own food.
How to Get to Madurodam
Madurodam is located within the Hague (between Central Hague and Scheveningen you can easily get to it by car and park there for a fee (€ 8.50 per day)
From Amsterdam: you need to take a train (leaving every 15 minutes) from Central Amsterdam to Den Haag HS (return train ticket costs €21,70) and you will get there within 1 hour
When you get to the train station in Haag, you need to take Tram 9 to Madurodam which stops in front of entrance, about 20 minutes (one way tram ticket costs €3 )
You can also walk there (takes about 1 hour) or you can have a stroll on the way back (as I did) visiting the city center of Hague which is lovely in summer
Expenses
Entrance ticket to Madurodam costs €15
Tram tickets to get there €6
No food expenses if you pack your own food (recommended fruits, nuts, chopped veggies and water)
There is also a shop with some souvenirs for tourists (high prices) so don't go overboard with buying way too much stuff
The train from Amsterdam to Hague €21,70
In total: €42.70
Additional info
No pets allowed
Madurodam is daily open from 9:00 – 19:00
The ticket office closes at 18:00
If you buy your ticket online you can save €1
The official website of Madurodam (in English)
If you were ever thinking how one might be able to see an entire country in one day, this is it! You will definitely have a lovely afternoon discovering what Holland has to offer to its visitors, from amazing harbor, huge windmills, local trains and airports.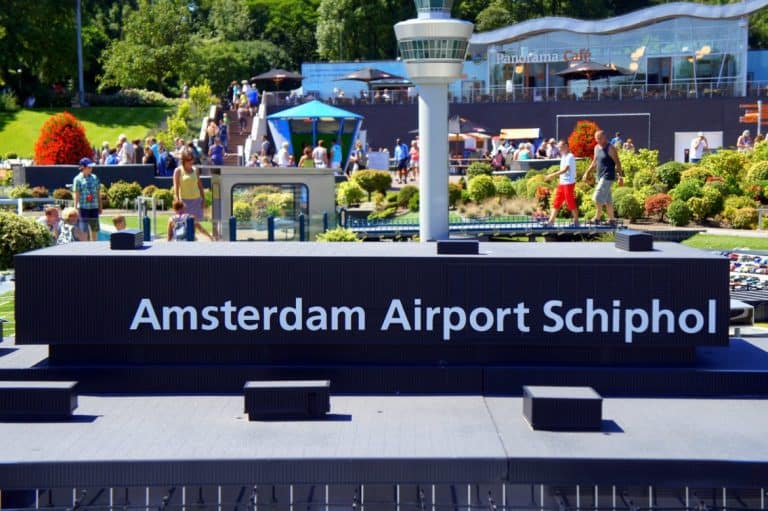 I spent a nice day there and I have definitely learnt a lot about Dutch history and culture while relaxing and chilling in the sun. Madurodam made me realize how beautiful, diverse and small Holland is and how charming it can be.
Surprisingly, there were not many foreigners at that day. Instead, I saw plenty of Dutch families with their kids strolling around the park, taking photos and playing games together. They all smiled to me and waved!
If Madurodam Is Not Enough, Go Explore Hague
If you still have some time left, you can go to the city center of Hague, sit down in one of the parks and admire its beauty.
If you look at the list of must-see attractions in Hague, you will get a headache as this city has so much to offer – from The Municipal Museum, The Royal Picture Gallery Mauritshuis to Noordeinde Palace. It is one or two day walk to see it all, so I only passed by the city center to grab some waffles on my way to the train station (no budget travel tips on Hague this one).
Have you ever visited Madurodam? How did you enjoy your walk through miniature Holland?