One of our favourite travel quotes is "Pack lite, travel far and live long". As we are off to go traveling for a month, starting from Manila (Philippines) and finishing in Bali (Indonesia), we decided to show off how lite we have packed for the journey. We actually can't believe how light our backpacks are!
This time we wanted to make sure that we'll carry only one small backpack each and no more than 5 kg in each backpack. The reason being, it's going to be extremely hot and we don't want to sweat like pigs with a heavy load and it's going to be more convenient and much easier for us to walk when looking for a cheap accommodation around. This morning, we made a list of all necessary things we had to pack in order to survive and here is what we are taking with us for one month journey:
Agness's backpack
"Less is more" in most cases, so I took only (from the top left):
Notebook and flight tickets
Backpack
Straw hat (I had it from one of the local hostels in Kho Phangan, Thailand and we never parted since)
3 t-shirts and 2 shirts
Swimsuit and sunglasses
Shoes
Waterproof bag
Digital camera with all chargers
External hard drive
Perfume
Mp3 player
1 bag of make-up stuff
1 bag of cosmetics
1 bag of plasters and medicines (mainly pain killers)
Phone
Laptop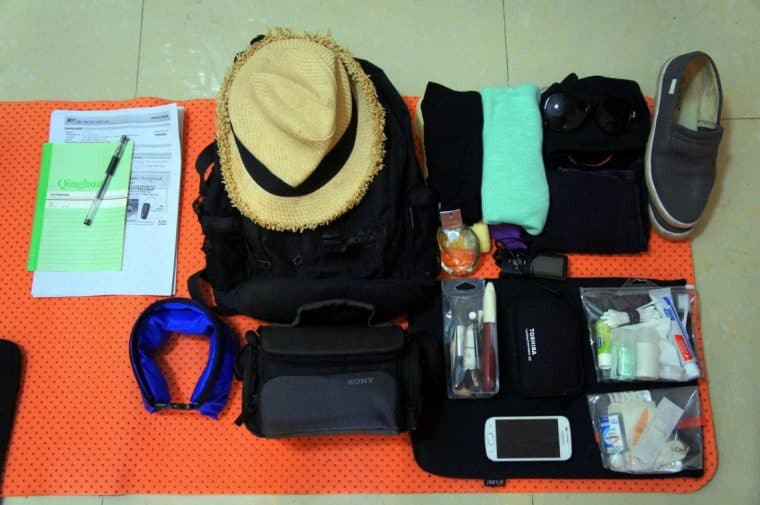 Cez's backpack
Cez took (from the top left):
Backpack
Towel (one for both of us)
3 x t-shirts and 3 x shorts
Mp3 player
Digital camera with all chargers
Passport
Small padlock
Notebook (small laptop)
2 x creams from Agness and a hair gel
Toothbrush and shaving kit
Waterproof bag
Plan of the journey
Although we have never been well-organised travelers believing that "the less you plan, the more adventurous your journey is", this time we wanted to plan things in advance (money saving + meeting travel bloggers on the road). Based on your recommendations (comments, e-mails and Facebook messages we are so grateful for), we came up with a well-structured plan of journey adding a lot of interesting and stunning places.
On our list there are some places like Pagudpud, Batad, Malapascua Rice Terraces, Donsol Bay, Camguin or El Nido in the Philippines, China Town, hawker center and Marina Bay Sand in Singapore and Gili Islands, Ubud and Padang Bai in Indonesia. Of course these are only few places we are planning to explore. We are still flexible with time and destinations and hope to meet some awesome people on road who will make us change our plan!
We would like to say thank you for all of your comments, advice and expertise! We really appreciate it.
Let the adventure begin… Manila, here we come!