The Day When the Accident Happened…
On Thursday the 4th of July, I was looking forward 11:20am when I would finish work at the kindergarten for the day and could resume preparations for my Japan cycling trip. Unfortunately, I did not come back home this day – I have not been home since – I had an accident during one of my morning classes.
I teach English, 2-6 years old Chinese kids, and as you may imagine I have to be very active to attract and retain their attention during the classes. I don't speak Chinese at the level where I could explain new words, so I have to illustrate them.
I was in front of twenty 4-year-olds making them laugh. I turned around and my foot got stuck to the floor. I felt bones in my left knee separate and crack. I lost all control over my left leg and fell to the ground.
It apparently didn't look as dramatic as it felt. Kids thought I was playing with them so they fell to the floor, pushed their way to jump on me and as I was protecting the knee with hands, they wanted to touch it more. The two teachers who accompanied me during the class were laughing and teasing kids, Even me shouting to them didn't help (they don't speak English). It took very long 5 minutes before they realised I was not joking, asked kids to sit down, and called Agness.
All the way to hospital, nobody took it seriously, I even thought that I'm exaggerating, but I simply couldn't move my leg and was in excruciating pain.
First Impression of Chinese Hospitals
Dalang Hospital was the closest one and the doctor was the first person to finally take me seriously. I was rolled in from the parking lot to the reception on a hospital bed. My knee was bent and I couldn't move it. I had to take few x-ray scans, which were useless in the long term, but showed the doctor I can have my leg straighten up.
The doctor had to put the bones back in place. Two men held me down while he forced my leg to straighten up. I certainly don't want to have that done to me ever again.
Few hours later I was able to go on a wheelchair and start the second round of scans, 9 in total. Looking at them, the doctor said that I may have a surgery, but there's a good chance I will not need one.
They took great care of me in Dalang Hospital. All the staff was amazing, with nurses worrying about me being so far from home. They were all coming to talk to me and take photos. Whatever I need, I got it before even asking. I had my own wheelchair to go around the ward and beyond. Some of my students' parents work in Dalang Hospital, so they were visiting me, it was convenient for Agness and all my other friends to come over.
Dalang Hospital does not specialise in treating this type of injuries, they recommended to me that I should go to Dongguan Hospital of Chinese Medicine. That's the hospital where I am now, it's a one hour taxi ride from my home in Dalang. They have totally different approach to the patient here, i.e. patient is a source of money, no need to care too much. When we arrived at the hospital by school bus (so that I can lay on the floor), I was not allowed to be rolled in on a wheelchair, because this privilege applies after being seen by a doctor and paying for the first night in the hospital. Not to mention that 8 wheelchairs were chained just few metres away. My boss had to bribe the doctor, for him to see me (no details, but a lot of money). There were few other unusual in Western countries behaviors, but that's enough to paint the picture.
The Shocking Diagnosis
The most annoying aspect of being in a Chinese hospital is that nobody tells you anything. It's not only the case of language barrier. My doctors speak English, however they are very reluctant to tell me bad news.
I thought it was something minor, few weeks with a leg in a cast, a bit of pain and that's all. It only crossed my mind after few days to ask how long I will not be able to walk. Then, reluctantly, the doctor said "several months". It blew me away. I asked for specifics, just to be told "6 months or so".
The news rushed to my head, I was speechless. That wasn't the answer I ever expected to hear. I was devastated. What if I cannot cycle long distance again? What if it doesn't heal well? Nobody can answer this, and I'm not sure if I really want to know.
Bitter Sweet Truth about Chinese Medical Care
It won't shock anyone that Asia is cheap – as long as you are healthy. Hospitals certainly are not cheap in China. This applies to foreigners even more than to locals, which is understandable.
One night stay in a hospital can cost up to $300, as it is in my case. Then, they try to keep me here as long as they possibly can. Whereas in Dalang Hospital I had injections daily and understood I need to be there, in Dongguan Hospital I had no attention or any medical assistance up to now. I might have gone home and come back for surgery, and it would not change a thing. However, they have me hospitalised, because I pay cash.
If you ever have to stay in hospital in China, please remember to take cash with you, because you need to buy food. I think this is because normally Chinese people are surrounded with friends and relatives all day long in hospitals, so they don't need food served by hospital staff.
The good side of Chinese hospitals is that the nurses are usually friendly and helpful, water is free and microwaves available. The doctors will make a thorough assessment through all kinds of examinations.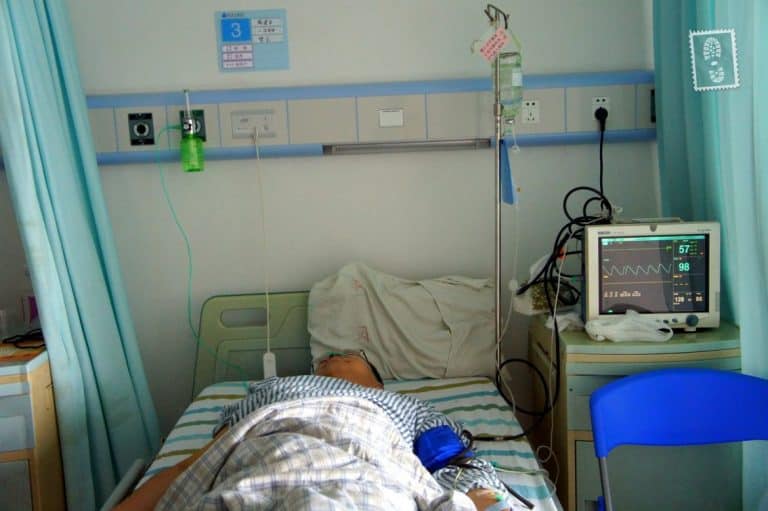 The downside is that when you get transferred, as I was, you need to undergo all the tests again – and pay for them. The new doctor will not approve of the previous results and needs to check again.
Enormous Support
Throughout my stay in hospital I had an enormous support from everyone around. I had my friends visiting me daily and cooking for me amazing Chinese dumplings. I received so many fruits that I could feed entire ward. My work was very supportive and provided me with anything I needed. My co-teachers visited me to say that students missed me. Even some parents came along to see how I was doing.
I had a limited contact with my family, who'd want me to come home. I truly would love to, especially now. They are with me all along.
Agness was amazing support to me, keeping me sane here. She also told me about all the amazing messages from you all on Facebook, twitter and emails.
I would like to thank you all for the support – it means a lot to me!
Recovery
I'm awaiting surgery next week, after which I will stay in bed for some time. Then I will need to exercise the knee, probably for a long time, and I hope to regain full capabilities as soon as possible. Doctors say it will take long time, but I'm positive and determined to get back to cycling and traveling.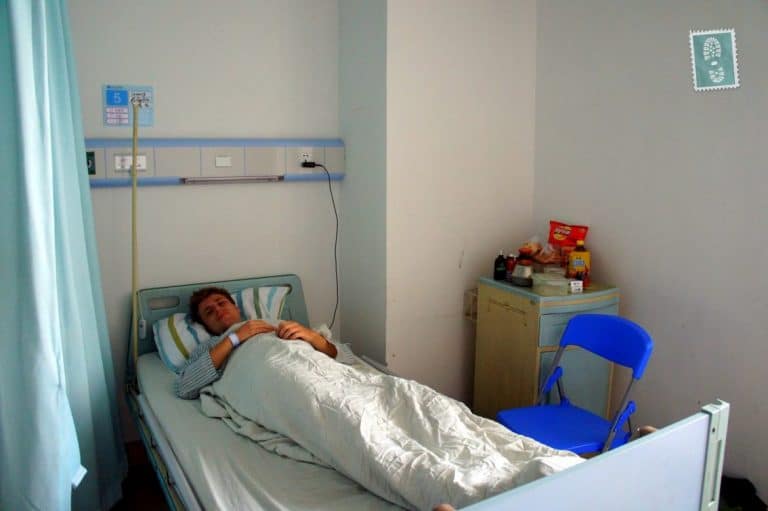 Of course, this accident will not kill the spirit of travel. I don't know how feasible it will be for me travel, but I certainly won't give up. You will soon probably read a few "disabled-friendly" articles on eTramping.
Final Reflections
On the 27th July 2013 I was going to board a ferry in Shanghai, which would then take me to Osaka in Japan. Then I wanted to cycle around this beautiful country. I wanted to fulfill my passion of cycling, fulfill my childhood dreams of seeing Japan, and raise money for charity.
I did not make it official, although I was about to when the accident happened. I have gathered most of the gear I needed: bicycle specially prepared for the length of the trip and my individual needs, camp cooking kit so that I can eat cheaply, tent and everything I need to survive without hotels, and everything else in between. I also managed to sketch the route and had few days of training behind me. The goals of the trip were as follows:
to cycle 2000 km or more
to raise a minimum of $2000 for a charity in Cambodia
to explore Japan from a different perspective
to travel for 30 days in Japan and spend less than $25 a day (on average, since entrance tickets were to be included in the calculation)
to understand myself better by traveling and camping solo
to prepare for a much longer trip in the future (cycling the whole continent)
I wanted to cover the whole trip in details and thus make it easier for others to follow in a similar –inexpensive – fashion.
What's next? New experience! I will now get a chance to experience life from a much different perspective. Now, it's my chance to see how many obstacles wait for people who are not as mobile as most of us. Although I do not make any plans for this summer, I want to try and show that disability should not stop people from pursuing dreams. It should only make them do it in a different way.
When it comes to Japan, it's my mission to travel Japan more than ever.
I think that everything happens for a reason. Maybe there was something much worse cooking up and the knee injury saved me from something worse in Japan. I will not know – life is life – and I want to take it as it is. Now it's time for me to experience life from a much different perspective.