The Caribbean is the string of idyllic islands stretching from the Bahamas in the north to Trinidad and Tobago in the South. It's long been a popular sailing, diving, vacationing and honeymoon spot, but not really a backpacking destination. It may not be the cheapest region to travel to, or be well set up for budget travel, but it's still possible to travel here on a shoestring.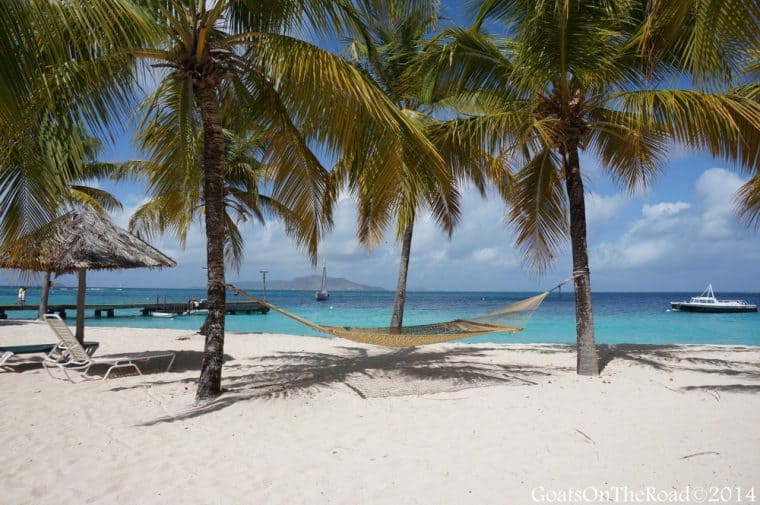 Regardless of whether you're a top-end, or budget traveller, with these tips, anyone can visit this fantastic part of the world!
Accommodation
Backpackers are fairly used to sleeping in hostels or budget hotels. However, in the Caribbean, you'll mainly only find hostels on the northern islands (Cuba, Puerto Rico and The Dominican Republic) you won't find many, if any, hostels or cheap hotels outside of those places. During our trip to St. Vincent and The Grenadines we couldn't find a single hostel, anywhere. In Grenada, where we're currently pet-sitting, there aren't any affordable accommodation options either.
So, what's a person on a budget to do?
Couchsurf, house-sit or camp. It's possible to camp on many of the beaches! All you need is a tent, or just a sleeping bag, as it's quite warm at night. But if it rains, you'll be wishing you had some shelter. Many of the locals in this part of the world have profiles on Couchsurfing.org and are more than happy to house visitors for a few nights. House sitting is another great way to travel around this expensive paradise, and live like a local for a few days, weeks or months.
Transportation
Island hopping is a great way to see the Caribbean, but the cost of ferries can add up, plus, there aren't always inter-island connections available. Try speaking with local fishermen or cargo boats that are bringing goods from one island to the next. Often they will give you a ride, for a fee, but it will be much cheaper than if you bought an official ticket on a ferry.
Another idea is to hitch-hike on sailboats! Many people do this. Just ask around at the docks, bars, or provisions shops and see if anyone is going your way. Typically, they'll just let you jump on board, but you may be asked to help out a bit on the boat. Either way, it's a fantastic way to get around.
Once you're on your island of choice, opt for local mini-buses, which are typically $2 USD / ride. Private taxis cost much more. Alternatively, you can hitch-hike, which is very common on the islands. Just be prepared to hop in the back of a pick-up truck!
Food
Unfortunately, even food at the grocery stores in the Caribbean can be quite expensive. Your best bet is to buy local fruits, fresh made breads and anything that you need to "just add water"! Foods like instant noodles and oatmeal are always a good breakfast or snack. If you're traveling in the right season, you'll often see mangoes on the street that have fallen from a nearby tree. They're free for the picking, as long as you're not on anyone's property.
On certain days, usually the weekend, you'll see vendors setting up BBQs on the side of the road. This is a great place to get some inexpensive chicken or pork, as well as mingle with the local people. Look for little shops selling local bakes like roti bread stuffed with chicken and curried vegetables, or other baked goods.
Bottled water can be quite pricey, but on many of the islands, the water from the tap is safe to drink! Beer is fairly priced at about $1.50/bottle. Rum is popular throughout the Caribbean as well and is very cheap.
In Conclusion
Many budget travelers are intimidated by the Caribbean, and worry that traveling here may break the bank. Although it costs more to travel in this part of the world than Asia, it's still affordable if you follow the budget tips above. If you make the effort to get here, you'll be in for one amazing adventure!
Have you ever been to the Caribbean before? Did you find it expensive? Share with us!
Author's Bio:
Nick and Dariece are the couple behind Goats On The Road, a website designed to inspire others to live a financially sustainable, location independent lifestyle. Masters at making money abroad and turning their travels into a way of life, they've been on the road since 2008 and have explored some of the least visited places on earth, finding adventure wherever they go. Check them out at Goats On The Road and follow them on Twitter and Facebook.