A long range hunter needs a special set of binoculars for spotting that partly concealed game in the distance. If you're in the market for long range hunting binoculars, look no further to find the top-ranked brands and models. We've done all the research for you, to make that purchase an informed one, so read on to see our picks for the best binoculars for long range hunting.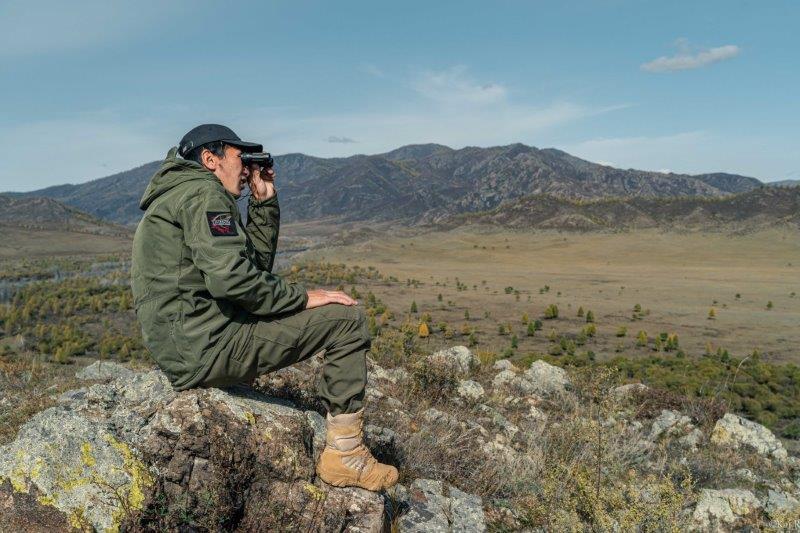 What are the Best Binoculars For Long Range Hunting?
We have compiled for you the top 8 Best Binoculars For Long Range Hunting in 2023. In this article we go through the products that we have used ourselves, checked what other users thought about them and we ranked them accordingly.
With years of experience with long range hunting binoculars and having used several binoculars for long range hunting you can trust our review.
Moreover, you can scroll to the end of this review to see our mini buying guide as well as the answers to some of the frequently asked questions about binoculars for long range hunting.
Specs
Price: 💲💲💲 (fewer 💲 = cheaper)
Size: 4.6 x 4.5NaN inches (11.7 x 11.4NaN cm)
Objective Lens Diameter: 28mm
Magnification: 8x
Eye Relief: 18mm
Waterproof: Waterproof
The DB-210 Vortex Optics Diamondback HD Binoculars could be the solution for those who want a more affordable binocular in the Diamondback series. Like its counterparts, the DB-210 is waterproof. However, it is not entirely fog proof. The binocular also features eyecups that are simple and smooth to adjust. If you want to mount your binocular on a tripod for more stabilized pictures, there is also a tripod attachment on this binocular. You can also hand-hold your binocular for long periods while still feeling comfortable due to its ergonomic design. One thing to note is the binocular strap that may not be of the best quality.
Pros
Eyecups are not difficult to adjust,
Waterproof and fog proof,
Binocular has tripod attachment,
Binocular is comfortable to hold
Cons
The binocular strap is only of acceptable quality,
The lenses are not entirely fog proof
Specs
Price: 💲 (fewer 💲 = cheaper)
Size: 5.5 x 4.3 x 2 inches (14 x 10.8 x 5.1 cm)
Objective Lens Diameter: 50mm
Magnification: 20X
Eye Relief: 9mm
Waterproof: No
The Bushnell PowerView binoculars live up to their name and provide powerful magnification and a wide view of the scene. The multi-coated optics enhance image brightness while the large objective lens only adds to this. The resulting image is clear and sharp. With 20 times magnification, you can get up close and personal with whatever you view.
The build is also durable and provides a good grip to its users. It offers fine adjustment features, but they are tricky to tune while holding the binoculars. Thankfully, these are tripod compatible, so that you can adjust the settings with ease.
These binoculars are better suited for still watching, not for those who are on the move.
Pros
It has a durable build,
They have a wide visual field,
They produce clear and bright images,
It offers powerful magnification
Cons
Zoom is a bit too sensitive,
The focusing control is a bit awkward
Specs
Price: 💲💲💲 (fewer 💲 = cheaper)
Size: 9.6 x 8.1 x 3.7 inches (24.5 x 20.5 x 9.5 cm)
Objective Lens Diameter: 31mm
Magnification: 3-10X
Eye Relief: 50mm
Waterproof: Yes
Stabilization: Tripod adapable
The VABSCE Digital Night Vision binoculars can turn night into day for its users. Not only that, it does not compromise visual clarity in the daytime either. Additionally, you can capture what you're viewing as a picture or video (no audio) and enjoy playback. The accompanying SDcard chip will act as storage for what you capture.
The 3.6″ LCD allows for comfortable viewing of the scene, while the high-tech IR can illuminate even the darkest night. The zoom capabilities are also of high performance. The only downside is that it requires powerful batteries for operation, but can run on such batteries for a long time.
These binoculars are a good choice for those out and about in the dark.
Pros
It comes with quality night vision technology for clear views at night,
You can capture and playback images,
It provides an extended viewing range,
It comes with a microSD card for storing images
Cons
It consumes a lot of batteries,
Buttons make a loud click noise
Specs
Price: 💲💲💲💲 (fewer 💲 = cheaper)
Size: 2.6 x 7.5 x 5.9 inches (6.6 x 19.1 x 15 cm)
Objective Lens Diameter: 42mm
Magnification: 10X
Waterproof: Yes
The Steiner Predator binoculars marry form and function to offer an exceptional viewing experience. The autofocus features keep everything in your field of view focused at all times. Additionally, a CAT coating increases the viewing field and helps detect hidden game – much to the enjoyment of hunters. Additionally, they also perform well in low-light situations.
The open bridge design lends the binoculars agility and lightness while making them comfortable to hold. The sharp focus and quick adjustment add to its performance.
The outer material is durable enough to withstand shocks and unfavorable conditions.
These might prove a good choice for hunters looking for quality binoculars.
Pros
It includes CAT technology for finding hidden animals,
It has a durable Makrolon outer cover,
It features ergonomic eyecups for comfort,
It has a laser-textured grip for better hold
Cons
The accompanying lens covers don't fit,
You might need to replace the harness
Specs
Price: 💲💲 (fewer 💲 = cheaper)
Size: 11 x 8.7 x 4.3 inches (27.9 x 22.1 x 10.9 cm)
Objective Lens Diameter: 70mm
Magnification: 25x
Eye Relief: 13mm
Waterproof: Water-resistant
Be it stargazing or observing far-off creatures, the Celestron SkyMaster 25×70 binocular is your dependable partner. Renowned for its high 25x magnification, this binocular stands out in delivering crystal-clear and bright images even in low-light situations, perfect for those evening hobbies. Where it excels at night, it does not falter during the day, showing a versatile range of use.
Protectively armored with a water-resistant finish, it's ready for your outdoor adventures without fearing a little dip or splash. This gear is lovingly nestled in a sturdy, secure grip, making it comfortable for prolonged usage. No more discomfort and wobble when you are lining up the perfect shot!
Though it has robust features, it might take a few tries before achieving a focused image due to the inherent sensitivity of its focus knob. Also, on arrival, the binocular might require a quick round of alignment before first use. However, these minor hiccups aren't deal-breakers considering the immense value this binocular offers.
Pros
Stellar low-light performance,
Impressive water resistance,
Secure and comfortable grip,
Sealed eyecups block ambient light
Cons
May require alignment upon arrival,
Image focus mechanism can be slightly tricky
Specs
Price: 💲💲💲💲 (fewer 💲 = cheaper)
Objective Lens Diameter: 42 mm
Magnification: 10x
Eye Relief: 16 mm
Waterproof: Yes
Stabilization: No
Video: Yes
The Vortex Optics Fury HD 5000 10×42 Laser Rangefinding Binoculars feature a 42 mm objective lens and a 10 x magnification ability. They come with a 16 mm eye relief and the optics are purged with nitrogen to provide a water and fog proofing quality. These binoculars have fully multi-coated XR lenses, dielectric phase corrected prisms that provide crisp and clear views. They are designed with 2 target modes making them a good choice for long distances. The eye cups are known to have issues coming off, and the carrying case is not great quality but they do come with a lifetime warranty.
Pros
Water and fogproof,
Long range focusing,
Lifetime warranty,
Easy to use
Cons
Eyecups don't stay on very well,
Carrying case is not very durable
Specs
Price: 💲 (fewer 💲 = cheaper)
Size: 7.9 x 7.9 x 3.1 inches (20 x 20 x 8 cm)
Objective Lens Diameter: 50mm
Magnification: 20x
Waterproof: Waterproof
When examining the 20×50 Military Binoculars for Adults, one thing is certain – they're hardy, created with an adventurer's needs in mind. These binoculars are ideal for the avid hunters and hikers among us, boasting a rugged exterior that's built to handle the harsh demands of outdoor activities. A key element of these binoculars is the comfortable, adjustable neck strap. This handy feature ensures you can carry them for long durations without discomfort. Additionally, the lens caps are cleverly attached to the binoculars, providing valuable peace of mind. You can journey through the wilderness without the worry of misplacing them. A further convenient feature is the tripod attachment; it's perfect for those moments when you need a stabler image without the shakiness of hand-held use. However, do bear in mind, these binoculars aren't fog-proof. In damp or humid environments, this may affect visibility. Also, the included smartphone adapter may require some practice to master. The integration with a smartphone isn't as seamless as it could be.
All in all, the 20×50 Military Binoculars for Adults is a specific product designed with the adventurous in mind, offering durability and great usability features, despite minor shortcomings.
Pros
Adjustable, comfortable neck strap, Attached lens caps prevent loss,
Robust exterior stands up to outdoor use,
Tripod attachment offers stabilization
Cons
Not fog-proof,
Smartphone adapter can be tricky to use initially
Specs
Price: 💲💲 (fewer 💲 = cheaper)
Size: 8.6 x 4.3 x 4.3 inches (21.8 x 10.8 x 10.8 cm)
Objective Lens Diameter: 50mm
Magnification: 10-22X
Waterproof: Yes
Experience enhanced viewing with the Nikon 8252 Aculon A211 10-22×50 Zoom Binocular. Blessed with superior zoom qualities, it furnishes lucid images in impressive detail. The nimble, streamlined adjustment mechanisms lend you more control, enhancing your viewing experience with effortless ease.
Perfect for the bespectacled birding enthusiast, hunter, or opera-goer, this binocular's adjustable eyecups are designed for comfort. Customization is the game here as its generous interpupillary distance can be tailored to suit your needs. This ensures immersive and strain-free viewing, even during extended periods.
Additionally, this model offers compatibility with a tripod, hardware included, making for a versatile addition to your gear collection. Touched with a no-slip, robust build, you guarantee a firm handle on the binoculars even in challenging weather conditions. Its durable construction gets a thumbs up for longevity.
Pros
Highly accommodating interpupillary distance,
Comfortable grip,
Durable build,
Tripod-compatible
Cons
Leans towards the heavier side,
Loose-fitting lens covers
Verdict
To summarize, we have gone through dozens of binoculars for long range hunting and decided that 8 are worth your consideration. Out of these, the absolute Best Binoculars For Long Range Hunting is DB-210 Vortex Optics Diamondback HD Binoculars which we highly recommend as our overall best.
If money is not an issue, you can consider Vortex Optics Fury HD 5000 10×42 Binoculars as this is our Premium Pick.
Otherwise, there's no shame in spending prudently, 20×50 Military Binoculars for Adults with Smartphone Adapter is the Budget Option.
Our other reviews you may find useful in your research:
What You Should Know Before Buying binoculars for long range hunting
Binocular Features for Hunting
For hunting, you may want to get a pair of binoculars with night vision and thermal imaging. These features make it easy to spot an animal that may be far away and in the dark. You also want a pair that is lightweight, so that it is easy to transport it from one spot to another. You may also want to get fully coated binoculars because they produce brighter images. The coating also protects against damage from debris and dust and also help reduce chromatic aberration. Also, adjustable eye cups for eye relief and binoculars with a wide field of view may also come in handy when hunting. Lastly, be sure to get binoculars with image stabilization so the images are more steady, thus easier to aim for the target.
Angles Of Vliew
The angle of view is the perspective you can see through your binoculars lens. The larger it is, the larger the field of view is. The angle of view is measured in degrees and is usually a low number such as 6 degrees or 7 degrees. If you need a pair of binoculars with a large field of view, make sure to look for the one with the highest number among those offered. At times the number is higher such, as 45 degrees or 55 degrees, but is still expressed in degrees. It's known as the apparent angle of view, and the larger it is, the larger the field of view.
Fog Resistance
You definitely want to get a pair of binoculars that can withstand both hot and cold conditions. External fogging is normal, but internal fogging as it can ruin your binoculars completely. To avoid this, get yourself binoculars with nitrogen filling. Fog proofed binoculars are sealed internally with O rings to prevent moisture from getting into the optical tubes. All fog proof binoculars are waterproof, but not all waterproof binoculars are fogproof.
Magnification
Consider the magnification factor when choosing binoculars. When thinking higher, bear in mind that more isn't necessarily merrier. Especially in situations like hunting or fishing, overly high magnification can detract from the image quality you're looking for. Experts suggest a magnification between 7X and 8X as a reliable range producing clear, steady and detailed images. But remember, stepping up the magnification tapers down your field of view. That said, if your adventurer's eye is set on far-sighted discoveries, binoculars with a higher magnification represent a fitting match for you.
Questions and Answers About binoculars for long range hunting
Are 10×50 binoculars good for hunting?
Binoculars with a specification of 10x magnification and 50 millimeters of objective lenses are a good choice for most hunting expeditions. The 10×50 binoculars will allow you to view your prey 10x closer from any distance to your position. A 10×50 binoculars is also highly effective for hunting when you consider the average shooting distance of your targets.
How do I choose long range binoculars?
If you are looking for a long distance binocular, you should look at binoculars with a high magnification power. The other thing to take note is getting a pair that can zoom fast through different magnification levels. Lastly, If you want to be able to see clear images in low-light environments, you can also consider getting a binocular with a large objective lens diameter. This is because a binocular with high magnification power requires a large objective lens diameter to maintain the same exit pupil.
What's the difference between night vision goggles and night vision binoculars?
The magnification is the main difference between night vision goggles and binoculars. Night vision goggles have a 1X magnification, while night vision binoculars have higher magnification thus a narrow field of view. Night vision goggles are either affixed to the helmet or come with a head strap, while binoculars can be used freely or be handheld. Night Vision goggles can be used while running or even flying a helicopter; night vision binoculars, on the other hand, cannot be used while on the move. Night Vision binoculars are best for long-distance viewing, while Night Vision goggles are best for close range viewing.
Binocular Features for Hunting?
You will want to consider getting a pair of binoculars with 10X magnification for hunting. This magnification will help you spot targets far away. Durability is also vital when choosing hunting binoculars. While hunting, you will be exposed to many environmental hazards such as bad weather, tree branches, or rocks that may hit your binoculars. For this reason, choose weatherproof binoculars so that adverse weather conditions won't damage them. It is also essential that you get binoculars with a full multi-lens coating to reduce light reflection. As a result, images will be a lot brighter and sharper.
Can you use binoculars for target shooting?
Binoculars are commonly used in target shooting. A good binocular should have enough magnification to help you see the different concentric rings on the target board clearly. If you are shooting in the dark, you should also consider a binocular with sufficiently large exit pupil to ensure you can see where the arrow lands at night.