Although most travelers in South East Asia enter Laos from Thailand and Vietnam some, like me, cross Cambodia-Laos border (Voeung Kam – Dom Kralor). It's not overly hard to do so, but may be stressful or even frustrating for some.
Here's an overview of my journey from Siem Reap (Cambodia) to 4000 Islands (Laos) and few tips on how to do it cheaper. This article was written in 2013 but the ways to save money have been updated in 2019 and are still valid!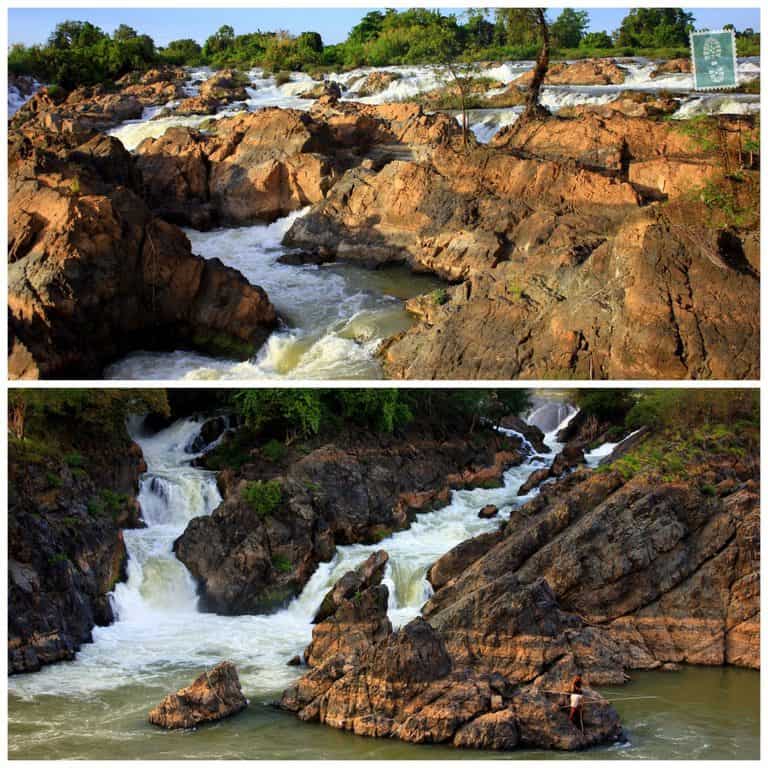 Bus tickets from Cambodia to Laos
Firstly, you need to somehow get transported from one country to another. Cycling is obviously the cheapest option and mostly recommended by me. However, most travelers won't have enough time or will power to push themselves through few hundred kilometers in scorching sun.
On this occasion I have also chosen to travel quickly by bus. It doesn't matter where you are traveling from in Cambodia – the cost will be relatively low. Bus fare from Siem Reap to Don Det (4000 Islands) is $25 and the journey takes around 14 hours.
After speaking to some travel agencies and other people I found that the same journey costed some people $50 (sold by not too honest agents) and if I were to split the journey into 2 parts it would cost me around $50 too.
Conclusion: don't travel near the border and then take another bus. Look around for the right price, best to do it online.
On the bus
Ticket price is not the only revenue source for some bus operators. They will stop quite often in significantly more expensive shops/ restaurants where they get paid for us – foreigners – naively spending our money. It's a common practice, probably used by all operators in Cambodia.
Another way for them to earn extra cash is by applying for visas on tourists' behalf. I was quoted $36 for visa + 2 stamps, which means that they get $2 for their fatigue. When I did it myself (me and one girl decided to do it ourselves, out of 50 people on the bus), I paid a total of $32. (2019 update: not sure if this part is still true, so please ask around before fighting for the extra $4 – if you had a recent experience on the border, please leave a comment to update us all here)
Visa to Laos
Visa to Laos prices vary from country to country. Citizens of Switzerland don't need one, I paid $30 because I'm from Poland, but Canadian girl I sat with had to pay $35. When she challenged them about the price, saying she checked online before departure and read it was $30, they have shown her a list of countries with an amount next to each entry.
Conclusion: expect the worst and hope for the best, because prices can change without prior notice. Do not forget to have a passport sized photo with you. Otherwise you will be charged extra $1-$2 for the "exception".
Cambodia Exit / Laos entry stamp
It is commonly known that border officials are somewhat corrupt both in Cambodia and Laos. There's one border crossing between these countries, Voeung Kam – Dom Kralor, and by nature is one that can freely ask for bribes (when not presented – no crossing will be possible).
Both sides ask for "exit or entry stamp fees", which are unofficial. Although commonly it is $1 for each side, sometimes they ask for $2. This was the case when I crossed in 2013. Having known that it's likely they will ask for a stamp fee, which really is a bribe, I found a way to waive this, which was 50% successful.
Once I reached the hut where border official stationed (yes, it's really small crossing), I said that I have no problem with paying as long as they can issue a receipt for my employer. Cambodian officials waived the fee (possibly because I was leaving Cambodia and they can't really stop me), while Laotian officials said "$2 or go back". I paid it…
On my way back from Laos to Cambodia, I was hitchhiking and walking whenever I couldn't get a ride. Therefore, when I arrived at the border, I said that I simply don't have any money before I access an ATM in Cambodia. The nearest city with an ATM is 60 km away (according to border crossing officials). I had Cambodian visa already in my passport, so didn't have to pay for this. Therefore, both Laotian and Cambodian border crossing officials let me go through without paying bribes.
Arrival in 4000 Islands (Don Det)
As usual we were dropped off 3 km away from the river crossing. This time however there were no tuk tuks but private "free" shuttle bus. You probably realise that nothing is free in life… "Very nice" driver dropped us by "the only place" where we could buy boat tickets and exchange currency. We were assured that there's no alternative and even if there was something else this is the best place anyway. Then he urged us that everyone (around 20 people) should buy tickets for only 35,000 Rip and exchange money at 7.700 Rip to a dollar.
I had to exchange money, so changed $10 and received 7000 Rip. Wait, is it right? No, they "forgot" to give me 70,000 Rip… When I challenged them, they gave me money back with a cheeky smile (it was saying "well, worth a try").
The boat ticket costed 35,000 Rip. Somewhat high price for a short boat journey. I decided that it's not worth it and was more than willing to take the risk and stay on this side of the river until I could find a cheaper boat. There were two more people who shared my view. Everyone else bought the tickets there and were squeezed onto long motor boat.
The three of us, who parted from the group, found a ride for 20,000 Rip per person just 50 metres away. We had the same boat just to ourselves and were much quicker on the other side than the rest.
Overall, I spent less than any other person on the bus by:
up to $27 on the bus ticket
$2 on the commission for the visa application to the bus operator
$2 on the exit stamp
$2 on the boat
If you crossed the border from Cambodia to Laos, what was your experience?