Alike, Mumbai and Delhi, Agra is another city which has brought thousands of wandering minds in India. About three years ago, same like others, I was having a point of traveling (oh sorry… tourism) somewhere in my mind. But then the journey of life took me to this beautiful, rather I would like to call it a historical part of India, Agra Region. And after living the environment of 86400 seconds in this city, I have found out 14 most crucial things to do in Agra. Things that are cannot be taken for granted while staying in Agra.
Well, Agra needs no description, it is one of those rarest cities which are having wonders of the World. It is the home city of that beautiful piece of work, which has put the whole world in amaze, Taj Mahal. Because of this monument, one can spot tourists almost from every part of this Mother Earth. And so, Agra city has become top tourist place in the world.
Before moving ahead on the 14 must things to do in Agra, while having a stay of 5-6 days. I would like to share one thing with all of you. Have you ever related a place or a thing or anything with your on-going life? I have related that. Just after moving-in in Agra, I started came to know some historical things. The things which I hated the most when I was in school. And at a point, I started relating my life with the fourth Emperor Jahangir.
As we all know that Agra has served as the capital city at the time of the Mughal Era. It was the region where various great Emperors established their regime all over India. And in them, there was an Emperor, Jahangir was also known as Salim, the only heir of the Emperor Akbar's throne.
Story that relates me to this city
It is said that Emperor Akbar was in great trouble of not having a son. So he took refuge in a Sufi-saint, Sheik Salim Chisti in Fatehpur Sikri. From there he got a boon of having a son, Salim. He was born on the 31st of August in 1569. I was also born on the very same date, 31st of August but in my case year was different and I am not telling it.
Are you seeing this, I have related my life with Emperor Jahangir and literally I have started assuming myself, Emperor Jahangir. And when I had my first visit to Fatehpur Sikri, the place where Jahangir was born. I was insanely tried to recall my childhood days of past birth. This is how I am falling in love with this city. I know it sounds weird but that's the way which I found to love myself more than ever.
By doing these 14 things in Agra Claim Yourself a True Traveler
#1 Admire the beauty of Taj in the Morning
After settling myself in this city, one day I asked a localide that what the best time to visit Taj Mahal is. In return, I got 'at the time of dawn'. So I planned to visit Taj Mahal in the morning and I had experienced the beauty of Taj Mahal in Sunrise.
And if you're wondering when is the best time to visit India the short answer is "always"!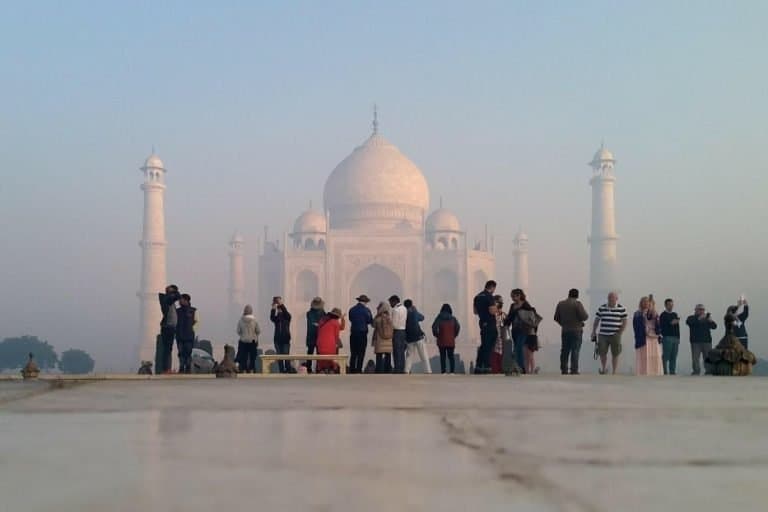 It was the morning of chilled winters and fog was all the thing which have covered up the area. No sign of Sun was there. And there was a huge pileup of tourists waiting just outside of the main eastern entrance of Taj Mahal. Somehow the Sun managed to puke into the fog and cast its first rays on that white structures marble.
That was the moment which has housed in my heart. Taj Mahal was glittering orangy when the first rays of Sun imparted on it. Also, get to know about the Indo-Persian art 'Petra Duera' done on Taj Mahal.
#2 Capture Some Beautiful Pictures From Agra Fort
As that Agra has served the nation as the capital city in the time of Mughals, it has everything that should be in the capital. Agra Fort is the symbol of a well-managed regime of Mughals.
This red sandstone building has inscribed thousands of lores which blow out the trumpet of Emperor Akbar, Jahangir, and henceforth. Art has not been done on this monument, in fact, this monument is itself a piece of art.
Actually, this place is best suitable for a photography session. The historically arced walls, a proper set of flora, and old days stories from the back door make this place a more amazing one. Often, people use this place for their pre-wedding shoot and I must say that they actually have a taste.
Most important, from the terrace (Diwan-e-Khas – Private room of the King) of this fort, one can easily spot the Taj Mahal. And you can also spot numerous visitor capturing that thing in their cameras.
#3 Watch Mohabbat The Taj Show at Kalakriti Cultural and Convention Center
Yes, Agra also houses one of those live theatrical shows which can never be beaten by any other entertainment. Mohabbat the Taj, basically is the name given to a live performance of that time when the Emperor Shah Jahan's wife demanded a symbol of their love, i.e. Taj Mahal.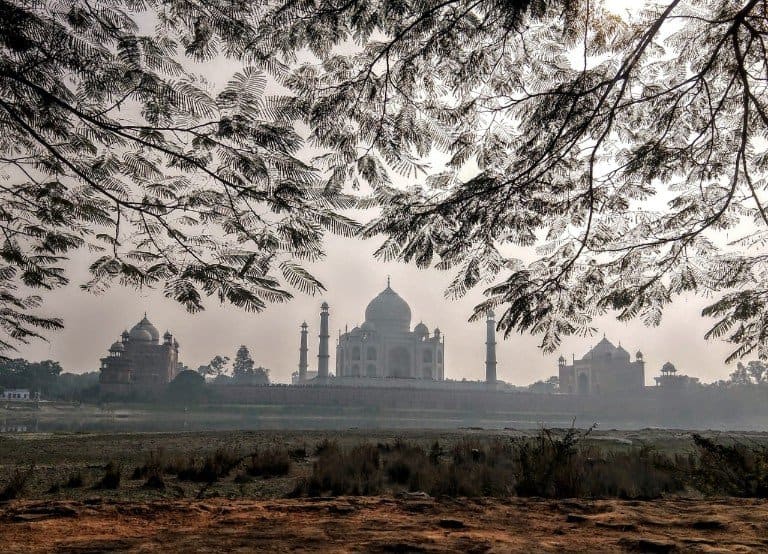 Having experience of this type of things, made us release that we are actually living a fruitful life. Perhaps, not many people know about it and I think this can be the reason it is still able to maintain that charm.
Playing in over 45 languages, this show is for all the people, no matter which country or which part of the earth they belong. Every day, from 6 PM to 8 PM, lucky people can take advantage of this show. And due to the limited seats, bookings are made a day before the show time.
Note: Many travel agents just try to make fool of the innocent travelers, so the committee made an easier way. Now, people can book tickets
directly on their website.
#4 Spot Deer at Sikandra (Emperor Akbar's Tomb)
As Agra city is famous for world-class architectural building, Sikandra has equally contributed along with others. It is the tomb of that Great Emperor Akbar, who ones united the whole of India, at the plinth of religions.
This is the place which comprises of vast gardens, plenty of flowers, and many Deer. It is nice to see them or I can say that it is a perfect combination of a different kind of beauty.
If you love to be in your 'me time', it will best suit you. I sometimes just go there and just watch out the things that happen there.
#5 Baby Taj: One of the Rare Riverfront Gardens
Earlier people were very nature loving and they just wanted to be shrouded in greenery. Itmad-Ud-Daula is the name of this place. Basically, it is the tomb of Mirza Ghiyas Beg, father of Emperor Jahangir's wife, Nur Jahan.
This is the mausoleum which has somewhat resemblance the sole Taj Mahal. That's why it has a name Baby Taj. A tomb in the shape of Jewelry Box is just placed aside by River Yamuna. Giving it a name, riverfront garden. An evening is the best time to spend at this place.
#6 Taste World Famous Indian Cuisine and Hospitality
By far now, I would suggest Grand Gopika Thaal. The way they serve food and that much tasty food, you will really get stunned. They serve the best Indian culinary with that sweetness of Hospitality.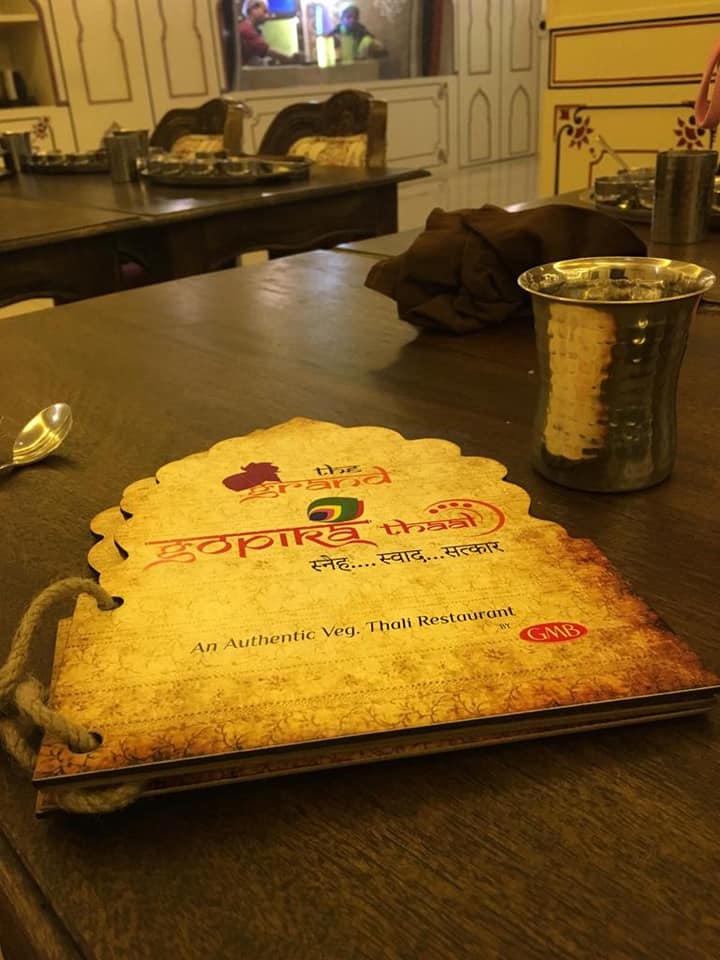 From the cutlery to the glassware and from serving dishes to the tableware, all things are in the actual traditional way. The walls of this India cuisine restaurant speaks all about its beauty. At this place, you will definitely get one feeling that without food there is nothing in this World.
This restaurant is just trying to maintain epoch of that Mughals.
#7 Visit Sadar Bazaar and Quench Your Taste Bud
Sadar Bazaar is considered to be as the most prominent and charismatic market in Agra. You can see the local life enjoyment at this place of Agra. You can see every brand outlet in this part of Agra.
Along with the daily materials, most people visit this place just because of the Chaat Gali. There is a street which is called as the Chaat Gali. Here you can taste the mouth-watering Indian snacks like Gol Gappe, Aloo Tikki, or Bhalla. If you are a foodie then this is the place which is waiting for you.
#8 Caste a Glimpse on Taj Mahal from Dussehra Ghat
Mark this, believe me, it is the best thing that I have done in Agra. Dussehra Ghat is a place, situated at the southern hand of Taj Mahal. A bank of River Yamuna, as the Ghat indicates. It is off-the-path, not many people know about it and very few reach there.
Visit this place when the Sun about to go below the horizon. Sunset is the best time to visit this place and I must say that it is one of the important things in those 14 things to do in Agra.
The cool breezed air, the presence of that epic monument, Taj Mahal, and the low crowd, these are the things which can make an evening meaningful.
#9 Visit Mankameshwar Temple
It is said that Lord Shiva himself founded that sanctum sanctorum, a Shiva Linga. Also, it is said that if a person with a pure soul has a wish in front of the Shiva's one of the forms, Lord Shiva grants that. And I am a great devotee of Lord Shiva. I am a Shaivite and my religion is Shaivism.
I too believe in that power that's why I am sharing this.
#10 Listen to some Anecdotes of Fatehpur Sikri or the History of this ruined city
Fatehpur Sikri is a small city, situated on the outskirts of Agra. This city has a sanguine contribution in making a great history of India. When the third Emperor of the Mughal Era, the great Akbar was not getting any heir for his throne, he went to every frame of most precise saints of that time. And after wandering many places, he found a Sufi-Saint, Sheik Salim Chisti in Fatehpur Sikri.
That Sufi saint gave him a boon and in order of that, he got an heir for his throne, Jahangir aka Salim. This is the city which has many palaces which has world's best Indo-Islamic art. Also, it has many beautiful gardens which are capable enough to give you some countable moments.
Perhaps, this small city is having numerous things to see but the main attraction is Buland Darwaza. A tall gate built in the celebration of a victory. You will get to see that thousands of people are taking photographs standing below it. To know more read this Fatehpur Sikri History. This thing is the most important thing in those things to do in Agra.
#11 Get Bedai and Jalebi in Breakfast
If you have made your visit to Agra and not swallowed down this morning dish of Agra, then sorry, you just able made your visit worthy. Yes, this thing is much likely to happen as a visit to Taj Mahal, if you are in Agra.
When stuffed Puri with Spicy Aloo curry served, we Indian call it Bedai dish. And it makes the perfect sense of eating tasty food. And it best works with the Jalebi, a sweet dish in India.
#12 Taste a variety of Egg dishes
In my life for the very first time, I have tasted a different kind of dishes in Agra. Well, there is a stall, on the Fatehabad Road near Hotel Howard Plaza, Ram Shankar provides the thing which an egg lover wants. And literally, I am the biggest one. I just think that Ram Shankar has brought to this place just for me only.
Fried Boiled Egg in butter, Egg Bhujji with Boiled Egg, Half-fry are my favorite ones. I just think that I can never let a day with a dish. Just because of a saying in our India "Sunday ho ya Monday roz khaao ande"…
#13 Drink something while sitting at any of the rooftop Restaurants
But there is a condition, the restaurant or Bar should have a view of Taj Mahal from the Rooftop. And in Agra there are many. It might be a beautiful dusk evening for you also. And if you ask me that is my favorite time of the day. I just love watching Sun drowning in the horizon and lets an orangey color takes command over the sky.
#14 Taj Mahal in Moonlight
First of all sorry, I haven't experienced this thing till now but I have heard the drums of this moment. It is said that on the full moon night, ASI (Archaeological Survey of India) allows a bunch of people to have this epic moment.
For the betterment of travel enthusiasts this all thing runs only for five nights in a month. Two before the full moon, two after the full moon and one that Full Moon night. ASI is the same for all, it provides tickets on the first-come-first service.