If you really wanted to test someone's world geography prowess, you could start by asking them where Brunei is located.
This tiny nation is just 2,200 square miles by area and sits on the island of Borneo – which it shares with the much larger countries of Malaysia and Indonesia. Even if you're not interested in a Brunei itinerary, it's still a handy bit of knowledge to have for trivia nights.
But you'll learn and understand much more during a visit to a remarkable little country that is full of contrasts, fascinating attractions, and memorable experiences. From truly stunning mosques to scuba diving in the South China Sea, we had an absolute blast during our tour. Here is what you need to know about visiting Brunei.
Why go to Brunei?
One of the best reasons to put Brunei on your radar is that it barely registers any tourists. This in itself is a big draw, but the country has much more to offer than simply a lack of crowds. It is filled with untouched tropical rainforest dreamscapes, unique Islamic architecture, and a colorful, cultural history. It's also one of the richest countries in the world thanks to its oil reserves – the evidence of which you will see everywhere and nowhere at the same time. Oh, and it's super-duper safe.
However – as much as eTramping doesn't like to get political – a word needs to be said on the recent revelation (and the international condemnation that followed) that Brunei has implemented Sharia Law. Much like our visit to North Korea, we believe that a country's people shouldn't be judged for the decisions their governments make. Instead, they should be afforded the opportunity to participate in the cultural exchange that tourism brings.
Rant over – let's move on!
Where to Stay in Brunei?
Brunei has a lot of places where you can stay. Accommodation options range from luxurious hotels to serviced apartments and youth hostels. Check out the map below to find something that fits your budget and personal preferences.
Who Should Do a Brunei Tour?
If you've been everywhere, done that and got the T-shirt, Brunei might just be a country by which you'd be intrigued. It tends to pique the interest of travelers who enjoy off-the-beaten-track destinations and those who utterly despise what the likes of Thailand and Vietnam have become.
Hide away from the mass tourism in Brunei while meeting some extremely friendly people in the process. But if you also happen to enjoy unspoilt wilderness, delicious and exotic cuisine, an abundance of photo opportunities and hospitable locals – then you're definitely going to enjoy a visit to Brunei.
5-Day Brunei Itinerary
Let's start with a handy map of Brunei and its attractions!
Day 1: Bandar Seri Begawan (Capital of Brunei)
Brunei's capital is a fascinatingly surreal place where the decadence of the Sultan threatens battle with traditional Borneo village life. Somehow it works, and while there is a hint of being dressed to impress, it's nowhere near as ostentatious as the likes of fellow oil-rich capitals Ashgabat and Baku.
Royal Regalia Museum
Our first stop was to visit this domed-building in the center of the capital, which houses the Sultan of Brunei's regalia. Expect to see insignia of royalty used in coronations, jewel-studded crowns, gilded weaponry, and traditional dress. It was opened by the Sultan himself in 1992.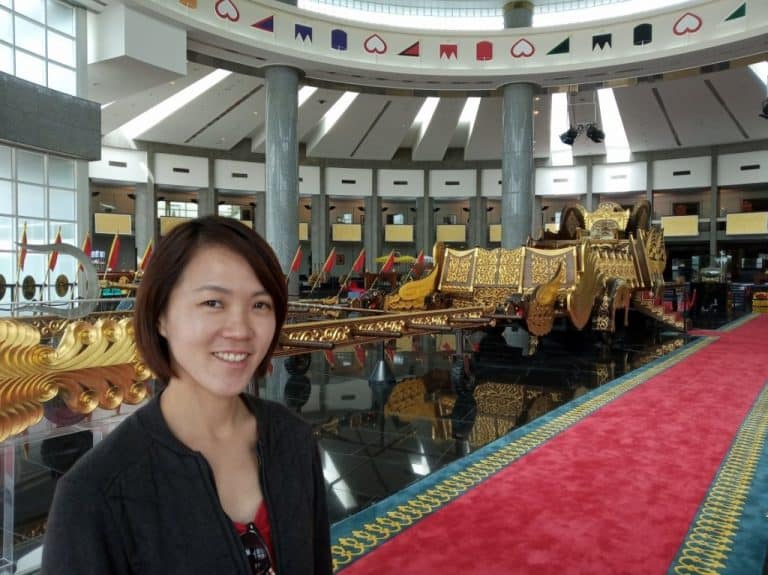 Sungai Kebun Bridge
Named after Queen Saleha – the Queen consort of the current Sultan of Brunei – is the second-longest single-pylon cable-stayed bridge in the world – completed in 2017. From here, you'll be able to see the "floating village" (Kampung Ayer) below in it's full glory.
Taman Haji Sir Muda Omar Ali Saifuddien
A special place in the hearts of all Bruneians – is this historic city garden location where the country proclaimed its independence from the United Kingdom in 1984. It is now used for celebration parades, such as for the Sultan's birthday or the country's National Day on the 23rd February.
Omar Ali Saifuddien Mosque
Brunei's most famous and photographed attraction is close to the city garden and your next port of call on your Brunei itinerary. The golden-domed Omar Ali Saifuddien Mosque is an iconic landmark in the city, a 20th-century monument to Islam and the country's Muslim population that sits in an artificial lagoon. No expense was spared in its construction, the oil-rich decadence is breathtaking.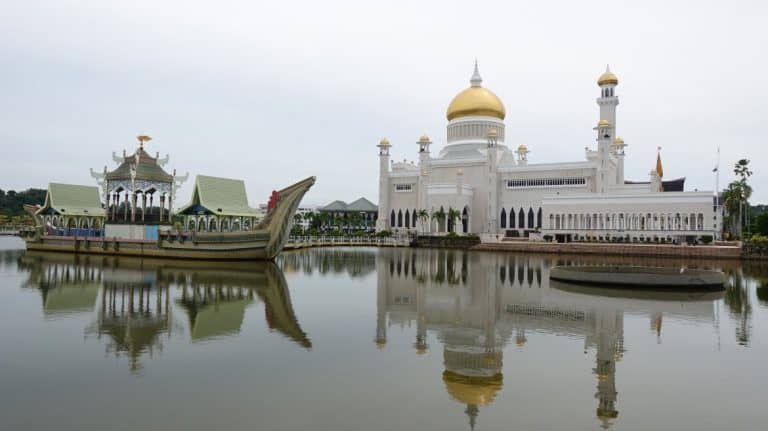 Tasek Lama Waterfall Park
After a delicious lunch at an Indonesian restaurant (their cuisine is similarly eclectic), we visited the bird-watching paradise of the Tasek Lama recreational park. Located in the heart of the city, it's an oasis of calm and a great opportunity to spot some exotic flora and fauna. There are over 80 species of birds recorded here – a slice of Borneo jungle in the capital.
Istana Nurul Iman – The Sultan's Palace
The official residence of the Sultan of Brunei – Hassanal Bolkiah. One of the richest men on the planet, his net worth is estimated at $20 Billion and he is the world's second-longest reigning monarch (after Queen Liz in the UK). You can imagine the opulence of his home, located on the banks of the Brunei River, southwest of the capital. In terms of floor space, it is ranked as the largest residential palace in the world.
Kampung Ayer Walking Tour
Known as the "Venice of the East," Kampung Ayer literally translates as "water village." It dates back several centuries, and today is home to some 30,000 people, making it the largest Malay floating village in the world. You'll receive an eye-opening historical and cultural education during your visit here, exploring how people live and work in houses on stilts in the water. A sure-fire Brunei itinerary highlight.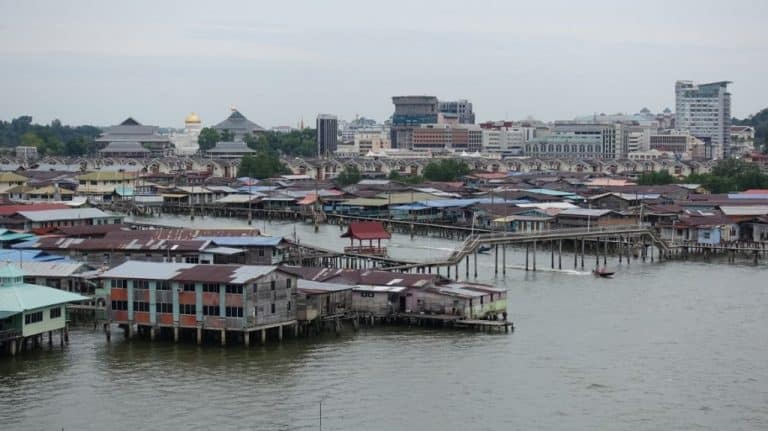 Gadong Night Market
The packed day one of your Brunei tour draws to a close by visiting the colorful and vibrant Gadong Night Market. Here you have the opportunity to take in the sights, sounds, and smells of a street food hot-spot; and gorge yourselves on as many local delicacies as you can possibly consume. Untouched by the mass tourism of other Asian night markets, you can eat as the locals do at Gadong.
Day Two: Scuba Diving
Those of you who have experienced scuba diving before and have an open water certification can dive right into some underwater tourism as part of your Brunei travel itinerary. But don't despair if you're a complete beginner as you can learn to scuba dive here and find out if this addictive and thrilling activity is for you.
Dive! Dive! Dive!
Much like with her rock climbing, Lydia is an old pro when it comes to scuba and wasted no time at all in getting beneath the waves. She completed two "fun dives" during day two, one in the morning and one in the afternoon. Meanwhile, being the rookie of the group, I was receiving lessons on how to use the equipment in a private swimming pool. Everyone has to start somewhere!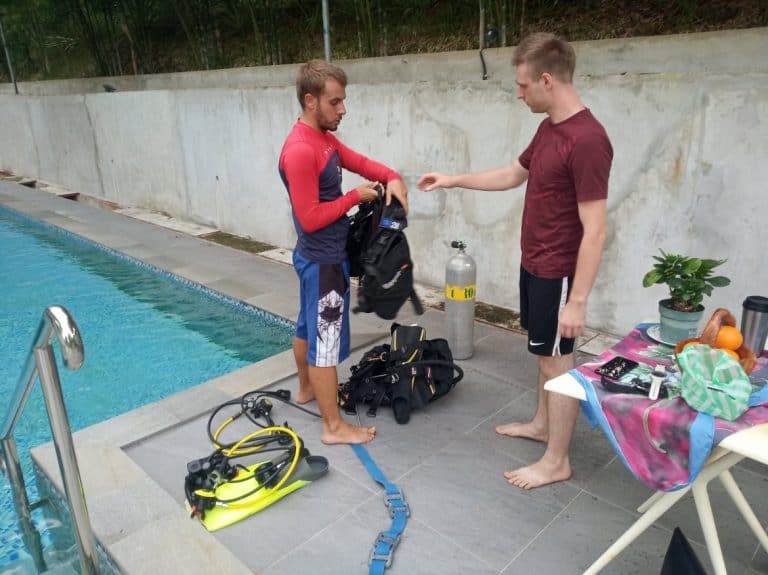 Day 3: Wreck/Open Water Diving
Scuba diving is one of the best things to do in Brunei as the country has been rapidly making a name for itself when it comes to its incredible wreck diving sites. With warm, tropical waters and excellent underwater visibility, the island of Borneo is a great place for experienced divers and novices alike. On day three of our itinerary, Lydia enjoyed wreck diving in Brunei two times, while I had some valuable practice in open water.
Bolkiah Wreck Dive
Apparently, no vessel bearing the Brunei Royal name is allowed to be sold for scrap, so instead, this 1955 passenger craft was sunk by the Brunei Royal Navy in 1992 to form an artificial reef. Today it is one of Brunei's most popular dive sites due to its accessibility for divers of all abilities. Having served its time on the water, it is now serving under it as a wonderful hive of colorful marine life.
The Oil Rig Wreck
Located around 30 minutes by boat from Muara harbor in Bandar Seri Begawan, the oil rig wreck is another popular dive site in these waters. It's an ideal spot for beginners (AKA – me) and was sunk as part of a "rigs to reefs" program to improve marine conservation. Decommissioned in the late 80s, the oil rig has had further additions down the years and it's one of the must-see wrecks off the coast of the capital.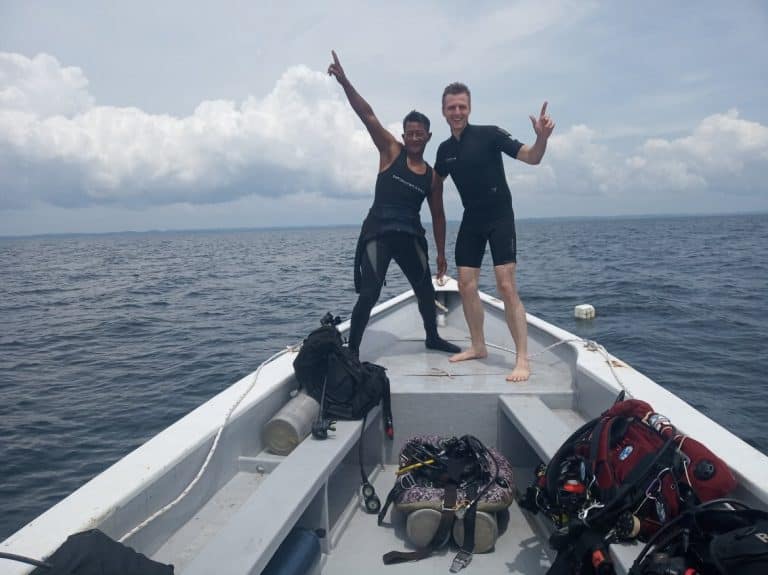 Day 4: A Damp Squib
Our planned day of watersports was totally rained off so we, unfortunately, lost a day. However, if you prefer there are a whole host of other activities and sites you can visit. Depending on what you want to do, you can cherry-pick a Brunei travel tour to suit your taste.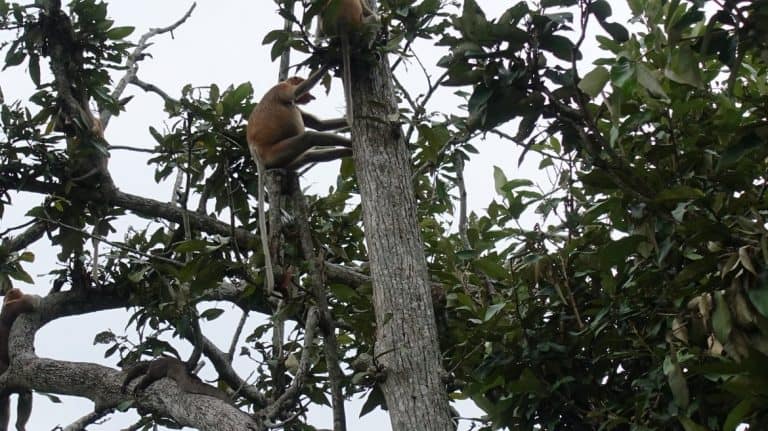 You might choose to explore the Pulau Selirong mangroves of the lush Labu forest reserve. Enjoy a rainforest canopy walk at Ulu National Park in Temburong. Tubing and crocodile spotting (hopefully not at the same time) would be a thrilling experience. And an overnight hike around Tasek Merimbun – the largest natural lake in the country – will bring you right up close to the natural wonders of this island. Plus, loads more options besides.
Day 5: Cultural Tour
The final day of our Brunei itinerary was yet another jam-packed day of sightseeing and experiences, sampling local cuisine, getting even more into nature and rubbing shoulders with the local population…
Tasbee Stingless Bee Farm
You'll find this remarkable eco-farm located in the Tutong district of Bandar Seri Begawan. It's here you can practice the ancient (and much needed) art of apiculture – or beekeeping to put it simply. You don't need to have any prior experience around the insects, nor do you need to get dressed up in protective gear. These bees just happen to be stingless!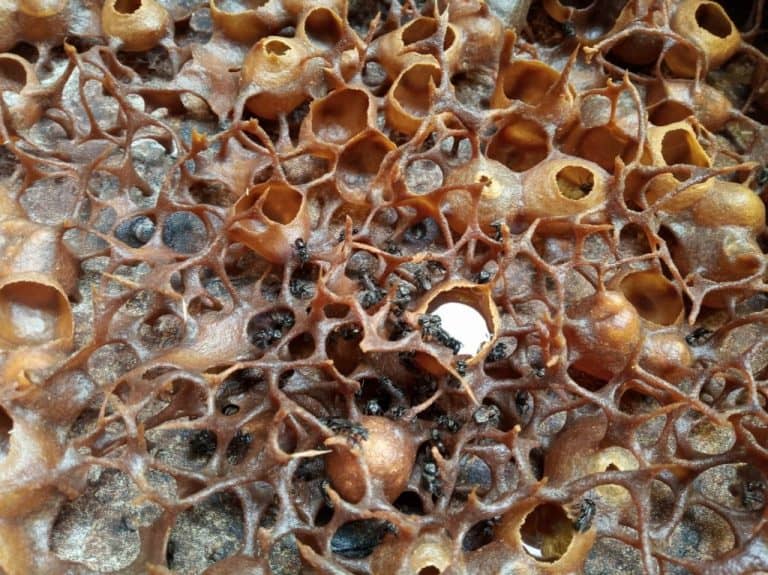 Here you can purchase a jar of stingless bee honey for $3 – and you have the option of harvesting the nectar yourself. The natural architecture of the hives is unique and intricate to look at and it's a really cool alternative sightseeing option on your Brunei tour.
Eco Ponies Garden
A sign on a fence reads: "There is no wifi in this garden, but I'll promise you'll have a better connection." And that, in a nutshell, is Eco Ponies Garden. It's possible to live at this cozy, tranquil farm-stay so long as you help to expand and improve on their mission here.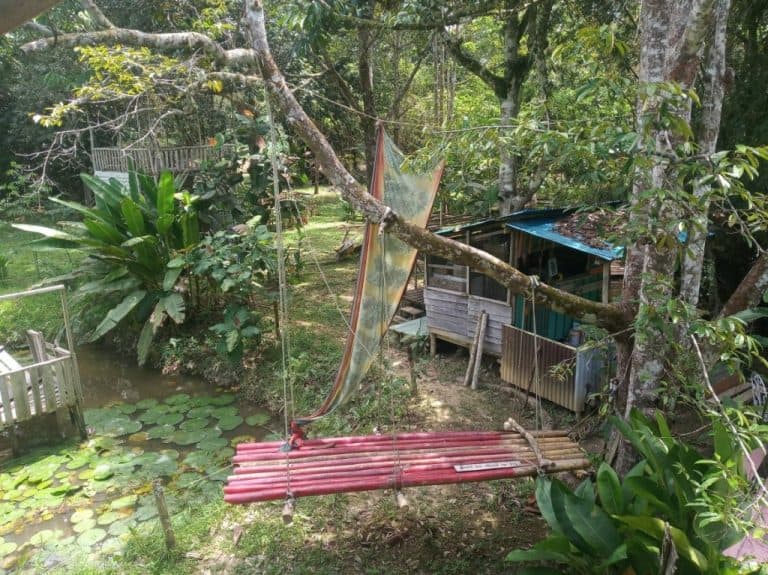 Established in 2015, it aims to champion sustainable living while promoting community tourism and agriculture. It's an off-the-grid, serene retreat where you'll meet friendly locals, learn how to live off the land and reconnect with the natural world. A therapeutic experience that will cleanse the mind and body – both inside and out!
Tasek Merimbun
We did manage to enjoy a short visit to the largest natural lake on the island – Tasek Merimbun. Located about 70 kilometers from the capital, it is surrounded by a 7800-hectare heritage park where important and significant conservation work takes place.
It is possible to spend some time there, hiking the trails, cruising the lake and enjoying dawn and dusk bird (and croc) watching excursions. There is also a mini-museum dedicated to the natural history of the region.
Butterfly Garden
You might be able to guess from our overcast photographs that we didn't have much luck with the weather while we were visiting Brunei. There is an opportunity to see a butterfly garden but once again the downpour put a dampener on our plans. Luckily, the deluge did manage to clear up for our final experience.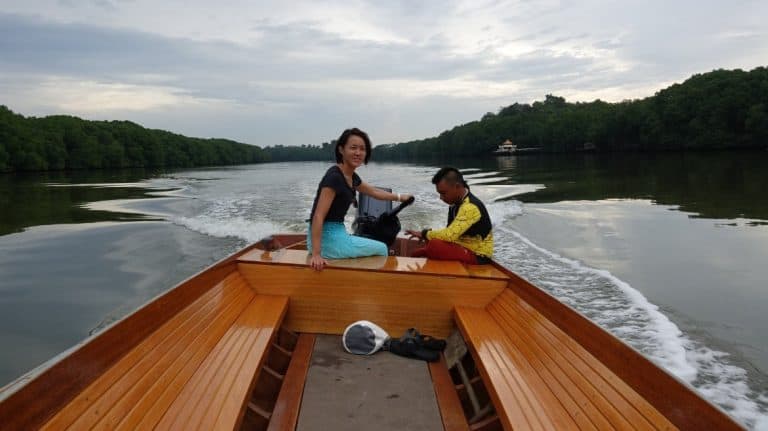 Mangrove Tour with a Local Guide
Last but by no means least on our Brunei itinerary we were treated to a boat tour of the waterways and mangroves of the island. This is where you have the opportunity to see an abundance of animal and plant life from the comfort of your own vessel – which we had a lot of fun piloting ourselves (under our guide's watchful eye).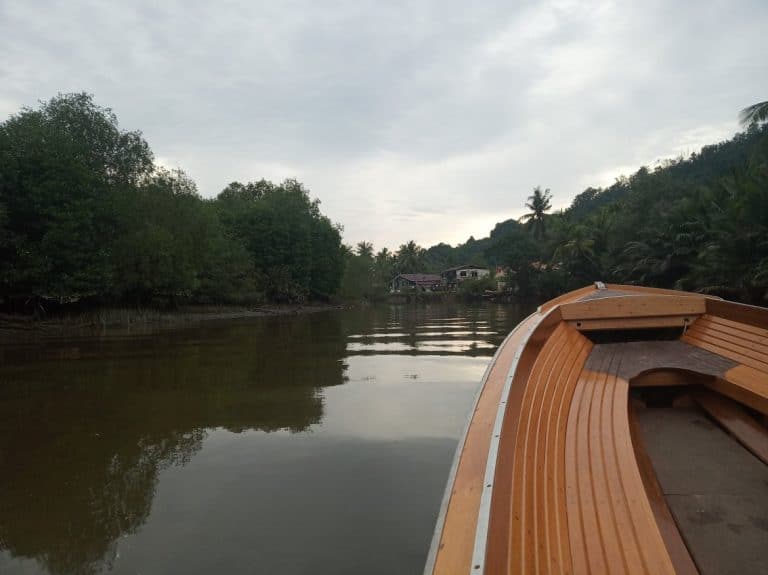 We zipped along at a fair pace, cutting the engine and gliding into the nooks and crannies of the mangrove inlets, eyes peeled for signs of life. You're likely to see the proboscis monkey – which is only to be found on Borneo – as well as a host of birds and – if you're lucky – possibly the odd crocodile. Nature-lovers rejoice – for this is a super-cool experience and a great way to draw our Brunei tour to a close.
Sign me up!
If you'd like to experience a similar Brunei itinerary, let Poni Divers take you on a Dive & Culture Trip of Brunei – just like they took us.
Would you be interested in a Brunei Itinerary? Let us know what you think about visiting this exotic destination