If you are looking for a tent to use at your next camp or outdoor party, then this is the post for you. I have compiled a list of some of the best wall tents on the market so that you don't have to spend hours researching. Some are lightweight, others focus on durability. Have a look at the outfitter tents and you should find that would work well for your needs.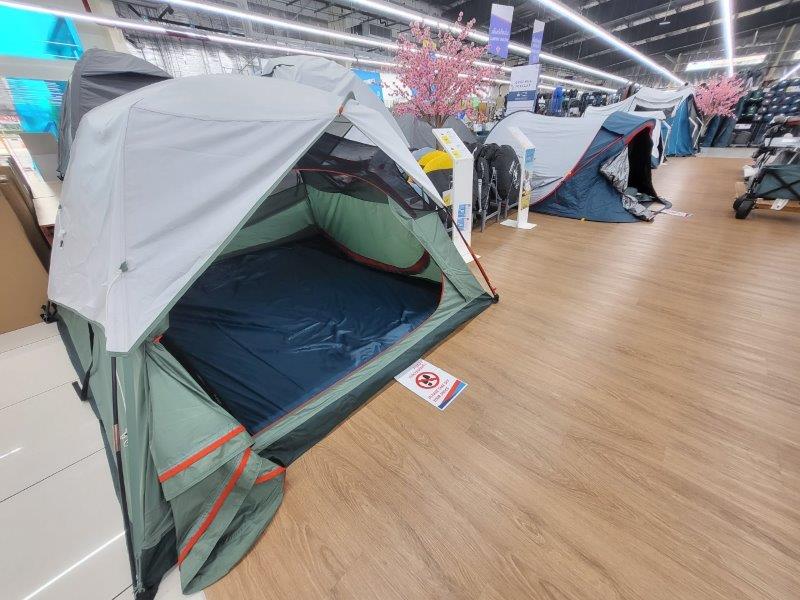 What are the Best Wall Tents?
We have compiled for you the top 6 Best Wall Tents in 2023. In this article we go through the products that we have used ourselves, checked what other users thought about them and we ranked them accordingly.
With years of experience with outfitter tents and having used several wall tents you can trust our review.
Moreover, you can scroll to the end of this review to see our mini buying guide as well as the answers to some of the frequently asked questions about wall tents.
Specs
Price: 💲💲💲 (fewer 💲 = cheaper)
Size: 168 x 120 x 86 inches (426.7 x 304.8 x 218.4 cm)
Size: 10 Persons
Material: 68D Polyester
Waterproof: 600 MM
Instant: No
Tent Type / Shape: Cabin
The Core 10-person comes with outstanding attributes that make it more attractive to campers than the competition. This includes an impressive headroom of 86 inches and straight cabin walls that give you six feet of headroom at the edges so one can stand straight anywhere inside the tent. I also like that it comes with two doors on opposite sides of the tent, and when you put up the room divider, it creates two rooms with two separate entries for convenience.
Another remarkable feature is the stable and robust build quality of the tent that many campers have noted performs well in moderate showers and wind. The ground vents are a great addition to the roof vents and make the tent more breathable and comfortable on summer nights. However, you'll need to buy a groundsheet to protect the tent floor from getting torn. Additionally, while it may fit ten sleeping bags, you may want to accommodate fewer people, up to six or eight campers, if you want to keep your gear inside.
Pros
Withstands inclement weather remarkably well,
It comes with ground vents to improve air circulation,
The straight cabin walls allow a tall headroom height,
It's simple design allows fast set up with two campers
Cons
Zippers get stuck on the door flaps,
Has few internal mesh pockets
Specs
Price: 💲💲💲💲 (fewer 💲 = cheaper)
Size: 156 x 156NaN inches (396.2 x 396.2NaN cm)
Size: 6 Persons
Material: Canvas Polyester
Instant: No
Tent Type / Shape: Ridge
The Elk Mountain Tents is an American company that specializes in manufacturing wall tents. The tents feature internal steel frames and canvas polyester fabrics that make them exceptionally heavy-duty for camping in any season. The standard model features a 169 square foot capacity that accommodates six campers in cots if they don't have a wood stove inside. The tent's walls are at 5-feet at the edges, and considering it is an A-frame style, the center height is significantly higher. However, the tent poles, floor, and rainfly are purchased separately.
Additionally, the tent roof features a stove jack where the stove pipe extends out of the tent, four screened windows and screened ridge openings for ventilation. The manufacturer uses a superior quality polyester canvas material that does not form condensation and is resistant to mold and mildew. Plus, the tent does not require a rainfly since the material is reliably water-resistant, but you may need it in winter camping.
Pros
Premium quality tent for extended hunting trips,
Allows generous interior space for six or more campers,
Delivers exceptional performance in cold weather camping,
Excellent ventilation system with windows and ridge flaps
Cons
You buy the tent poles and floor separately,
Requires three people to set it up and takedown
Specs
Price: 💲💲 (fewer 💲 = cheaper)
Weight: 61 pounds (27.67 kg)
Size: 133.2 x 120 x 120 inches (338.3 x 304.8 x 304.8 cm)
Material: 500D Polyester
Instant: Yes
Tent Type / Shape: Canopy
The Eurmax pop-up canopy is a versatile tent for commercial uses, such as promotional events, and recreational purposes such as picnics and sporting events. It is a heavy tent and comes with a convenient and waterproof roller bag for portability. But, the bag only carries the frame and roof cover while you pack everything else separately.
The tent features a pre-assembled alloy steel structure with a smooth thumb lock system that allows an instant setup and takedown by two people without tools. It comes with a heavy-duty 500D polyester tent fabric that is both fire retardant and UV protected for multiple uses.
The tent also comes with 210D polyester sidewalls that attach to the frame with velcro and zippers. The canopy is remarkably robust for heavy-duty use in inclement weather, while the sealed seams make the tent waterproof. Additionally, it comes with sandbags to hold down the tent when you pitch it on hard surfaces, but you would have to get stakes and guy lines separately for setting up on soft terrain.
Pros
Sturdy and durable canopy for heavy commercial use,
Alloy steel structure is Hammertone powder-coated to prevent rust,
It has a pre-assembled structure for quick setup and takedown,
It comes with sandbags for stability on compact terrain
Cons
It doesn't come with stakes and guy lines for soft terrain,
Heavy structure for one person to set up and take down,
It does not withstand strong winds
Specs
Price: 💲 (fewer 💲 = cheaper)
Size: 129.6 x 120 x 120 inches (329.2 x 304.8 x 304.8 cm)
Size: 8 Persons
Material: 420D Oxford Fabric
Instant: Yes
The GDY pop-up canopy tent is an attractive model with screen windows on two opposite side panels and comes in various bold colors. The front panel opens up with tie-backs like a curtain to make it look more like a backyard gazebo than a market stall tent. The package includes a pre-assembled steel frame that allows quick setup, and while it is good quality, it is also significantly lightweight and may not be wind resistant. Plus, it comes with four sidewalls that offer minimal protection in wind and rainy conditions as the corners leave gaps between the panels.
The tent structure offers three height adjustments, but it doesn't have the safe thumb locks that other tents have. However, it comes with ground nail stakes and rope to hold it down and improve stability. On the flip side, the package does not include sandbags, and if you plan to set it up on pavements, you may need to buy those separately. Another notable feature is the center pole that pushes up the tent roof to make it rigid and shed water better when it rains.
Pros
It has an attractive design in a variety of bold colors, Features two windows for better natural lighting,
The roof cover is rigid and sheds rainwater effectively,
A lightweight structure that's easier to transport
Cons
Not stable in rainy or windy conditions,
Side panels offer minimal wind resistance
Specs
Price: 💲 (fewer 💲 = cheaper)
Size: 126 x 120 x 120 inches (320 x 304.8 x 304.8 cm)
Material: 210D Oxford Fabric
Instant: Yes
Tent Type / Shape: Canopy
This Outdoor pop-up tent is an excellent option for hosting people in your backyard or a buffet table for an outside dinner party in your home. Like most tents of this size, the Outdoor canopy tent is not resistant to wind and rain but is sturdy when used in fair weather.
The tent features a high-grade steel frame that's powder-coated to prevent rust and scratches, while the tent fabric is 210D Oxford with an interior silver coating to block out UV rays. This 10′ x 10′ model accommodates six to eight people with seats and a table if you want to set up lunch or dinner outside. It also has a quick setup design that requires two people to pitch it up and secure it with the ground stakes. Additionally, the package comes with a wheeled carry bag for easy transport.
Pros
Comes in bold and attractive colors for social events,
Tent fabric features a silver lining to block UV rays,
Good quality and sturdy frame structure, Can withstand light rain and wind when staked
Cons
Has poor workmanship on the seams and velcro attachments,
The tent fabric is light-duty and not durable
Specs
Price: 💲💲💲 (fewer 💲 = cheaper)
Weight: 48 pounds (21.77 kg)
Size: 360 x 120 x 102 inches (914.4 x 304.8 x 259.1 cm)
Size: 30 Persons
Material: Polyester
Instant: No
Tent Type / Shape: Canopy
The Meet Perfect 10′ x 30′ canopy tent is notably lightweight, and many buyers attest to its inability to withstand light wind even when staked to the ground. On the other hand, the tent is easy to set up and comes with eight removable sidewalls that have windows and two zippered door walls for access.
The canopy tent is versatile for various recreation uses and can accommodate 30 people with banquet-style seating. Unfortunately, the tent does not come with good reviews as its construction is not robust. For instance, many people note that the polyester tent fabric tears quickly and does not fit the steel frame. Additionally, the poles are very lightweight and bend easily with minimal pressure, while other buyers had some parts missing in their package.
Pros
Provides generous shade for occasional backyard parties,
Has quick set up and take down with numbered parts,
The tent comes with ground stakes and rope for stability,
Features a water-resistant and UV protected tent fabric
Cons
Poor build quality and durability,
Only suitable for use in dry and windless conditions
Verdict
To summarize, we have gone through dozens of wall tents and decided that 6 are worth your consideration. Out of these, the absolute Best Wall Tents is 10 Person Core Straight Wall Cabin Tent which we highly recommend as our overall best.
If money is not an issue, you can consider Elk Mountain 13×13 Standard Model Canvas Wall Tent as this is our Premium Pick.
Otherwise, there's no shame in spending prudently, Eurmax 10×10 Pop up Canopy Tent is the Budget Option.
Our other reviews you may find useful in your research:
What You Should Know Before Buying wall tents
Tent materials
When selecting a tent, material is a key factor that we always consider. PVC is waterproof but not ideal for hot or humid environments due to poor breathability. Nylon can be treated to be water-repellent but may compromise interior comfort. Polyester has the advantage of staying dry and handling temperature well, albeit at the expense of extra weight and less durability. Canvas provides a retro, breathable option but struggles with waterproofing. Gore-tex excels in both breathability and water resistance but is costly. Lastly, Silnylon is water-resistant and breathable but lacks the durability needed for an entire tent structure.
Size
Tent size can make a huge difference when it comes to your camping experience. We all want a space that feels like a cozy refuge, but it should also be robust, not too heavy on your back, and friendly on the wallet. Based on our experience, a 2-person tent ideally sized at around 230 x 160 cm and standing at 100 cm tall hits the sweet spot. However, the world of tents is vast, and there's flexibility to adjust based on individual preferences.
Ventilation & Heat Resistance
Something you need to look at in tent build is the amount of mesh throughout. This is especially helpful when it comes to those balmy camp nights. The presence of multiple mesh windows is a game-changer for promoting effective airflow. While sheltering your tent from the sun's direct rays and adjusting the rainfly can help in heat moderation, the typical waterproofing of rainflies can sometimes restrict air movement, leading to unwanted condensation. We prefer tents equipped with inner roof vents to prevent this issue. When there's a rainfly overhead, the space it creates with the tent's inner layer aids in ventilation while also ensuring you stay dry from any unexpected showers.
Water, Wind and Snow Resistance
In recent years, we've found that manufacturers are increasingly focusing on weather resistance. We see a lot of dome designs, which are fantastic for keeping snow from accumulating on the tent. Extended rainflies reaching the ground and heavy-duty water-resistant fabrics are essential features for staying dry in wet conditions. Sturdy poles and stakes are always a plus for overall stability.
Wall Tent Frame
Most of the frames are made of steel, aluminum, or a combination of both. You can also find frames made from wood, PVC pipe, and even fiberglass. Before you select a frame for your wall tent, it's important to understand the weight and durability limitations of each type. Steel framed Wall Tents
Steel frames offer a medium weight and durability that's perfect for heavier loads and taller walls. If you plan on camping in windy locations (i.e.: mountains), this is probably your best choice as it tends to be more wind resistant than aluminum frames which are typically lighter weight with less durability Aluminum framed Wall Tents
Aluminum frames offer a lightweight and medium durability that's perfect for most camping types. Its lightweight design makes it easy for one person to assemble.
Combination framed Wall Tents
If you like the durability of steel with the lightweight features of aluminum, this is a great option. Aluminum isn't always on top in durability, but that can be added to steel frames with higher quality alloying elements.
Wood framed Wall Tents
Wood is a great frame choice if you're looking for a rustic camp experience. However, this is probably not the best choice if you're looking for an all-purpose tent. Wood can be heavy and isn't usually chosen by most Wall Tent owners as it can be less wind resistant than aluminum or steel frames
PVC framed Wall Tents
PVC is a surprisingly strong material that can be used to create a great frame. While it does have a few limitations, mainly plasticizer leaching and UV degradation, it's still a viable option for your wall tent if you plan on using it in mild conditions
Fiberglass framed Wall Tents
These frames provide the highest weight and durability in the market. They're also preferred in applications where heavy snowfall is expected as they can withstand the weight and pressure of a large amount of snow.
Questions and Answers About wall tents
Can any tent be used in winter?
Not really. It is important to take temperatures and conditions into consideration when choosing a tent.
There are two general types of tents, three-season, and four-season. The latter handles cooler temperatures better by using thicker materials in the outer shell. The other 3-season tents are made from lighter thinner fabrics meant to be more comfortable to use in warmer conditions during summer months.
How do you safely heat a tent?
Stay dry, cover the tent with a layer of snow, use portable space heater if available.
Are expensive tents worth it?
In general, yes. Tent quality can be measured in a variety of areas, from construction materials to the company's reputation. High-quality tents are built with durable polyester or nylon fabrics that feel soft and do not give off an electric or plastic odor (a sign of low-quality synthetics). The stitching is clean and sealed against water damage, often reinforced with extra light fabric like mesh for increased ventilation. Zippered tent doors close smoothly without getting caught up on the material, tent poles are inserted into sleeves at both ends of each pole rather than simply wedged between two connections (which causes wear), floor seams are waterproofed, costly tents come with color-coded webbing for set up simplicity and include reflective borders to increase visibility when camping at night.
Most high-quality tents include equipment like tent poles, guy ropes, stakes and storage bags. It is advisable to purchase a special water repellent spray to protect the floors and seams of your new tent from moisture damage. Many of these products can be sprayed on while the tent is in use or after it has been packed away.
Tents made by major manufacturers offer a warranty against damage done to your tent during a heavy storm, although most camping experts agree that the best way to protect your investment is through proper care and storage methods. Quality tents can last for years with proper treatment.