Large duffel bags have certainly saved us a time or two on our more extended journeys and travel adventures the past few years on the road. These large size bags have really redefined the way we think about long-distance travel and backpacking, combining both versatility and ample storage in a way that few other luggage options do. With their wide range of designs and sizes, large duffel bags help streamline your budget travels, whether you're jetting off on a weekend escapade or hauling summer gear across the city. They also offer more storage compared to other duffels, giving you greater flexibility in the types of items you can pack, like a yoga mat.
Below, you can discover our top picks for the best large duffel bags that can help you on your next trip.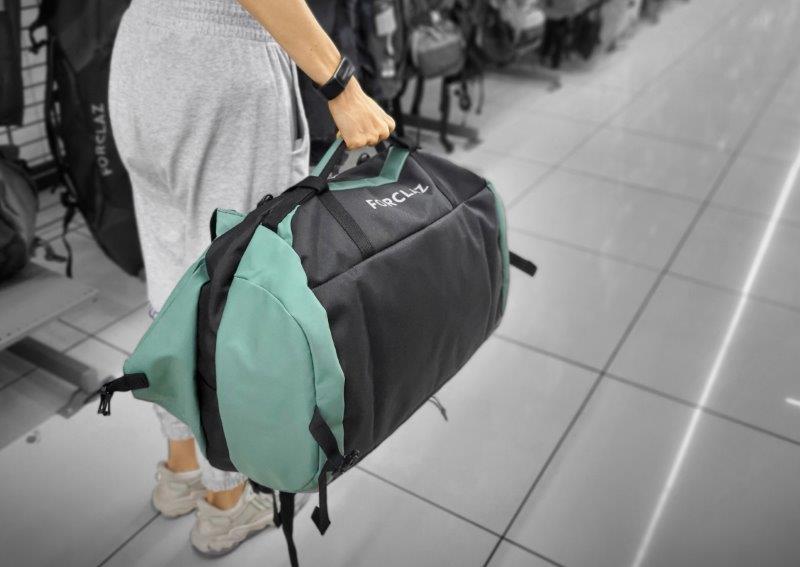 What is the Best Large Duffel Bag?
We have compiled for you the top 7 Best Large Duffel Bag in 2023. In this article we go through the products that we have used ourselves, checked what other users thought about them and we ranked them accordingly.
With years of experience with oversized duffel bags and having used several large duffel bags you can trust our review.
Moreover, you can scroll to the end of this review to see our mini buying guide as well as the answers to some of the frequently asked questions about large duffel bags.
Specs
Price: 💲💲 (fewer 💲 = cheaper)
Capacity: 249 liters
Size: 42 x 19 x 19 inches (106.7 x 48.3 x 48.3 cm)
Wheels: no
Water Resistant: yes
Waterproof: no
Converts to a Backpack: no
The K-Cliffs Heavy Duty Cargo Duffel Bag as the best large duffel bag on the market. This duffel bag is large enough to fit a human being, which makes it perfect for use as a travel bag, cargo bag, or a sports and adventure equipment bag. It is made out of high-density 600D Polyester material, which is durable and can be handled without wear and tear. The material is also water-resistant to ensure all your gear stays dry.
The excellent construction on this bag makes it durable even when used to carry heavy equipment.
Pros
Very large capacity,
Adjustable shoulder strap with comfortable shoulder pad that prevents slipping,
Extremely lightweight,
Can easily be folded to be about a square foot,
Zipper extends from end to end for easy packing,
Zipper tabs have holes that allow you to use a lock
Cons
Too large for some airline linear dimension restrictions
No rigid structure thus offering no protection for fragile items
Specs
Price: 💲💲💲💲 (fewer 💲 = cheaper)
Capacity: 155 liters
Weight: 4 pounds (1.81 kg)
Size: 33 x 17.5 x 6.5 inches (83.8 x 44.5 x 16.5 cm)
Material: polyester
Wheels: no
Water Resistant: yes
Waterproof: yes
Converts to a Backpack: yes
The extra-large travel duffel bag by Unplug works well for rugged adventures with weatherproof TPU Laminated Ripstop Oxford construction. With the loads of space you can leave it packed and ready to go. You get a weekender bag to use for hiking, kayaking, or international traveling made up of a roll down zip system with eight compression straps creating an airtight dry bag. Furthermore, with all the tie-down points, you can use it as a car roof rack for camping as well.
Pros
All-weather bag,
Sturdy, robust, and durable,
Shock-resistant backpack straps with chest strap,
Huge bag for long hauls,
Can compress the bag for smaller loads,
Waterproof and made for long-term use
Cons
Could use more storage
Small pockets
Specs
Price: 💲 (fewer 💲 = cheaper)
Size: 32.5 x NaN x 11.5 inches (82.5 x NaN x 29.2 cm)
Material: nylon
Wheels: no
Water Resistant: no
Waterproof: no
Converts to a Backpack: no
Made from nylon, this AmazonBasics collapsible duffel bag is lightweight, tipping the scales at just a pound. Even at such a light weight, it's still impressively sturdy. A nifty exterior zip pocket keeps your little essentials within reach at all times. Meanwhile, the spacious interior can handle larger hauls for any trip you're planning. We'd compare it to the space of a trunk but without those inefficient rounded corners. To be honest, you might worry more about overstuffing it than running out of room. However, a heads-up: locking it can be a bit tricky since the zippers don't have holes in them.
Pros
Attractive design
Comfortable grab handle
Durable stitching and straps
Perfect size for checked luggage
Cons
Zippers don't include holes for locks
Small zippers
Specs
Price: 💲💲💲 (fewer 💲 = cheaper)
Capacity: 22.6 liters
Size: 36 x 16 x 15 inches (91.4 x 40.6 x 38.1 cm)
Material: polyester
Wheels: no
Water Resistant: yes
Waterproof: no
Converts to a Backpack: no
Interested in a duffel bag that'll match your game team colors? The two-tone solid color design of this Jetstream foldable travel duffel bag makes it ideal for personal and team customization. It even has a 30″ opening panel where you can stitch or print your team's logo.
The bag has a roomy interior and 2 exterior end pockets where you can pack your smaller items or dirty gear. For a secure closure, it boasts strong 2-way zipper closure with small attached pulling tabs.
Pros
Heavy-duty straps with extra stitching for support,
Spacious enough to hold a full set of gears,
Strong and waterproof fabric,
Strong seams,
Super easy to pack and get things out,
Reasonably priced
Specs
Price: 💲💲 (fewer 💲 = cheaper)
Capacity: 76.6 liters
Size: 30 x 13 x 12 inches (76.2 x 33 x 30.5 cm)
Material: nylon, polyester
Wheels: Yes
Water Resistant: no
Waterproof: no
Converts to a Backpack: no
This Wrangler duffel bag features multiple pockets with generous space to keep your luggage organized. It is spacious for short trips and lightweight as check-in luggage. It is made with nylon fabric that is durable and easy to clean. It features a telescopic pull handle with top and side padded handles for lifting. On the downside, the duffel bag wobbles on its blade wheels, which makes it hard to pull smoothly.
Pros
Large front and side pockets for organization,
Retractable telescopic handle for convenience,
Heavy-duty in-line blade wheels,
Base support to keep it upright,
Great value for money,
Check-in luggage size
Cons
Loose seams that tear easily,
Wobbles when pulling it
Specs
Price: 💲 (fewer 💲 = cheaper)
Capacity: 100 liters
Size: 36 x 13 x 13 inches (91.4 x 33 x 33 cm)
Material: canvas
Wheels: no
Water Resistant: no
Waterproof: no
Converts to a Backpack: no
This duffel bag is constructed with canvas fabric with reinforcement at the stress points to prevent deterioration. Canvas is typically used for military issued duffel bags and is extremely durable, which is perfect for camping trips and use for sports. On the downside, it is heavier and has less water resistance than synthetic alternatives such as nylon and polyester, which makes it a less attractive choice for travel. The bag features three grab handles made up of two reinforced web handles at the ends, with one in the middle to haul heavy loads. Grab handles for a bag this size makes it very uncomfortable to carry alone, which only leaves you with the shoulder strap as a carry option. It is only available in black.
Pros
Generous capacity in a single compartment
Durable construction for prolonged use,
Full-length heavy-duty zippers with key locking,
Great value for money
Cons
No padding inside to protect equipment
Not water-resistant
Specs
Price: 💲💲💲💲 (fewer 💲 = cheaper)
Size: 34 x 18 x 15 inches (86.4 x 45.7 x 38.1 cm)
Material: polyester
Wheels: Yes
Water Resistant: yes
Waterproof: no
Converts to a Backpack: no
The Samsonite Andante 2 is an upgrade of a previous model with new features such as the front U-zip for convenience. The large U-shaped main opening makes it easier for you to pack and access the contents of your bag. The Andante 2 has still retained the premium build quality that Samsonite is known for. It is designed for a refined but functional look and comes in several color assortments.
This rolling backpack is made of durable, water-resistant 840-denier polyester and comes complete with smooth-rolling wheels and a locking pull handle that is retractable for easy maneuverability. It features corner protectors to guard against wear and tear, and bumper runners on the bottom.
Pros
Drop bottom compartment to separate your luggage,
Water-resistant end pocket for shoes or wet clothes,
Modified duffel bag design with separate grab handles,
Locking pull handle with smooth, rolling wheels,
Generous space in the main compartments, Attractive with a stylish design
Cons
Poor quality construction that will not last long
Separate handles that rip apart easily
Verdict
To summarize, we have gone through dozens of large duffel bags and decided that 7 are worth your consideration. Out of these, the absolute Best Large Duffel Bag is K-Cliffs Heavy Duty Cargo Duffel Bag which we highly recommend as our overall best.
If money is not an issue, you can consider 155L Unplug Extra Large Waterproof Duffel Bag as this is our Premium Pick.
Otherwise, there's no shame in spending prudently, AmazonBasics Large Travel Luggage Duffel Bag is the Budget Option.
Our other reviews you may find useful in your research:
What You Should Know Before Buying large duffel bags
Overview
The sheer variety of duffel bags available in the market can be confusing. In this article, we'll break down all the factors you should consider to help you pick the best large duffel bag that suits your needs. Before diving into the factors, ask yourself why you want the bag and how you intend to use it. This will help you pick out the most important factors for you.
Capacity and Weight
Duffel bag sizes range from 6L to about 160L. Oversized duffel bags (75L+) are perfect if you need space for your extra layers or gear and tents for your adventure. The absence of frames in the structure of most duffle bags makes them extremely light when empty. This allows you to pack more while staying within the airline checked luggage allowance. If you need to carry your luggage around on your trip wheeled or rolling duffel bags may not be the best option as they often weigh more.
Questions and Answers About large duffel bags
Can a large duffel bag be a carry-on?
Most large duffel bags exceed the size requirements provided by various airlines. The duffels on this list have a capacity of over 100L while the best duffles to use as carry-ons are those under 35L. Although airline requirements vary, allowed sizes range from 22 x 14 x 9 inches (56 x 36 x 23 centimeters) to 22 x 16 x 8 inches (35 x 20 x 20 centimeters).
What is the weight of a 36-inch duffel bag when full?
When full, the pack can weigh approximately 50 lbs depending on the bag's style and the gear that you pack in it.
How do you pick the best 60L duffel bag?
Selecting the right bag for your travel needs, you can consider the following requirements
The construction is important to determine how long the bag will hold up for what you plan to use it for. Please pay attention to the material (water-resistant/waterproof), support straps, to zippers.
Ease of use is just as important when carrying and helps to check if you get various handling methods with the carrier. Lastly you need convenience and having a wide opening main compartment to several pockets help keep your gear organized and within reach.
What is the difference between a 45l duffel bag and a 60l duffel bag?
The 45L duffel bag offers you 2,772 cubic inches of packing space-efficient to use as carry-on luggage for overnight and weekend trips. While the 60L provides you with 3,331 cubic inches for packing clothes up to a week of travel. In simpler terms, 45L is equivalent to 21 six packs while 60L to 28 six packs.
How big can a duffel bag be?
The maximum capacity for most large duffle bags is around 160L, while the overall maximum size is usually around 85 x 43 x 44cm/ 33 x 17 x 18″ (LxWxH).
Can I bring a duffle bag as a carry on?
Yes, if the duffle bag is within the size requirements of the airline you use. We highly recommend checking with the different air services for your trip.
What is a hybrid duffel?
A hybrid duffle, also known as a duffel backpack, is a duffel bag that features dual function straps that allow you to wear it as a backpack. These straps allow you to have all the amazing features of a duffel bag and the convenience of a backpack. However, a hybrid duffel is not as comfortable as a dedicated travel backpack. Since they lack structure, duffle backpacks will likely slouch against your back which may cause discomfort when worn for long periods.
What size is 60l duffel bag?
The carrier has a similar size to a half barrel Beer Keg or just over 28 six packs.
What does a 60l duffel bag look like?
60 liters of space is equivalent to just over 28 six packs of beer (also non-alcoholic, wink wink). This enables one to visualize the amount of space you'll have to play with in a 60L duffel bag.