It is never easy to tell where kids will be when it rains—probably playing and stomping on puddles outside. A rain jacket will save you a lot of stress about them getting sick from drenched clothes. Besides keeping them warm and dry, the best kids' rain jackets come in many stylish designs they will be happy to wear.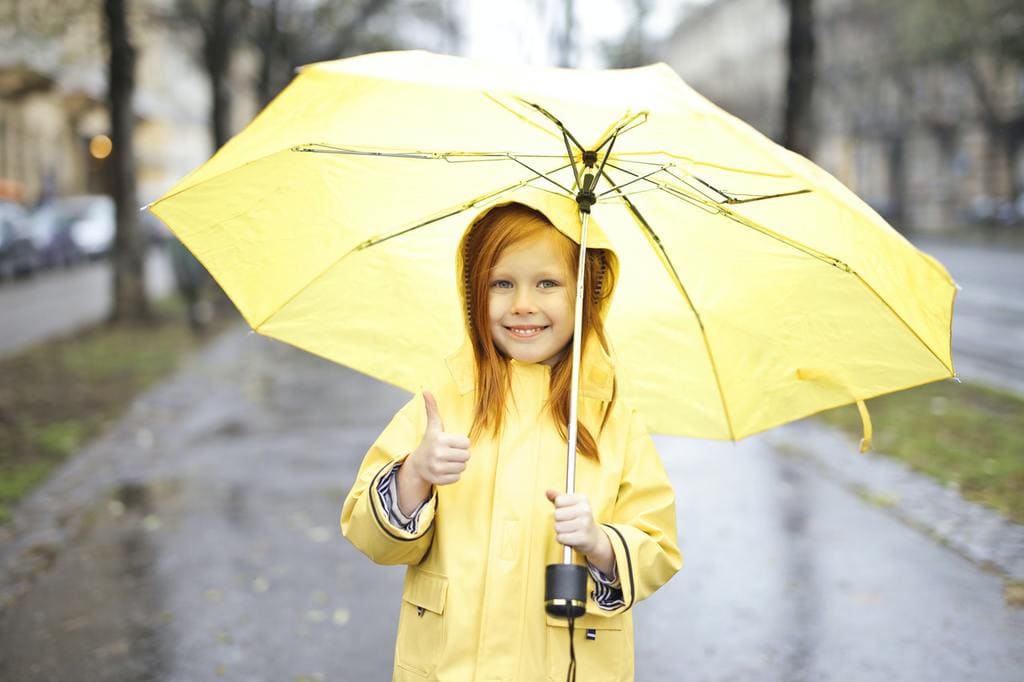 What is the Best Kids Rain Jacket?
Having gone through dozens of kids' rain jackets in the market, and what parents said about them, we can say it's not easy to find the right fit for your child. However, after analyzing features like the quality of material, functionality, and comfort, we compiled a comprehensive list to help you with this decision. Check out the kids raincoat buying guide and frequently asked questions at the end if you are still unsure on which jacket to purchase.
The Columbia Girls' Switchback II Waterproof Jacket is my top choice, and it features a drop tail design that keeps your kid warmer on their backside. This raincoat is super lightweight to allow your kid to run around without feeling weighed down. It features a polyester inner lining with a waterproof Hydroplus 100% Nylon fabric outer shell. Some users have noted that the outer Nylon shell is not waterproof but water-resistant for light rain. On the upside, its thin construction makes this raincoat excellent for layering with other warmer clothes. It also comes with two side pockets for kids to keep their hands warm. The Switchback 11 Jacket has a front zipper with elastic cuffs that make for a comfortable fit, and a hoodie that protects the face and ears from the cold. However, it does not come with adjustable ties around the neck, which leaves this area exposed to rain.
Pros
Features a drop tail zipper closure,
The reflective element of the jacket keeps your kids safe,
It comes in a variety of colours to choose from,
The raincoat is lightweight to layer with other clothes
Cons
The thin lining does not provide warmth ,
Lack of neckties leaves the neck area exposed, The sizing of the raincoat can be off
The Columbia Boys' Glennaker Rain Jacket features a 100% Nylon shell to protect your kids from getting wet in the rain. Although it comes as a waterproof raincoat for kids, some users have noted that it does not perform well in heavy rain. The jacket comes with elastic cuffs and hem to secure a comfortable fit while also providing space for movement. It has an oversized hoodie that lacks a drawstring which allows water to wet your face and hair, and it also does not feature an inner lining for warmth. However, it is excellent for layering with other warm clothes, and its lightweight construction makes it easy to carry around.
The jacket comes with two zippered pockets to keep small items and the kid's hands warm. It is my budget-friendly pick for a kid's rain jacket, and it comes in a range of exciting colors and sizes for children.
Pros
Comes with elastic hem and cuffs for a snug fit,
Features reflective detailing for visibility, Makes an excellent windbreaker,
Lightweight and durable construction
Cons
The material is non-breathable, so it gets smelly, No inner lining for warmth,
No hoodie drawstrings to protect the face
Specs
Price: 💲💲💲 (fewer 💲 = cheaper)
Shell Material: 100% Polyurethane
Lining Material: 100% Polyester
The Hatley Girls' Splash Jacket is a high-quality and lightweight raincoat, available in only blue and red colors. It features a waterproof 100% polyurethane outer shell with a polyester lining to keep the kids warm during the cold weather. It also features two deep side pockets to keep their hands warm.
This kid's jacket is also an excellent windbreaker with a generous hood for coverage. However, the hood may allow water to reach the neck area in heavy rain, which some users did not like. On the upside, the Hatley Girls' Splash Jacket is easy to clean and is durable for use through multiple seasons.
Pros
Waterproof rubberized outer shell, Detachable hood for versatility,
Terry cloth lining keeps you kid warm,
Suitable for both boys and girls
Cons
The jacket wears out quickly,
The snap button closure is difficult for some kids
Specs
Price: 💲 (fewer 💲 = cheaper)
Shell Material: 100% Nylon
Lining Material: 65% Polyester, 35% Cotton
The Western Chief Boys Rain Coat is a lightweight jacket for boys, and it is available in three attractive designs. The jacket features a waterproof soft polyurethane outer shell that may offer excellent performance in the pouring rain. Although it also comes with a warm and soft inner lining that is excellent for young kids, it is also light enough to move around in comfortably. The two large pockets are functional for their storage needs and keep their little hands warm, while the hood protects the hair and face from the rain. The Western Chief Boys Rain Coat features snap closure buttons that can be difficult for small children to use. However, older children might find it more convenient to use than zippers. There are three fun designs to choose from, Froggy, Batman and Fire Department designs, which also can double up as Halloween costumes. The Western Chief Boys Rain Coat is suitable for use all year round.
Pros
It comes with matching boots and an umbrella,
Warm cotton and polyester inner lining,
The rubber exterior keeps kids dry when it rains,
Fireman design makes a fantastic Halloween outfit
Cons
Cleaning is limited to hand wash only,
It wears out quickly,
The sleeves come a bit long
The Hatley Boys' Printed Raincoat is a stylish jacket made from 100% Polyurethane and comes in several fun designs. The lightweight raincoat has a waterproof polyurethane outer shell with a terry cloth inner lining and is soft and warm for cold weather. The polyurethane shell makes the jacket more breathable and long-lasting for multiple seasons. The Hatley Boys' Printed Raincoat has two patch pockets on the sides for snacks and small toys, while the snap button closure makes it easy for them to wear and remove the jacket.
This jacket's most attractive feature is its color-changing design, where the prints change color when wet. It is the premium choice on my list, and it comes with matching Hatley boots, rain pants, and an umbrella.
Pros
Color changing print when the raincoat gets wet,
PVC-free to allow breathability when running,
It comes with matching Hatley boots, umbrella, and pants,
The outer layer is pliable and quiet as they move around
Cons
The rubbery smell makes it hard to wear,
Sleeves are too long for the sizes
Verdict
To summarize, we have gone through dozens of kids rain jackets and decided that 5 are worth your consideration. Out of these, the absolute Best Kids Rain Jacket is Columbia Girls' Switchback II Waterproof Jacket which we highly recommend as our overall best.
If money is not an issue, you can consider Hatley Boys' Printed Raincoat as this is our Premium Pick.
Otherwise, there's no shame in spending prudently, Columbia Boys' Glennaker Rain Jacket is the Budget Option.
Our other reviews you may find useful in your research:
What You Should Know Before Buying kids rain jackets
Overview
A good quality kid's raincoat should be durable to last more than one season. It is essential to get your child a jacket that is comfortable to wear over their clothes and effective in protecting against the rain. Below you will find a few features to consider before buying kids' rain gear.
Rain Jacket Materials for Kids
When buying rain jackets for kids, what matters most is the material used to make the coats. Jackets made with Nylon and Polyester material are lightweight and breathable and may be the right choice for young active kids. With these materials, the rain jackets tend to last longer. If you want a warm rain jacket that will not allow water to leak through, try a kids raincoat with an inner lining.
Waterproof vs. Water-Resistant
Kids raincoats can either be water-resistant or waterproof. Waterproof raincoats use fabrics like Gore-Tex, Polyester Microfibre, and Polyurethane to prevent any amount of water from penetrating through them. The best waterproof rain jackets are lined with an inner membrane to make them more breathable and durable. Water-resistant rain jackets will keep you dry in light rain. The fabrics used include Nylon, Polyester, or Laminated Cotton. Although these materials do not hold up very well in heavy rain, some manufacturers may line the Nylon or Polyester fabric with resin to make it waterproof.
Warmth
When buying a kid's raincoat, you may want to consider how warm it is. The best rain jackets for warmth are those with inner linings like cotton or terry cloth to keep your child warm and dry. If the raincoat has a thin inner lining, it will not be the best for cold seasons. Raincoats that do not have a lining use Nylon material because it is lightweight and suitable to layer with other clothes.
Weight
Kids' rain jackets made with Nylon material are lightweight, which allows your kids to move around comfortably without being weighed down. While rain jackets with an inner lining like terry cloth are warm for cold seasons, they can be heavy for moving about in the rain.
Fit / Coverage
When buying a raincoat for your child, you may consider well-fitting one that will look great on them. The best fit should end slightly above the knees or on the waist. Tall kids may require a bigger size jacket for full coverage.
What is the best size for your child? If you want to be 100% sure, check out the sizing charts that come with every raincoat. Kids below the age of six might be more comfortable with US size raincoats between 2-6 while those above the age of seven may fit well in US sizes 7-16.
If your kid requires an adult size rain jacket, check out our best rain jackets here.
Design
Do you want a rain jacket that your kids will love to wear? Try a stylish design with bright attractive colors and is excellent for the outdoors. Some coats come with elastic hoods, hems, and cuffs for a good fit, while others come with press-on buttons instead of the standard zippers at the front to make it easier for kids to remove the raincoat themselves.
Kid-specific Features
Some rain jackets come with elastic cuffs to keep them secure when the kids are playing, while others come with drawstring hoodies to keep their heads warm and protected from the rain. Other kid-specific features such as detachable hoodies and color-changing prints are suitable if you want to use the coat for multiple occasions.
Cost and Value
When buying kids' raincoats, purchasing an affordable option is always the better option because kids outgrow their clothes fast. The more costly rain jackets feature a warm inner lining crucial for a heavy downpour and cold weather. These coats also feature durable and waterproof construction to get you through several seasons. However, if you buy a cheap rain jacket, it may wear out after a few uses and end up being suitable for only one season.
Questions and Answers About kids rain jackets
What is the most important thing to consider when buying a rain jacket for my child?
The main thing to look out for is the material used to make the rain jackets. Waterproof kids' rain jackets perform better under heavy rain. Materials used include Nylon and Polyurethane for the outer shell and Polyester for the inner lining.
How can I care for my kid's rain jacket, so it lasts longer?
Do not over wash the rain coat to make sure it lasts long and maintains its breathability. Once the rain jacket starts to wear out, you may use a waterproofing treatment such as DWR spray to restore its functionally.
How to clean and maintain my kid's rain jacket in good condition.?
Most kids' rain jackets come with tags that mention whether to hand wash or machine wash the garment. As long as you follow the instructions, the raincoats can remain in good condition even after multiple seasons.