Even though hunting boots are incredibly important for hunters traveling through the woods and mountains, they are not always affordable. Many great brands of hunting boots are overly expensive for hunters to reasonably afford. Luckily, there are some great hunting boots available on the market that are more affordable, especially for novice hunters. Below, we've compiled a list of some of the best cheap hunting boots on the market.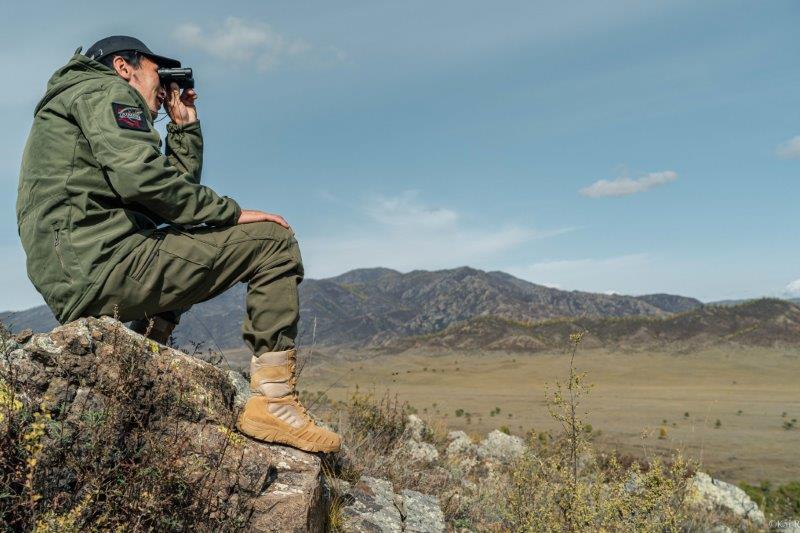 What are the Best Cheap Hunting Boots?
We have compiled for you the top 7 Best Cheap Hunting Boots in 2023. In this article we go through the products that we have used ourselves, checked what other users thought about them and we ranked them accordingly.
With years of experience with cheap boots for hunting and having used several cheap hunting boots you can trust our review.
Moreover, you can scroll to the end of this review to see our mini buying guide as well as the answers to some of the frequently asked questions about cheap hunting boots.
Specs
Price: 💲💲 (fewer 💲 = cheaper)
Weight: 4.67 pounds (2.12 kg)
Support Height: 15 in
Waterproof: Yes
Material: Neoprene, rubber
Insulation: No
The TIDEWE Rubber Boots for Women Multi-Season feature a 100% waterproof exterior. They have a 15-inch shaft with a neoprene material for the upper portion and a rubber lower section for maximum protection against moist conditions. There is a steel shank between the layers of the sole to provide extra support and protection. The insole is made of a breathable mesh that helps to keep your feet cool and provide comfort when walking. The green color comes with a camouflage pattern and the pink trim option comes in all black. While they offer a great deal of comfort, the calves fit a bit tight for some. The steel shaft also causes these boots to feel quite heavy.
Pros
100% waterproof,
Available in pink and green,
Breathable and comfortable mesh insole,
High traction rubber insoles
Cons
Tight on the calves,
Heavy
Specs
Price: 💲💲💲💲 (fewer 💲 = cheaper)
Waterproof: Yes
Material: Rubber, Neoprene, Ethylene Vinyl Acetate
Insulation: 5mm neoprene/ 400G
Snake Protection: No
The Heisa Apollo Pro hunting boot might appeal to most hunters. This practical boot delivers comfort and functionality at a very reasonable cost. With this boot, you can comfortably hunt fish and fowl alike with little resistance. A breathable inner mesh wicks away moisture and sweat, providing additional comfort.
Comfort is not all; the boot protects against obstacles, and the memory foam sole supports the ankles. The boot also has neoprene insulation at the claves, unlike others. You will also find an adjuster on the calves to fit your size.
The boot is scent-free for completely camouflaged when hunting. The quality of the camouflage print is a bit low but compared to how warm and comfortable the boot is, it can be dismissed.
Pros
Well insulated against the cold,
Exterior Rubber Heel cup for support,
Additional neoprene insulation for calves,
The lightweight, rugged sole provides traction
Cons
Might need additional insole,
Has low grip on wet rocks
Specs
Price: 💲 (fewer 💲 = cheaper)
Weight: 1 pounds (0.45 kg)
Waterproof: Yes
Material: Rubber
Insulation: Yes
Snake Protection: No
HISEA Women's Rubber Rain Boots come with a flexible outsole that provides optimum grip and a comfortable walking and hiking experience. The boots are well capable of tackling wet and damp conditions with a waterproof design. For rough terrains, the rubber shell extends above ankles to protect against scratches. To help keep the feet dry, the boots have a breathable lining that lets air pass through. All this with a 5mm neoprene insulation for heat retention makes these boots suitable for a variety of outdoor conditions. However, the design of these shoes may make it hard for people with bigger calves to use them regularly.
Pros
Completely waterproof boots ideal for fishing and muddy conditions,
5mm neoprene insulation retains body heat and keeps feet warm,
Breathable lining keeps feet dry,
Rubber shell extends above ankle to protect against scratches,
Flexible outsole provides ample grip and makes these boots comfortable
Cons
The shoes may be smaller than regular sizing,
Design may not suit people with big calves
Specs
Price: 💲💲 (fewer 💲 = cheaper)
Weight: 7.05 pounds (3.2 kg)
Waterproof: Yes
Material: Rubber Outsole, Thinsulate Insulation
Insulation: Yes
Snake Protection: No
NORTIV 8 Men's Insulated Waterproof Hiking Winter Boots are a versatile offering with rubber outsole and Thinsulate insulation. With a 13″ opening, these boots are easy to wear and take off. The boots are designed to be waterproof and windproof making them suitable for use in wet and cold conditions. The 3-layer warming system traps and retains maximum body heat for a comfortable journey in the snow. The rubber outsole provides ample grip and stability in a variety of outdoor conditions. However, the overall structure of these shoes might be a little bulky for some people, causing discomfort during longer journeys.
Pros
Waterproofing and windproofing makes these boots suitable for snowy and wet conditions,
3 layer warming system traps and retains maximum body heat,
Rubber outsole material provides optimum grip and stability,
13″ boot opening for easy and comfortable wearing
Cons
Bulky design may be uncomfortable for some people,
Substandard manufacturing means that the boots wear off quickly
Specs
Price: 💲💲💲💲 (fewer 💲 = cheaper)
Weight: 5.45 pounds (2.47 kg)
Support Height: 15 in
Waterproof: Yes
Material: Neoprene, rubber, ethylene, vinyl acetate
Insulation: Yes
The TIDEWE Neoprene Outdoor Boots for Men offer 100% waterproof protection with a 15-inch rubber shaft that also offers warmth in the cold. They have a contoured EVA sole that provides maximum comfort with ample arch support. The sole is also rubber and is designed to ensure traction on all terrains, even in water and snow. They have a loop in the back to help get them on, and a kick plate on the back of the heel to help remove them. While the reinforced rubber material is extremely durable it does lack in support. Also, be sure to follow the size chart as these tend to run big.
Pros
Durable rubber material,
100% waterproof,
Comfortable for all day wear,
Keeps feet warm in the cold
Cons
Runs large,
Lacking in support
Specs
Price: 💲 (fewer 💲 = cheaper)
Weight: 1.85 pounds (0.84 kg)
Support Height: 6 in or 8 in
Waterproof: Yes
Material: EVA, rubber
Insulation: No
Snake Protection: No
The Manfen Women's Hiking Boot feature a molded ankle support and a choice of a 6-inch or 8 inch shaft from the arch. The material is constructed with a waterproof technology to keep feet dry in wet environments. They are made from EVA which makes them lightweight and durable. They have a rugged rubber sole to grip onto all types of terrain and a rubber toe cap for added protection. These boots come in a variety of colors and even a camouflage pattern. Due to the durable nature of the material, they can be quite stiff until you have had a chance to break them in. It is also recommended to get a size larger than you normally wear as they run on the smaller side.
Pros
There is adequate arch support,
They are available in a variety of colors and patterns,
Waterproof and breathable material,
Excellent traction
Cons
Runs small,
Material is very stiff
Specs
Price: 💲💲💲 (fewer 💲 = cheaper)
Waterproof: Yes
Material: Ethylene Vinyl Acetate (sole)
Insulation: 400 gram Thinsulate
Snake Protection: No
If you prefer agility during your hunts, the R RUNFUN Lightweight boot might be to your liking. The boots are highly comfortable right out of the box; you won't need to break them in.
The waterproof feature holds true, but only up until the lining; if water rises beyond that, you will have soggy feet.
The 400gram Thinsulate insulation will keep your feet warm in 30-40F. Along with protection from the cold, this hunting boot also offers protection from falls. The boot's construction is good for the price, but it would be best to use it for milder terrains as the stitching might not hold on rough terrains.
This boot might be good for early-season hunting.
Pros
Breathable materials for comfort,
Anti-slip outsole for protection,
Durable construction for bushy terrain,
It comes with a long-term warranty
Cons
Weak in-soles,
Stitches might not hold on rougher terrain
Verdict
To summarize, we have gone through dozens of cheap hunting boots and decided that 7 are worth your consideration. Out of these, the absolute Best Cheap Hunting Boots is TIDEWE Rubber Boots for Women Multi-Season which we highly recommend as our overall best.
If money is not an issue, you can consider Hisea Apollo Pro 400G Insulated Men's Hunting Boots as this is our Premium Pick.
Otherwise, there's no shame in spending prudently, HISEA Women's Rubber Rain Boots is the Budget Option.
Our other reviews you may find useful in your research:
What You Should Know Before Buying cheap hunting boots
Boot price range
You can find boots at just about any price range. The cost comes down to the material, build, and purpose of the boot. You can probably find a pair of boots that suit your needs for less than 100 dollars. But, they won't last long and be as comfortable either. Boots in the 100-200 dollar range will be more durable and comfortable. The better the boot material and manufacturing, the higher the price.
Additionally, the more features the boot has, the more it will cost. Features like waterproofness, breathablity and level of padding can all affect the pricing.
The best thing you can do is outline the kind of boot you want and for what purpose, then set a budget and search your preference within your defined range.
Boot size
Finding the right size is essential when shopping for footwear. If you buy a size too small or too large, you will be too uncomfortable to enjoy your new boots. When buying shoes, pay special attention to the toe region. There should be some space left between your longest finger and the tip of the shoe. Some people recommend that this gap should be as broad as your thumb. If you are buying knee-high boots, go half a size up as it will be easier to slip your feet into the boot. Some people have one foot larger than the other. In this case, buy the size that fits the larger feet. If ever you find yourself between sizes, always buy half a size larger shoes but never a smaller size. With a larger size, you can always fit insoles. But a smaller size will be too tight for you to be comfortable.
Boot weight
You might be surprised to find how the weight of boots can affect your walking experience. Boots can weigh from 1.75 pounds to 3 pounds. Some boots are as heavy as 6 pounds! Both lightweight and heavyweight boots have their benefits. Most people decide the weight of their boots based on their intended use. Heavy boots are necessary for a steady foothold and better support for people who hunt and hike. Heavier boots are also more insulated, shock-absorbing, and protective. Conversely, lightweight shoes are a good option if you plan on covering long distances at a faster pace.
Support
If you don't want your joints and ligaments to suffer, buying boots with good ankle support is fundamental. Boots that offer good support are those that fit snugly around your ankle without digging into your skin. Additionally, the level of support your feet need also depends on the activity you want to perform. If you plan on buying work boots, look for something lightweight. But, if you plan to go hiking or hunting, heavy boots will provide your feet support and comfort on the rough terrain. Although, we don't recommend wearing heavy boots daily as doing so will stretch your ligaments.
Questions and Answers About cheap hunting boots
Do I need to spend a lot of money on hunting boots?
As a hunter, you will be on your feet for the most part. You will want hunting boots that are not only comfortable but provide support to your ankles. Additional features like breathability, waterproofing, and insulation might be subject to your preference and the nature of your hunting conditions but required to some degree nonetheless.
Cheap boots don't usually fulfill these requirements. And even if you find a cheap boot that is comfortable, it just isn't built to last. So, don't skim on hunting boots; you can look for a pair in the range of at least $100 if you want your boots to last.
How long should hunting boots last?
High-quality hunting boots, albeit expensive, can last a lifetime. Even if the hunting boots aren't exactly top tier, a good pair can last a decade. In the end, it depends on the quality, maintenance, and frequency of usage. However, proper care and storage is required to keep the hunting boots in good condition. You might have to replace the sole from time to time.
How heavy should hunting boots be?
Weight depends on the season in which you will be hunting. If you're going to be hunting in the summer or walking a lot, then two to eight hundred grams will work and anything heavier will be a drag. But in the winter, you will need insulation on your hunting boots to keep warm. In this case, get tough and heavy duty boots that weigh at least a thousand grams. However, do not get too heavy a pair if it will tire you out too easily while walking due to the immense weight.
Can I wear hunting boots in the snow?
Not all hunting boots are durable in the snow or even in the rain. For hunting in the snow, you will need boots with some key features. The first one being, they need to be completely waterproof. The last thing you want is snow seeping into your shoes and giving you frostbite. A snowboot with a gaiter will add to the waterproof feature by keeping snow and water out. Also, if it is snowing, the terrain is going to be slippery. So, look for hunting boots with good traction and support.