Carrying a jacket in your hands is not ideal when it's wet or when your backpack's already full. I don't like that! So, having an option of hanging a jacket on the backpack hands-free is always good to have.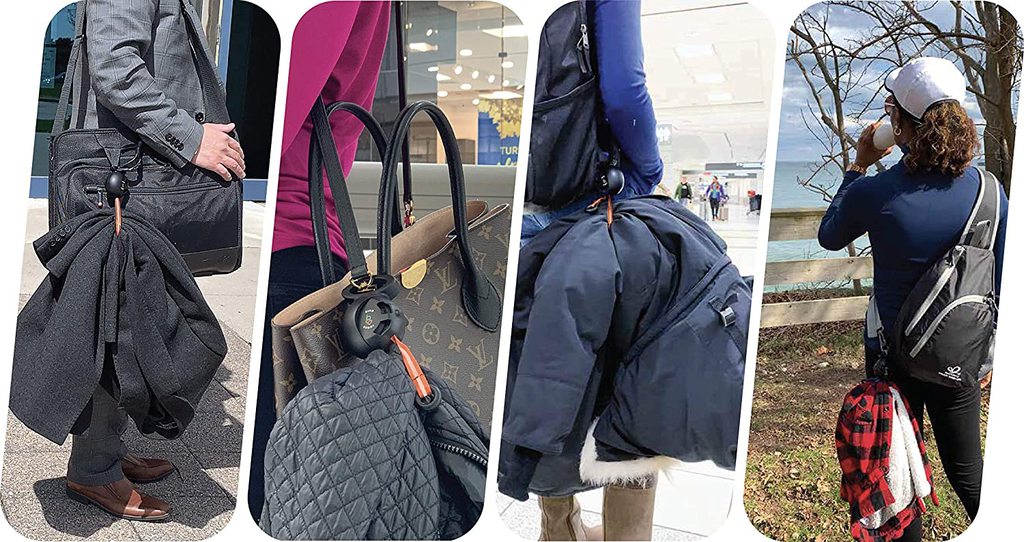 What is the Best Backpack Jacket Holder?
We have compiled for you the top 4 Best Backpack Jacket Holder in 2023. In this article we go through the products that we have used ourselves, checked what other users thought about them and we ranked them accordingly.
With years of experience with jacket holders for backpack and having used several backpack jacket holders you can trust our review.
Moreover, you can scroll to the end of this review to see our mini buying guide as well as the answers to some of the frequently asked questions about backpack jacket holders.
Trying to find a reliable and versatile strap can be a challenge. The Magarrow buckle packing straps seem to be a good option on the surface. They can be used for a variety of situations ranging from hanging a jacket onto a backpack to using it to strap down cushions. The material used in the construction seems strong enough to be reliable; However there have been issues where either the stitching degrades leaving the nylon strap falling apart or the nylon is discoloured by the sun, turning it a different colour altogether. The non standard buckle could possibly be an issue as it cannot connect to any similar size straps to increase the amount it can hold. But, the low price may just be enough of a draw as you can cheaply get several of these.
Pros
Durable for majority of uses,
Versatile and easy to use, Value for money
Cons
Doesn't use a standard-size buckle,
Unable to tighten in some circumstances,
Not as durable as other straps
Highly effective and easy to use, BindBuddy Jacket Holder, is made with a quality material that is needed in all luggage straps. The BindBuddy seems to fit in this category as a simple and effective product for a wide variety of uses.
The design used in the BindBuddy allows for flexible support for a wide range of sizes, as you can pull the strap to allow for all items big and small, up to 2.5lbs.
However, being a relatively new and quite an innovative solution means that is can be easily available only in a select few countries.
We have personally used BindBuddy on our mountain hikes in Poland and were very impressed how useful and handy it turned out to be.
Pros
Durable and premium material, Lightweight and portable, Easy to use,
Ability to hold a vast range of items
Cons
Not easily available in a lot of countries
These bag straps seem to be durable and versatile enough for the average traveler. The adjustments you can make allow the straps to be placed around most luggage, allowing for a tight fit and to increase the amount you can carry. Some people have, however, had an issue with the buckles. While the buckles seem durable and well built, the mechanism can be hard to work for some people. Another issue some users have found is that the straps provided are just too short for what they need.
The provided straps can also be used to carry any jacket or coat that you have, allowing you to keep your hands free whilst carrying your bag.
Pros
Versatile and strong,
Strong and durable buckles,
Good value for money
Cons
Difficult to open,
Straps too short, Misleading information on the product sales page
The unique cross design of this luggage strap adds extra stretch to the strap, allowing it to be more flexible. It is well made and durable with good quality elastic and plastic. The strap seems more useful for a soft luggage you may have, rather than more robust suitcases. Some people have struggled to make it work for them whilst traveling so it may not be ideal for anyone looking to make frequent journeys. This luggage strap can be used for carrying smaller items or clipping the items onto a bag to keep your hands free, such as a jacket or any other item of clothing.
Pros
Good value for money,
Secure straps, Comes in bright colours: easily identifiable
Cons
Only one size available, Bands can be too short
Verdict
To summarize, we have gone through dozens of backpack jacket holders and decided that 4 are worth your consideration. Out of these, the absolute Best Backpack Jacket Holder is MAGARROW Buckle Packing Straps which we highly recommend as our overall best.
If money is not an issue, you can consider BindBuddy Jacket Carrier Luggage Strap as this is our Premium Pick.
Otherwise, there's no shame in spending prudently, Heavy Duty Bag Straps Bungees is the Budget Option.
Our other reviews you may find useful in your research:
Questions and Answers About backpack jacket holders
How do hands-free jacket holders work?
Hands-free jacket holders work by clipping on any available loop or tab into a backpack. Depending on the type of holder you get will depend on the mechanism. Some straps will be designed in the style of a single strap and will attach the jacket to a strap of any bag or luggage you may have.
These straps also can be used to carry other items, such as water bottles or any accessories you may have.
Is it comfortable to hang a jacket on a backpack?
Using a hands-free clip or strap to attach your jacket, means you don't have to carry it around in your hands or backpack. They are very comfortable to use as they just attach to the strap or loop without much difficulty. This is especially useful if you are going on a day trip or using a day trip bag, as you don't have to fill your hands up, or your bag with unnecessary bulk. Though some people may find it uncomfortable, if they have a hard item like a water bottle or a bulky jacket.
Can a jacket backpack holder be used on any backpack?
Yes! The majority of luggage straps can be used on any backpack. All these holders need is a strap or loop to attach too. Most backpacks can accommodate these accessories, some better than others.
Some backpacks may be able to take more items than others though, decent survival backpacks or backpacks made for camping will include some loops across the surface to attach different items.