When considering what is needed for the overnight stay after a day of canoeing, you need to decide what matters to you when camping and canoeing.
If you are looking to make lots of ground in your canoeing trip and you need to travel with speed, then you will probably need a camping solution that is light and quick to set-up and take-down. We will help you meet these conditions without having to sacrifice elements such as bug protection which plays a large role in canoe camping.
Sometimes it's nice to glide slowly along the water and set -up camp early in the evening, giving yourself time not just to set up a comfortable shelter but also time to cook yourself a hot meal. In a situation whereby time is not against you and the pace is more relaxed, you can afford to carry some extra weight.
Here we explore the pros and cons of multiple tents to best suit your canoe camping style.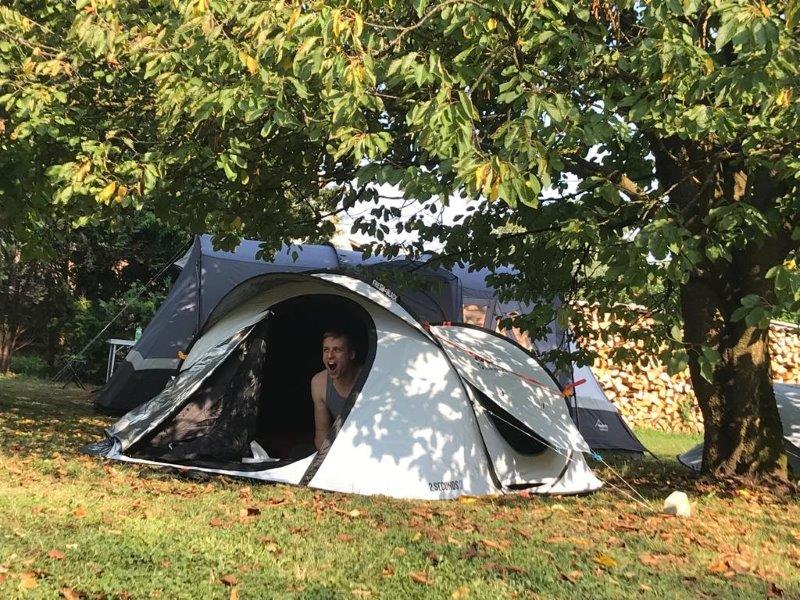 What is the Best Tent for Canoe Camping?
We have compiled for you the top 8 Best Tent for Canoe Camping in 2023. In this article we go through the products that we have used ourselves, checked what other users thought about them and we ranked them accordingly.
With years of experience with canoe camping tents and having used several tents for canoe camping you can trust our review.
Moreover, you can scroll to the end of this review to see our mini buying guide as well as the answers to some of the frequently asked questions about tents for canoe camping.
Specs
Price: 💲💲 (fewer 💲 = cheaper)
Size: 88.6 x 53.1 x 43.3 inches (225 x 134.9 x 110 cm)
Size: 2 Persons
Material: 75D 190T Polyester
Waterproof: 5000 MM
Instant: No
Tent Type / Shape: Dome
This Forceatt 2-person tent is smaller than the Bisinna model and may be cramped for two campers for comfort, while the 3-person model may be more accommodating. However, it makes an excellent choice for solo campers, and it features good-quality and robust construction for its price point. The tent comes with a full-coverage rainfly that features 75D polyester and a PU-5000mm waterproofing rating. Some campers have noted that the tent comes with a funky smell when new, but it dispels when you air it out in the sun.
The tent offers decent ventilation with the two D-shaped doors and the mesh fabric that makes up most of the inner tent. I also like that you can use the rainfly separately as a canopy while at the park or beach and the inner tent for stargazing on warm nights. It is a lightweight tent for backpacking and performs well in heavy rain and wind conditions.
Pros
Sturdy and robust construction with quick assembly and takedown,
Generous ventilation makes it comfortable in warm weather,
High-quality rainfly offers decent protection in inclement weather,
Features two-way SBS waterproof zippers on the doors
Cons
The tent comes with a fishy odor when new,
Tent stakes are light and bend easily
Specs
Price: 💲💲💲💲 (fewer 💲 = cheaper)
Weight: 8.82 pounds (4 kg)
Size: 105 x 86 x 58 inches (266.7 x 218.4 x 147.3 cm)
Size: 4 Persons
Material: 75D Polyester
Waterproof: 800mm
Instant: No
Tent Type / Shape: A-Frame
The Eureka Timberline 4-Person Backpacking Tent is a 2-layer free-standing tent suitable for dry weather camping. Unlike the typical backpacking tents that are domed-shaped, this tent features the classical A-Frame design that gives it a rectangular shape and 63 square feet of floor space. The tent comes with five shock-corded aluminum poles for its frame and a 75D polyester inner tent and rainfly. The pitching style is slightly different from dome tents, where the two poles criss-cross each other to make a dome.
The Timberline has two poles at each end to create the A-frame, while the fifth pole connects the two A-frames with a ridge. The inner tent clips on the structure while the rainfly drapes over it to create a cozy and dry shelter.
While this tent may be a little squeezed for four adult campers with gear, the tent is expandable with an optional vestibule for extra storage space. The tent is notably easy to pitch and is lighter than similar-sized dome tents from other brands. However, it has a poor hydrostatic rating of 800mm, making it unsuitable for camping in wet weather. Also, many buyers noted that the new models were of lesser quality with a short service life than the older tents.
Pros
Sturdy A-Frame style provides stability in windy conditions,
Mesh construction and rainfly vents allow excellent air circulation,
Lightweight with easy setup and takedown for convenience,
Optional vestibule attachment may add extra gear space
Cons
Poor water-resistance ability for inclement weather,
Shock cords in poles may snap quickly
Specs
Price: 💲 (fewer 💲 = cheaper)
Size: 83 x 55 x 43 inches (210.8 x 139.7 x 109.2 cm)
Size: 2 Persons
Material: 190T Polyester
Instant: No
Tent Type / Shape: Dome
The Yodo 2-Person backpacking tent features a single-layer design that comes in various colors. The tent is considerably lightweight at 3.3 pounds which makes it an excellent choice for backpacking excursions. However, due to its single-layer, free-standing design, the tent is more suited for camping in fair weather. Additionally, it features a large opening with a mesh screen and mesh roof panels for ventilation and make the tent comfortable in hot weather.
On the other hand, this dome-style tent is uncomfortably tight for two campers compared to other 2-person backpacking tents for under $100. Plus, it comes with a short rainfly that does not provide a vestibule space for your camping gear so, the tent would be more comfortable for a single camper. While it features a 190T polyester construction that is durable and resistant to mildew, the tent is not reliably water-resistant and may not perform well in inclement weather.
Pros
Features an ultra-lightweight construction for backpacking,
Affordable with decent quality materials for durability,
Features easy access with wide door opening,
Easy conventional set-up takes less than five minutes
Cons
Performance limited to fair weather camping,
It has a smaller footprint than other 2-person tents
Specs
Price: 💲 (fewer 💲 = cheaper)
Size: 75 x 57.6 x 42 inches (190.5 x 146.3 x 106.7 cm)
Size: 2 Persons
Material: Nylon
Waterproof: No
Budget-conscious users are going to love this option. As the most affordable tent on my list, this budget backpacking tent competes with premium tents in quality. Interesting, isn't it?
The high-quality and durable components of this two-person Wakeman tent are best for long-term use. It features a durable 190T polyester construction with a water-resistant rainfly that prevents rain from getting inside the tent.
The dome tent design offers tons of space and interior pockets for personal items. It also features a large D-style door with mesh ventilation. On the downside, it does not provide decent airflow with just one mesh window on the door. However, the fiberglass poles provide stability against windy conditions, and the tent is suitable for mild weather. It has a 6.25×4.80 base dimension and a center height of 3.50 ft. As the tent dimensions show, the interior space is roomy enough to spend comfortable nights and relax completely.
Pros
It comes at an affordable price-tag,
Easy to put up and takedown,
Comes with a convenient carry bag,
The material is lightweight and sturdy,
The bathtub bottom is of good quality
Cons
Not suitable for hot seasons,
It includes just a single window
Specs
Price: 💲💲💲💲 (fewer 💲 = cheaper)
Weight: 20 pounds (9.07 kg)
Size: 120 x 108 x 78 inches (304.8 x 274.3 x 198.1 cm)
Size: 6 Persons
Material: 185T Polyester
Waterproof: 1000 MM
Instant: No
Tent Type / Shape: Cabin
The UNP 6-Person Tent is a cabin-style tent with a notable 6.5-foot headroom space that allows free movement without bending. It features a single room interior space that might be too tight for six adult campers to fit comfortably. It also comes with a single mesh door and five double-layer mesh windows for ventilation. The tent also comes with a rainfly to cover the mesh roof when the sun is too hot or rainy.
This tent has decent build quality with steel poles for stability and 185T polyester material with taped seams and a PU-1000 hydrostatic rating. Plus, the tub-style floor features welded seams that prevent water from seeping through the floor. However, this tent will deliver better performance in fair weather with minimal rain and wind than any other season. It also has poor air circulation when the mesh panels are closed up due to the lack of ground vents. Other attributes include mesh pockets, a lantern hanging ring, guy lines and pegs for stability, and an e-port to power your devices.
Pros
Cabin-style design with high headroom space,
D-shaped door offers convenient accessibility,
Generous mesh panels for breathability in hot weather,
Lightweight with a decent build quality for its price point
Cons
It cannot fit six people comfortably,
Performs well in dry weather only
Specs
Price: 💲💲💲 (fewer 💲 = cheaper)
Size: 82 x 64 x 46 inches (208.3 x 162.6 x 116.8 cm)
Size: 3 Persons
Material: 190T Polyester
Instant: No
Tent Type / Shape: Dome
The Winterial 3-Person Tent is an affordable and high-quality model with excellent ventilation and has a quick setup. It features a 2-layer design with 190T polyester construction and aluminum poles for its frame. The inner tent has two mesh doors for easy access and ventilation, while its full-coverage rainfly enables air circulation with roof vents. The rainfly also provides a small covered vestibule space for gear, and its flexible design allows you to create a door awning with trekking poles.
The Winterial 3-Person offers value for money, and many users rate it highly for durability, lightweight, sturdiness, and ease of assembly. Furthermore, it comes with a generous carry bag that makes packing the tent a breeze. While it comes as a 3-person tent, most users recommend it for two campers, and it is also worth noting that tall people may not fit comfortably lengthwise. On the other hand, it may perform well in inclement and windy weather, as a few users have noted, although the manufacturer does not indicate the tent's waterproof rating.
Pros
Robust and high-quality construction for its price,
Aluminum frame provides stability in windy conditions,
Excellent air circulation with mesh doors and roof vents,
Lightweight construction for backpacking
Cons
Short dimensions for tall people to fit comfortably,
It does not feature internal organization with mesh pockets
Specs
Price: 💲💲 (fewer 💲 = cheaper)
Size: 60 x 60 x 36 inches (152.4 x 152.4 x 91.4 cm)
Size: 1 Persons
Material: 170T Polyester
Waterproof: 450mm
Instant: No
Tent Type / Shape: Dome
The Gigatent Cooper Boy Scouts is a kids camping tent designed for dry season camping trips. The tent is flexible due to its size, and many buyers have found creative applications for it, including living room camping and making playpens for their pets. The tent features 6.9mm shock-corded fiberglass poles, a 170T polyester tent and rainfly, and a polyethylene floor.
The tent offers 25 square feet of interior space and includes mesh pockets for small items like a flash torch. While its space is ideal for one 5-6 year child to fit comfortably, the tent can also accommodate two or more kids under 3.5 feet tall. It features a No-See-Um mesh roof for ventilation and a single door with good quality zippers for access. While the tent generally has decent quality construction for its price point, the poles may break easily, and the polyester material has low water resistance.
Pros
Lightweight and compact-sized for kids camping trips,
It has decent build quality for its price point,
Generous interior space for flexible applications,
Assembles and breaks down quickly for convenience
Cons
Low hydrostatic rating gives it poor performance in rainy weather,
Fiberglass poles may break quickly
Specs
Price: 💲💲💲 (fewer 💲 = cheaper)
Weight: 7.65 pounds (3.47 kg)
Size: 82.7 x 55.1 x 45.3 inches (210 x 140 x 115 cm)
Size: 2 Persons
Material: Outer Tent Fly – PU 3000 mm, and excellent UV protectionTent Floor Sheet – PU 5000 mm Oxford fabric + seam taped, waterproof
Waterproof: Yes
Instant: No
Tent Type / Shape: Dome
Some of the highlight features of the Geertop 2 Person Tent is its self-standing L-shaped aluminium poles which facilitates set-up, a built-in snow skirt that adds an extra layer of protection, and its attention to detail with its built-in lantern hooks and inner storage pockets. With its double doors and mesh windows, this tent is also built to promote ventilation and reduce condensation. At only 3.47 pounds, the GEERTOP 2 Person Tent is one of the more lightweight ones that feature in this list. However, there are some customer reviews that says that the dry bag/stuff sack tears easily. At such an affordable pricepoint, it is quite rare not to find faults in the quality but at least the faults are not in the tent itself but the dry bag instead, which one can easily replace.
Pros
Built-in lantern hooks and storage pockets.
Has two large mesh ventilation windows Waterproof, tearproof and windproof.
Dual doors allow for easy access
Cons
Dry bag/stuff sack has been known to tear easily.
Instructions to set up the tent in non-English language but the set up is intuitive enough to forego instructions.
Verdict
To summarize, we have gone through dozens of tents for canoe camping and decided that 8 are worth your consideration. Out of these, the absolute Best Tent for Canoe Camping is Forceatt Tent for Camping which we highly recommend as our overall best.
If money is not an issue, you can consider Eureka! Timberline Backpacking Tent as this is our Premium Pick.
Otherwise, there's no shame in spending prudently, Yodo Lightweight 2 Person Camping Backpacking Tent is the Budget Option.
Our other reviews you may find useful in your research:
What You Should Know Before Buying tents for canoe camping
Size of Tent for Camping with Canoe
An average canoe is about 35 inches at its widest, 33 inches or less if it is a narrow canoe, 38+ inches if it's a wide canoe. A tent could be from 12 – 22 inches wide when packed. This means that once you pack up your tent it will probably fit in the canoe in its widest point and even as it narrows.
With no restrictions on height or size, it is probably best to optimize on making sure that you can store your tent in something waterproof and that the netting inside your tent is ready for the swarms of bugs that can come with camping near the water.
Weight
In our many adventures, we've come to appreciate the importance of a tent's weight. We've found that while lighter tents often have a steeper price or less room, they're invaluable for backpacking. We suggest that when choosing your shelter, you balance the weight, quality, and your budget. Remember: a 2-person tent should ideally weigh no more than 6 pounds in total. So, if you're trekking solo, make sure your tent's weight doesn't cross the 3-pound mark. If paired up, you can opt for a tent closer to that 6-pound limit and share the load.
Water, Wind and Snow Resistance
We're all about finding tents that withstand those awful surprise storms. Dome designs prevent unwanted snow collection, and an elongated rainfly keeps rain at bay. The stability of your tent can be enhanced by reliable poles and stakes, and water-resistant fabrics ensure a dry stay.
Large Tent Materials
Over the years, we've experimented with tents made from a range of materials. For large family tents, we recommend nylon and polyester due to their light weight and robust nature. Although cotton or canvas tents are durable and provide good insulation, their weight makes them less practical for larger camping setups. As for the poles that'll be supporting your tent, they are most commonly made from aluminum and fiberglass.
Tent seasonality rating
Tent seasonality has to do with the types of conditions your tent can withstand. A 1-2 season tent is perfect for the arid adventurer, focusing on lightweight and breathable materials. For a jack-of-all-trades tent suited to both dry and wet conditions, a 3-season tent is your pick, though it doesn't specialize in either. A 4-season tent will keep you protected all year but may be too warm in hot weather. Extreme expeditions require a 5-season tent, although these are usually overkill for most campers.
Durability
Over our many camping trips, we've come to deeply appreciate tents built for durability. A key metric here is the denier rating of the fabric, which is found in product specifications. To clarify, a lower denier indicates a tent material that's lighter, possibly thinner, and potentially less robust. The tent's weight and its denier rating are closely correlated, so you should consider this carefully. Many of the premium tents we've encountered sport a silicone coating, offering enhanced durability without weighing you down. Beware of backpacking tents with lower denier ratings, as these might be susceptible to floor tears. For added protection and comfort, we swear by the use of a footprint.
Questions and Answers About tents for canoe camping
How do you pack a tent for canoe camping?
When packing equipment inside your canoe, the most important thing is ensuring that everything is evenly balanced. The tent isn't going to be particularly heavy when compared to the rest of your equipment. Tents and other large equipment are good to slot on either side of the canoe and to keep the heavier equipment such as large containers of water from unbalancing your canoe. In practice, this will usually mean that your camping equipment will be packed in the middle of the canoe (in a dry bag) where it is the widest.
A final consideration is whether you will need to portage (carry a boat/ cargo from water to water) and how often you will need to portage. While having heavy/ bulky equipment is not a deal breaker as you can simply do multiple trips to portage everything, you might find it an unnecessary inconvenience and opt for a smaller, more lightweight tenting solution.
What is a canoe tent?
A canoe tent is anything that involves a canoe in the assembly of the tent/ shelter. Often you will see people lean a canoe on its side and prop it up with strong sticks – usually with a 'y' section on the top to slot the side of the canoe into. People usually do this because it's fast, effective, and suits the type of aesthetic/ mood they are going for their camping experience. The easiest form of canoe tent is to lie it on its side with the back to the wind then just sleep in it. The wind is often what brings the element of cold so by simply blocking it you will be much warmer. Some people level this up by putting up a tarp behind the canoe and securing its bottom corners to the ground behind the canoe and its top corners to oar handle, propping it off the ground then further securing that to the ground in the front. If possible, the tarp is secured at the back of a tree to give more height and strength against the wind. This gives extra area which is sheltered against the elements and by further securing the kayak and taking away the force of the wind acting on it a bit, you make it secure enough that you can confidently rest stuff on the top of your kayak and use it as a shelf. A canoe tent can also refer to a small tent that they set up over a canoe to give it a bit of shelter not so much from the rain as the wind. The canoe tent is often set up between two canoes and on some type of platform to even the floor between.