Enduro is a fun form of mountain biking that many bikers participate in yearly. To stay hydrated throughout the race, you may want to invest in a hydration pack. These packs hold more water than regular bottles and are carried easily on your back while you bike. Plus, with the straw, you can drink without having to stop your activity. If you're interested in an enduro hydration pack, take a look at our compiled list below of some of the best options available online.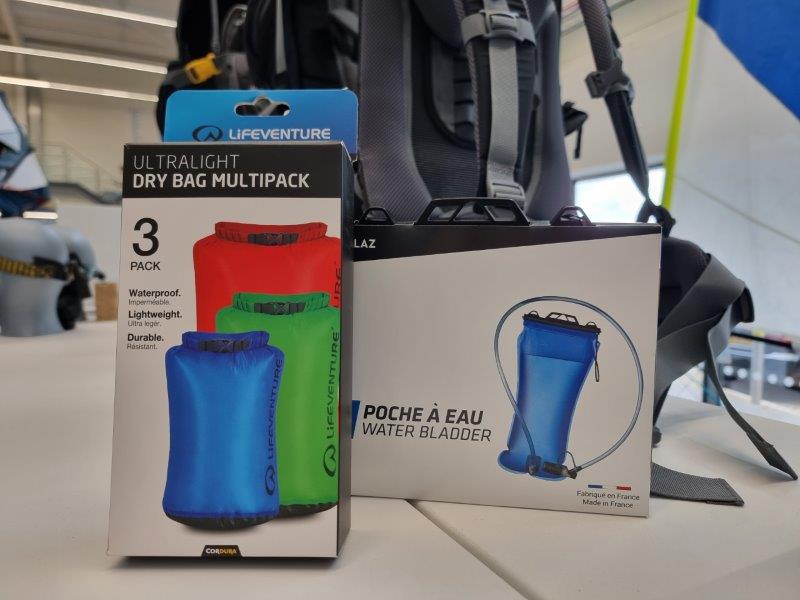 What is the Best Enduro Hydration Pack?
We have compiled for you the top 6 Best Enduro Hydration Pack in 2023. In this article we go through the products that we have used ourselves, checked what other users thought about them and we ranked them accordingly.
With years of experience with hydration pack for enduro and having used several enduro hydration packs you can trust our review.
Moreover, you can scroll to the end of this review to see our mini buying guide as well as the answers to some of the frequently asked questions about enduro hydration packs.
Specs
Price: 💲💲💲 (fewer 💲 = cheaper)
Capacity: 1.5 liters
Weight: 0.33 pounds (0.15 kg)
Size: 13 x 8.7 x 3.9 inches (33 x 22 x 10 cm)
Backpack included: Yes
Materials: Polyethylene with TPU exterior for bladder
The CamelBak Women's Charm Hydration Pack, 50 oz features a 1.5 liter water bladder and a small pocket for storing a few personal items. The lightweight design of this hydration pack makes this a good choice for short hikes outdoors. It has a low profile to keep it from adding bulk. The mesh panels and shoulder straps keep it more lightweight and comfortable to wear. The water bladder features a large ergonomic opening that is easy to open and refill. Some have complained about leaks but others say the opening just needs to be closed properly. The exterior has reflective details to help the user be more noticeable in dim lighting. The drinking tube features a valve that helps prevent leaking when the user is not drinking and a tube trap to keep it secure on the shoulder strap.
Pros
Lightweight,
Low profile,
Easy to fill the water reservoir,
Manufacturer's warranty
Cons
Not much storage space,
Trouble with leaks sometimes
Specs
Price: 💲💲💲 (fewer 💲 = cheaper)
Capacity: 3 liters
Size: 17.7 x 1.4 x 9.1 inches (45 x 3.5 x 23 cm)
Backpack included: Yes
Materials: Cotton
The CamelBak M.U.L.E. Mountain Biking Hydration Backpack features a 3 liter water reservoir and a 9 liter cargo capacity. The back panel has air flow channels to help keep the user comfortable while wearing. There is ample storage space and with the adjustable shoulder and sternum straps you will get a secure fit. The water bladder has a large ergonomic opening to make it easy to fill and clean. The drinking tube has an on and off valve to prevent leaks when not being used. There is also a magnetic clip to help hold it securely on the shoulder strap. The straps can fit a bit too snug for certain body sizes and shapes, and also the drinking tube might be a bit too short for some.
Pros
Magnetic clip for drinking tube,
Ample storage space,
Secure fit,
Lightweight
Cons
Strap is uncomfortable,
Drinking tube is too short
Specs
Price: 💲 (fewer 💲 = cheaper)
Capacity: 2 liters
Weight: 1.1 pounds (0.5 kg)
Size: 18.1 x 9.4 x 0.8 inches (46 x 24 x 2 cm)
Backpack included: Yes
Materials: Nylon
The Baen Sendi Hydration Pack with 2L Backpack Water Bladder features a 2 liter water bladder and three zippered storage pockets for personal items. The material is a water resistant nylon to keep your stored items from getting wet in the rain. It has adjustable shoulder, chest and waist straps to allow for a secure fit. There is breathable mesh that helps to keep the pack comfortable to wear while exercising. There is also a loop on the shoulder straps to hold the drinking tube in place. The water bladder has a large opening that allows for easy filling and cleaning. There is an off and on valve for the drinking tube to prevent leaks.
Pros
Comfortable,
Lightweight,
Adjustable waist strap,
Storage space
Cons
Low quality,
Not very durable
Specs
Price: 💲💲 (fewer 💲 = cheaper)
Capacity: 1.5 liters
Size: 15.8 x 9.1 x 6.3 inches (40 x 23 x 16 cm)
Backpack included: Yes
Materials: Polyethylene with TPU exterior for bladder
The CamelBak Classic Light Bike Hydration Pack 70oz features a durable design with a 1.5 liter water reservoir and an additional 1 liter space for personal items. The breathable mesh shoulder straps allow for air flow to keep this pack comfortable while wearing. The water reservoir has a large central ergonomic opening for easy cleaning and refilling. The adjustable sternum strap allows for a secure fit for various body types. There are also some safety features like reflective details and a light holder. There is an issue with leaking if you are not careful to secure the opening, and there is also a strong chemical odor so be sure to clean it before use.
Pros
Durable,
Lightweight,
Easy to clean,
Zippered pockets for storing small items
Cons
Leaks if opening is not sealed correctly,
Strong chemical smell/taste
Specs
Price: 💲 (fewer 💲 = cheaper)
Capacity: 3 liters
Size: 18.7 x 9.4 x 8.5 inches (47.5 x 24 x 21.5 cm)
Backpack included: Yes
Materials: Polyester
The G4Free Tactical Hydration Pack has a 3 liter water bladder and several storage pockets. The durable 600D polyester fabric is lightweight and has a MOLLE system on the outside so that you can attach any additional gear that you might need. The shoulder, chest, and waist straps are all adjustable to provide a secure fit. There are complaints about the water bladder leaking easily and some issues with the mouth piece but customer service is very responsive and supportive. The drinking tube is insulated to keep the water from freezing in extreme temperatures. The back panel has breathable foam panels to help keep this pack comfortable.
Pros
Durable,
Several storage pockets,
Insulated,
Good customer service
Cons
Difficult to drink from the mouth piece,
Leaks easily
Specs
Price: 💲💲💲💲 (fewer 💲 = cheaper)
Capacity: 2 liters
Size: 19.1 x 2.8 x 9.4 inches (48.5 x 7 x 24 cm)
Backpack included: Yes
Materials: Polyethylene with TPU exterior for bladder
The CamelBak SnoBlast Hydration Pack is a lightweight and sleek hydration pack that comes with a 2 liter water bladder. The insulation helps to protect your water supply from extreme temperatures. This pack also comes with several separate storage compartments for storing personal items. This pack is covered by the CamelBak lifetime warranty. The insulation on the drinking tube does not always work very well, so you might have trouble with water freezing in the tube. There is a storage capacity of 6 liters, although if you use the entire 6 liters of space, it might be hard to carry on your back on a ski lift.
Pros
Lightweight,
Insulated,
Separate storage compartments,
Lifetime warranty
Cons
Water in tube will freeze sometimes,
Cheap straps for carrying skis
Verdict
To summarize, we have gone through dozens of enduro hydration packs and decided that 6 are worth your consideration. Out of these, the absolute Best Enduro Hydration Pack is CamelBak Women's Charm Hydration Pack which we highly recommend as our overall best.
If money is not an issue, you can consider CamelBak M.U.L.E. Mountain Biking Hydration Backpack as this is our Premium Pick.
Otherwise, there's no shame in spending prudently, Baen Sendi Hydration Pack with 2L Backpack Water Bladder is the Budget Option.
Our other reviews you may find useful in your research:
What You Should Know Before Buying enduro hydration packs
Cleaning tips
If you plan on getting a new hydration bladder in the future, you'll want to make sure you know how to take care of it. This means ensuring you know how to clean it of dirt and bacteria so you don't get sick using it over time. The most important tool you can get to clean your hydration bladder is a straw cleaner. This often looks like a thick pipe cleaner and is used to scrub the inside of your straw. If it is flexible, it is good to clean the inside of flexible straws like the one on your hydration pack. You may also want to consider scrubbing the sealing ring or soaking parts of the bladder if possible to get it as clean as possible before your next trip.
In-built Protection
Hydration packs can sometimes seem flimsy, which is why you want one with extra in-built protection. This could mean getting a pack made of more durable materials or finding a pack that is housed in a more durable outer layer. Try to find a hydration bladder that is made of thicker plastic or rubber so it isn't likely to burst or otherwise break. You may also want to find one that has protective straps around it to keep it from bursting if overfilled or put pressure on. Some hydration packs may leak water out the straw to prevent breaking due to pressure, though you'll have to check the description on yours to see if that is built in.
Built in USB charger
Some hydration bladders carry more than just water. For some hydration packs, they have additional storage like a backpack so you can take additional gear with you on your next adventure. Some of these hydration packs also come with built-in USB chargers, so you can charge your device on the go. Typically, these are in the form of a portable charger that you can charge up ahead of time. Then, you can plug your phone or other device into it when you're low on power, so your device will be charged. This is a great backup in case you need your phone on an extended hiking or camping trip where there's no place to charge your phone otherwise.
Hydration Bladder Material
Water bladders are made with soft and flexible plastics such as PEVA (polyethylene vinyl acetate) and TPU (thermoplastic polyurethane). PEVA is non-chlorinated vinyl and is also commonly used to make many other household goods. It is durable and resistant to mold, but it is also rigid and does not expand when filled. TPU is a more commonly used material due to its flexible and lightweight nature. It often leaves a plastic taste in your water, but you can treat your bladder with a simple lemon and baking soda cleaning solution to remove the taste. Another popular material is PET (polyethylene), which is high-quality plastic. The advantage of PET is that it does not leave a taste on the water, and it can withstand high pressure without leaking. However, it is not as durable as PEVA because it eventually develops cracks.
Questions and Answers About enduro hydration packs
How much water do I need to cycle 100 miles?
While it greatly depends on the cyclist, many cyclists estimate that you should bring at least 48oz of water with you in the form of either bottles or a CamelBak. If you end up needing more water, you should locate any refill stations along the way of your route so you can stop if absolutely necessary.
Do thru hikers use hydration bladders?
Of course! Thru hikers definitely use hydration bladders. Because thru-hiking is long-term, hydration bladders make staying hydrated throughout your walk much more convenient. They are also easy to refill, so can be used multiple times throughout your trip without issues. However, you should only put water in your hydration bladder on a thru-hike, as you likely will not have a place to thoroughly wash out your hydration bladder if you put something like Gatorade in it.
When should you wear a hydration vest for running?
You can use a hydration vest anytime you run, whether it's down the block or in a marathon! Hydration vests tend to feel much more secure than ordinary hydration packs, which makes them more comfortable while running. Vests also help prevent any chafing that occurs from pack straps while you run and move around, so they're recommended for anyone who enjoys running regularly. Plus, they carry extra water storage, which is helpful on your long runs!
How much water should I carry for a marathon?
Ultimately, how much water you bring with you depends on the type of marathon. If it's a relatively short marathon, you should be fine with a 24oz pack or bottle. If it's a longer or more intense marathon, you may need double this. Consider the length and rigor of your marathon to decide just how much you want to bring with you.