It is no secret that Dubai has become one of the most popular cities for tourists over the last few years. The city boasted a total of 12 million visitors in 2016 alone.
I have seen firsthand why Dubai has become such a tourist mecca, with so many reasons to go there and even more reasons to fall in love with the place. Cez and I had a great time couch surfing in Dubai and experiencing all it has to offer on a limited budget.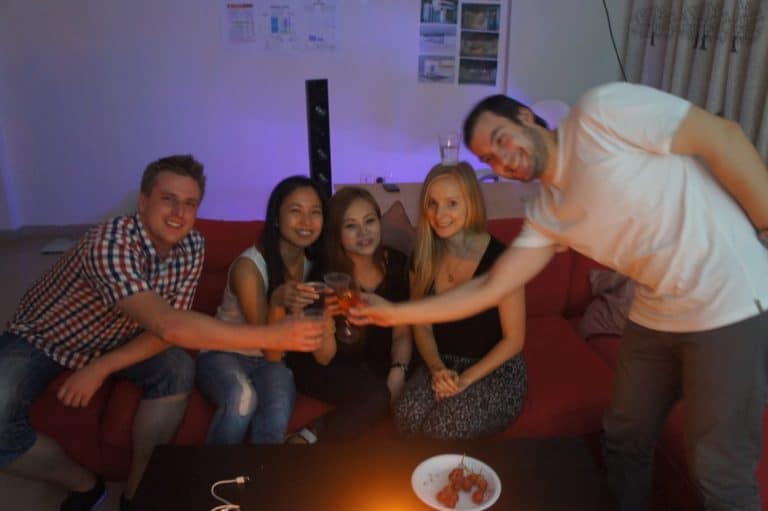 Here are a few reasons why I believe that Dubai has become a major tourist destination.
Rapid Development
The first thing you need to know about Dubai is that is has changed so much over the last few decades. If you have ever had the chance to talk to someone older about the Dubai they might have visited in the 1980s, then they'll be talking about a completely different Dubai.
Dubai is one of the most rapidly developing cities in the world. At any given moment, there is some skyscraper being constructed to add to the city's skyline. This means that there is always some man-made marvel to give you a great first impression of the city.
Since the government is very involved in this development, you end up with a lot of these architectural feats out in the open, with the public encouraged to view these attractions for free.
While Dubai might be known as an expensive city, Cez and I were able to explore wonderful places like the DXB Mall Fountain and the Souk Madinat Jumeirah without having to pay a cent. If you are the kind of tourist that enjoys appreciating architecture, then Dubai is your kind of destination.
Great Shopping
While the budget of the traveller is always the main factor as to how enjoyable a shopping trip might be, there is the misconception that Dubai is only for rich shoppers. Shoppers of any income level can find something in Dubai, whether it is a shiny Rolex or a cheap trinket from a souk.
There is the idea that Dubai is cheaper when it comes to imported high-end luxury goods due to the removal of taxes.
However, with fluctuations in the global economy, this is not always the case, so it is best to do research on the particular thing you want to buy. However, if you are coming from Asia and you find yourself in Dubai, then you are probably in a good place to buy luxury goods from Europe.
It is also important to know when to shop in Dubai, as there are many international trade shows held in the city. This includes the Gulf Information Technology Exhibition for electronics and The Bride Show for those who are shopping for wedding-related items.
Dubai is also known as the art and design hub of the Middle East, so those looking to buy some artwork can find it here.
Sand and Sea
It is often underestimated how much fun the sand can be. There are all sorts of activities tourists can enjoy in the desert, including riding camels and ATVs. While sand is obvious enough, a lot of travelers often forget about the great beaches that make the city so great. Dubai gets around 300 days of sun in a year, meaning your day at the beach probably won't get rained on. Dubai's beaches are top notch, visited by sun lovers all over the world.
There is a growing surf culture in Dubai, so those who feel at home on a board can expect to see a much more surfer-friendly Dubai in the near future. For those who prefer to explore the sea in style, you can always opt for yacht rental in Dubai. That way, you can explore the magnificent coast of Dubai in luxury.
No Shortage of Diversity
Dubai is known as one of the most diverse cities in the world with tourists and expatriates flying to the city all the time. When people from all over the world come to Dubai, they bring their culture with them. Cez and I met a lot of amazing people from different places, including Alex, our host. I don't think I've ever seen that many people from different backgrounds in one place.
The great thing about Dubai's diversity is that its citizens are mostly first-generation, meaning they grew up somewhere else. This turns Dubai into the melting pot of their cultures and traditions.
This diversity also means something very important to a lot of travelers: food! There are all sorts of international cuisines to be found in Dubai. You can expect food from Iran, Lebanon, India, Pakistan, Japan, France, the Philippines, and many other countries all found within the city limits of Dubai.
A good stop for budget foodies would be Al Dhiyafah Road, which hosts Lebanese, Iranian, and Indian street food in one of the poorest neighbourhoods of Dubai, making it easy on the wallet. There are also a lot of pop-up eateries and food festivals all throughout the year.
A Travel Hub for Flyers
While I'm no expert in how tourists plan their vacations, I have observed that some of the most popular tourist destinations are cities with airports that often get a lot of action. Just look at places like Amsterdam and Hong Kong. Even if you're not going there, your flight will probably stop over there on its way to your destination. Some tourists see this as a reason to add another stop to their travel since they'll be going there anyway.
This seems to be the case for Dubai. The Dubai International Airport (DXB) has recently been declared the world's busiest airport in the world. An estimated 90 million people will use DXB in 2017. If you find yourself in a long layover in Dubai, you can leave the airport and make a quick day trip, checking out major attractions like the Burj Khalifa.
With so much air traffic, it is no wonder that Dubai has become a major tourist destination.
Have you been to Dubai already? If so, share with us your first impression of the city in comments.