Those among you who know us even reasonably well will understand that we like our off-the-beaten-track destinations around the world, every bit as much as the more famous hot-spots or enjoying some adventure travel. But it's nice to be able to kick back once in a while in a place that most people are likely never to have heard of. One such place is the town of Wijk bij Duurstede, nestled somewhere in the Netherlands, a charming destination I was lucky enough to visit recently.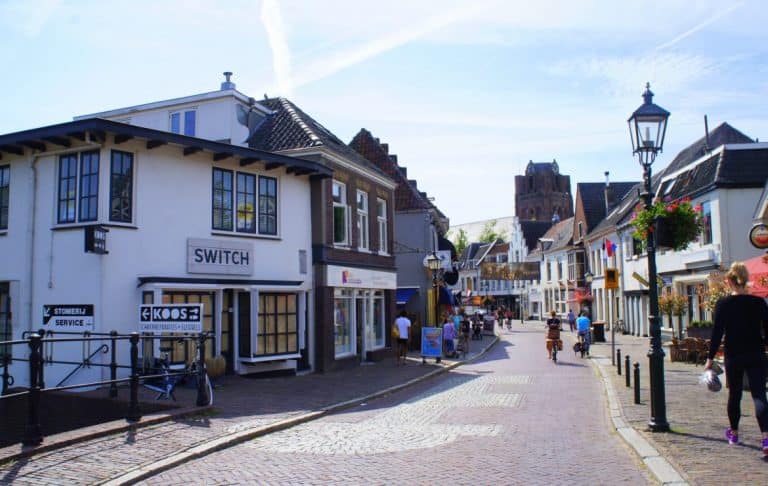 Now, I can boast I know at least ONE person who has heard of this little-known locale – because my partner in crime, Remco, is actually from there! Otherwise, I might never have had the fortune of discovering this delightful hidden gem, or at least learning how to pronounce it! Also, he might never have forgiven me if I didn't agree on a visit to Wijk bij Duurstede – the very town he grew up in – and where I was to meet his mother. I'm really rather glad I did.
Into Another Fairytale
Here at eTramping, we feel we've had our fair share of fairy-tale environments recently, especially after exploring Bohemian Switzerland. But that trend looks set to continue, as what initially began as a visit to my other half's family, quickly turned into my total captivation with this sleepy, magical and other-worldly town.
The beautiful, understated streets had me swooning, so much so that I simply had to write an article about visiting Wijk bij Duurstede, in order to draw your attention to its charms. It certainly didn't hurt that we were blessed with the gorgeous weather too!
R&R
After a hectic recent schedule, I'd been recharging my batteries getting away from it all in hidden corners of the Netherlands – including my awesome first glamping experience.This was the icing on the cake though, and strolling through the quiet thoroughfares here made me believe the rest of the world had dissolved.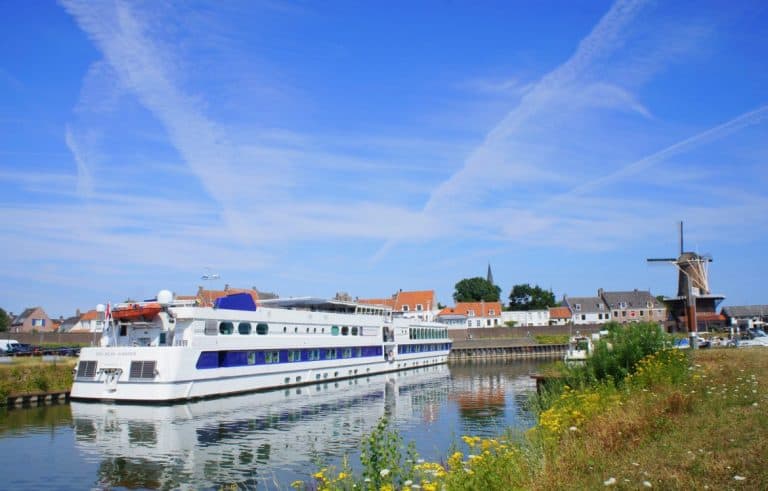 The hustle and rat-race bustle of the city was long gone, and you were going to have to drag me kicking and screaming to go back to it, such was my desire for respite. It's always nice to find the time to relax, especially if you've been feeling overwhelmed. But first, allow me to explain where we actually were.
Visiting Wijk bij Duurstede
The town itself is located on the River Lek, at a cross-water section of the Amsterdam-Rhine canal. Nestled in the central Netherlands, the closest major city is Utrecht at just over half an hour by car. Amsterdam isn't much further at around the hour mark, so if you're flying in there you can find it very accessible. It has a population of around 24,000 (but it certainly doesn't feel like it)!
Its name translates as "neighborhood by Duurstede," which is in reference to the castle nearby (of which more anon). It's also famous for having the only drive-through windmill in the world, so, without further ado, let's take a look at what you can actually see and do during your Wijk bij Duurstede visit.
Duurstede Castle
The town's moniker comes from its proximity to Duurstede Castle, which, as you might expect, is the number one tourist attraction in the region. The castle dates back to the 13th century but it has been extensively rebuilt – something you will note with its unusual, mismatched style and quirky towers. It's usually open from 09.00 to 17.30 every day and closed at the weekends. However, it's also an extremely popular spot for weddings, given the sumptuous surroundings and castle grounds, it makes for the ideal photography spot.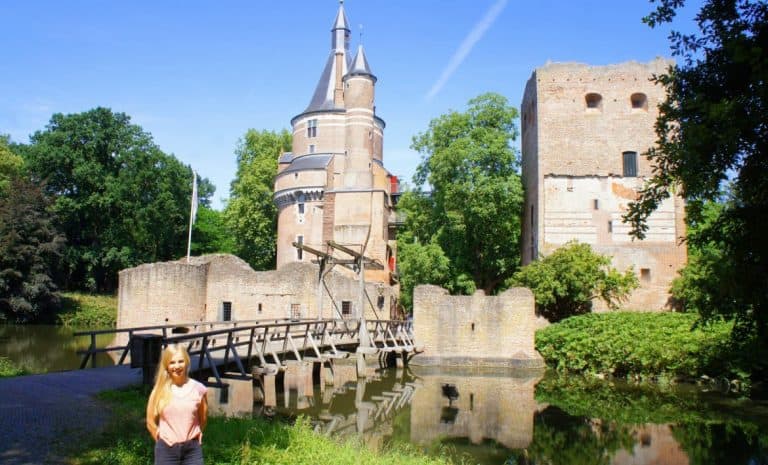 As a result, therefore, the castle itself can often be randomly closed off to other members of the public, so it might be a good idea to inquire in advance if you're allowed in. A ceremony was indeed taking place on the day we visited, but that didn't stop us from having a lovely stroll in the extensive and well-maintained gardens. It's even got a moat all the way around it – so it's a "proper" castle!
Rijn en Lek Windmill
Just as iconic as the castle and a must-see if you're every visiting Wijk bij Duurstede is the famous town windmill. It's the only one in the world to ever have been built on a town gate, which means you can actually drive through it. The Rijn en Lek Windmill has a fascinating history, and while a visit to the mill is free, if you want to know more, tours are made by appointment.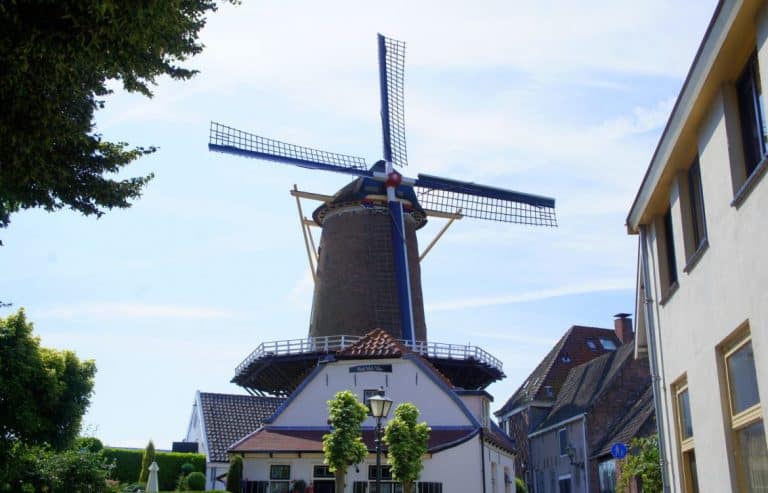 However, if you're lucky enough to be there on a Sunday you might just run into one of four millers who are always more than happy to tell you about the windmill's colorful past. And as it's still in use as a working mill, you can buy different kinds of flour from the on-site shop too!
Museum Dorestad
At the time of writing (and during our visit), the little town museum was closed due to its relocation to a new facility in the old town hall. It does bear mentioning though, as it is expected to reopen in early 2019, boasting significant improvements from its already interesting and entertaining exhibitions.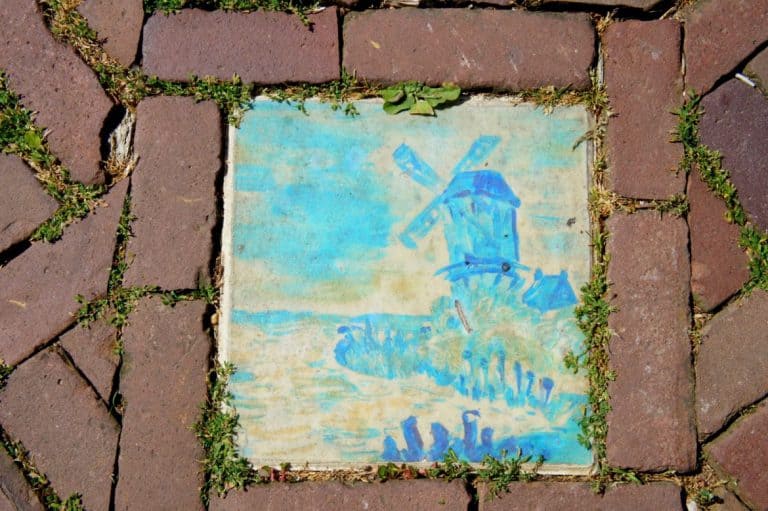 It's going to be a perfect place to spend a couple of hours learning about the history of the region, or if you're not as lucky as we were with the weather!
Calypso Theater
And speaking of places to go if the sky turns dark, look no further than the delightful Calypso Theater, which is a lovely night-spot at which to enjoy an evening's entertainment come rain or shine. They have a varied programme of films, events, and performances; including musical theater, cabaret, and family-friendly shows. It's a charming focal point for this close-knit community and well worth a look if you're in town for any length of time.
Getting Around
If you pay a visit to Wijk bij Duurstede you'll surely notice just how easy it is to get around. This is what makes it an ideal weekend getaway, as it's pretty much impossible to raise your blood pressure here! And while walking is a pleasant way to negotiate these soothing streets, might I suggest you do it as the Dutch intended – on the back of a bicycle!
They're famous the world over for having some of the finest bike routes and as staunch promoters of two-wheeled travel, and if you can't beat them – join them! Wijk bij Duurstede's easy layout just lends itself to being explored from the saddle, and as with any Dutch town worth its salt, cycle hire is readily available. You've basically got no excuse!
Where to Eat
While I was blessed with the delights of family cooking (Remco's mum hosted a delicious BBQ), there are plenty of options for wining and dining in the town. Brasserie 't Klooster is for high-end Dutch eats, but then there's a reason it's the top-rated restaurant in the city. Those looking for a little more moderation should try the popular De Engel, but really you're not going to go hungry in these parts with some fine Dutch hospitality.
Take Me Back!
I had such a blast visiting Wijk bij Duurstede that I would dearly love to do it again soon. Next on the horizon is a trip with the whole gang (myself and Remco, Cez and Lydia) returning to Taiwan for an extended workcation. But I hope this short tale of tranquillity was enough to make you consider a visit if you ever happen to be in the vicinity of WbD. It's well worth it I assure you – especially if, like me, your company was as charming as the town itself!
Would you like to visit Wijk bij Duurstede? Let us know what you think of this cool little place!