Today's blog post has been contributed by one and only Renuka Walter, a fellow travel blogger and a digital nomad from India. Her blog, Voyager For Life, is all about interesting travel stories, her misadventures on the road, the experiences that enrich her, the people she meets, the cuisines she tastes…and the person she becomes. Don't be shy and follow Renuka's experience on Facebook, Twitter, and Instagram.
Mumbai is magic. It's a city that evokes many emotions. From slums to skyscrapers, street food to posh hotels, super frenzied local trains to a calm seaside, Mumbai is like a spectrum. You got to be curious and have an intrepid spirit to explore Mumbai, because, as they say, the city never sleeps.
Formerly called Bombay, Mumbai is the financial capital of India, located in the western part of India, in the state of Maharashtra. So if you really want to extract the true essence of Mumbai, explore it from a local's perspective and take back some endearing memories.
Explore the 'vintage' Mumbai
Begin your expedition with some of the iconic sites of Mumbai, such as Chhatrapati Shivaji Terminus (CST), Churchgate, Colaba Causeway, Gateway Of India, and Rajabai Clock Tower. Mumbai has a rich heritage of British-era architecture, which is worth marvelling.
Admire the art & heritage
Mumbai is a heritage city. Besides the vintage architecture, there are so many art galleries and museums in Mumbai that you probably would feel overwhelmed.
To check out the best, make sure you visit National Gallery of Modern Art, CST Heritage Gallery & Railway Museum, Jehangir Art Gallery, Dr. Bhau Daji Lad Museum, Sakshi Art Gallery, and Tasveer.
Go for a morning jog or an evening stroll at Marine Drive
If you really want to have a close brush with the locals of Mumbai, Marine Drive is the place you should spend some time at. It's a beautiful seaside pavement, which is mostly hogged for its mesmerising view of the sea and the skyscrapers.
Make sure you take a walk at Marine Drive in the morning and get mesmerised by the scintillating sunset view in the evening.
Enjoy 'doing nothing' at Bandra Bandstand
Mumbai has a free-spirited aura, which a traveller must soak in. One of the best places to enjoy 'doing nothing' in Mumbai is Bandra Bandstand. It's a lovely seaside promenade flanked by palm trees offering mellow breezes. It's a favourite romantic hideout for the younger crowd. Also, it's a place to catch glimpses of a few top Bollywood stars.
Watch a play at Prithvi theater
Prithvi theater is one of the best hangout places in Mumbai not just for the great plays, but also for the food and brew.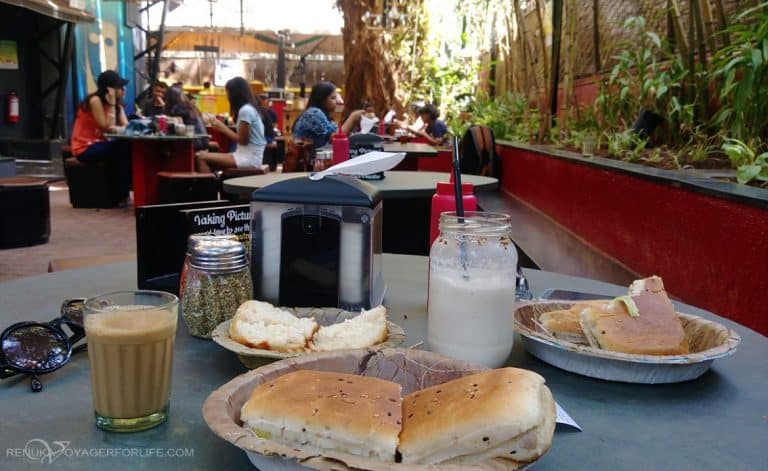 There's a charming open-air café, where you must sit and observe the vibe around. You should also check out the art gallery and a small bookshop on the premises.
Take the Film City tour
As Mumbai is home to the world's biggest film industry known as Bollywood, taking the Film City tour is a foregone conclusion. There are day tour packages that take you to all the famous film-shooting locales, and give you glimpses of live shooting as well.
Take in the vibe of the beaches
Since Mumbai is a coastal city, you have to experience its 'beach' vibe. The top beaches to visit in Mumbai are Juhu, Gorai, Aksa, Marve, Versova and Madh Island.
Play with the waves, watch the locals, sip fresh coconut water, and savour the mouth-watering street delights like Pani Puri and Baraf ka Gola.
Drive on the Bandra-Worli Sealink
The best way to get a stunning cityscape of Mumbai is by driving on the Bandra-Worli Sealink. Although the drive lasts for barely five minutes, the view of the skyscrapers and the harbour is a sight to behold.
Nosh through the Irani cafes and restaurants
Thanks to Iranians who have lived in India for over 150 years now, there's this charming culture of Irani tea in Mumbai, Pune, and Hyderabad. Thus, you will see a lot of Irani cafes, bakeries and restaurants in Mumbai. The top dishes to relish are Irani Chai (tea), Bun-maska (Bun with butter), Keema Pav (minced meat), Akuri (eggs) and Mawa Cake.
The top Irani cafes & restaurants to try are Kyani & Co., Café Excelsior, Stadium Café, Merwan & Co and Leopold Café just to name a few.
Visit the religious sites
Mumbai is an amalgamation of different cultures and beliefs. You will see a lot of Parsis, Iranians, Catholics, and Muslims in Mumbai. You must visit the famous Dargah (shrine) called Haji Ali, which is located beautifully in the middle of the sea.
Also, Mumbai is a city of churches. The most famous ones are Mount Mary Basilica, St Andrew's Church, St Thomas Cathedral, Afghan Church, Gloria Church and St Peter's Church.
Sizzle up for the night-life of Mumbai
Make sure you make the most of a Friday night in Mumbai. The Mumbai nightlife is an experience to reckon with.
Check out some of the top nightclubs, such as Trilogy, Blue Frog, Tryst, The Wine Rack and Kaama to name a few.
Savour the street food of Mumbai
Mumbai is also a food city; especially the food served by the street vendors is the most sought after. Yes, you must go on a street culinary tour of Mumbai and try all the popular dishes like Vada Pav, Misal Pav, Pav Bhaji, Bhel Puri & Sev Puri, Batata Vada, Bombay Sandwich and Ragda Pattice.
Travel on a local train
Although getting on a local train in Mumbai is a daunting affair, it's an experience you should take to get acquainted to the real, everyday life of a Mumbaikar. You will see how people travel long distances and try to finish off a few of their household chores, such as cutting veggies, while they are on the train. Also, it's interesting to see hawkers and vendors get on the train and set up their shops in a jiffy.
To avoid the discomfort of an over-packed train, take a ride during the lean hours – 1 to 4 pm. Also, there is an option to travel in a first-class coach, which has a relatively lesser crowd. My advice would be to take the local train ride with a known local instead of venturing into it all alone.
Have you been to Mumbai? Are you planning to go? What was/would be your favourite thing to do in the city to feel like a local?