Venice is no doubt one of the most expensive cities in Italy, and in Europe. People often complain that it's difficult to find a place to eat that doesn't cost an arm and a leg, or that accommodation is really expensive. This is true, but it is possible to experience Venice on a budget! I'd like to share a few suggestions on how to enjoy Venice for under 25$ a day!
If you come to Venice by train from an other Italian city, you'll get off at Venezia Santa Lucia, right in the middle of the historical city centre. By comparison, if you fly to Venice, you'll have to pay a bus fare, 6€ if you're coming from Marco Polo airport and a whopping 10€ if you're coming from Treviso airport, which is further away and used by Ryanair.
Of course, you can use Venice airport water taxi too!
In spite of the steep prices, there are some good news about visiting Venice: many attractions have no entrance fee. St. Mark's Basilica, for instance, is free to enter! Inside you'll find golden mosaics in the Byzantine style that will remind you of Hagia Sophia in Istanbul. Take in as much as you can of Saint Mark's Square and Palazzo Ducale. The Bridge of Sighs, the famous clock tower, and the view over the island of San Giorgio Maggiore are all priceless.
The pleasure of visiting Venice comes nevertheless in wandering its streets, and in getting lost on purpose. When you've seen San Marco, Rialto and the Accademia Bridge, head for the less crowded areas. Set off to explore less touristic neighboorhoods like Cannaregio or Castello. My favourite areas are Madonna dell'Orto in Cannaregio and Ponte dei Greci in Castello. It's quieter there, and there are no mask shops to distract you from the beauty of the canals.
For lunch you could grab a couple of tramezzini (triangular sandwiches) at Bar La Toletta, located in the sestiere (neighboorhood) of Dorsoduro, close to the university area. They cost 1,60€ each on the go, with plenty of fillings to choose from. I usually buy 2 of them for a total of €3,20.
There is a fountain nearby where you can refill your water bottle for free. I can personally assure you that the water is good! There are two great places to eat your lunch nearby: one is a patch of green – a rare thing in Venice – in Fondamenta Bonlini, right next to Squero San Trovaso, where they build and repare gondolas. The other one is at Zattere, a spacious street with a beuatiful view of the Giudecca. This is where in summer lots of locals, and some tourists too, love to sunbathe if they don't feel like going to the beach.
There are lots of things to explore nearby. Basilica di Santa Maria della Salute is free to visit, for instance, and has a magnificent view over the lagoon. This iconic Venetian church was built in the seventeenth century as a votive offering to the Virgin Mary, because the city was being decimated by the plague. A stroll in the Jewish ghetto, or around the Arsenale – where the ships used to be built – are other areas not to be missed.
For a very cheap dinner, you could go to Taverna del Campiello Remer, close to Campo Santi Apostoli, where from 17.30 to 19.30 you can stuff yourself at the all-you-can-eat buffet for 5€, with a drink included in the price. Oh, and make it a spritz, the local aperitif drink. The place is at the end of a tiny calle (street), so I'll suggest that you ask a local to find it (try a shop owner)! The location is superb, overlooking the Grand Canal, and with a very nice atmosphere.
To save money on your accommodation you could stay in one of the campsites outside of Venice. If it's summer you could sleep in a shared tent for as little as €8,50. You'll need to pay €1,30 for a ten-minute bus ride to Venice itself. The shuttle service offered by the campsite is likely to be more expensive and less straightforward than the local bus so don't be fooled!
How do you like this idea of spending a day in Venice on the cheap?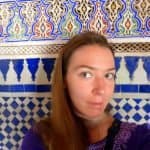 In today's post, Stefania of The Italian Backpacker is sharing with us some budget travel tips on how to enjoy Venice for under $25 a day. For those who are not familiar with her blog, Stefania grew up in a small village an hour away from Venice, in Italy. She also studied foreign languages at Ca' Foscari University in Venice, where I lived for some years. She has a great passion for traveling, blogging and sharing her expert knowledge on living and traveling in Venice. If you have not heard of her already, make sure to check out her blog.