Ultralight flashlights are some of the best flashlights because of their strong, powerful beams and long battery life. Ultralight flashlights are sure to light up any dark path or room you face and will do so with ease. If you are interested in learning more about ultralight flashlights for hunting, camping, hiking, nighttime walking, or even just power outages, take a look at our compiled list below of some of the best options available across the internet.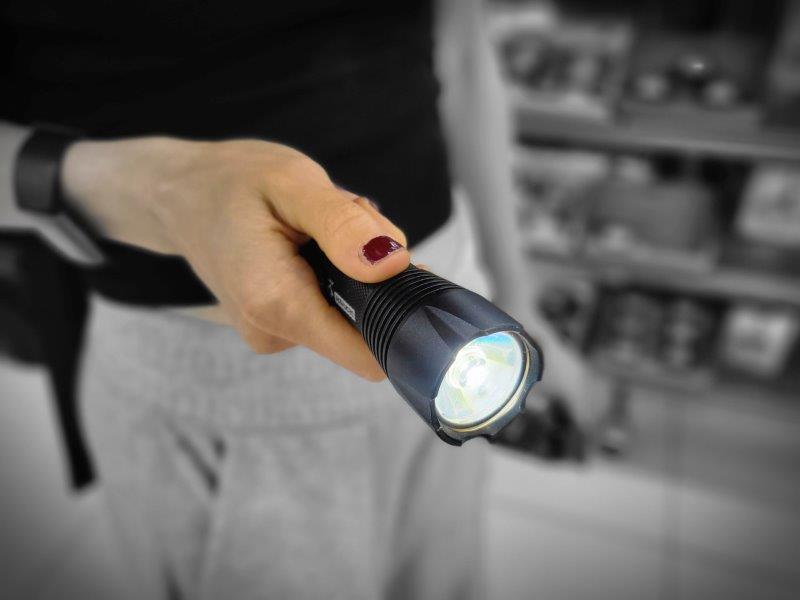 What is the Ultra Light Flashlight?
We have compiled for you the top 9 Ultra Light Flashlight in 2023. In this article we go through the products that we have used ourselves, checked what other users thought about them and we ranked them accordingly.
With years of experience with flashlights with ultra light and having used several ultra light flashlights you can trust our review.
Moreover, you can scroll to the end of this review to see our mini buying guide as well as the answers to some of the frequently asked questions about ultra light flashlights.
Specs
Price: 💲 (fewer 💲 = cheaper)
Weight: 0.23 pounds (0.1 kg)
Size: 4.3 x 1.3 x 1.3 inches (10.9 x 3.4 x 3.4 cm)
Batteries: 3x AAA
Brightness (Lumens): 140
Type: EDC
This high-power, small-sized flashlight opens the world of amazement. Weighing less than 4 ounces and measuring about 4 inches, it sneaks into your pocket unnoticed. However, you'll stay bright and breezy along dark and lonely paths.
A premium aluminum casing fights off corrosion and scratches. The concentrated beam of 140 lumens reaches as far as 150m. You can widen it with a head-mounted rocker switch. Tailcap is tasked with the on/off operation. You should know that light's intensity remains constant. Although multiple modes have long ceased to be a luxury, their absence shouldn't be a deal-breaker either.
Pros
Built to last,
Pocket size,
Zoomable feature,
Skid-proof design
Cons
Non-adjustable,
Not waterproof
Specs
Price: 💲💲💲💲 (fewer 💲 = cheaper)
Weight: 0.13 pounds (0.06 kg)
Size: 3.4 x 0.9 x 0.9 inches (8.6 x 2.3 x 2.3 cm)
Batteries: Rechargeable AAA
Brightness (Lumens): 300
Type: EDC
This is the second iteration of Titan with a shiny nickel-plated brass body. The tail accommodates a ring for keychain attachment. The best part is its three-staged microprocessor-controlled pulses, striking at 300, 75, and 15 lumens. Surefire's patented reflector has returned with an exemplary evenly-dispersed MaxVision beam. The worst thing is the switching mechanism. You're supposed to twist the head for all operations. See if the feathery weight, weather-defying, and sturdy build can offset it for you.
Nonetheless, it installs a rechargeable Ni-MH Eneloop battery. Later, you can power it up using standard AAA cells too. In short, this necessarily doesn't have to be a bad investment.
Pros
Minimalist, multi-mode flashlight,
Anti-glare downrange beam,
Nickel-plated brass finishing,
Heavy-duty pocket clip
Cons
Very expensive,
The switching mechanism is not ideal
Specs
Price: 💲 (fewer 💲 = cheaper)
Weight: 0.07 pounds (0.03 kg)
Size: 2.3 x 0.5 x 1 inches (5.9 x 1.3 x 2.5 cm)
Batteries: 2 CR2032 batteries
Brightness (Lumens): 20
Type: LED
The Energizer LED Keychain Flashlight is a nifty little light that easily attaches to your keys via a keychain. It is extremely light so it does not add much weight to your keys. It also does not add much bulk to your keys which many lanyard-using consumers appreciated. It uses 2 replaceable batteries to function that last a long time so you don't have to worry about constantly replacing batteries in your keychain. Though the brightness is only 20 lumens, reviewers say it lights up enough for dark walks and when searching for items in a dark room. The flashlight keychain uses a long-lasting LED bulb and is also water resistant so you can use it in rain or shine. Overall it is a great tiny flashlight for many purposes that is easy to carry anywhere you go!
Pros
compact size attached to a keychain,
water-resistant making it safe in rain or snow,
bright enough for a keychain on evening walks or when looking for items,
lightweight and doesn't add much bulk to your keys
Cons
some say it isn't as bright as they would've liked,
button may be difficult to press with large fingers
Specs
Price: 💲💲 (fewer 💲 = cheaper)
Weight: 0.15 pounds (0.07 kg)
Size: 5.3 x 0.5 x 0.5 inches (13.3 x 1.3 x 1.3 cm)
Batteries: 2x AAA
Brightness (Lumens): 100
Type: Penlight
S100 is a great addition to small-sized flashlights. Simplicity is key to success, standing behind the confidence of thousands of users.
It's made for convenience whether you seek up-close inspection or distant illumination. A high-lumen, glistering beam chases away all challenges to your visibility. Nonetheless, brightness and focus remain non-adjustable. The design makes it perfect for everyday carry – all-metal, resistant to light rain, and half-an-inch wide. A removable clip hangs on your pocket, purse, backpack, or binder. It doesn't even weigh one ounce, batteries excluded. And you'll get two of these penlights!
Pros
Brilliant beam,
Break-free 6hrs operation,
Pocket clip,
Smooth mechanical switch
Cons
No adjustments are possible,
Batteries are not included
Specs
Price: 💲 (fewer 💲 = cheaper)
Size: 3.5 x 0.6 x 0.6 inches (9 x 1.4 x 1.4 cm)
Batteries: 1x AAA
Brightness (Lumens): 150
Type: Penlight
Hatori mini penlight is half the length of a pen. With one alkaline battery, the CREE led can emit 150 lumens for two hours in a row. It also boasts intelligent protection against short circuits.
Two larger sizes provide a proportionate increase in performance as well as price.
It's made of hard aluminum with detachable ends and waterproof rings. The knotty grip and removable clip will keep it safe for you in the dark. But a sudden and strong impact might break its barrel. You can't put it through rough and tough use despite all the qualities!
Pros
Three different sizes,
Anti-skid and waterproof,
All-weather application,
30-gram weight
Cons
Not rechargeable,
Crack-prone
Specs
Price: 💲💲 (fewer 💲 = cheaper)
Weight: 0.19 pounds (0.09 kg)
Size: 6.8 x 1.9 x 0.9 inches (17.3 x 4.7 x 2.4 cm)
Batteries: Rechargeable Li-ion
Brightness (Lumens): 400
Type: Penlight
The X-400 is a tiny powerhouse. Its rear-push button opens the floodgate of brightness. It goes from high to low, switching between 400 and 125 lumens. The maximum throw surprisingly hits 40m apart while draining the battery within an hour.
You can also turn a flashing mode. Or slide the head in and out to zoom the beam accordingly. As with all EDC lights nowadays, Energizer has also attached a built-in pocket clip to enhance overall portability and safety.
The manufacturer should bat an eye toward the lack of accompanying instructions. The movable red collar harbors the USB connector and finding it may become a brain-teaser for amateur flashlight fetishists.
Pros
Super bright beam,
Two light modes,
Durable construction,
Easy to carry
Cons
No instructions,
Short battery life
Specs
Price: 💲💲💲 (fewer 💲 = cheaper)
Weight: 0.11 pounds (0.05 kg)
Size: 6.1 x 0.9 x 0.9 inches (15.5 x 2.2 x 2.2 cm)
Batteries: 2x AA
Brightness (Lumens): 500
Type: EDC
Here comes the third version of Archer 2A flashlights. It is long and lean, built with anodized aluminum to accompany you on grueling journeys!
The major selling point is its switch mechanism. You can access the tail switch for quick inspections. It turns the light on/off, whereas a half-press triggers momentary flashes. It's not burdened with mode change – a forward-clicky button is dedicated for that purpose. There are four lighting settings with a special glowing firefly mode. Hold the side switch for a little longer, and you're in for a strobe.
Despite the smooth and not-so-tacky knurling, a lanyard and pocket clip will keep it secure.
Pros
Tactical tail switch,
Firefly mode is also given,
Made for rough and tough use,
Box contains free spare parts
Cons
Less focus on grip,
Batteries are not included
Specs
Price: 💲💲💲 (fewer 💲 = cheaper)
Weight: 0.12 pounds (0.05 kg)
Size: 4.4 x 0.8 x 0.8 inches (11.2 x 2 x 2 cm)
Batteries: 1x AA
Brightness (Lumens): 600
Type: Magnetic
Sometimes, you need both hands without having to hold a wobbly torch in a drooling mouth. In such times of dexterity, you can affix magnetic flashlights to the chassis or fuse box.
The N7 has a 90-degree rotatable head for positioning of the beam's focus at any desired angle. The standard AA battery emits 200 lumens. But a 14500 rechargeable can turn it into a workhorse by maximizing the output three times over.
You can clip it to your pocket or purse for worry-free trekking, fishing, and dog walking whether it rains or snows. The tough construction is up to sustain any accidental drops.
Pros
Rotatable head,
Four mode switching,
Super strong magnet,
Waterproof and fall-proof
Cons
Batteries are not included,
Low brightness at AA battery
Specs
Price: 💲💲💲💲 (fewer 💲 = cheaper)
Weight: 0.11 pounds (0.05 kg)
Size: 5.8 x 3.1 x 2.5 inches (14.8 x 7.9 x 6.4 cm)
Batteries: Rechargeable Li-ion
Brightness (Lumens): 1200
Type: Magnetic
Baton 3 is an upgrade from the famed S1R II. And this limited edition has surpassed expectations! It comes in premium, matte-finished colors that validate the price tag. Also, the 2.5" body has a new grip-enhancing milled texture. Take it as your all-time favorite pocket flashlight, reinforced with innovations. The magnetic tail and charging port are there. You'll find an exquisite case. Place the Baton in to fulfill the charge anytime, anywhere.
It can serve dynamic purposes with 166m throw and max 1200 lumen brightness. The highest output stays on for about two minutes before degrading to 300 lumens. There are three more settings, including the moonlight.
Pros
Wireless on-the-go charging,
Bi-directional pocket clip,
Four-staged battery indicator,
90-days unbelievable runtime
Cons
A little overpriced,
It uses a proprietary battery
Verdict
To summarize, we have gone through dozens of ultra light flashlights and decided that 9 are worth your consideration. Out of these, the absolute Ultra Light Flashlight is LE High Lumens LED Flashlight which we highly recommend as our overall best.
If money is not an issue, you can consider SureFire Titan Plus Keychain Light as this is our Premium Pick.
Otherwise, there's no shame in spending prudently, Energizer LED Keychain Flashlight is the Budget Option.
Our other reviews you may find useful in your research:
What You Should Know Before Buying ultra light flashlights
Durability
Best flashlights are those that provide consistent high performance for a long period without succumbing to wear and tear. When it comes to durability anodized aluminum and titanium-made flashlights score the highest. Aluminum is the lighter and more portable option – anodized aluminum is also highly resistant against corrosions. Titanium is heavier than aluminum but provides higher durability, making it perfect to be used in a rugged or outdoor setting. A flashlight also has to be water-resistant to be durable, so make sure to purchase one with a high IP rating.
Battery Type
The best battery type for your flashlights depends entirely upon your use. Whether you want it to be rechargeable, or disposable. Do you need to use them right away or after a while? The size and the weather in which the flashlight will be used also matters. The most common rechargeable batteries are alkaline batteries. Found in AAA, AA, C, and D types, their nominal voltage is 1.5V and they have a self-discharge rate of approx. 2-3% per year, making them an excellent and easily available choice if you want a disposable battery for an emergency flashlight that is stored most of the time. If you want better performance in rechargeable batteries, go for lithium batteries. With a nominal voltage of 3V per cell and extreme weather endurance, they are perfect if you are looking for a disposable battery with a lower discharge rate than alkaline batteries. The only con is that they are more expensive than alkaline batteries.
If you want rechargeable batteries, as they are far more cost-effective in the long run, there are two options available – Lithium Ion and NiMH batteries. NiMH can be found in standard alkaline battery sizes but Li-Ion batteries come in their own standard sizes like 18650. NiMH batteries last longer than standard alkaline batteries despite having lower (1.25V) voltage owing to their lower discharge rate.
With a nominal voltage of 3.7V per cell Li-Ion batteries beat every other battery in terms of energy density, although its prices are reflective of that. Read the instruction manual of your flashlight to pick the best battery option for yourself. Also, consider your requirements and the use of your flashlight (emergency use, everyday use, etc.).
Lumens and Light Output
Lumen is a measure of the flashlight light output – so the ideal lumen number will depend on your situation. Usually, a flashlight with 300 to 1000 lumens is considered versatile enough for everyday use and frequent nightly tasks. But the number can go up for certain tasks that require more light output.
For reading or random everyday tasks, you will find a 300 lumens flashlight to be useful enough. For camping or similar outdoor activities like nightly walks or running, a 300 to 900-lumen flashlight will work well. If you're hunter or military personnel, you may need to spot your prey or a threat from a considerable distance – for such situations, pick a flashlight with a light output of 1250-2500 lumens.
Flashlights with a higher light output than 2500 lumens are usually used in search and rescue operations as such operations require a much-focused illumination.
Run Time
The run time of a flashlight primarily depends upon its batteries. Li-Ion batteries have the highest energy capacity and they are also rechargeable. While alkaline and lithium are long-lasting disposable batteries. Other factors that affect the run time of a flashlight are its power draw i.e., its brightness setting, light output, and the number of batteries. A flashlight will last longer on a lower brightness setting than on a higher one. Flashlights with the lowest lumens will last the longest. Also, the higher the number of batteries the longer the run time of a flashlight. Choose the variables that best suit your situation.
Questions and Answers About ultra light flashlights
How do you put batteries in a small flashlight?
Most flashlights no matter the size will have similar ways of replacing the batteries. For small flashlights, high chance that they are using button batteries instead of the normal cylindrical ones. Unscrew the cap on either end of the flashlight to access the batteries. Then, replace the batteries with the new ones. Ensure that the direction is correct before screwing the cap back on.
How many lumens is a good flashlight?
This depends on what function you want the flashlight to fulfill. An EDC (everyday carry) used to illuminate the indoors and maybe even outdoor camping activity only requires 20-150 lumens. If you require a longer throw and better light, such as required in a search-and-rescue, it can go up above 1000 lumens.
What is the strobe function on a flashlight for?
Bright, flashing lights are disorienting and can be used as a self-defense measure. Flicker vertigo or Bucha effect is a result of flashing pulses of relatively bright light which can induce disorientation/vertigo/nausea. The strobe function can also act as a distress signal as a secondary function.
Can LED flashlight bulbs be replaced?
Yes, LED flashlight bulbs can be replaced as long as you manage to find a brand/model that you can replace with the one you have. It needs to fit within the receptor and have the proper voltage capacity to work with the batteries within your flashlight.
What is the red light on a flashlight for?
The red light on a flashlight is used to preserve night vision. When transitioning from light to dark, red light allows your eyes to transition faster than white light. Red light is also less disruptive in the sense that it can help your eyes to adjust to the darkness faster. It also has the added advantage of being less noticeable in the dark than white light.