You can now download this article as an app and get an offline map so you can go and see these places yourself.
Have you dreamed of seeing the beautiful lights that dress up the skies of northern countries? This spectacular natural display is like an intricate dance, a beautiful show that is orchestrated for you watch and be delighted by on the Earth below.
So what exactly is this incredible display, and how is viewing it possible? Also, why visit Iceland for northern lights viewing, and which places make this mysterious and beautiful phenomenon most visible to you? We will answer these and other questions in this ultimate guide to seeing the Northern Lights in Iceland.
What Are the Northern Lights in Iceland?
The Northern Lights are a type of phenomenon that is also known as the Aurora Borealis. The name was given by the astronomer Galileo, who saw them as a beautiful and mystical appearance.
The cause of this celestial light show is actually sunspots. Highly charged particles of plasma that escape through these sunspots are drawn to earth and, when they get close enough, start to interact with the magnetic field of the earth. In a spiraling motion, these tiny particles move swiftly, and some enter the earth's atmosphere. When they do, they start to collide with particles in the atmosphere, thus creating the glowing lights that make up this wondrous display. It occurs around the North Polar Region.
Why Should You See the Northern Lights in Iceland?
It is a shared dream of many travelers to be able to view the Aurora Borealis in person. Iceland is one of several countries that land close enough to the North Pole to make viewing possible. Since this vast and wild landscape is largely unpolluted and untouched, the clear skies provide bountiful opportunities to see this spectacular phenomenon. But that is not the only reason why Iceland is the place to go.
It is a known fact that seeing the Northern Lights is not the easiest task. One must develop a lot of patience and determination, but one must also be prepared for disappointment. However, if you're looking to enjoy a fantastic winter destination with many activities in addition to the Northern Lights view, then Iceland is for you!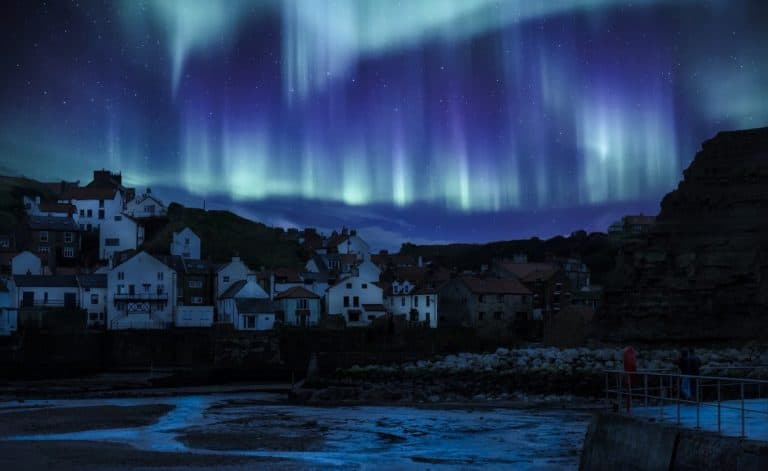 If you're interested in beautiful frozen glaciers, experiencing the stunning Crystal Caves in Vatnajokull or Langjokull, and pristine snow-covered vistas, then Iceland is your winter paradise! You can also visit the beautiful hot springs of the Blue Lagoon, or find adventure by going for a glacier hike, renting a snowmobile, or going dog sledding! Since the ideal seasons for Northern Lights is not the busy tourist season, you'll find Iceland to be an affordable flight away, with many budget-friendly accommodations available.
Where to See the Northern Lights in Iceland
Going Northern Lights hunting is the adventure of a lifetime, and there are many different places to do so!
If you're looking to stay in or around the capital city of Reykjavik, you can head to the top of the Perlan building to get a pretty incredible view. If you have limited transport but are looking for a place with less light pollution, try going out to the Seltjarnarnes, a narrow peninsula just outside of Reykjavik that provides some beautiful views. Also along the Southern Coast, you'll find the lovely town of Vik. Find a beautiful sandy beach nearby and listen to the gentle waves as this natural light show goes on display.
The western side of Iceland, known for incredible natural beauty, is an empty landscape just waiting to be lit up at night. Head to a small fishing town such as Akranes, and see nature's show dancing above you with little to no light pollution.
For total isolation, head to the East of Iceland. Here, you're more likely to find sheep than people! Take in the beautiful scenes of the northern lights in this vast and wild landscape, including seeing them reflected in the pristine glacial lake of Jokulsarlon.
How to See the Northern Lights in Iceland
Basically, you have two options to view the Aurora Borealis in Iceland. Your first option is to do the trek alone, winding your way into the darkest areas of this island country and standing beneath the brilliant stars, waiting for the lights to appear. You are alone with nature and whoever you've chosen as a travel partner, and it is an intimate (albeit cold) way to spend an evening.
However, your second option gives you much more mobility, and grants you access to a whole other type of viewing experience. We highly recommend looking into Northern Lights tours in Iceland. In this way, you'll be able to trust a professional guide who can lead you to excellent viewing spots, thus offering you a higher chance of catching sight of this incredible phenomenon. You can take a bus, a jeep tour, or even a boat!
Here are some top tips for seeing the northern lights in Iceland:
Be patient! Your determination will pay off.

Look ahead at visibility predictions at

vedur.is

, but…

Remember that the aurora borealis is very unpredictable, and…

So is the weather!

Frigid nights when the temperature drops below freezing are the nights you are most likely to see the northern lights, so dress very warm!

If you're planning on driving, check

road.is

to ensure your safety.

For the best pictures, bring a stable tripod for long-exposure shots.

Plan to spend at least a week in Iceland (or as long as you can) to give yourself a greater chance of seeing this bucket list item.
When Can You See the Northern Lights in Iceland?
The range of viewing time runs from the month of September to early April, when the darkness becomes all-engulfing and lasts longer. Nights that last many hours mean that the lights have more time to appear, which is why many people recommend traveling during November to February. However, keep in mind that this is also when the weather becomes the most unpredictable. Safety is your priority, and as the weather in Iceland can change drastically within minutes, it is vital to always ensure a way to escape the frigid cold and the possibility of snow.
Keep track of the weather, and look for very cold nights when there will be little to no cloud cover. Midnight seems to be prime northern lights viewing time, but viewing is possible anytime between 9pm to 2am. You can also check with your hotel to see if they offer an Aurora Borealis wake up call, in case you don't want to stay up all night.
Are the Northern Lights Really Visible in Iceland?
Without a doubt, yes. Though the light show in the sky does not come whenever you want it to, it is absolutely visible in Iceland; you just need to hit the right time!
This beautiful natural phenomenon is like a show that is orchestrated for us in the sky, and it has no entrance fee! If the incredible northern lights were not on your bucket list before, we bet they are now! Seeing this wonderful creation in person is an unforgettable experience, and is the dream of many travelers all over the world! Seeing the northern lights in Iceland is a beautiful memory which will be cherished forever.
Are the Northern Lights on your bucket list?